A natural-born explorer, I've spent most of my existence looking to the stars and dreaming of the mysteries they might reveal to me. Lately, I've come to realize it's foolish to chart a course for the vast unknown without first discovering all that surrounds me each and every day. To that end, I have decided to embark on a miniature mission to share my petite perspective. I invite you to come along as we explore together what I like to refer to as the "little" known facts about Huntsville.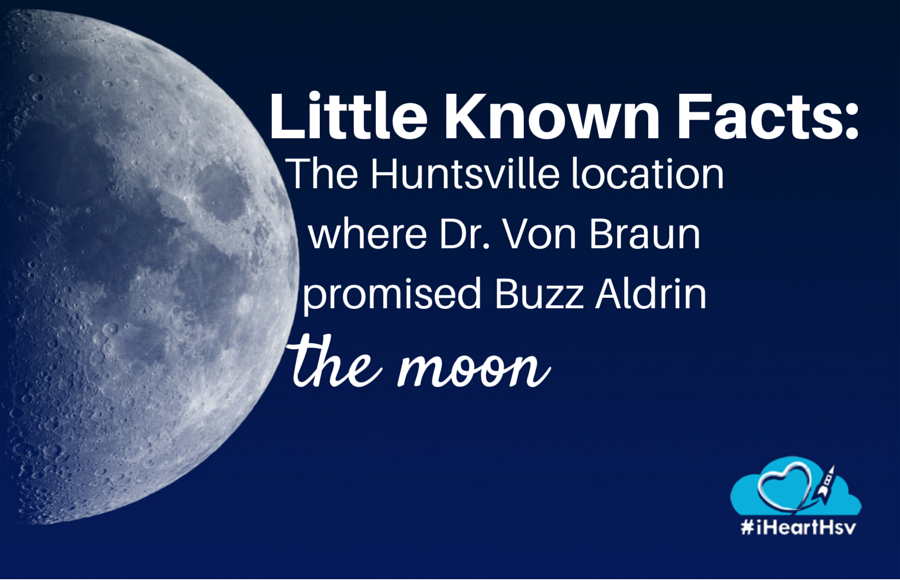 By Buzz Huntsville
Wee wanderings in Huntsville have led me to some stellar places but none quite like a spot high atop Monte Sano Mountain with its stunning views of the Rocket City below. Thing is, most of those who venture here aren't looking down; they are looking up!
I'm talking about the Wernher Von Braun Planetarium and Conrad Swanson Observatory operated by the Von Braun Astronomical Society (VBAS). This remarkable piece of Huntsville history is magic! A place so special. A place where Mercury 7 astronauts glimpsed into their future, the King of Rock and Roll marveled at the only stars in the universe bigger than him and Dr. Von Braun himself promised Buzz Aldrin the Moon.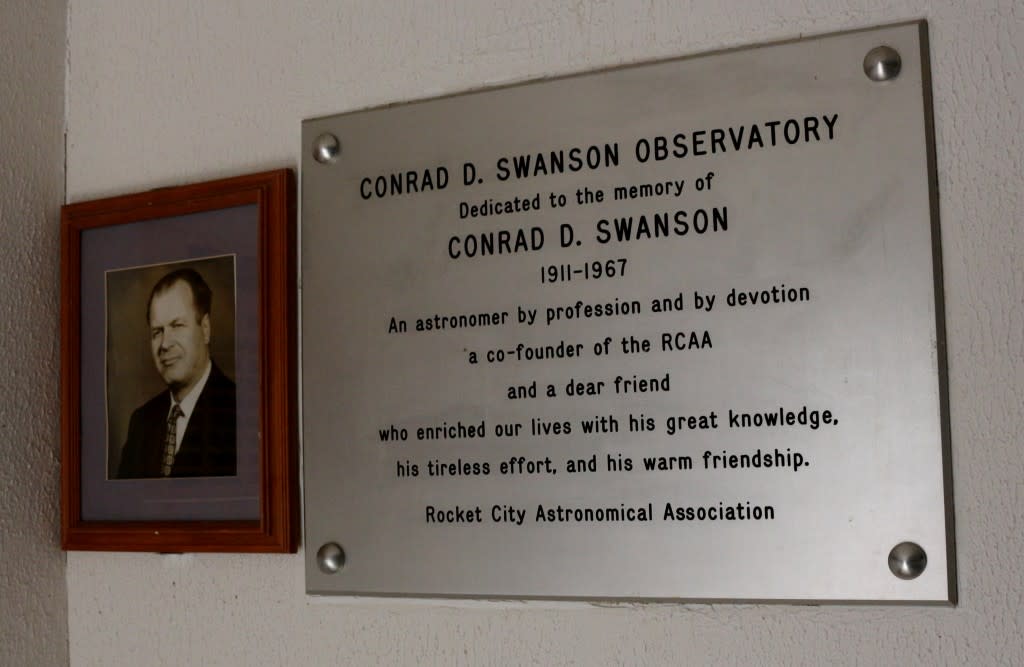 In 1954, 16-year-old Sammy Pruitt along with several Huntsville High School classmates first entertained the idea of forming a club to study astronomy. Having no luck with convincing more boys their own age, the group turned to a few scientists at nearby Redstone Arsenal. The first to join their efforts? None other than Dr. Wernher von Braun and Dr. Ernst Stuhlinger. In fact, the first temporary officers of what was then called the "Rocket City Astronomical Association" included Von Braun as President, Stuhlinger as a Director and young Samuel Pruitt as Secretary. I can almost hear young Sammy at school right now, "My apologies Miss Smith. I was unable to complete my science homework, because I had a meeting with my good buddy, Wernher."
This "it could only happen in Huntsville" birth of the VBAS and subsequent construction of the observatory was followed by even more awe-inspiring moments. For instance, on June 28, 1959, a little over two months after an anxious nation was introduced to her first slate of American heroes known as the Mercury 7 astronauts, a small delegation travelled to this planetary pet project of a few dedicated Huntsvillians.
Escorted by Dr. Stuhlinger, this group included some famous faces like Jack Heberlig who was a member of Max Faget's design team for the Mercury capsule and drafted the hardware guidelines for the Apollo command center spacecraft, Raymond Zedekar from Flight Crew Operations Division at the NASA Manned Spacecraft Center, Walter J. Kapryan who later served as Director of Launch Operations at the John F. Kennedy Space Center from 1969 to 1979 and, let's not forget, two newly-minted astronauts, Leroy Gordon "Gordo" Cooper, Jr. and Alan Bartlett "Al" Shepard, Jr.
It was apparently a fruitful visit; according to the viewing log, they spotted Jupiter and four moons.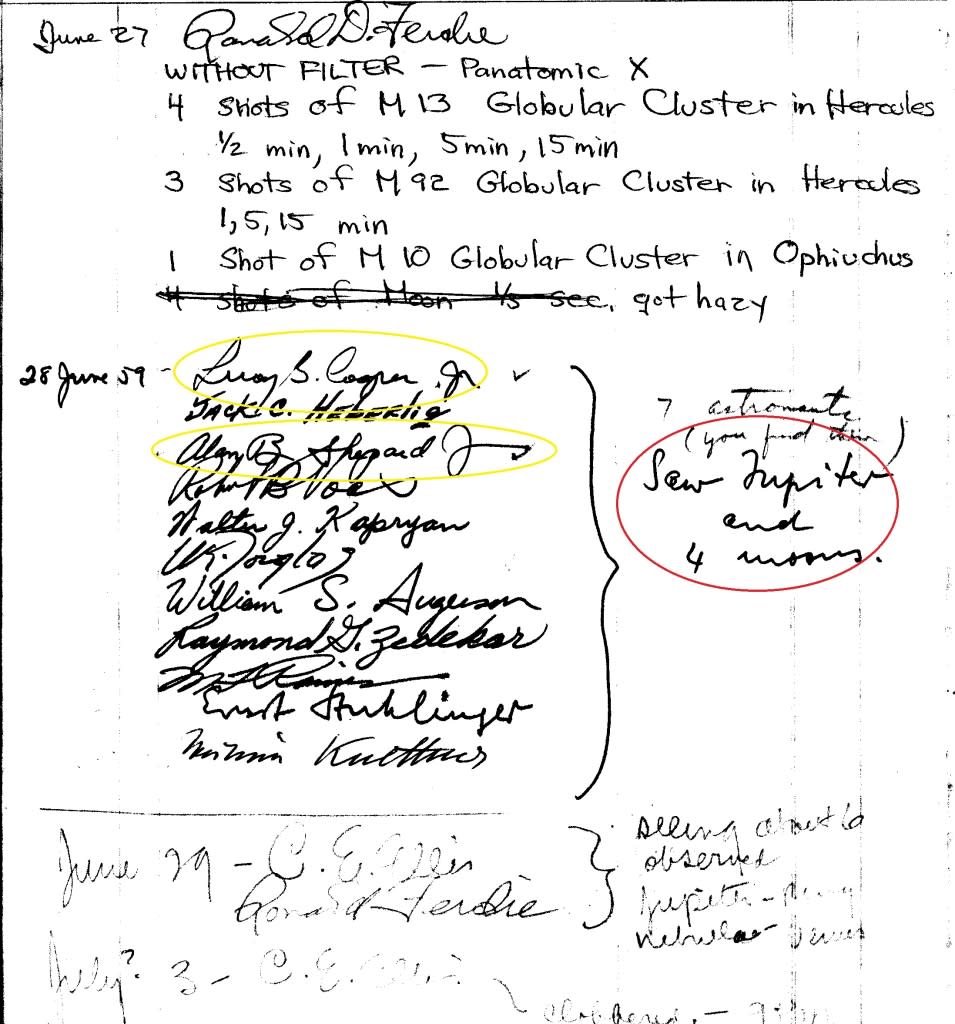 Let's just say, if you're looking to build a planetarium, it certainly helps to have friends in high places, exceptionally "high" places.
When planning began for the planetarium, a natural companion to the observatory, the most challenging piece of the puzzle was construction of the dome. The good news was that Von Braun had an idea of something that could possibly make do as an acceptable dome. In 1963, when construction of the Moon rocket was underway, the Saturn V (S-IC) first stage was being built by Boeing at the Michoud Assembly Facility in New Orleans, the (S-II) second stage by North American Aviation in California and the (S-IVB) third stage by Douglas Aircraft in California. To ensure that these stages could work together when completed, mock-ups were constructed. The S-II mock-up consisted of two structures representing the forward area and the tail area of the (S-II) second stage.  These structures were used by the contractors to ensure accurate mating and clearance of the stages. The structure of the forward area was to be full size and consist of "an aluminum-skin forward skirt, a fiberglass dome representing the forward bulkhead, wood or fiberglass instrumentation packages, and conventional materials for system installation."
Did you see the word "dome" in there? You bet you did! It is that mock-up dome, used during construction of the Saturn V moon rocket that serves as the dome for Huntsville's own Wernher Von Braun Planetarium.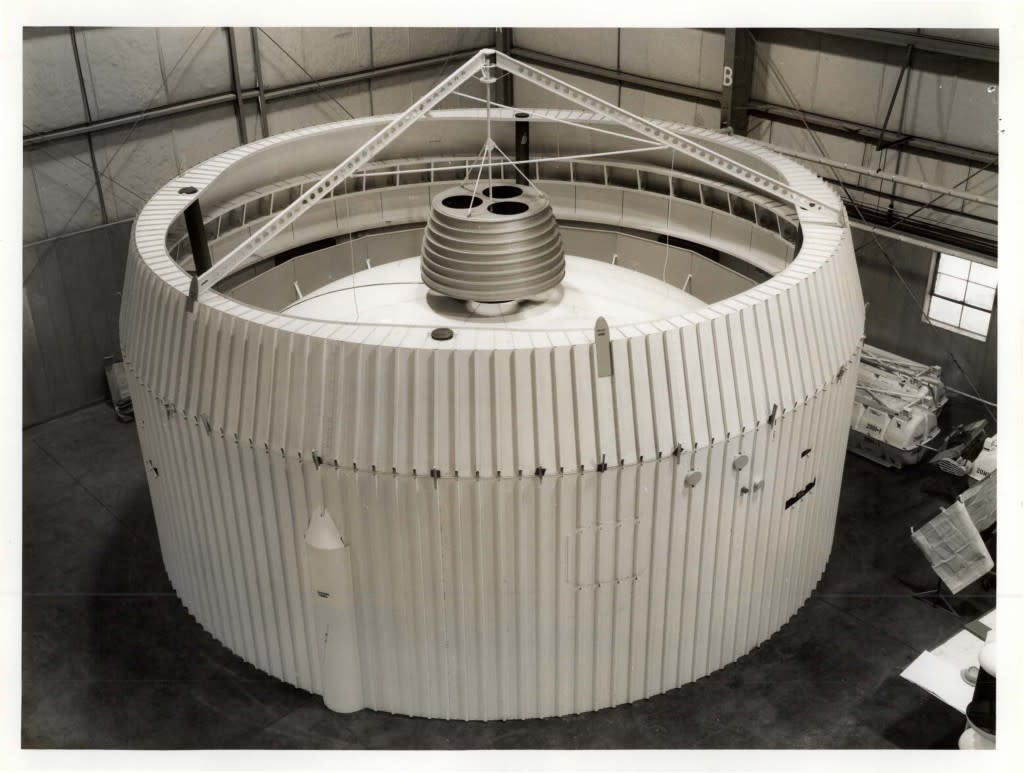 The legendary status of the observatory only grows with each impassioned volunteer that you speak to. Let them tell you about how Elvis visited in May 1959, taking a gander at the heavens in amazement (A full month before the first astronauts, mind you) and how in 1999 Buzz Aldrin speaking at the U.S. Space and Rocket Center on the 30th Anniversary of the Apollo 11 Moon landing recalled how he peered through the telescope at the Moon while Dr. Von Braun assured him that they would get there!
In the near future, there are plans for improvements and expansion with the goal being to provide additional visitor and staff amenities at this historic facility, and to enhance and modernize the operations while keeping the character and mission of their founders for a new generation of astronomy and space science education in Huntsville and North Alabama.
Learn more about upcoming events by clicking here and how you, like me,  can be a tiny part of this astronomical awesomeness!