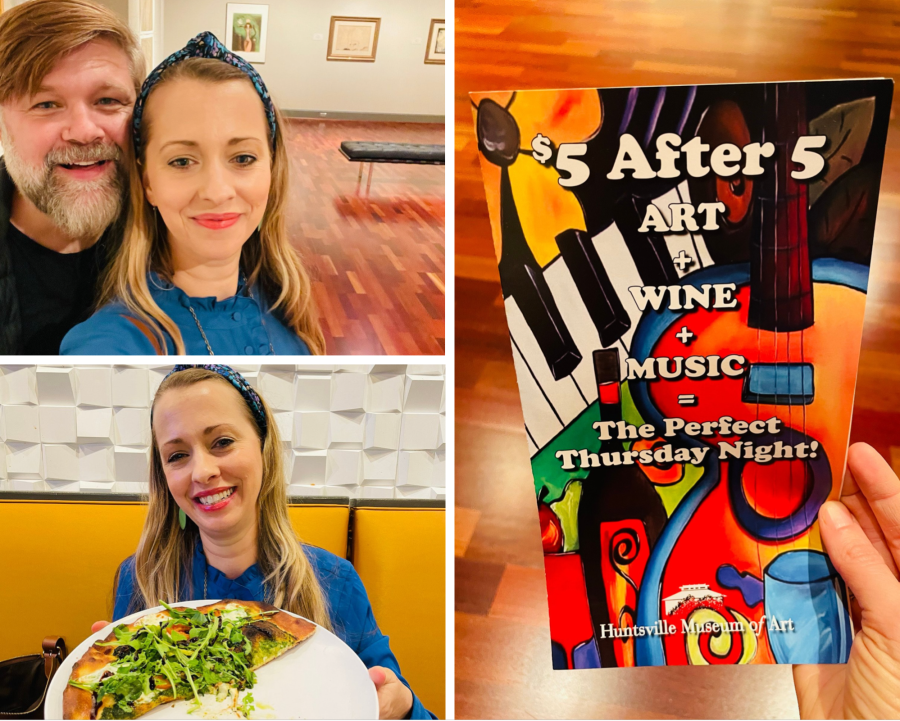 "Hey, Cyle! The Huntsville Museum of Art has a Thursday special event called $5 after 5:00; we should go sometime!" 
These are the words my husband said to me just days after moving to Huntsville in July 2020. He had been here a few months earlier, which afforded him a chance to scout the area and compile a "must do" list. We'd ventured on a few dates nights in our new city but hadn't planned well and often ended up spending more than intended. With four kids, date nights can often feel stressful and taxing on our budget; he had me at $5. 
With a new year upon us and a fresh new budget plan, I wondered if we could do a date night for around 50 dollars? I'm here to tell you we did it in Huntsville, and we want to show you how.
We started with the Huntsville Museum of Art's $5 after 5:00 event, held every Thursday night. Art + wine + music = the perfect Thursday night. Featuring a variety of entertainment elements, I recommend checking the website to see what specials or refreshments will be available. The Huntsville Museum of Art invites musical artists to perform, and Dollie Meredith Murray played music the night we attended. The Church Street Wine Shoppe provided specialty wine by Huntsville native and winemaker Kristin Bernard, who shared her signature wines.

If you've visited Big Spring Park, you've likely seen the Museum of Art as it is one of the monumental buildings outlining the park. The museum entrance is on Church Street - we accidentally went to the wrong side, which meant a lovely (but oh so cold) stroll through the beautifully-lit park. The $5 entrance made our total $10, but it would have been more if we'd added wine to our tab. We were sticking to our budget! 
What to Expect at $5 after 5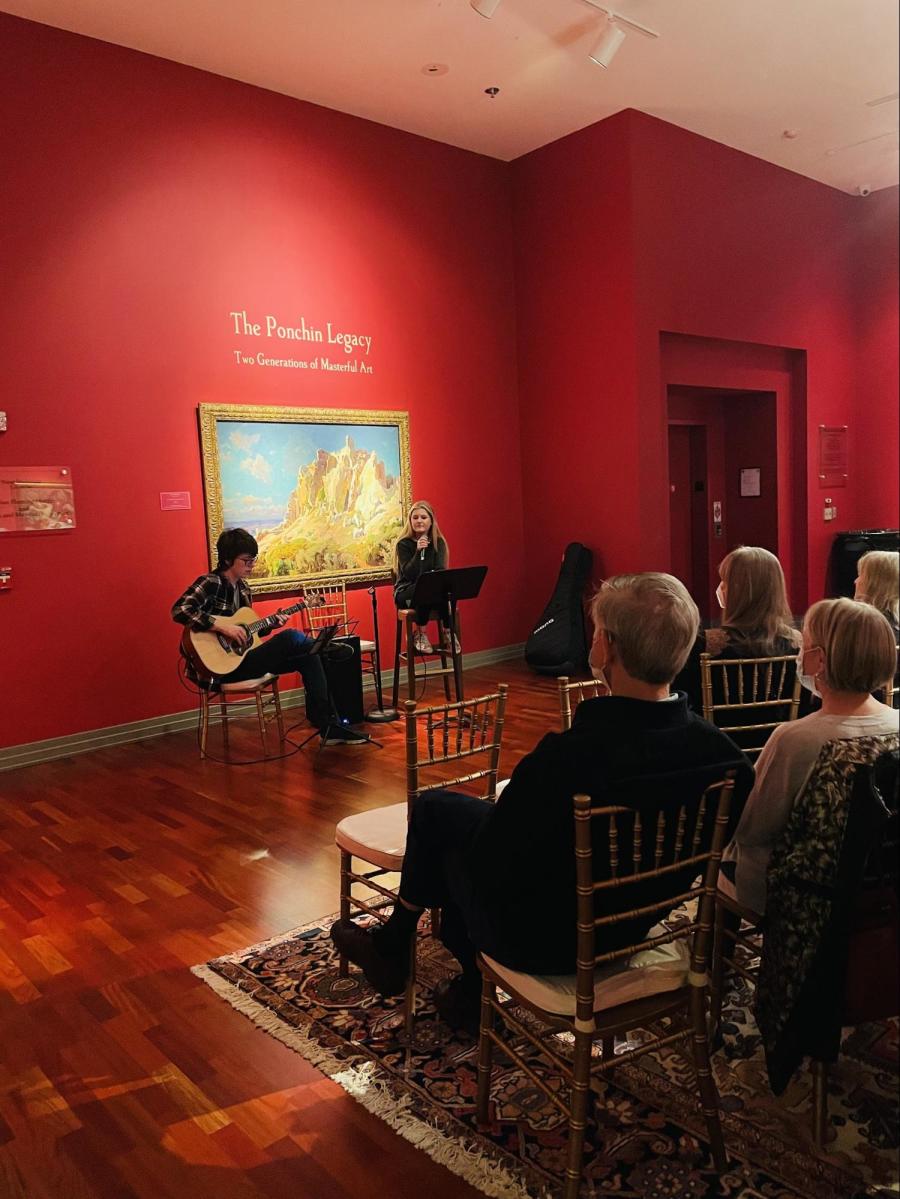 Crossing through the red room, Dollie Meredith Murray performed a top-notch set of 80s and 90s covers, so we stayed and listened to a few songs.
 After seeing the featured exhibits we went upstairs to see more of the museum's featured collection.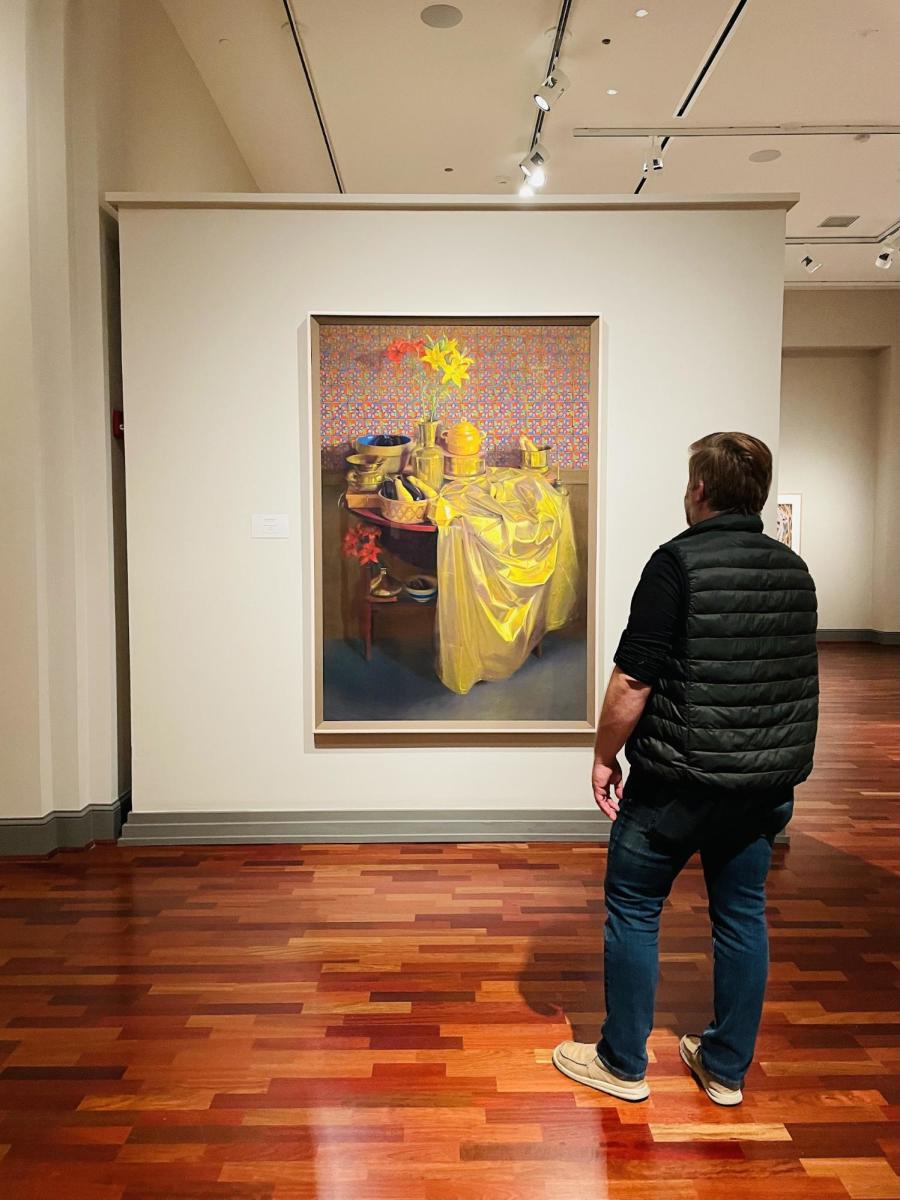 We also viewed the American studio glass and Buccellati: A Silver Menagerie and the Ponchin Legacy: Two Generations of Masterful Art.
Lastly, we visited the two educational galleries, perfect for children and teens. The Art Lab is a hands-on space offering children an opportunity to interact with artistic elements of color, texture, shape, and books.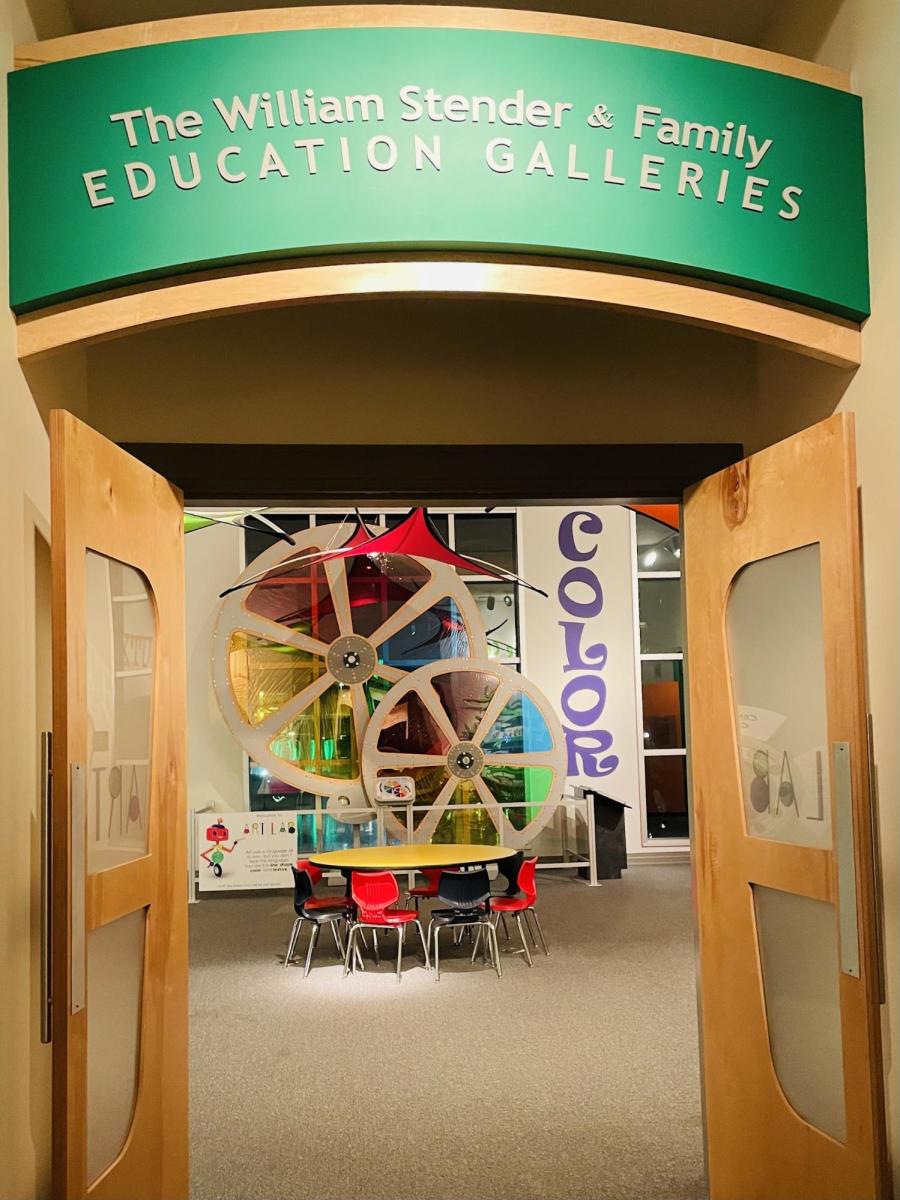 The Walk Through Time gallery offers a visual collection encompassing captioned ancient cultures and art through time. We were surprised at the intriguing and gripping stories along the walkway. We read about art and artists we were familiar with and walked away with interesting tidbits about their life, such as Salvador Dali, Van Gogh, Picasso, and Michelangelo. I learned about Egyptian art and the Sumerians. Shannon and I said, "Oh wow - I did not know this!" multiple times while strolling through the walk of time.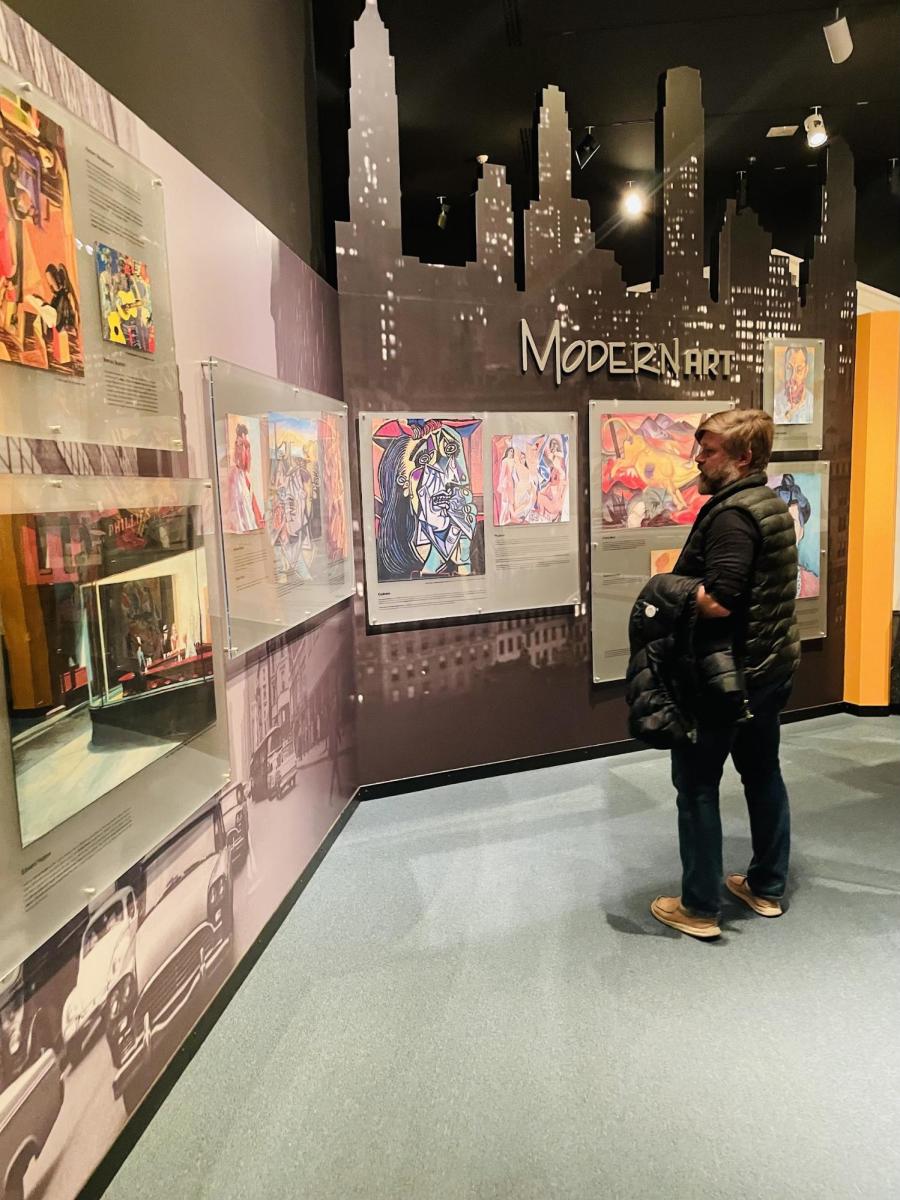 Following the museum, we were getting hungry. Thankfully one of our favorite local restaurants sits just below the art museum! That's right - we walked down to the museum's bottom floor and out the back door, directly into Pane E Vino Pizzeria.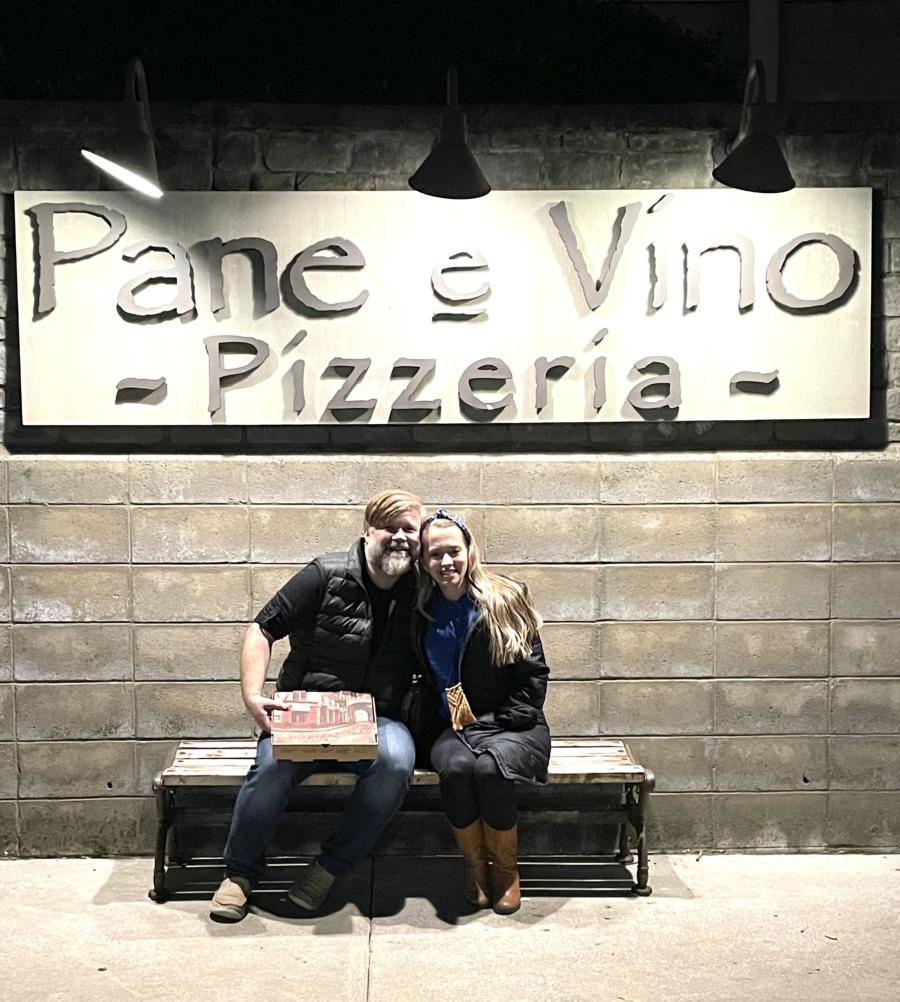 Pane E Vino is at the top of our list for Huntsville restaurants for a few reasons:
It's budget-friendly and makes a great date night or a family restaurant outing that doesn't break the bank.
You can sit outside and overlook the beautiful Big Spring Park during warmer weather - the ducks will be waddling around while passersby take time to feed them. Occasionally there is live music, which is always excellent.
And last but certainly not least is the menu! We've experienced many artisan pizza places in Huntsville and find Pane E Vino our favorite combo of creative culinary options, adequate sizes, and wallet-friendly price points. Our favorites are the Da Vinci, coming in hot with a pesto base, Roma tomatoes, mozzarella, arugula, and drizzled with balsamic reduction. It's a salad on top, with your dairy fats and carbs on the bottom - an excellent macro balance. The El Greco comes in second, with mozzarella, goat cheese, roasted red pepper, red onion, garlic, and spinach. It's a well-balanced pizza you can feel good about eating. When we take our kids, they like to add the Salvador Dali and Michelangelo to our order. Check out the menu here.
We had the sweetest waitress nicknamed Sunshine. The waitstaff is always top-notch, and there is a wide selection of wines and beers. My husband added a house red to our order taking our total for the evening to around $56, including the art museum entrance fee, dinner, wine, and a well-deserved tip. 
Plan your date on a Thursday night to experience the unique offerings of the Huntsville Museum of Art and eat delicious pizza with a view. 
*Our two older children are teenagers, so they babysit for us. If you need to pay a babysitter, your total cost for the night will be more!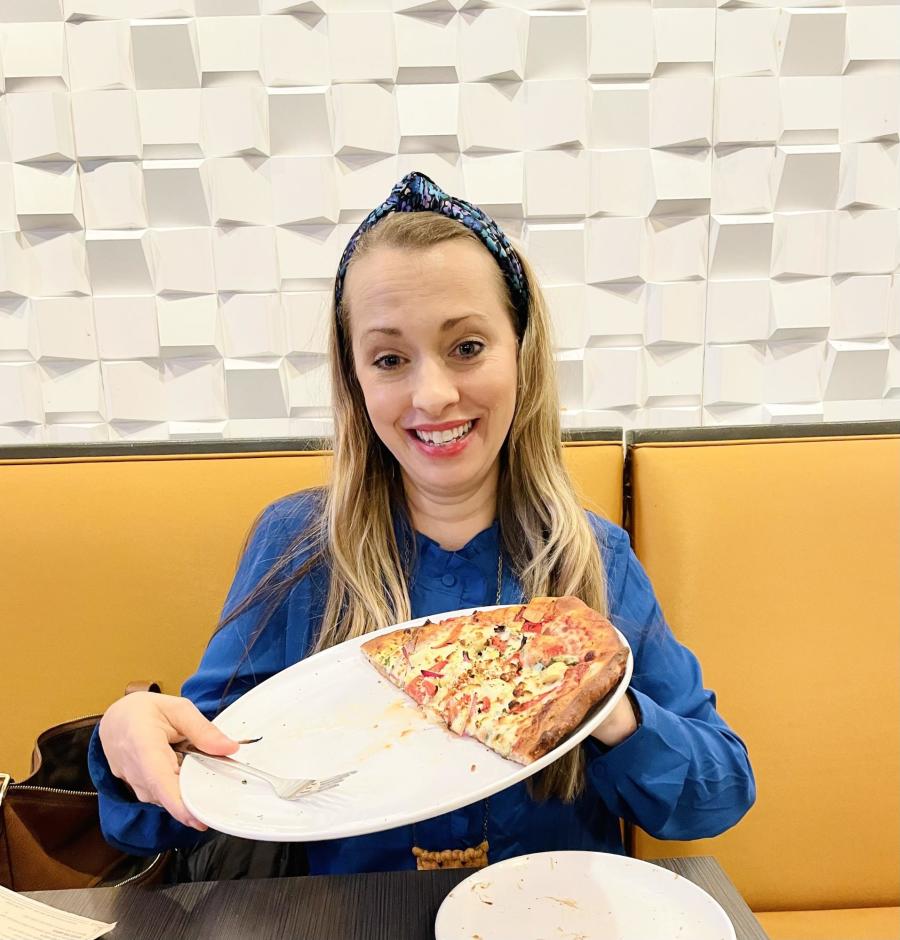 .