Let's take a sweet trip to the candy shop where Huntsville delivers a handful of outstanding artisan confectionaries.
In 2020, we were moving to Huntsville. I was leaving my familiar coastal life, so my husband - already in the Rocket City - bought me a box of Pizzelle's Confections to sweeten my sorrows. I opened it and thought, "Those aren't chocolates. They're fine art!" It's true! Pizzelle chocolates are aesthetically stunning; instead of devouring them immediately, I stared at them. The symphony of harmonious flavors and smells was a delightful experience when I finally did bite into them.
The extraordinary ladies behind Pizzelle's have established themselves as chocolate magicians, confection evangelists, and the Willy Wonka Chocolate Factory of Huntsville.
It's a sweet story! (pun intended) My husband faithfully gets me a small box of chocolates for Valentine's or birthdays. I often save them for days, only taking small bites out of them as I savor the complex flavors. Go to Pizzelle's for handcrafted chocolates prepared in small batches by a team of artisans.
 
Good to Know:
Located in Lowe Mill and open Wednesday, Thursday, and Friday from 11:00AM until 5:00PM.
2211 Seminole Dr. Railroad Room 4 Huntsville, Alabama 35805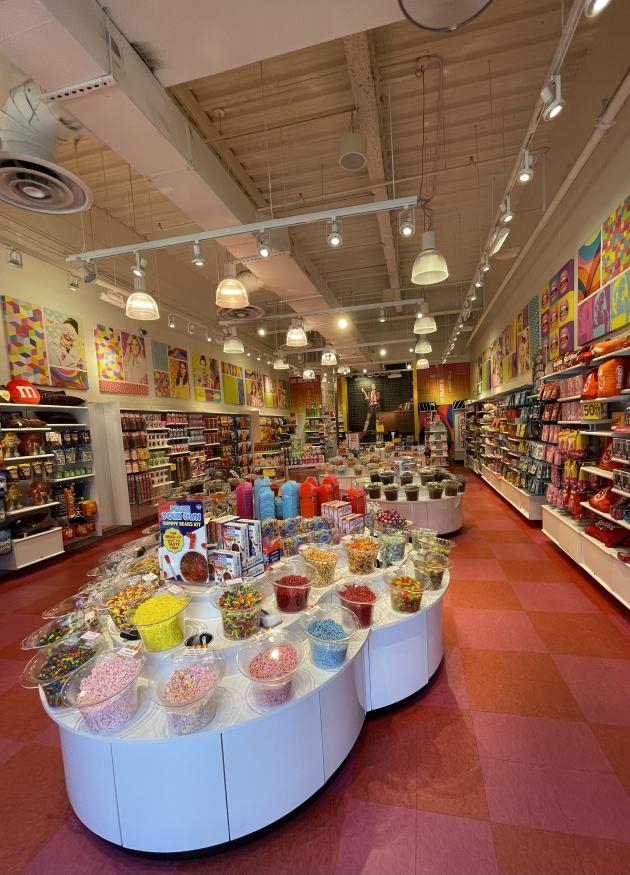 It's Sugar is a franchise with Candyland (the game from your childhood) vibes permeating every square inch of the store. The floor is pink-checked, and the buffet-styled candy stations display every kind of candy; if you're looking for the old-fashioned large glass jars with candy filled to the top, this is your place. Grab a pair of candy grabbers and a clear plastic bag, fill your bag up, and pay by the pound according to the candy you purchase.
If you grew up going to a general store with candy jars or candy barrels, this store will take you back. The large selection of shaped and themed gummies is a best seller for It's Sugar.
Good to know:
Located at 340 The Bridge Street #116 and is open Monday- Thursday, 10:00AM until 9:00PM, and Friday and Saturday, 10:00AM until 10:00PM and Sunday, 11:00AM until 7:30PM.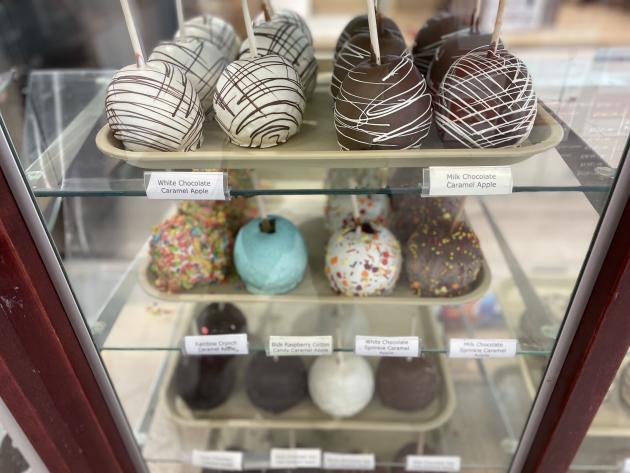 The Chocolate Crocodile is a Willy Wonka lover's dream; I walked in and immediately knew their specialty was Chocolate apples with various drizzled flavors and toppings. The apples aren't your usual sticky apples you see at the fair; these are gorgeous chocolate- adorned apples, and while I didn't taste them today, I have heard they are especially divine. I asked the cashier what their best-selling item was, and he immediately pointed to the apples.
With two other locations in Louisiana and Alabama, the Chocolate Crocodile specializes in selling the finest chocolates and caramel delicacies and covering the most significant, juiciest fruits. They are also a hot spot in Huntsville for chocolate gift ordering, trays, and holiday baskets. Their menu includes chocolate, apples, specialty chocolate - covered items, coffee, and cold beverages.
Good to Know:
Located at 350 Bridge Street #104 and open Monday -Thursday 11:00AM - 9:00PM and Friday and Saturday 11:00AM until 9:00PM and Sunday 12:00PM - 7:00PM.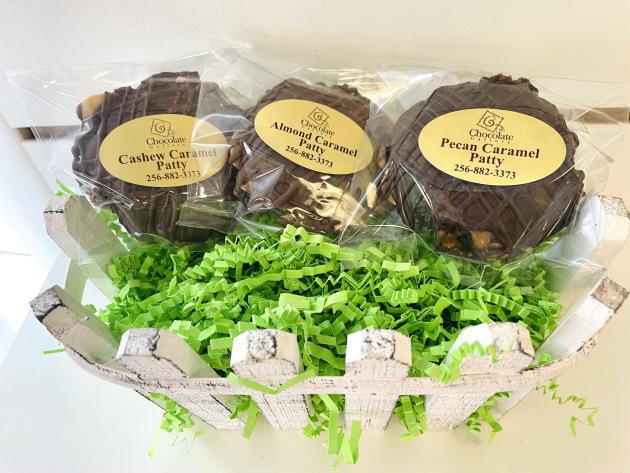 The Chocolate Gallery is near my home, and I've always wanted a reason to stop in. The business changed its twenty-year location a year ago, moving across the street when the original owners sold it to two sisters, Christina and Ashley. "I was running a cake business when the owners approached me about buying the company." The sisters purchased it almost two years ago and have dedicated the business to their two grandmothers, who (surprise) did not bake confectioneries. Still, the dedication is to remember the grandmothers.
The business duo sisters wish their grandmothers were around to enjoy the venture. The Chocolate Galleries' specialty is patties made with different nuts, a unique version of a turtle. I had the pecan one, and it was delicious! The best seller for Huntsville is the sugar-free chocolates they offer: "There aren't many options in town for sugar-free artisan chocolate. We are known for having quite a few to choose from," co-owner Christina said. "Truffles are the other best seller because the flavors are unique." We tried an orange, a raspberry, and peanut butter; all three were divine! The chocolate venue offers fun partnerships with the Wine Cellar to bring the community a chocolate truffle and wine-tasting night; tickets are available through their Facebook page. 
Good to Know:
Located at 8408 Whitesburg Drive, open 10:00AM until 5:00PM Tuesday - Friday and Saturday 10:00AM until 2:00PM. Closed Sunday and Monday.
Le Macaron features two locations in Jones Valley and Bridge Street. I stopped in at Jones Valley and entered a French enthusiast's dream, a lovely cafe with bright cases full of macarons of every color and flavor. The establishment is a franchise based out of Sarasota, Florida. Le Macaron is locally owned and operated by a French couple who are enjoying a return to their cultural roots as a post-retirement project.
Macarons are high because they are gluten-free, made in the USA, and baked from scratch. Stop in and enjoy a seasonal holiday beverage, coffee drinks, and a neat lending library; if you're in Jones Valley, take some time to read or work on the computer in the cheerful cafe with high tops and fun bar seating!
Good to know:
Located at 1305 Four Mile Post Road and BridgeStreet and open Monday - Thursday 8:00AM - 7:30PM and Saturday 8:30AM - 8:30PM and Sunday 10:00AM - 5:00PM.
Enjoy checking out the artistic chocolates that look like mini fine art paintings at Pizzelles, the child-like wonder of It's Sugar, the candy apples in The Chocolate Crocodile, and pecan patties from The Chocolate Gallery. Remember to try a strawberry macaron from Le Macaron!