Opened in 2021, 106 Jefferson is a lifestyle boutique hotel in downtown Huntsville that is perfect for a night out.
With four kids amid a busy household, I rarely have a reason to wear sparkly eyeshadow. Let's be honest, I don't need sparkly eyeshadow when chauffeuring kids to soccer, dance, band, basketball, or swimming. I don't need sparkly eyeshadow when preparing food or folding laundry. When I heard that the new 106 Jefferson Hotel had a rooftop bar named after astronaut monkeys, I thought securing a sitter might be worthwhile. So I put on some sparkly eyeshadow, and my husband and I had a date night.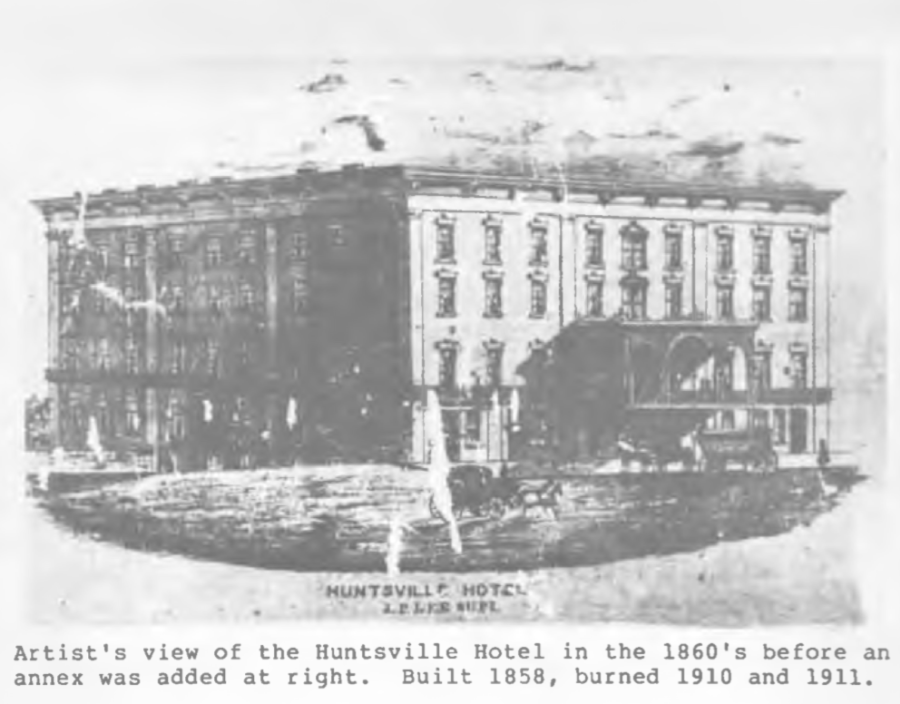 106 Jefferson sits atop the exact spot of the historic Huntsville Hotel. In its time, the Huntsville Hotel featured the pinnacle of Victorian luxury with turn-of-the-century entertainment, a popular attraction for the growing city until an unfortunate fire flattened the iconic hotel in 1910. Following the fire, the location sat barren until becoming home to Alabama Power and the Jefferson Theatre in 1928, then Hale Brothers Furniture in 1956 until 2002.
Only two blocks from the Von Braun Center and a prime spot downtown, the location finally came full circle when they opened the new 106 Jefferson Hotel. The goal is two-fold; the elegant hotel embodies the modern advances of Huntsville through the decor and style while incorporating elements that point back to the addresses' rich history. The hotel does its best to live up to its slogan: "Southern charm, Astronomical Views!"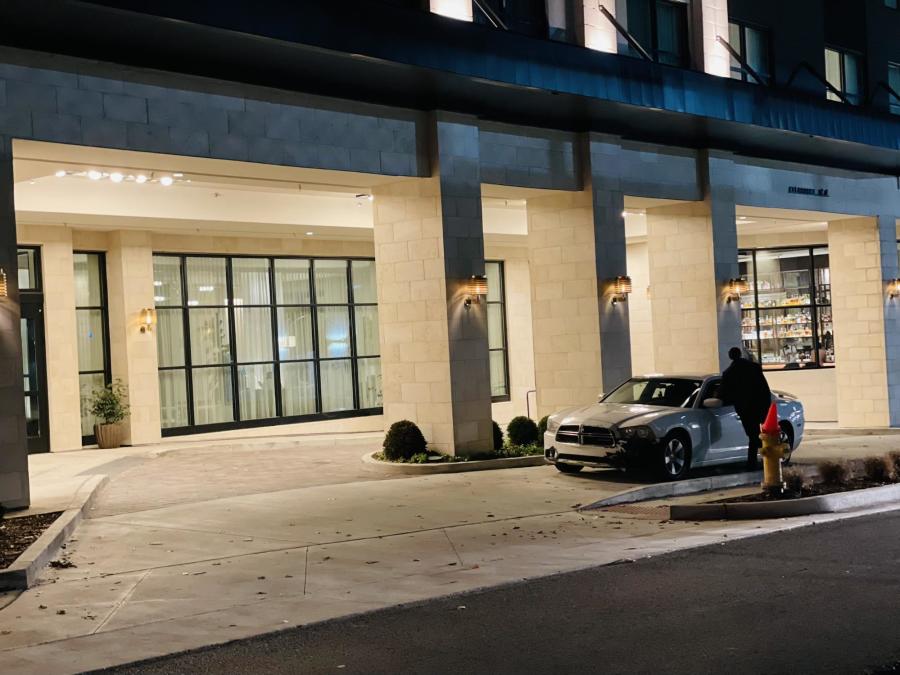 The hotel's entrance offers valet parking and features a contemporary lobby with a variety of seating options. The reading area is inviting, and comfortable chairs and couches are in the corners. My husband and I sat in the lobby, talking and enjoying the surroundings. If you have to wait to be seated for dinner, the lobby is a lovely spot to have a face-to-face conversation!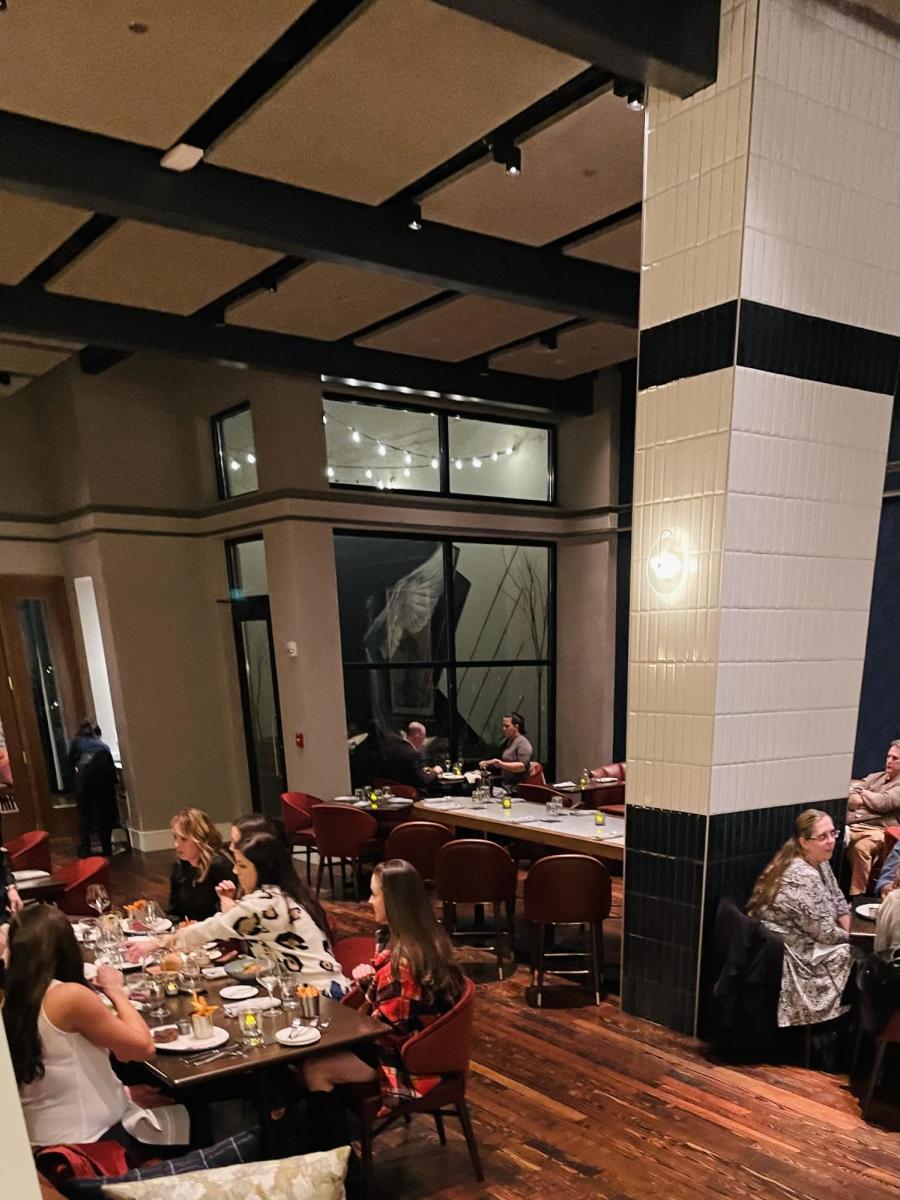 Exploring the downstairs restaurant, Revivalist is an ode to the revival that has taken place since the last hotel occupied this space. The reclaimed wood floors polished to a shine reflect decades past, while the old-style, full-service bar looks like something from a 1950s movie. The classical style of the restaurant ushers you back with an elegance suitable for anniversaries, birthdays, or romantic dates. The menu is versatile and features entrees, appetizers, salads, and desserts for a full-course dinner. The restaurant does require reservations.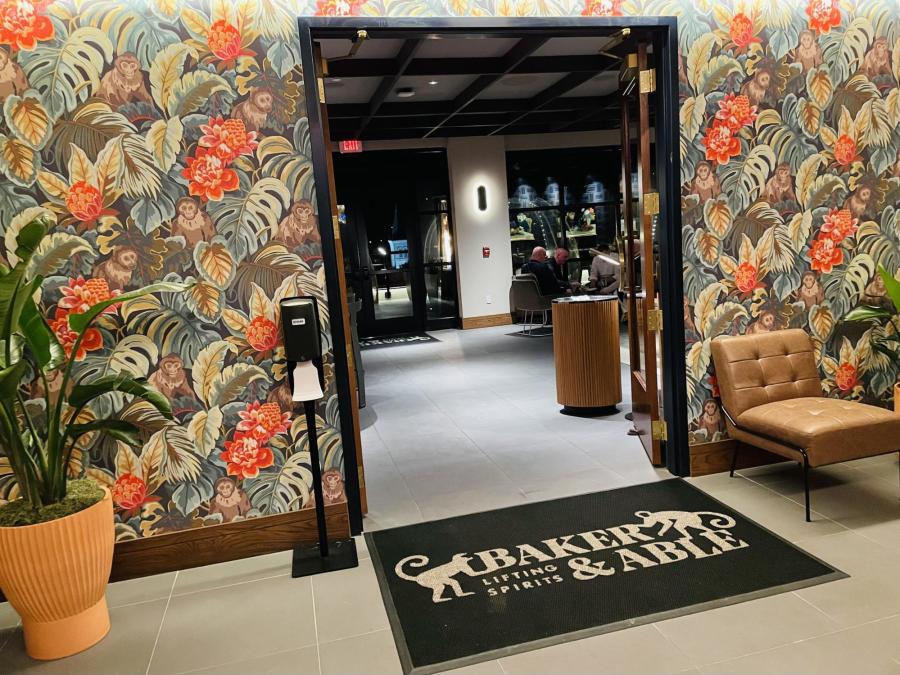 Next, we took the elevator to Baker and Able, the rooftop bar named after two astronaut monkeys. We stepped off the elevator and were greeted by an elegant, playful wallpaper illustrated with lush greenery and young monkeys peeking around and between the leaves. We laughed and mused about the monkey theme while stepping into a sophisticated rooftop bar with an outstanding view. The bar's slogan is "lifting spirits." From the playful theme to the excellent drinks, they fulfill their mission to a T!
Though the entire hotel is beautiful, Baker and Able - the rooftop bar and the monkeys - are what piqued my interest most. I must have missed a class when they taught that the first astronauts to go to space were monkeys. Classic, realist portraits give these sophisticated ladies a wink and nod in all their charm. Baker and Able stand as symbols of Huntsville's part in the space race. From the veranda, one has a view of Huntsville's skyline to give patrons a taste of the "new heights" - the area's active part in putting mankind in space.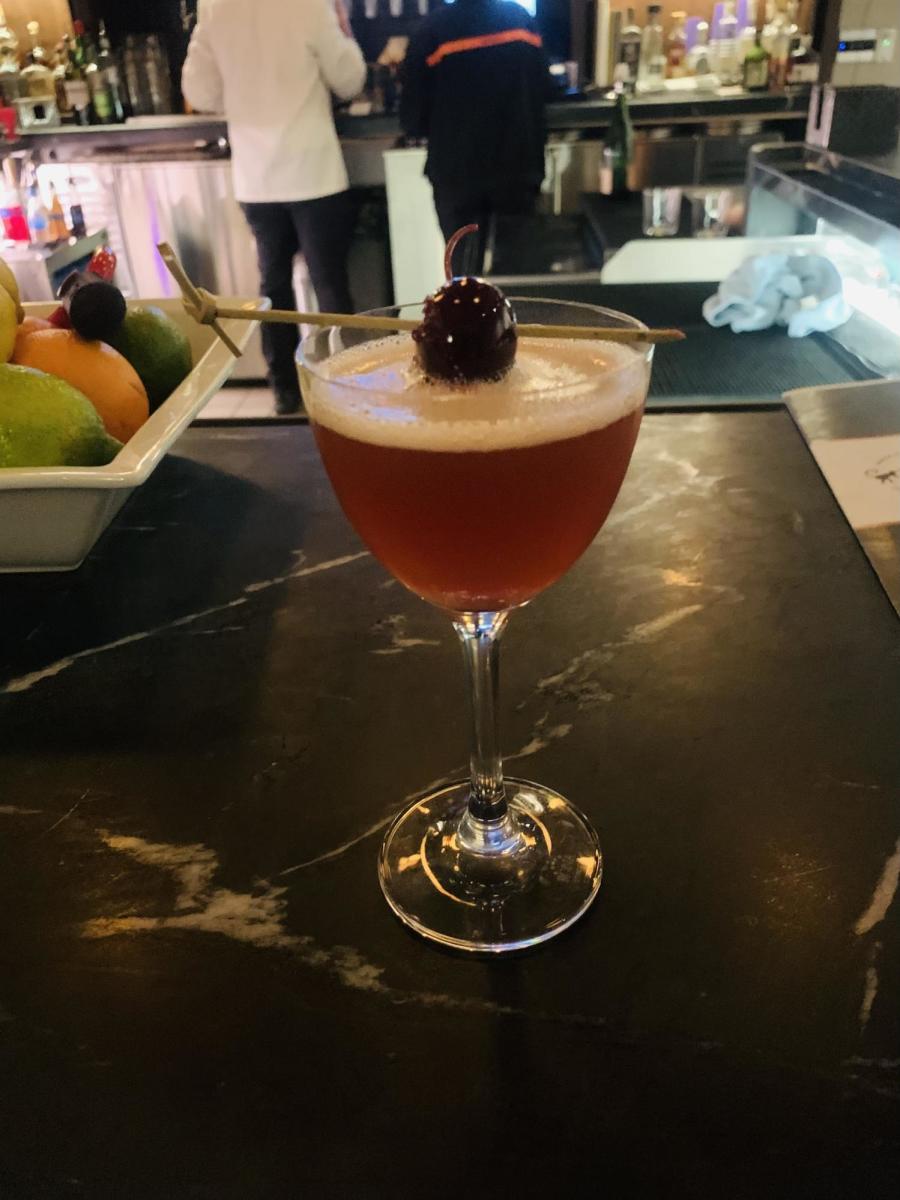 Our bartender was an absolute chemist. Being less familiar with mixed drinks, we asked him to surprise us. After asking a few questions to get a flavor profile, we watched him wizard up a Scofflaw Cocktail and a Last Word.
"These two aren't on the menu, but I think you'll like them," the bartender said.
The Scofflaw Cocktail is a specialty drink named to honor wealthy Americans who hired personal bartenders to "scoff at the law" during the prohibition. The Scofflaw was invented in Paris in 1924 and features rye whisky, vermouth, and grenadine. Last Word is another prohibition-era cocktail that originated in Detroit. Popularized by vaudeville performer Frank Fogarty, the Last Word cocktail is gin-forward and potent, despite tasting innocently citrus.
Our eyes grew wide with our first sip. Surprisingly nuanced, both drinks were perfect. The bartender added, "If we put every drink on the menu, it would be a book, but we can make anything you like."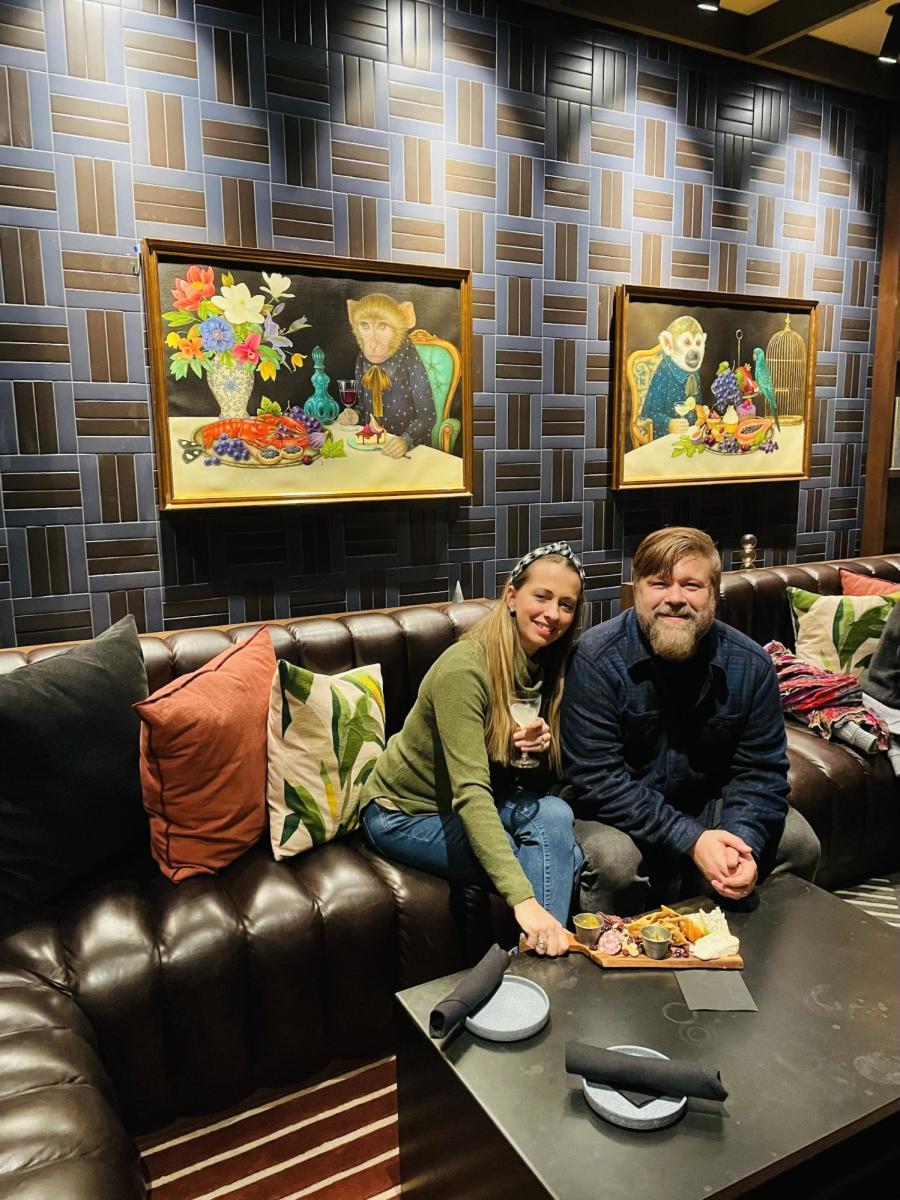 After ordering drinks, we moved over to a seating area with a backdrop of the bar's namesakes, Baker and Able. I wanted to sit with the portraits of these famous monkeys. For the uninitiated: on May 28, 1959, Able and Baker ventured on a 15-minute flight, climbing over 300 miles and returned alive. This was a notable milestone, and the first American human successfully followed them two years later. Miss Baker's grave can be found just outside the entrance to the U.S. Space & Rocket Center. (An insider's tip - the tradition is to leave a banana in her honor!)
While we did not directly experience a night at 106 Jefferson, we ascertain that the rooms are top-notch. The guest rooms and suites feature city views with luxury amenities. Each room includes the Curio Collection by Hilton Enhanced Sleep Experience, while guest rooms feature an exclusive Serta Suite Dreams mattress, down pillows, exquisite linens, and duvet covers. All rooms are outfitted with a 55-inch TV, chair and ottoman, work desk, phones, coffee maker mini-fridge, seamer iron, ironing board, and hairdryer. Amenities include a marble vanity, glass-enclosed walk-in shower, in-room Keurig coffee maker, and a lighted closet.
Receptionists and concierge services are available in the lobby to help with any questions.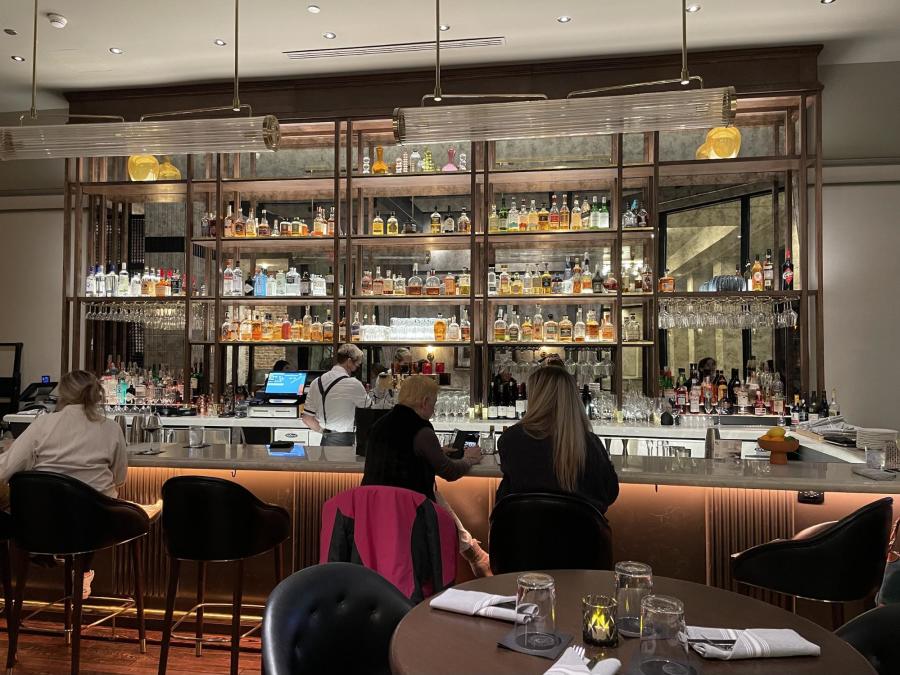 We had a lovely evening, and if we were visiting Huntsville, it would be my first choice of where to stay, from the locations to the establishment's aesthetic. It was worth putting on some sparkly eyeshadow! Whether you're seeking accommodations, a nice meal, or a drink with friends, 106 Jefferson lives up to its location, delivering on its timelessness and charm. Make a booking request here.