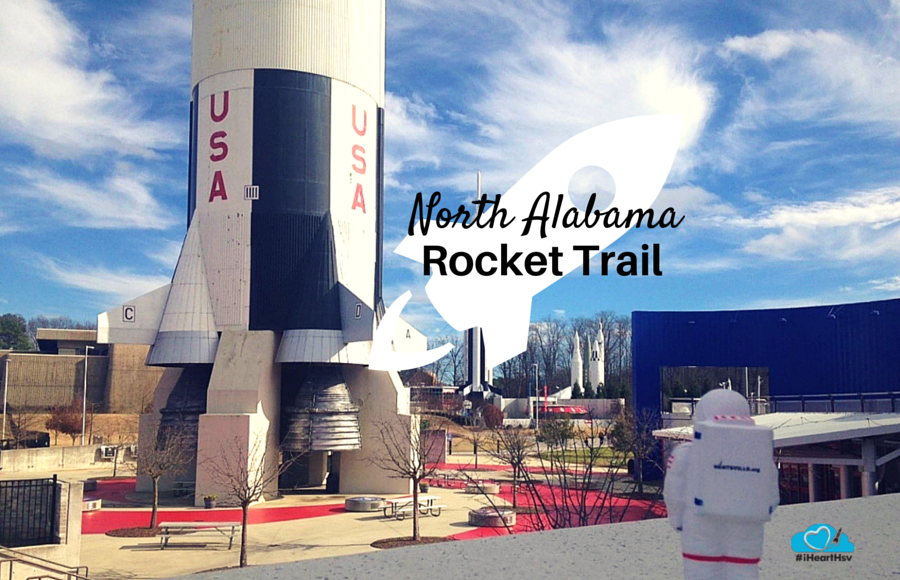 J.R.R. Tolkien wrote, "Not all those who wander are lost,"  but Bugs Bunny also knew he should have taken that "left turn at Albuquerque."
If you're an explorer like me, you enjoy seeking out locations and experiences that speak to all that you love to see and do. Good news for you, and me, is that Huntsville has any number of "trails" to keep wee wanderers on the right path. For example, did you know that Land Trust of North Alabama runs (and walks) over 50+ miles of public trails, Huntsville Botanical Garden literally gives you a "bird's eye view" with the Lewis Birding Trail and Arts Huntsville can make time & art stand still with their city-wide sculpture trail? So many incredible adventures! However, upon further inspection, I did notice that our numerous trail options appear to be a little, shall we say, launch-lacking / propulsion-poor / flight-flawed. Yours truly set out to right this tiny wrong and have therefore created the…wait for it…
North Alabama Rocket Trail!
How awesome is it that we have enough available rockets to even create such a thing? Am I right?
I'm naturally inclined to be counting this down (for obvious reasons) but, it's a trail. So, best not.
Saturn 1B Launch Vehicle - Alabama DOT Ardmore Welcome Center

(I-65S, Elkmont)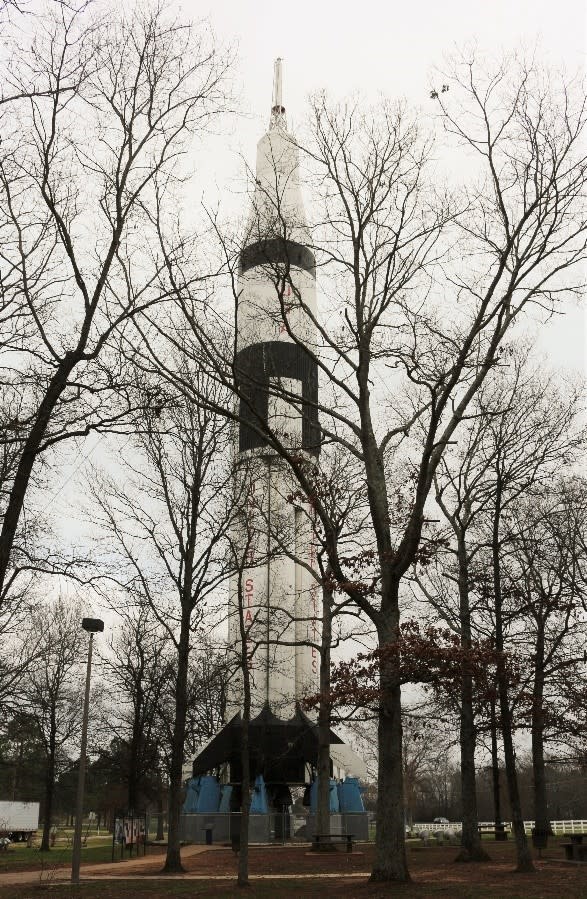 This beauty is accompanied by a simple plaque that not so simply says,
"Developed by the Marshall Space Flight Center, Huntsville, Alabama, and associated contractors
Erected by the citizens of Alabama as a tribute to the men and women who made it possible for this nation to explore space for peaceful purposes through the cooperation of National Aeronautics and Space Administration, NASA's Marshall Space Flight Center, Alabama Space and Rocket Center, State of Alabama, July, 1979"
Kind of spectacular, huh?
 Hermes Guided Missile - Airport Road at Memorial Parkway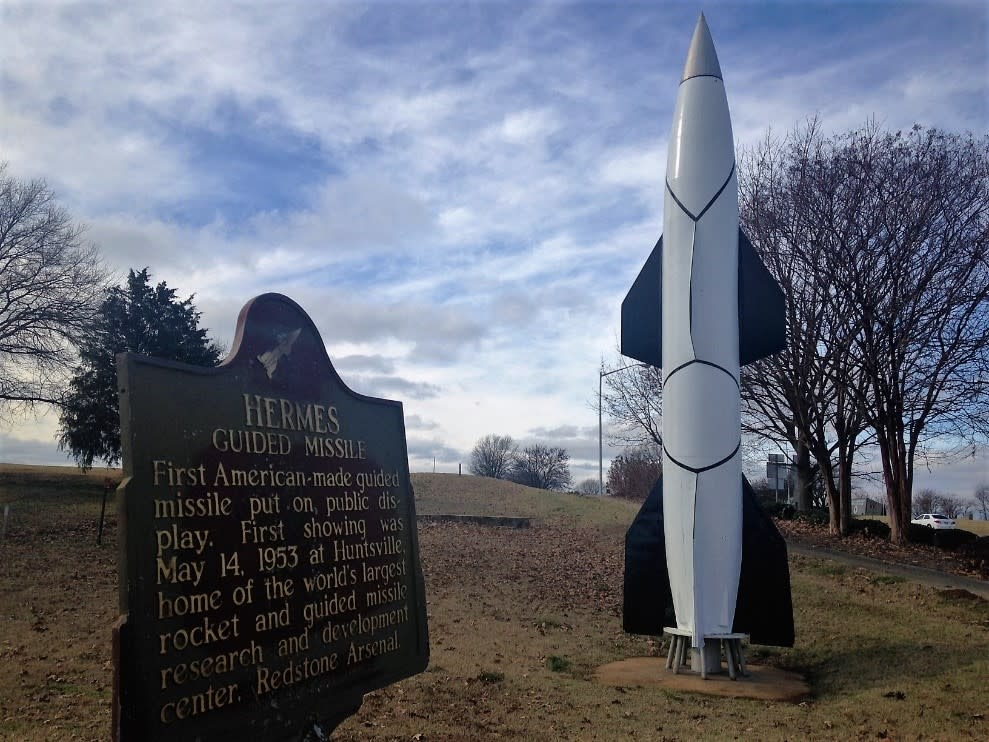 Just like the sign says, this baby was the first American-made guided missile put on public display, ever.
If you ask me, totally worth jumping off Memorial Parkway at that Airport Road exit.
BONUS: She's located just across Airport Road from one of Huntsville's hidden treasures, the U.S. Veteran's Memorial Museum.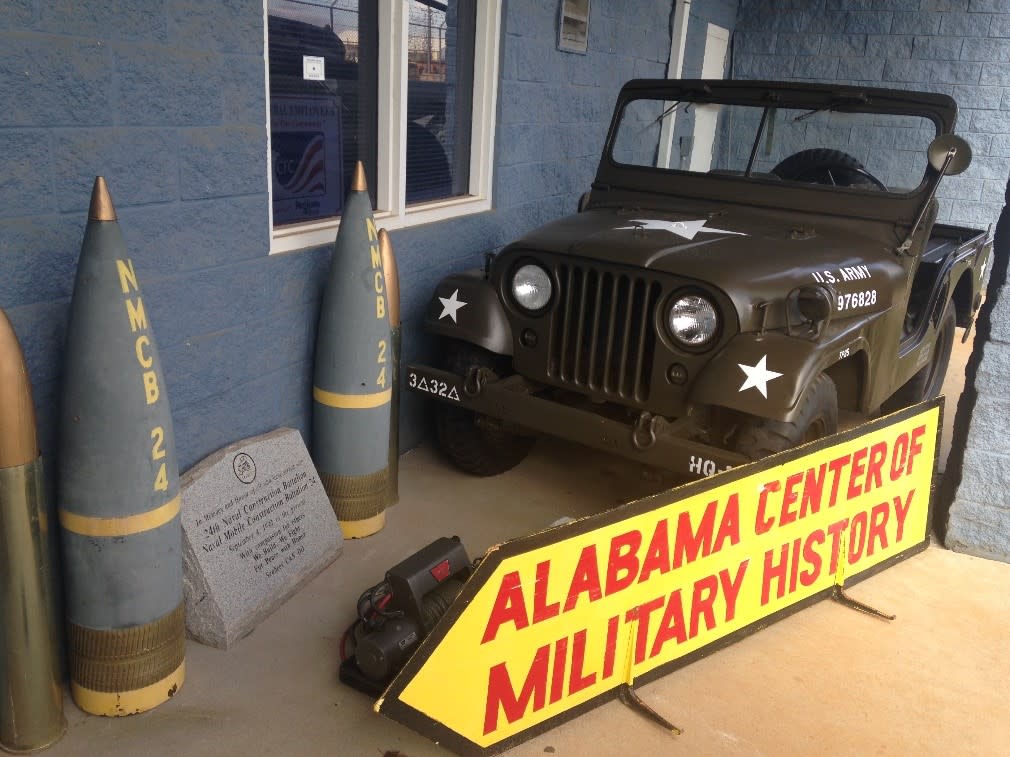 This place is jam-packed with amazing, one of a kind pieces of history.
You must go!  Do it now. I'll wait here.
Space Station Connecting Node – Huntsville Botanical Garden Children's Garden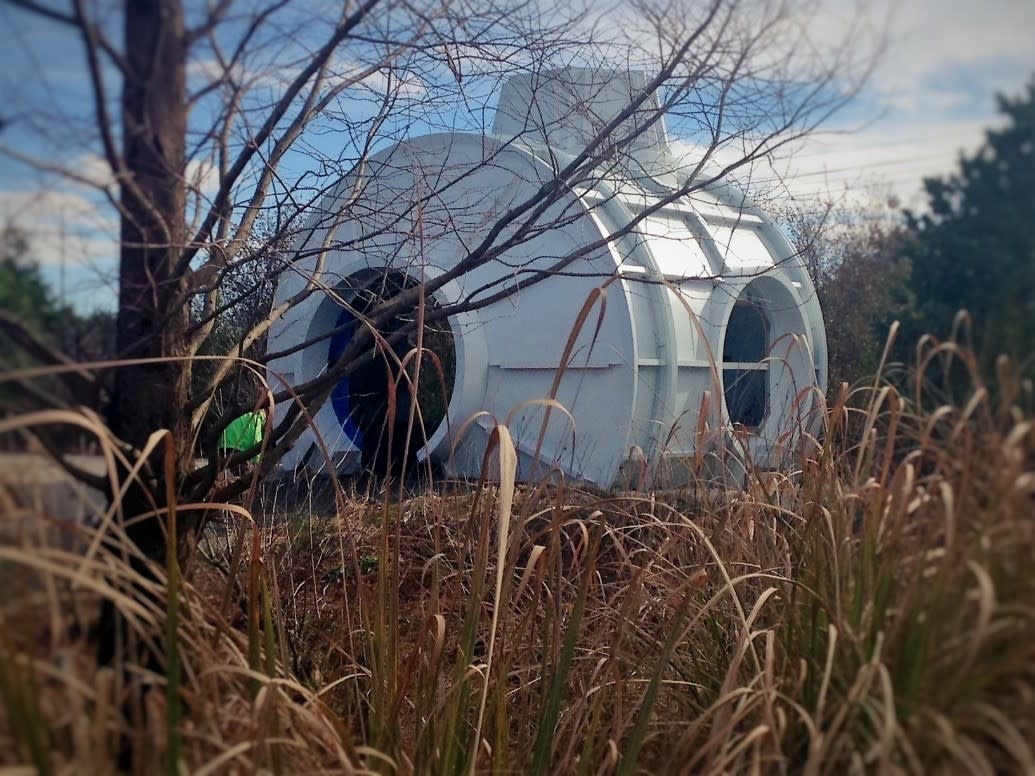 Okay, it's not technically a rocket but…COME ON!
This connecting node was originally built in 1988 by Boeing in Huntsville as an engineering mock-up for the Space Station program, which eventually became the International Space Station. In 1994, NASA gave this bad boy to the Huntsville Botanical Garden to be used as part of an educational exhibit, and it's now located in their Children's Garden along with these extremely helpful signs.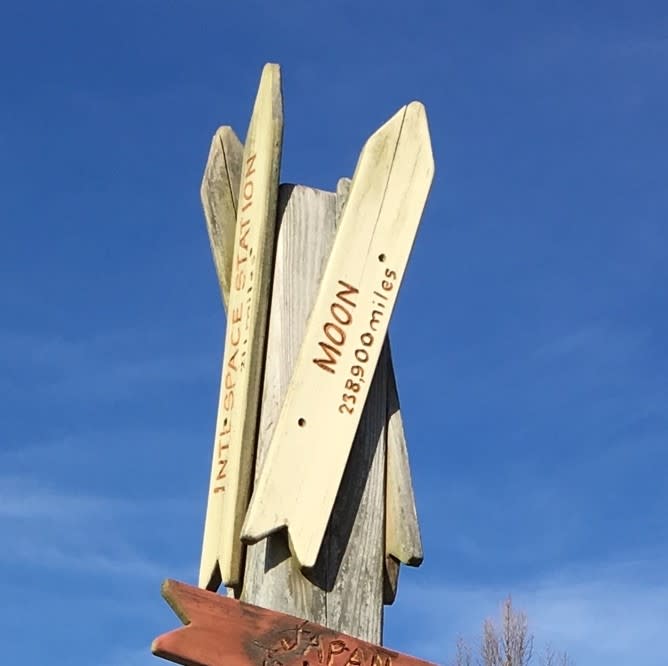 Space is so much a part of who we are, rockets practically spring right up out of the ground!
Rocket Park – U.S. Space & Rocket Center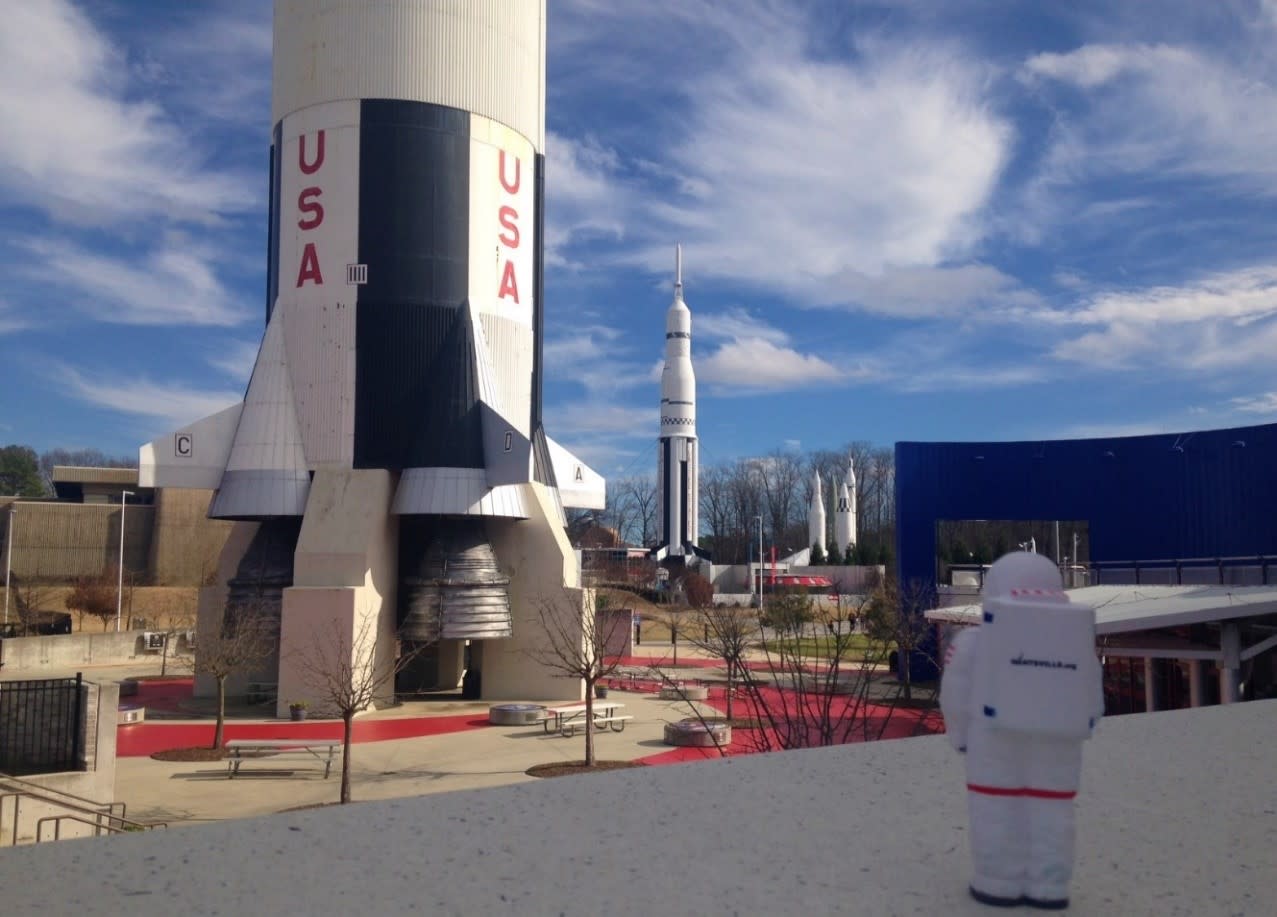 Called "the finest rocket collection in the world" by Mercury astronaut John Glenn, the granddaddy of all rocket stops, and a trail all on its own - Rocket Park at the U.S. Space and Rocket Center! You're going to need to set aside some time for this because the park contains 27 missiles and rockets, putting on full display how Army rocketry launched America's space program and gave rise to NASA's Marshall Space Flight Center. Not to mention that there's a Saturn V and the world's only fully-stacked Space Transportation System (STS) that includes two solid rocket boosters, genuine space shuttle main engine nozzles and a genuine external tank only a few steps away. Like I said, clear your schedule!
BONUS STOP!
Lunar Lander Model – Used Tire World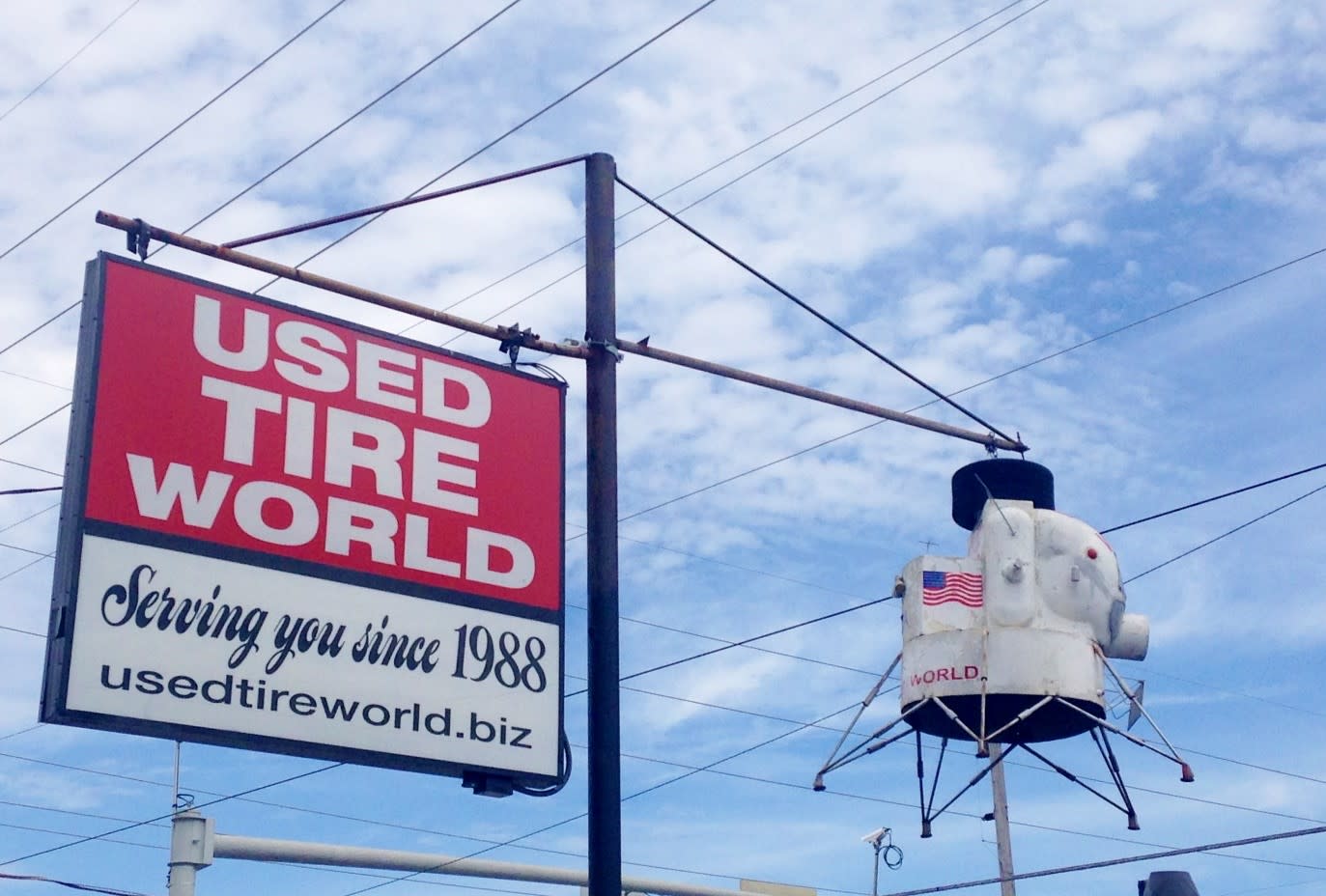 Yep, you read that correctly, there's a Lunar Lander model perched atop the Used Tire World sign located on Governors Drive.
The reason for this? You decide:
a

) They were unable to procure the more thematically appropriate Lunar Roving Vehicle

b) The Michelin Man had prior commitments

c) #BecauseHuntsville
I don't actually know the answer to this question, but I think we can all agree that no matter how it got there, it's pretty awesome!
So let's do this, people! Put down that trail mix, pick up some Tang and blast off on one truly "out of this world" road trip!