You pick, I pick, we all pick with u-pick!
It's our favorite time of year when all the pick-your-own farms begin opening their gates and welcoming the community to gather, connect and find the perfect pick. The Huntsville/Madison County options have grown, and we're proud to say there's something for everyone to enjoy.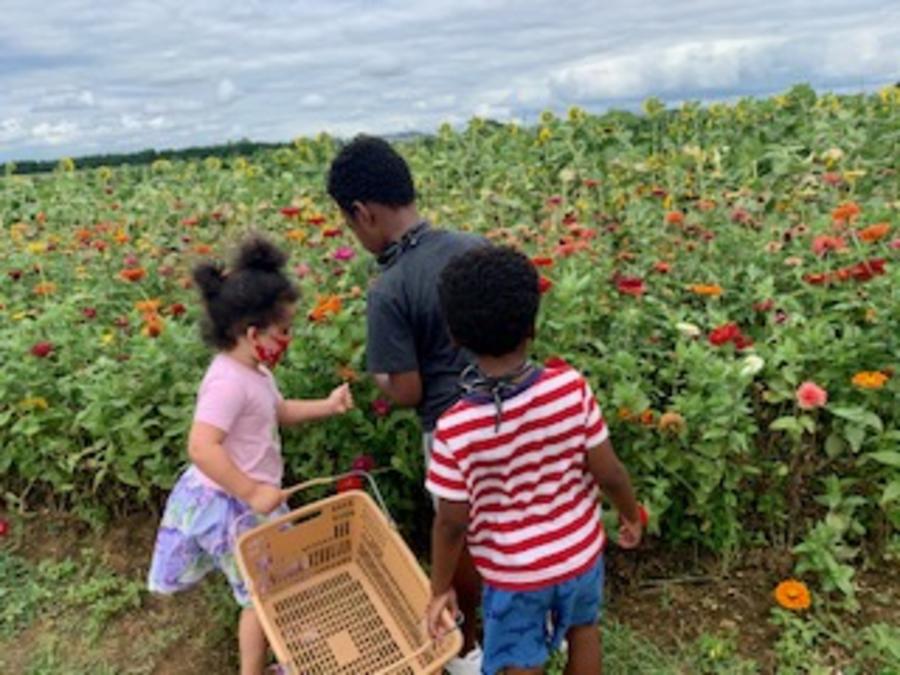 Flowers
Field & Forage
2416 Hobbs Island Road
Huntsville AL 35803
Field & Forage is a South Huntsville flower farm run by a mother/daughter team. Their season is typically Friday evenings and Saturday mornings throughout the summer and requires pre-purchased tickets to enter. Each ticket is suitable for one adult and two children, making this one of the most cost-effective U-pick farms in the area. Pack a picnic and enjoy this charming flower farm!
Hubert Family Farms
432 Narrow Ln.
New Market, AL 35761
Tulip season: Spring
Sunflower season: Summer
Hubert Family Farms is located in New Market, Alabama, and has offered tulips and sunflowers for u-pick over the last few years. Be sure to check out the dates of their Saturday marketplaces. With food trucks, vendors, and sometimes rides, it's a great way to turn flower picking into a full-day activity. 
S&J Produce Farms 
8140 Hwy 72 W 
Madison, Alabama 35758
Monday - Sunday 9:00 pm - 7:00 pm
*Contact farm for more info on u-pick
S&J Produce farms is a market stand on highway 72. They provide delicious fresh-grown fruits and vegetables and open their flower fields for u-pick. We've picked sunflowers and zinnias in the past and love that it never feels overcrowded. We can thank the extended business hours for making it easier for families and individuals to pop in when convenient. 
Lavender Wynde Farm
492 Robins rd,
Harvest, AL 35749
*Tentatively scheduled to open in April
Lavender offers impressive health benefits and is one of the primary ingredients in many products to help you relax. Now you can pick your own at a family-owned farm in Harvest. Lavender Wynde Farm is a herb farm providing natural and handcrafted products and offering Madison County a small taste of Provence, France.
Mullins Orchard 
175 Oscar Patterson Rd
Meridianville, AL
If variety is what you want, Mullins Orchard has what you need. This seasonal u-pick orchard has been open since 2008 and offers the community blackberries, blueberries, and muscadines for picking. They also provide group tours and seasonal markets and raise pygmy goats on the property. 
Follow them on Facebook for up-to-date information on opening and season hours.
Scott's Orchard
2163 Scott Rd
Hazel Green, AL
Scott's Orchard is a 100-year-old orchard where guests can pick apples and peaches on select Saturdays throughout the season. With a great play area for kids, Scott's Orchard has grown into one of the top family-fun destinations in town. When not offering U-pick, customers can purchase items from their onsite shop and even buy fruit trees to plant at home. 
Brown Farms
384 Walnut Grove Road
New Market, Alabama 35761
Hours: 
Monday-Saturday 8 am - 6 pm
Sunday 12 pm - 6 pm 
*Tentatively scheduled to open in Mid-April
We can't talk u-pick without strawberries; Brown Farms has the best in town. The season is from mid-April through May, and you can expect to make beautiful and tasty memories during your trip. Not in the mood to pick your own but still want to enjoy the farm? You can purchase pre-picked berries, plants, and other goodies and enjoy the jumping pillow, ice cream, or a picnic under the covered pavilion.
No matter which pick your own adventure you choose, there's family fun for everyone!