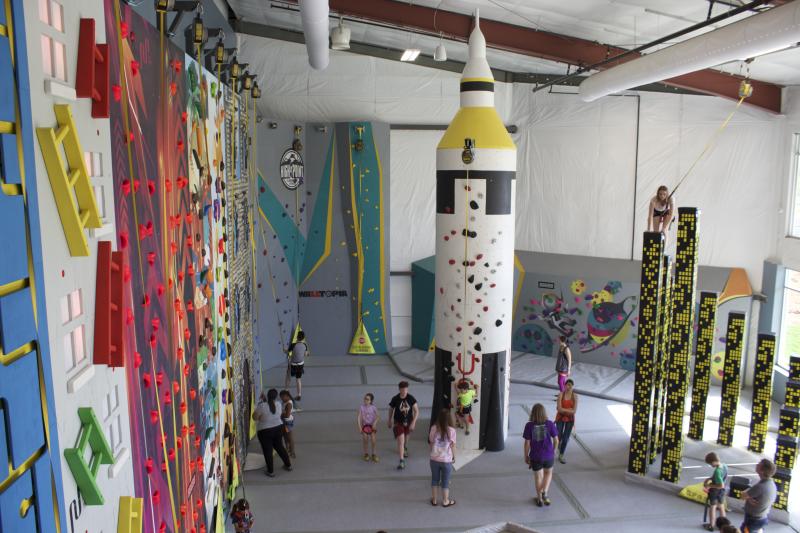 The Rocket City has a new challenge in store for anyone looking to test their strength, agility, and nerve. High Point Climbing & Fitness, located at the growing Mid City development off University Drive, is officially open and ready to turn even the most untrained climber into a wall-scaling athlete.
All ages and skill levels are welcome, thanks to multiple courses that vary in difficulty and multiple belaying methods to choose from.
Huntsville High Point Climbing is Open
(For those new to the world of climbing, belaying refers to the process of securing and safeguarding a climber by using a rope to hold the climber's weight if they fall. At High Point, guests can choose a manual belay, auto belay, or an area without belaying equipment called bouldering.)
Here are a few things you should know about Huntsville's High Point Climbing facility: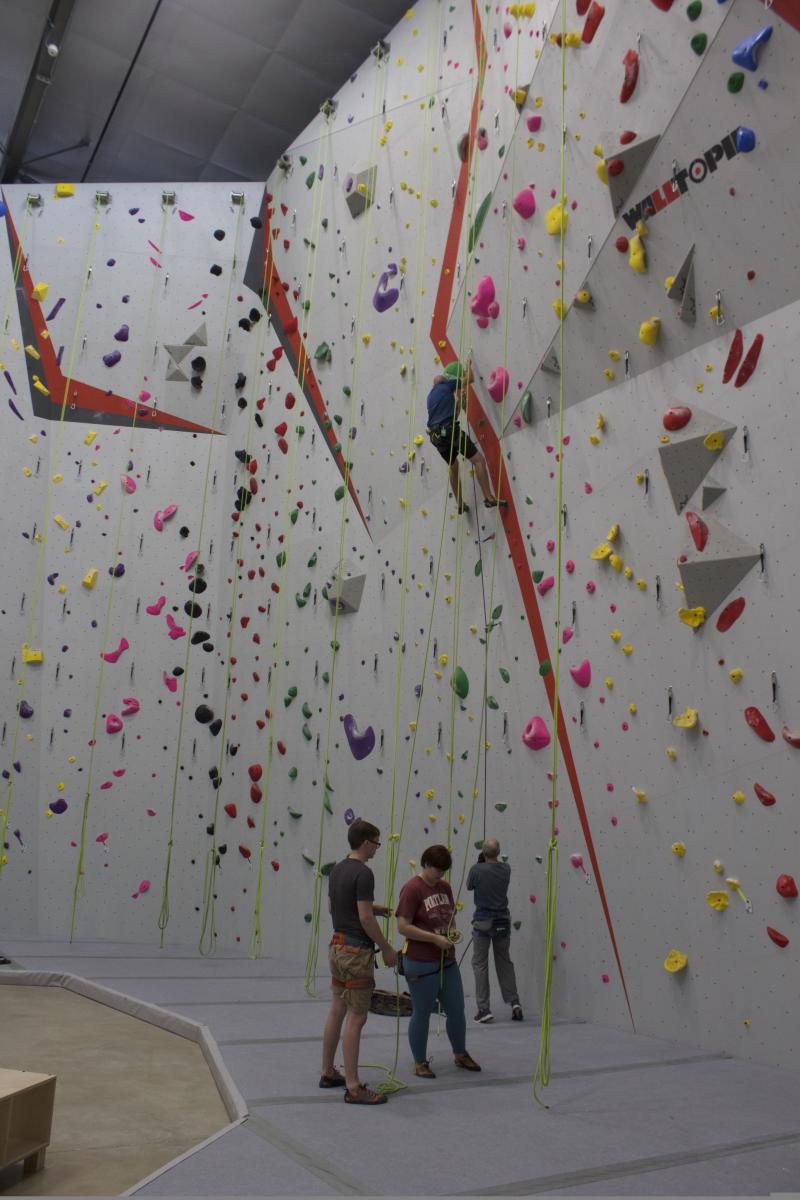 Safety First Sign the Huntsville High Point Climbing Wavier
If it's your first time visiting High Point, you will have to sign a waiver and attend a quick orientation before you begin your climb. A helpful instructor will give you a brief overview of the facility, explain how to use the equipment, and answer any questions. If you want to get climbing faster, you can fill out the waiver online ahead of time.
(Tip: Leave all jewelry, including rings, somewhere safe. They highly advise climbers to remove all jewelry and tie back long hair to prevent injury. There are cubbyholes available to hold shoes and other small items, but valuables need to be left at home.)
After completing your orientation you're ready to start climbing!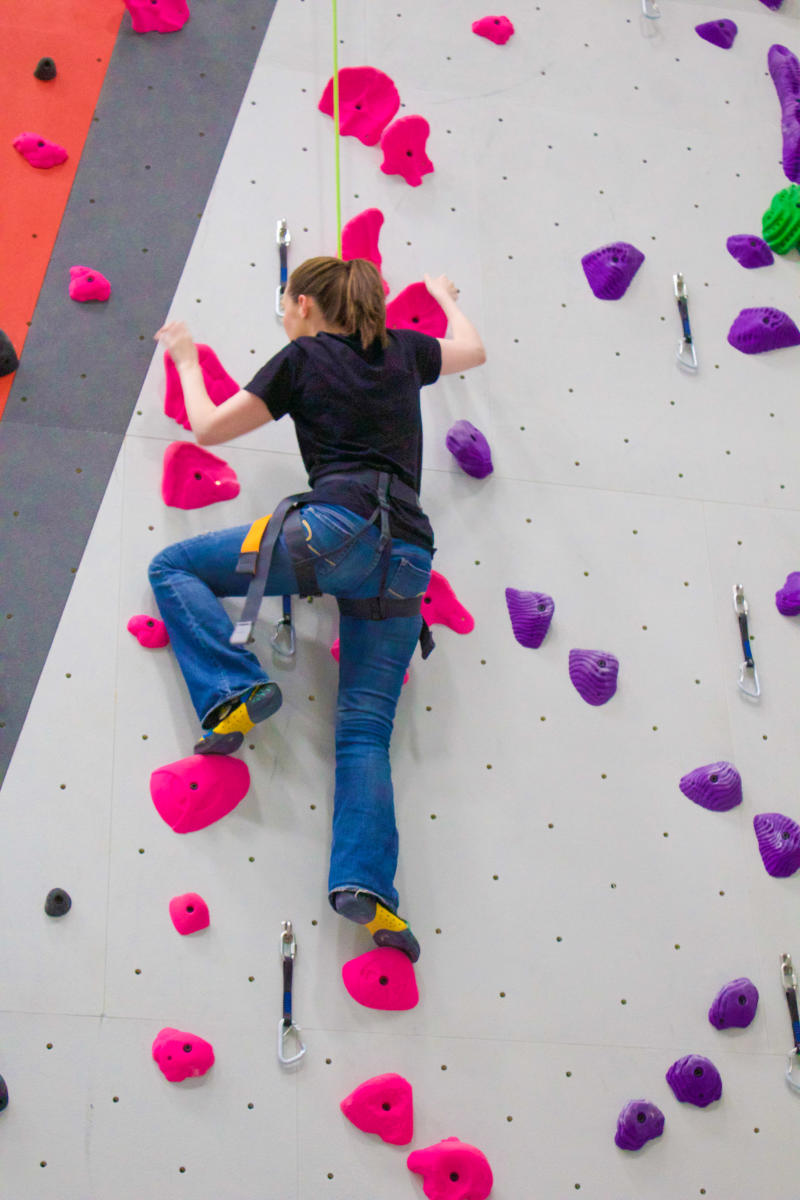 High Point Climbing Courses
It's important to start climbing where you feel most comfortable, and High Point has many ways you can get started. According to the team, inexperienced climbers typically prefer to use the auto belay—a device that takes slack out of the system as a climber moves up the wall. When the climber lets go or falls, the auto belay safely lowers them to the ground.
The other option is to take a class and learn to belay manually.  A Basic Belay course will help you become an expert and even help others belay in the process. But be sure to review age minimums and all requirements before booking a class.
Finally, every course is separated by color and ranked by a number system near the bottom of the wall. Your orientation instructor will cover everything on your first visit to make sure you choose a route that feels right for you.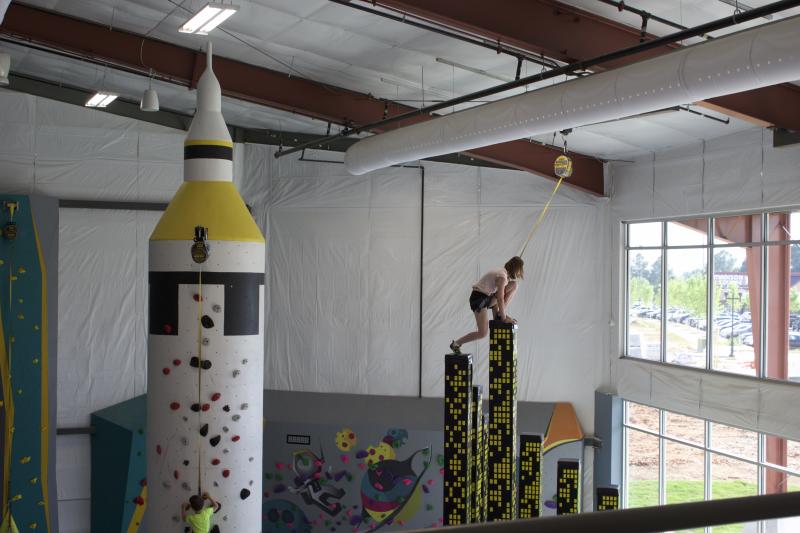 There are also different areas that climbers can explore. The Kid Zone, located at the front of the building, allows children ages 3 and up to climb fun, challenging courses while parents can observe in comfort.
Kids can test their skills by beating the clock on each climb, scrambling up a custom-built Saturn V rocket, or jump across the tops of buildings like Spiderman. (Another tip: This area is open for birthday parties and groups. Be sure to check out High Point's Birthday Packages.)
In the middle of the facility is the Rope Climbing area, where most of the action happens. Within the rope climbing gym, guests can scale many colorful courses and sharpen their skills with ease.
Finally, near the back, the Bouldering area is where more experienced climbers crawl up walls without the use of equipment. Even if you choose not to boulder, it's pretty amazing to watch the skilled climbers push themselves to the limit as they reach new heights.
High Point Climbing and Fitness is also a Gym
Sure, climbing is and always will be the main attraction at High Point but the site has even more to offer!
In addition to climbing, visitors can find a weight and aerobic room, Yoga classes, and special training tools for anyone seeking to climb competitively.
Yoga classes currently take place every Tuesday, Wednesday, and Thursday at 7 p.m. and are included with a day pass, punch card, or membership.
There's also a large fitness facility complete with weight training and cardio equipment for anyone who wants to incorporate more traditional workout methods into their climbing visits. And for anyone looking to become a top-notch climber, there are plenty of tools available for training. Try one of the grip-training wooden pull-up boards to customize a quick routine with several pockets and edges to increase your strength when climbing more difficult routes.
Finally, you can find an area near the front of the gym where you can purchase climbing gear of your own.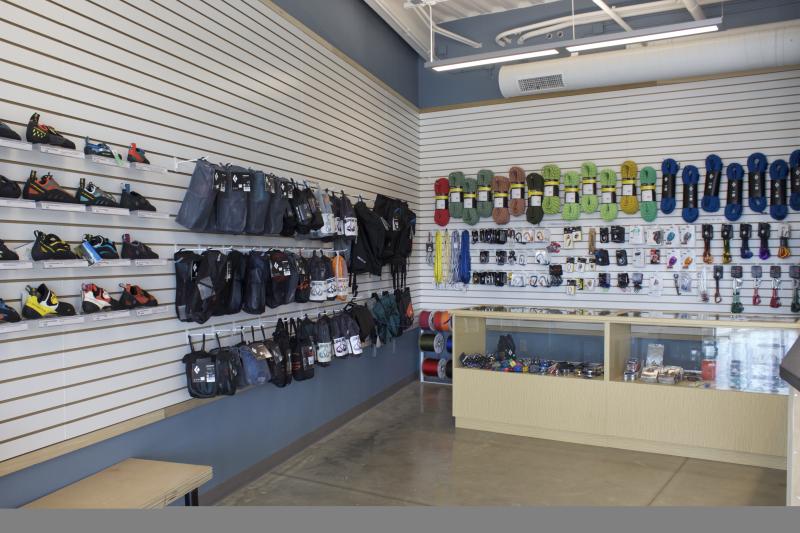 What's New at High Point Climbing in Huntsville
So many programs including recreational and competitive youth options, teams, climbing clubs, summer camps and more are all available or will soon be available at High Point Climbing.
According to High Point, the Southern Grit Bouldering Series will return to the Southeast in Fall 2019. The series is a three-stop competition where climbers can win prizes. Click here to stay up-to-date on more info.
Summer camps start June 17th and run through July 26th. Sessions are weeklong, half-day camps that run Monday through Friday from 9 a.m. to 1 p.m. You can schedule here: https://highpointclimbing.com/huntsville/programs/camps/.
Still have questions about High Point Climbing & Fitness? Have you visited before? What did you love most about it? Let us know in the comments!