Imagine taking all of your anger and frustration out, baseball bat in hand, on dozens of breakables... without having to clean up your mess. That's the beauty of the Rage Room in Huntsville-- your one-stop shop when you're ready to get wild and let loose. 
Before visiting, I didn't know how satisfying it would be to take a golf club to wine bottles, swing a plumber's wrench into a bathroom mirror, and more. I can definitely say it was an experience I'd gladly repeat! 
Get the most out of your visit to the Rage Room and learn what other must-try activities they are now offering.
Arrival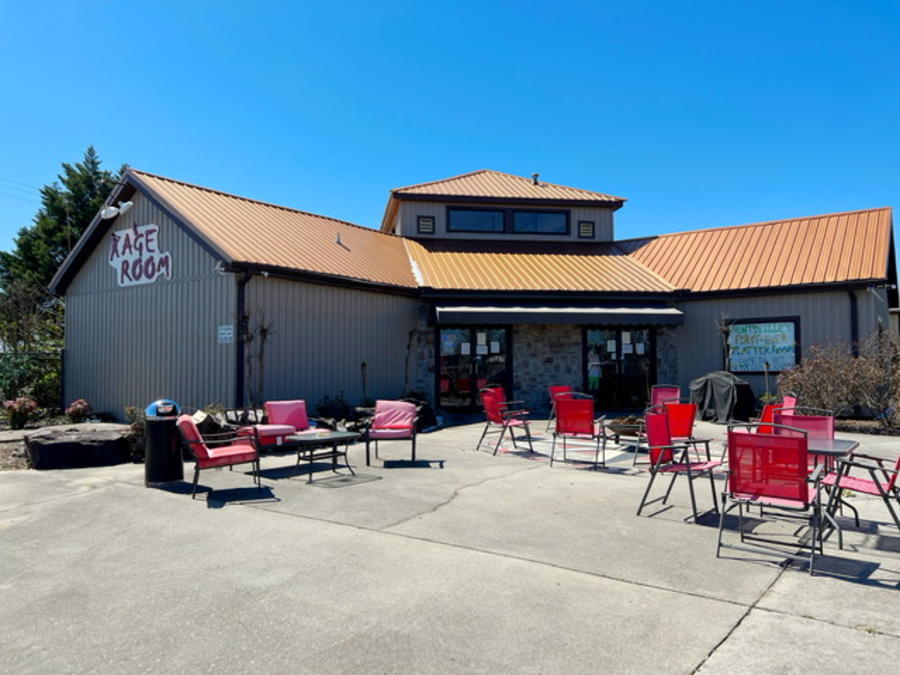 Your GPS will take you straight to the Rage Room. Here's how we knew we were about to have fun: we heard loud music before entering the building on Leeman Ferry Circle. 
Inside, you'll find a friendly staff and individual rooms filled with breakables for you and your guests to rage to your heart's content. The Rage Room requires you to make an appointment prior to your arrival due to the fact that every rage experience is different. You can choose from multiple packages to accommodate up to ten people, and the number of items in the room for you to break varies depending on your package.
Gabbi Rogers, a Rage Room team member, told me she sees the anger leaving people while they're there. 
"When they come out of that room, they're just in the best, most smiley, giggly mood," said Rogers. "I've never seen anyone leave angry."
We immediately got a taste of the fun to come when we heard the customer ahead of us, a solo-rager, jamming to One Direction and yelling at the top of her lungs as she destroyed glass objects, a computer, and more in the next room. While we waited, she ended her session with the brightest smile! We couldn't wait to be next.
Rage Safely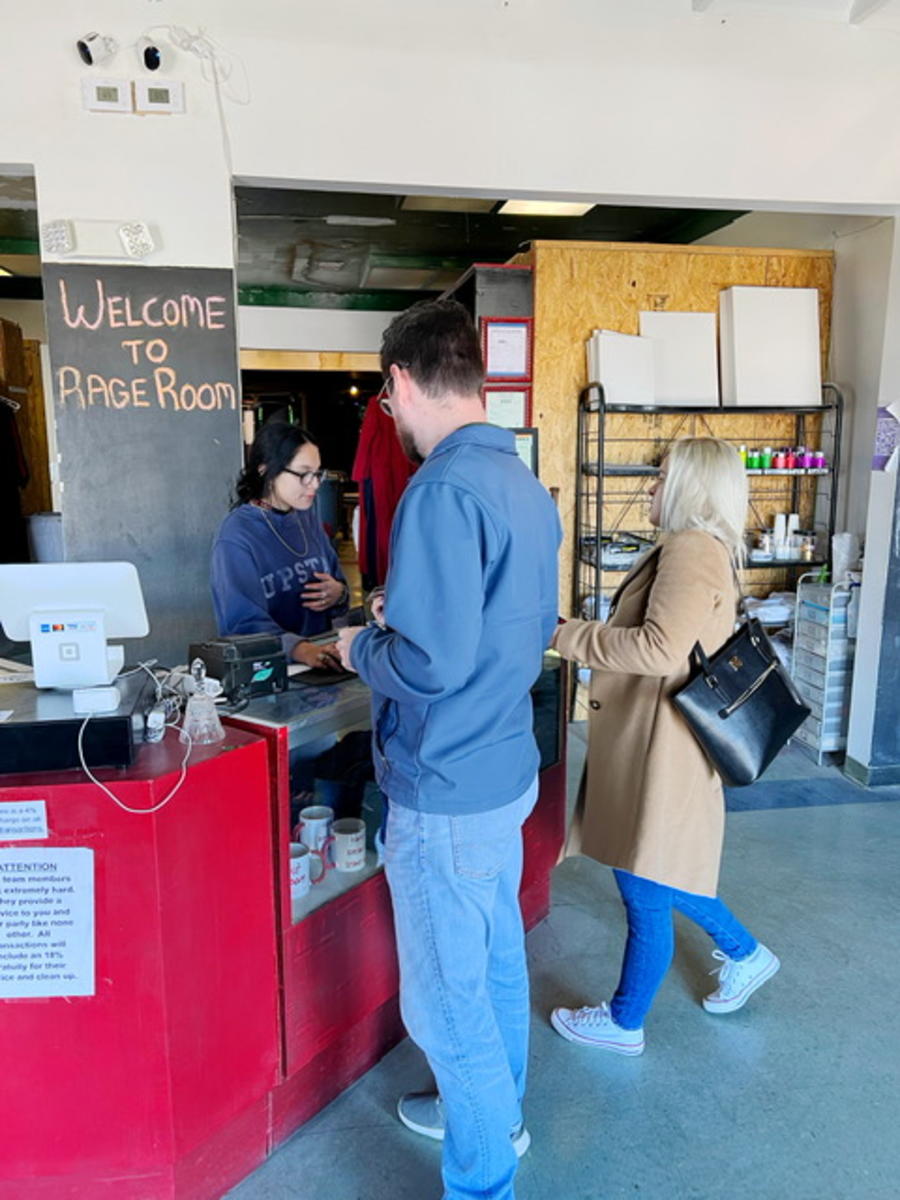 Before you rage, prepare to agree to a few rules and conditions. You must digitally sign a waiver or have a guardian do so for you. And don't forget your ID! You will need it to get inside your very own rage room.
"And, make sure you come dressed appropriately. I've had girls come in high heels. They need to be closed-toed," noted Rogers.
After everything is a "go," the Rage Room team will bring you inside, and you'll suit up. Every participant must wear a jumpsuit, face mask, and gloves to protect them from debris. There was plenty of availability, and we were provided lockers for our belongings while we were raging. 
There are a few rules to go over before you walk into your rage room, too, like "Don't hit each other," "Don't stand on the tables," etc. Make sure you read them over carefully and ask the team any questions you may have for safe raging.
Rage On
Inside your rage room, you'll find a wall of weapons, from baseball bats to crowbars, available for battering, swinging, and smashing your collection of breakables. The team will have already set up those items throughout the room for you to destroy as you please. 
Tip: for a fee, try adding on some additional larger items for an even more satisfying smash! (We've heard TVs and printers are particularly fun to break!)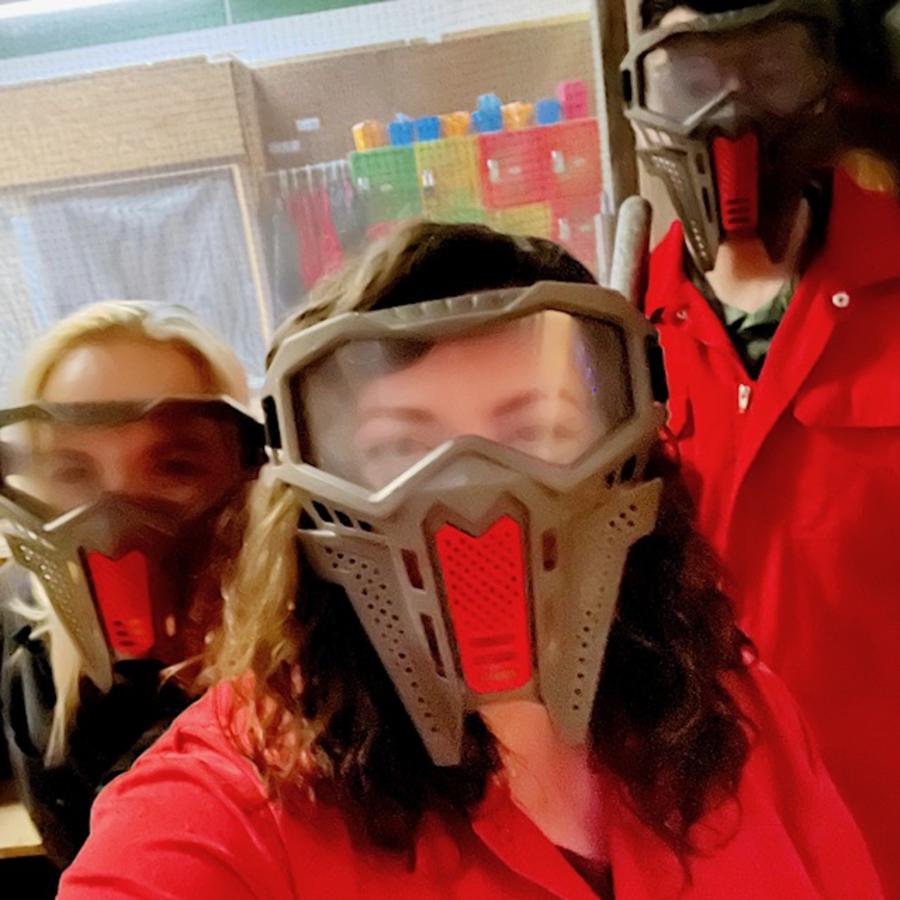 The Rage Room team even blasted the music of our choosing! (We went with a 2000's punk theme: Paramore, Fall Out Boy—you know the stuff.) Be prepared for some good, loud fun! I can now attest that there is nothing quite like swinging a baseball bat at a mirror and hearing that satisfying crash. 

More Experiences

Here's another tip for you: there's more than just a Rage Room at this location! It's also the site of Huntsville's first Splatter Room. 
"You get to throw paint at people and a canvas, which is pretty cool," Rogers explained.
She noted the Rage Room also has airsoft options and extreme dodgeball. If that's not enough, you can also try your hand at axe-throwing, invite some friends for nerf wars, or experience escape games. 
"There's something here for everyone. Whether you're going through something, or you just want to have a good time, you need to try it!" Rogers exclaimed.
Rage On!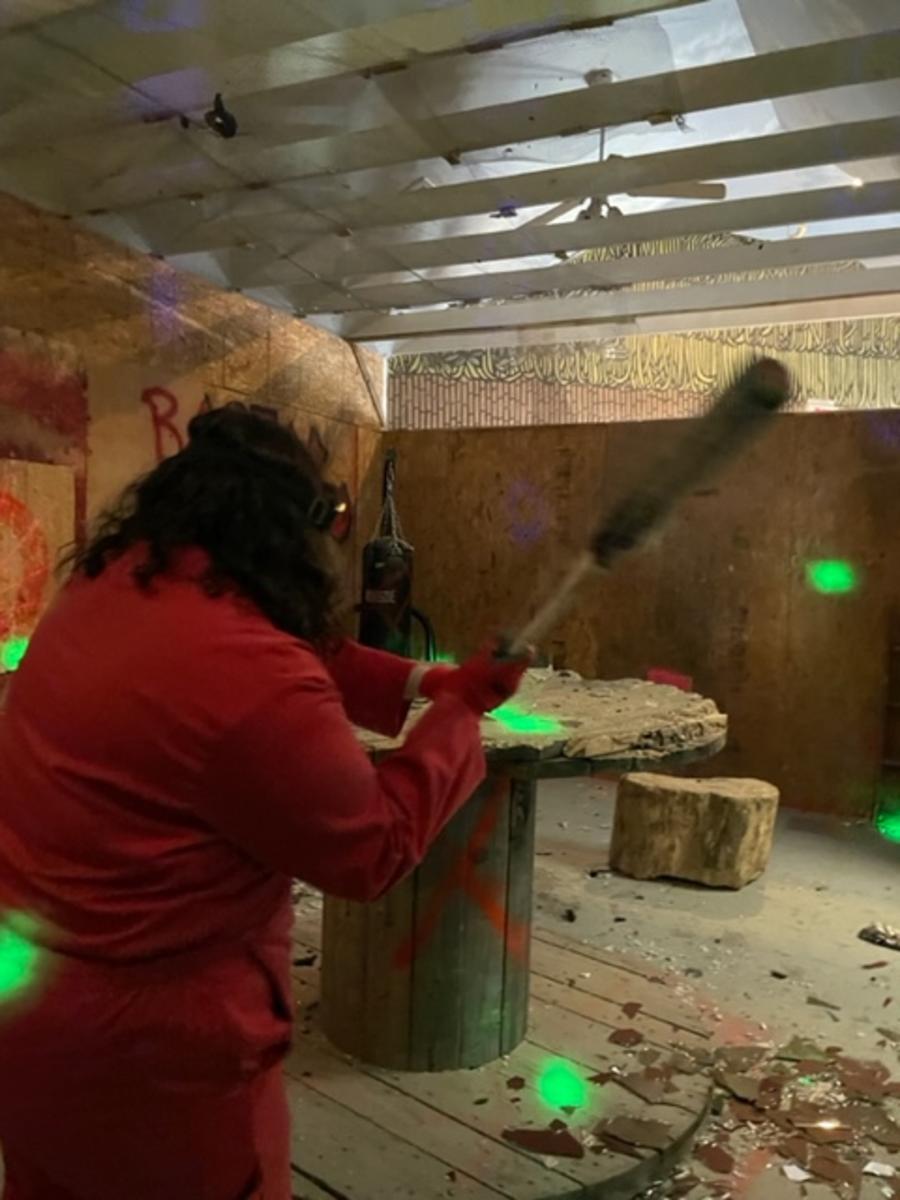 Rogers said the Huntsville Rage Room is particularly popular for birthdays, but they see their fair share of messy emotions. 
"I had a set of girls come in one time who met each other through a boy who was cheating!" Rogers exclaimed. "Sometimes crying in your car isn't enough! You need to break things."
And don't worry about the mess: the team will clean it up. 
"How often do you get to break stuff and have someone else clean it?" asked Rogers.
I will forever recommend the Huntsville Rage Room as an excellent place to have some fun and to discover the joy of deliberately smashing a vase against a wall for yourself. (They even provide you a target to aim for.)
I know you'll love your next visit to the Rage Room.