Sweet Charlie's is the nation's largest Rolled Ice Cream brand. Each Thai-styled ice cream roll is made to order on a super, cold surface that is below 20 degrees. Their unique process eliminates the need to add stabilizers, emulsifiers, and preservatives. The dairy-free base is Nada Moo, coconut milk vegan ice cream. The delectable option and toppings are Oreos, banana slices, berries, and sliced almonds.
Not too long ago, it would have been a challenge to find any flavor of vegan ice cream. The first two vegan flavors, Chocolate Extreme and Chocolate Chip Cookie Dough, were so successful that Baskin-Robbins has added a third: Coffee Caramel Chunk. These non-dairy products are made with coconut oil and almond butter. They are free from preservatives, artificial flavors, and high fructose corn syrup. With three flavors to choose from, will it be a cup or cake cone?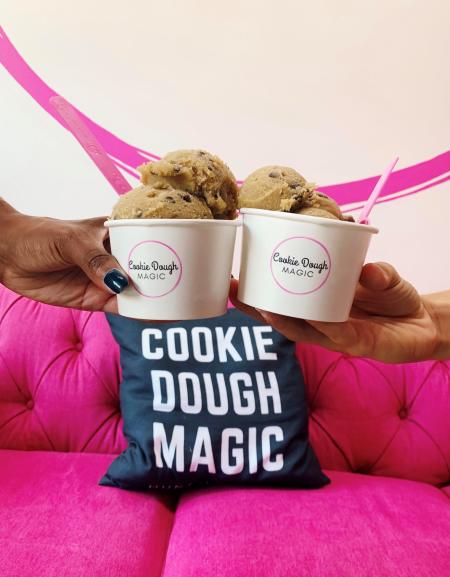 Ever dream of just eating raw cookie dough? Cookie Dough Magic has made that dream come true! Vegan gluten-free Chocolate Chip cookie dough for all to enjoy. This dough is kept off the serving bar to prevent cross contamination. It can be served mini, single, double, or half and half scoops in a cup. This scoop of heaven is in Downtown Huntsville.
La Michoacana
 
Experience Mexican-inspired ice cream at La Michoacana. They offer dairy-free in three different flavors: strawberry, lime, and mango chamoy. This small shop does not have social media presence. They are located at 2719 Clinton Ave W near Bandit Burrito. 
Just a few yards away from Toyota Field you can catch this crazy specialty milkshake. The Yard offers the Not Milk? Milkshake made with Chocolate Chunk Oatmilk Vegan ice cream mixed with chocolate soy milk in a vanilla iced jar, rolled in vegan crushed chocolate chip cookies. It's topped with vegan whipped cream, chocolate drizzle, and a vegan chocolate chip cookie. There is a $1 upcharge for the vegan milkshake. The Yard stays open until 9 pm during weekdays, and it is open until 10 pm on Friday and Saturday.
Suzy's Pops was founded in 2011 with a simple goal: to make delicious ice pops with sophisticated flavors, while at the same time featuring the freshest produce from local farmers. They offer five fruity favors to choose from: Avocado, Peach Basil, Raspberry Hibiscus, Straight Up Strawberry, and Cucumber Lime. Wednesday through Saturday, Suzy's Pops can be found at Lowe Mill ARTS & Entertainment on the second floor of the North Building.