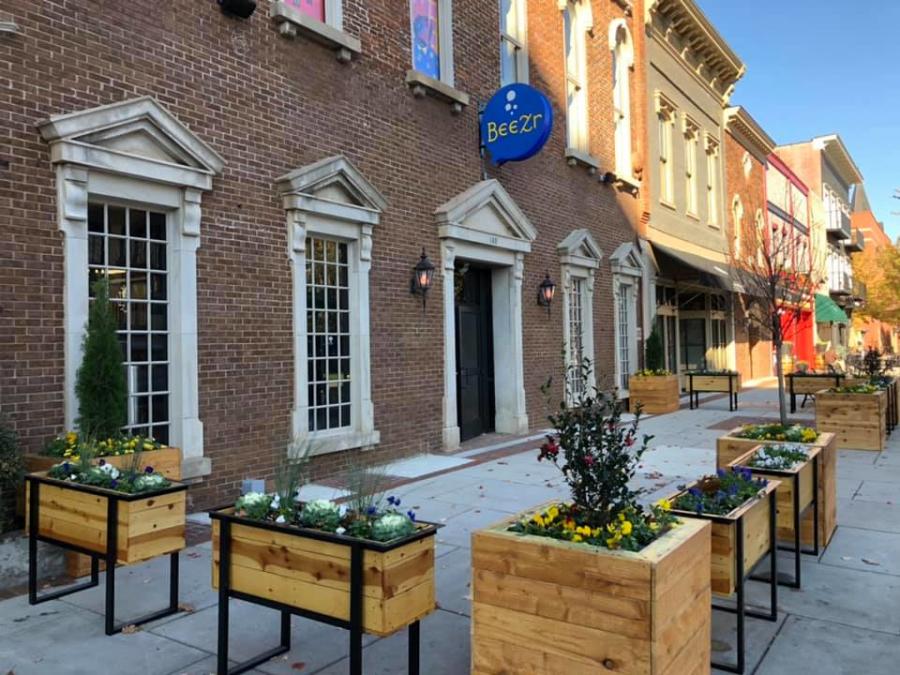 I have childhood memories of being stuck in the car with my family, when no one could decide where to eat. Aimlessly driving, we often ended up in a fast-food drive-through, then headed home, frustrated. As an adult, I've felt the same frustration at times. My husband is a foodie, and of our four children, one won't touch anything spicy or unusual. My picky three-year-old's taste changes day to day, sometimes hour to hour. Suffice it to say; we don't eat out often because the bill is too high, and it's stressful finding a place that makes all of us happy.
A few months ago, my husband and I snuck away for a Saturday lunch date. Driving to the main square in downtown Huntsville, we happened upon an intriguing new concept called BeeZr. Our interest piqued, we decided to return with the whole family and share our story with you.
What is BeeZr?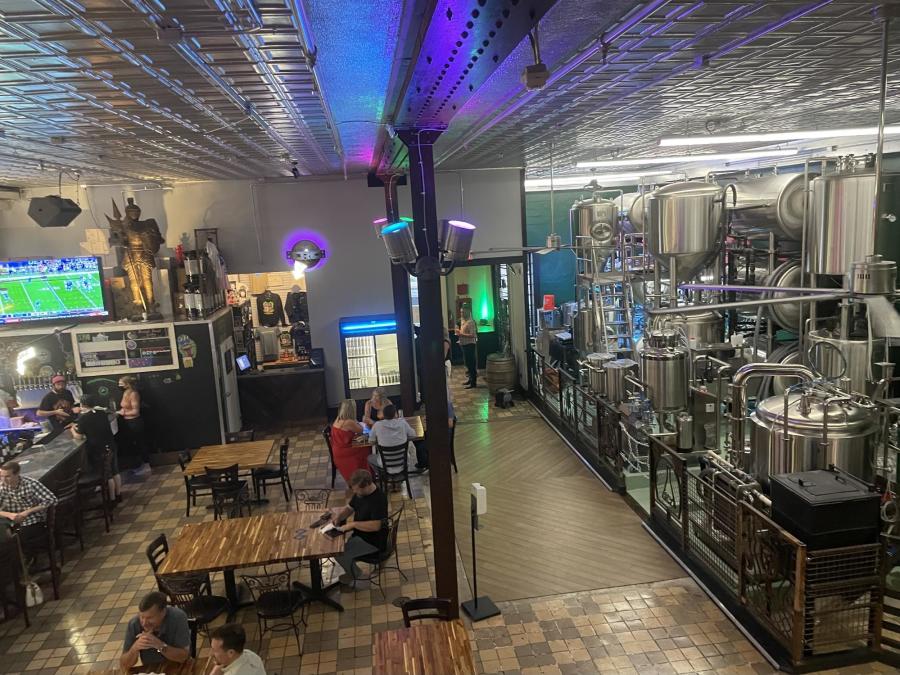 BeeZr is a concept two years in the making. Starting with a brewery in mind, it unfolded into what the owners call a "social exchange," housing multiple food and drink venues accessible through table service. The broad menu includes coffee, cocktails, beer, an upscale taco kitchen, slate oven pizza, sandwiches, shareable plates, specials and even plant-based options. 
Abby Alter, BeeZr's Director of Communications, explained, "Everything we make is a work of art. We pour a lot of passion and love into everything we do. We want to emphasize community with BeeZr." By incorporating all three founding partners' tastes, they've created a unique casual dining experience that can satisfy everyone.
Inside BeeZr you will find Chandler's Ford Brewing, Northside Coffee, Hippea Camper and Champagne Taco Kitchen.
Our experience

Walking in with our family of six, we noticed the ironworks in front of the brewery, admiring the handiwork - a staff member told us it was made in-house. Our two teens - usually keen to explore by themselves - bobbed their heads to the lively club music, obviously enjoying themselves. The shiny, large brewhouse systems command attention, stretching out across the left perimeter of the building, opposite the extensive bar. BeeZr is dotted with bold colors, artful lighting, exciting artwork, and in the center-rear of the room is a double stairwell heading to the loft dining area, which would be a great space for parties! Our eight and three year old took advantage of the open floor design, dancing to the music with other children.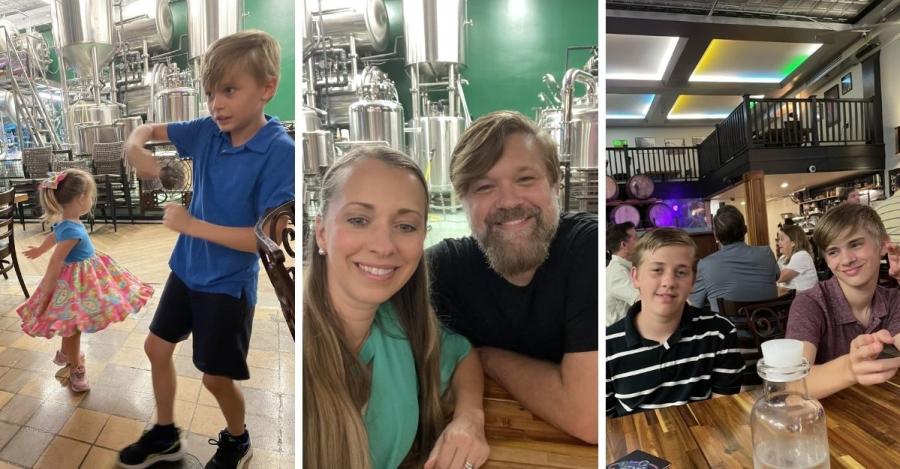 BeeZr operates on paperless menus, so we scanned the coasters with our phones and asked many questions. Thankfully our waitress, Katie, was enthusiastic about the food options, and her descriptions only heightened our excitement.
We started with a shareable: Tortillas and Semaforo Three. Many notches up from traditional chips and queso, the tortillas were fresh and fried to perfection, accompanied by three dips; 1. hatch chiles beer queso, 2. dos amigas red salsa, and 3. Hippea Camper's guacamole. Dairy-free cashew queso is also available. All three dips were tasty, but the queso was a show-stopper, and they brought refills on the tortillas until every dip was empty. We finished every bite!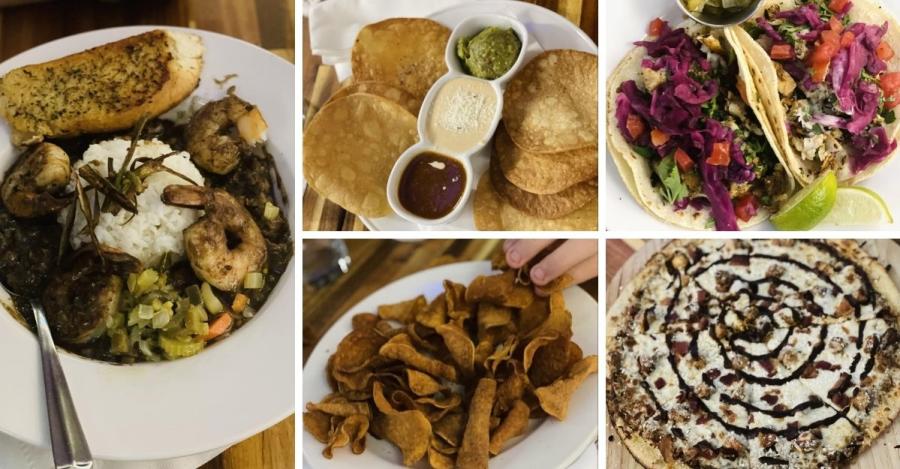 The adult beverages are praiseworthy for their originality. The Puddin' Pop stout, a warming, slightly sweeter-than-usual dark chocolate beer, was a highlight. Still, the French Toast Latte Coffee Ale, with hints of maple syrup, vanilla, and cinnamon, was subtle, smooth, and refreshing. My husband stated, "What I like about these options is that they're not overwhelming in flavor, but are absolutely unique - I like that they're experimenting. There's an element of surprise!"
The Seafood Gumbo with blackened shrimp, spicy chorizo, and bacon served over corn grits was, per my husband, "bold and flavorful, with a subtle kick, and the shrimp portions were generous!"
My Pelagic Fish Tacos were layered with flavor; pan-seared red snapper, bathed in a lemon-garlic aioli, topped with purple slaw, cilantro, and tomatoes. They were delicious.
My oldest and youngest sons were craving pizza. Their pick was the Spanish Mojo Criollo, covered with shrimp, bacon, and hard cheese, but the winner - a rich dark mole' sauce. My kids called it "chocolate" (it's actually made of fruit, nuts, chili peppers, and spices and features both sweet and earthy tones). Isaac, age eight, proclaimed, "I love all of the unique flavors," and gave me the thumbs up pictured here. Our oldest, almost sixteen, described the pizza as "unconventional" and praised the electric flavor combinations.
Our thirteen-year-old barely spoke a word while eating his chorizo tacos with roasted corn, guajillo mojo salsa, and cotija. He said it was "delicious."
Lastly, our three-year-old grabbed a slice of her brothers' pizza and enjoyed a shared order of sweet potato crisps, but she was more interested in dancing than eating!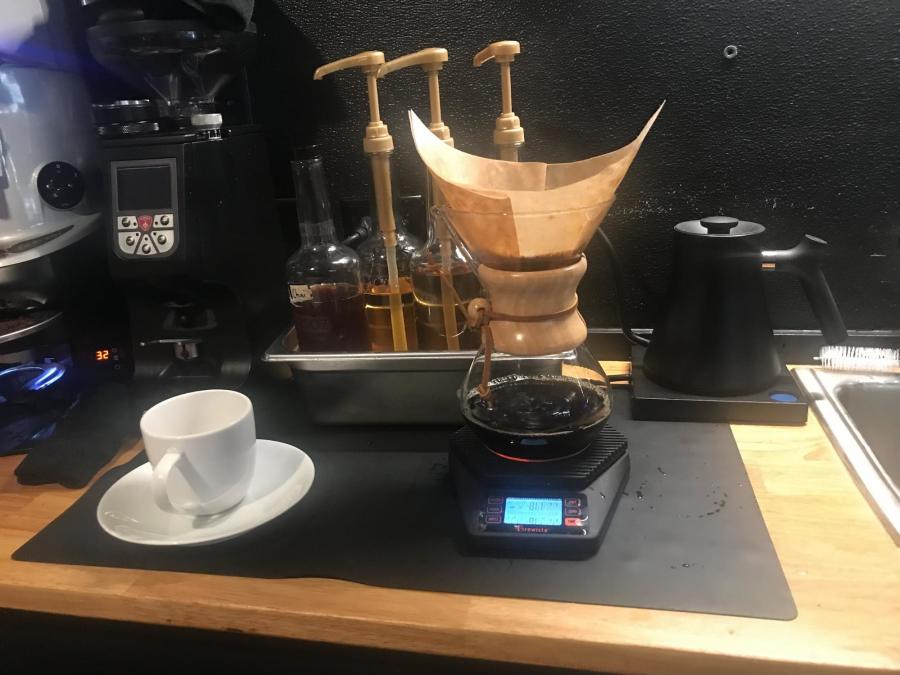 An early morning date while running errands the following morning offered the opportunity to try the other side of the previous evening's French Toast Latte Coffee Ale. We grabbed a hot mug of their French Toast Latte coffee, which inspired the in-house collaboration between the roasters and the brewery to create the limited edition ale. Both the latte and the Ethiopian light roast pour-over were excellent!
What about that name?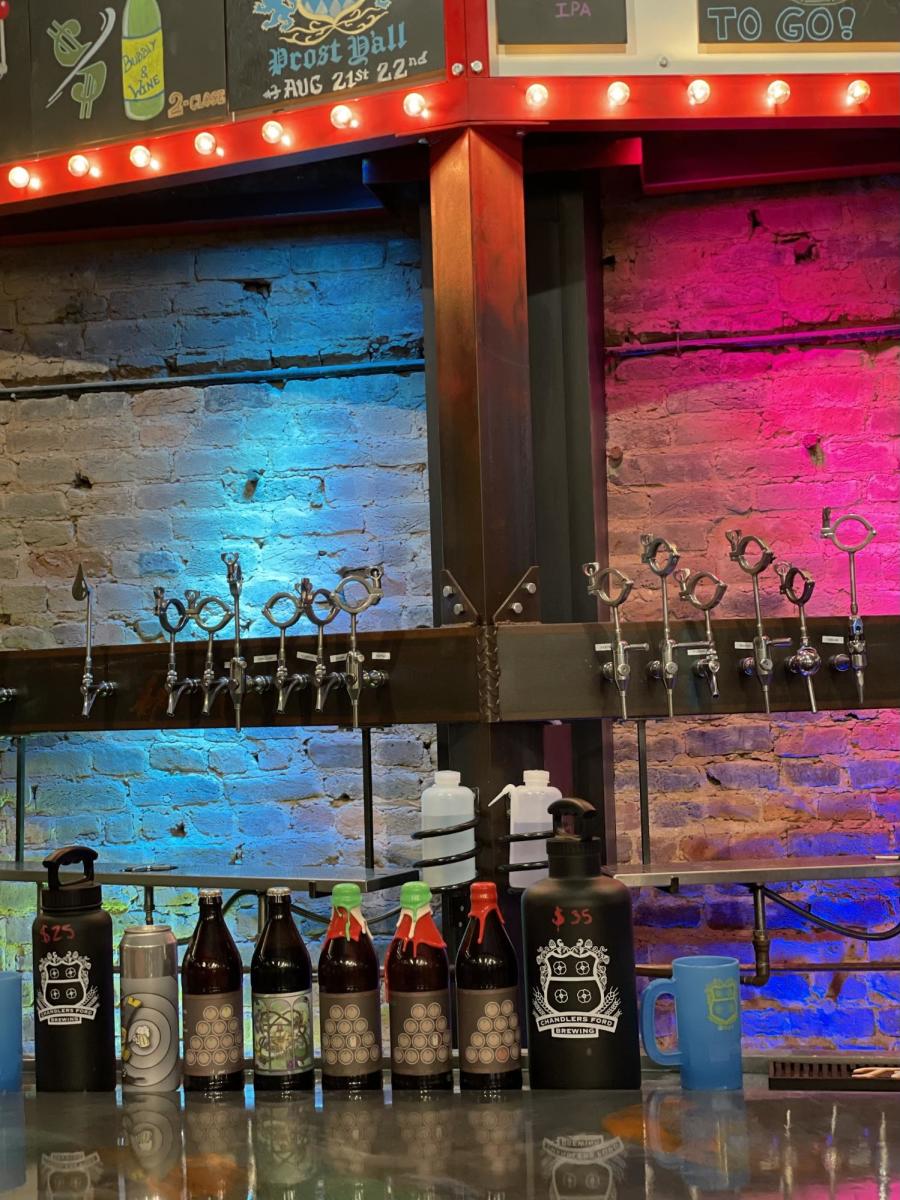 But I'm sure you're asking, "What does the name BeeZr mean, anyway?" I'm so glad you asked! We wondered the same thing, and there's loads of meaning wrapped up in that name!
BeeZr, for starters, is an acronym for Beer Engineering Experimentation and Zymurgy Research, which means that they love experimenting with beer! However, it's no accident that it's also British slang for "Old Chap" because that's a friendly old phrase, and BeeZr feels a lot like community. Lastly, you might not be wrong if you thought that at least one of BeeZr's founders just thought it might be cool to insert a "Z" into the word "beer"!
Ultimately, the unusual name is reflective of the unique surprises that makes BeeZr worth returning to. We will be back!