Toyota Field, the gleaming home of our brand-new Double-A team the Rocket City Trash Pandas is ready for prime time. While Minor League Baseball has called off the 2020 season, Trash Pandas organization will take advantage of this downtime to make sure everything is just perfect for Opening Day 2021 when it will surely play host to its entire 7,500 person capacity.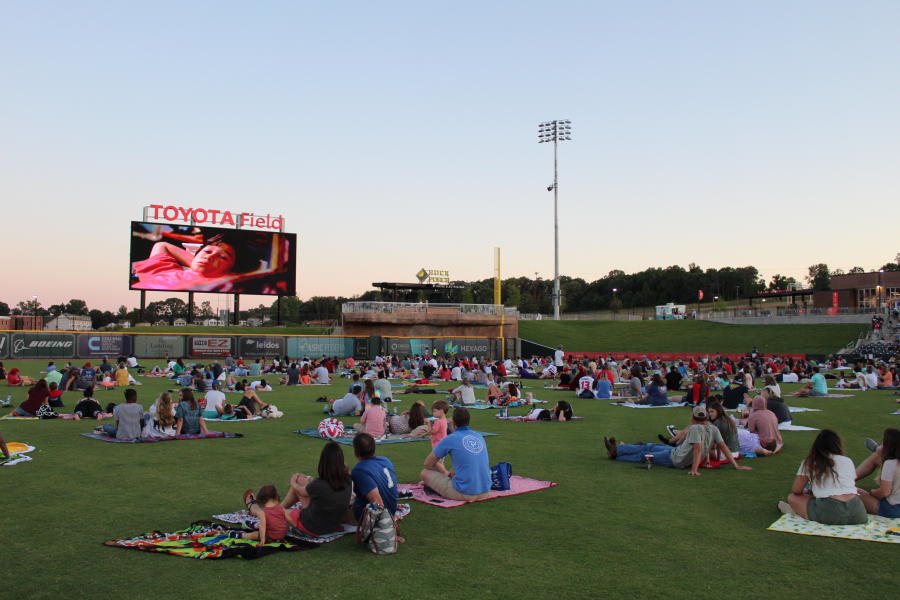 But, really, the downtime has been minimal. The Trash Pandas staff has been able to stay busy by hosting youth matchups, movies in the outfield, block parties, and of course, continuing to sell its wildly popular merchandise. Team owner Ralph Nelson told WAAY 31, "It's hard to believe because it's so rough, but there's been a silver lining and to see young people enthusiastic on the field, it's a great thing". 
My wife Dana and I were invited to have a full tour of the $46M facility, courtesy of Community Relations Manager Maddison Kendrick. This was our first time driving into the construction area of Town Madison, busy with construction. It will be a thriving mixed-use development with single-family homes, some fabulous-looking apartments, restaurants (Outback Steakhouse has been confirmed), and yes, a Margaritaville Hotel, complete with a lazy river that nestles up to the stadium!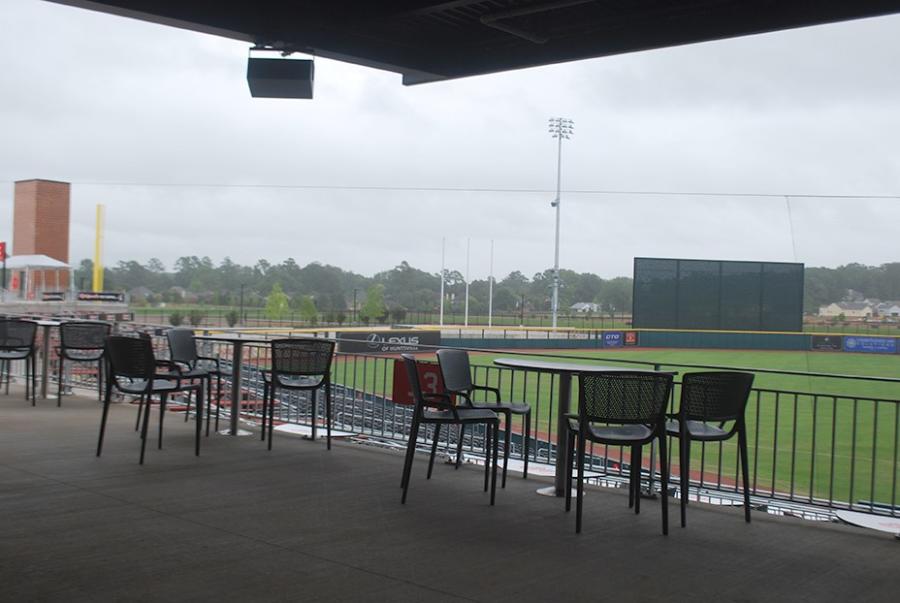 As a wheelchair user, one thing I immediately got excited about was that there will be an uninterrupted concourse around the entire park. No need to double back with your peanuts and Cracker Jack, you can take a leisurely stroll around the entire field, if you like, and find your way back to your seats. I love that, because I'm all too familiar with scenarios where I'm on a pathway that ultimately ends with stairs, and I just have to turn around.
On this main level, there are several open spaces for wheelchair users, with companion seats. I like that I already see moveable seats in the vicinity, because I'm often out and about in groups of 4 or more, and it's always a bonus when we get to sit together. Another added bonus is that sitting at this level puts us quite close to the concession areas.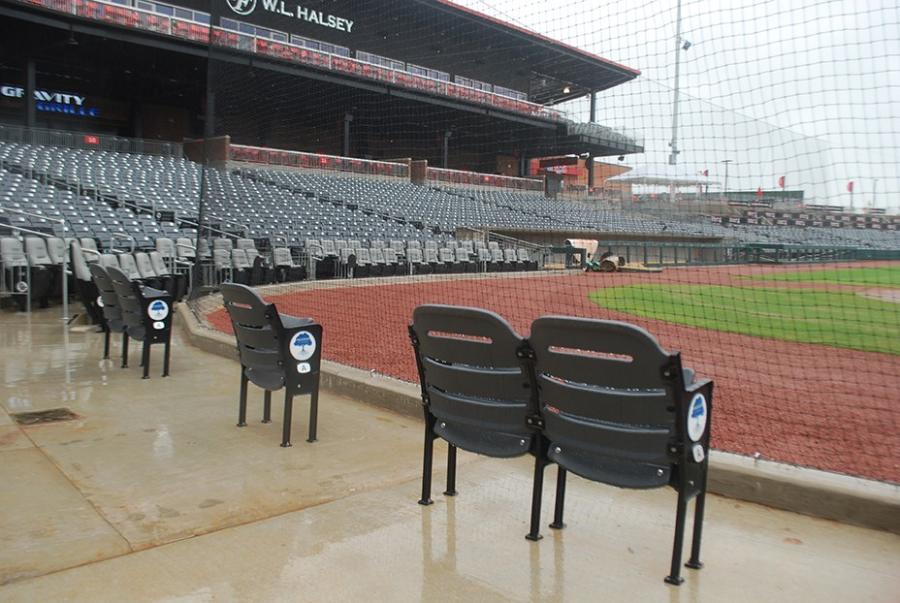 I was pretty excited when Champy's Chicken announced that they would have a location in the stadium. Their full restaurant is across from the stadium off Madison Blvd. near Publix, and I have a feeling that my friend, owner Eugene Jung, will be making plenty of back-and-forth trips between the two sites!
Joining Champy's are two grub stands, the Dumpster Dive and Gravity Grille, each with different specialties on the menu, from Dumpster Dive's Meat and Three meatloaf sandwich, served with sweet potato fries, mac and cheese, and coleslaw, to Gravity Grille's signature, gluten-free Nelson Burger, which boasts a fried green tomato "bun". 
Here's the rub: I believe Maddison told me that only Dumpster Dive will be outfitted with a soft-serve ice cream machine, so just keep that in mind! I predict I will become quite familiar with both of these and the Champy's outpost.
If you're simply at the stadium to hang out with your pals and to drink suds, and perhaps less interested in keeping score, you'll love the Inline Electric Rock Porch bar area. Perched above the wall in right field, you'll have a great vantage point of the stadium. It will surely be a primo spot for people watching! I loved how open it felt, with very little obstruction of views for someone in a wheelchair.
The Kirkland's Pest Control Picnic Area is a beautiful open area that can fit about 400 patrons at picnic tables and at the stand-up drink rails. I noticed several of these high drink tables around the stadium and was delighted to see that some of them are dropped down to seat height for wheelchairs. Well-done!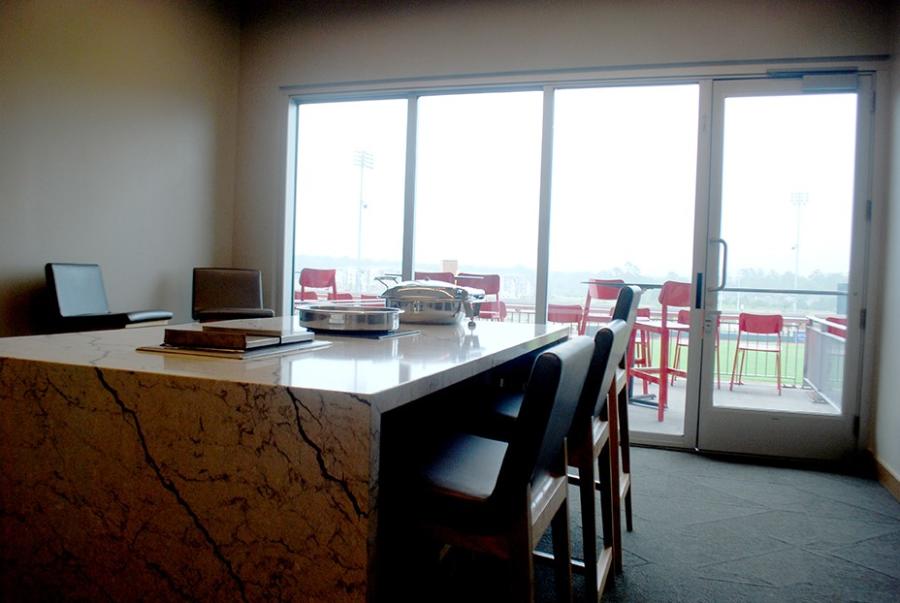 The Halsey box suite level provides some more exclusive, climate-controlled options for patrons, featuring single and double suites, with capacity for 20 and 40, respectively. Each box features a conventional door to the outside, along with really great sliding glass doors and comfortable deck areas for viewing the game.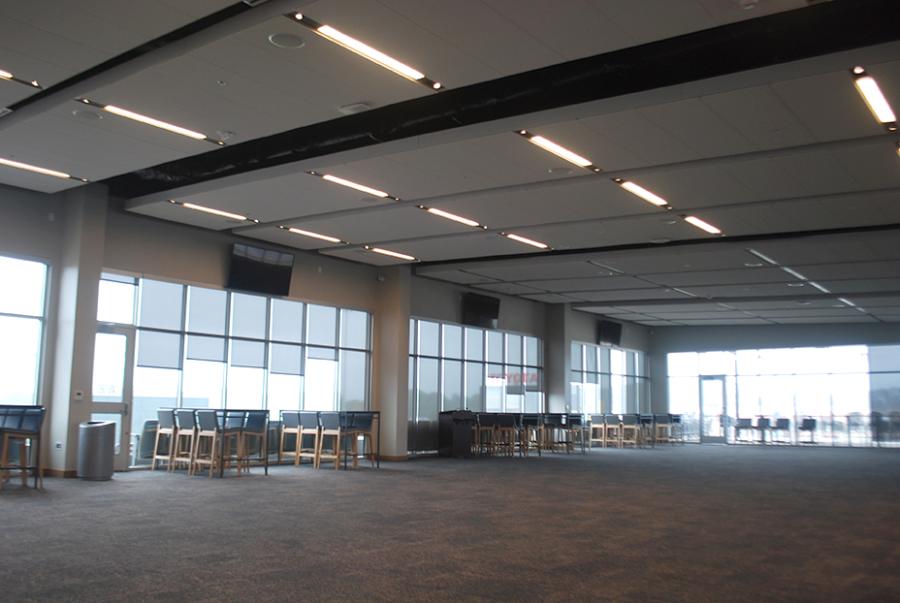 The impressive SportsMed Stadium club, with space for 400, will offer an enhanced food and beverage amenities for special ticket holders. Executive Chef Ryan Curry will also be using this flexible space to cater to all sorts of events from birthday parties to wedding receptions.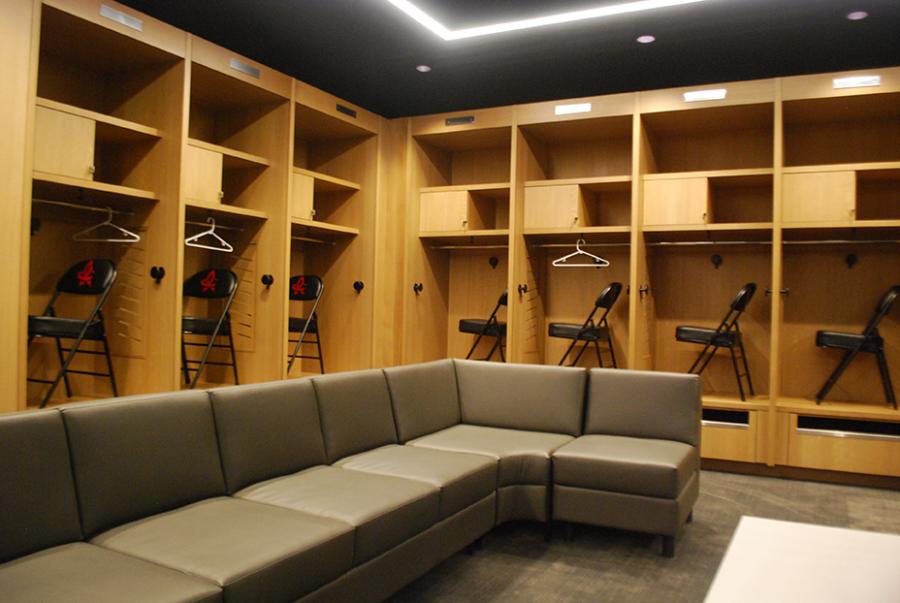 Even the team locker rooms and the deluxe vantage point behind home plate were wonderfully accessible, and offer patrons with mobility needs plenty of options for enjoying the game. From concourse seating to the picnic area, the Rock Porch, box seats, field-level options, and a 360-degree loop that can take you around the entire park, Toyota Field has done a great job providing fans like me lots of options, whether it be a date night or a large group function.