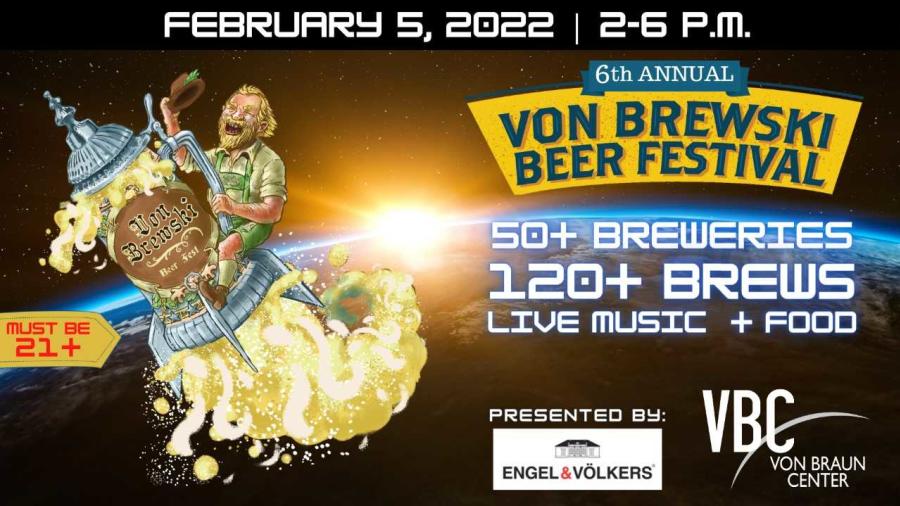 Let's face it. As the holidays come to an end, we all fall into a post-holiday slump. All the lights are taken down, gifts are opened and events just seem to come to a halt until the warmer weather arrives. That's where I introduce the Von Brewski Beer Festival at Mars Music Hall!
North Alabama Beer Festival Returns for 2022!
The Von Brewski Beer Festival – an annual winter beer festival held every February at the Von Braun Center in downtown Huntsville, Alabama, is the perfect combination of brews, brats, and beats tied together with a cheeky nod towards the Rocket City's rich space history.
February 5, 2022  /  2:00pm - 6:00pm
Tickets: $50 (presale) $55 at the door
Guests must be 21+
Sir Von Brewski has piloted his brew-ship homeward and is preparing for re-entry into the VBC South Hall for the 6th Annual Von Brewski Beer Festival on Saturday, February 5, 2022 presented by Engel & Völkers!
Live music on the Polaris Stage performed by Eric Michael Taylor and Cameron Dubois, over 100 brews on tap from over 50 breweries, pretzel necklaces, brats, nachos and more! It's all coming back for another round.
When you check-in with your ticket, you will receive a Downtown Huntsville Inc. Craft Beer Trail wristband (different wristbands for Sampling Ticket and Non-Sampling Ticket) which will allow you access to samples from the breweries and/or visit the cash bar!
Like our beer festival in 2021 (hosted in Mars Music Hall), each sample pour will be served in disposable sampling cups to avoid cross-contamination, but don't fret – guests will still receive our signature limited edition glass souvenir cup when leaving the event!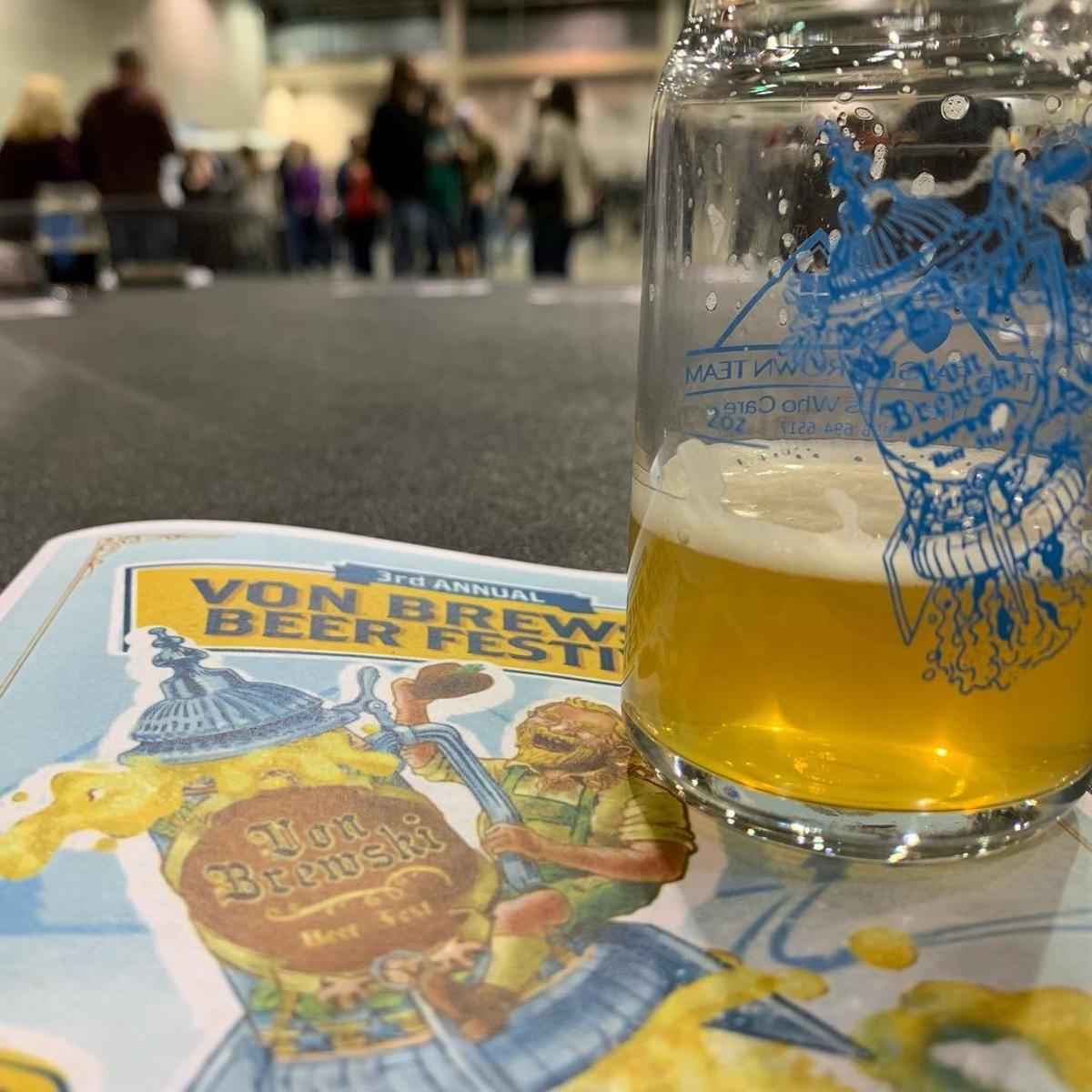 ​
Photo Credit: instasims
 
Local, Regional & International Brews + Food + Music
Sir Von Brewski prides himself on his extensive selection of delicious brews.  Attendees will have the opportunity to sample beer not only from Huntsville brewers, but from brewers across the world!
If craft beer is not your thing there will be a non-sampling ticket available for $15 and a fully stocked bar at the event with drinks available for purchase.
Our Hydration Station will also be back - this year presented by Virtuoso Living - so you can drink responsibly and stay hydrated throughout the festival!
New this year - the Backyard presented by Discovery Donor Clinic.  In this area, you can sip your brews and relax while watching or playing lawn games! 
VIP Taproom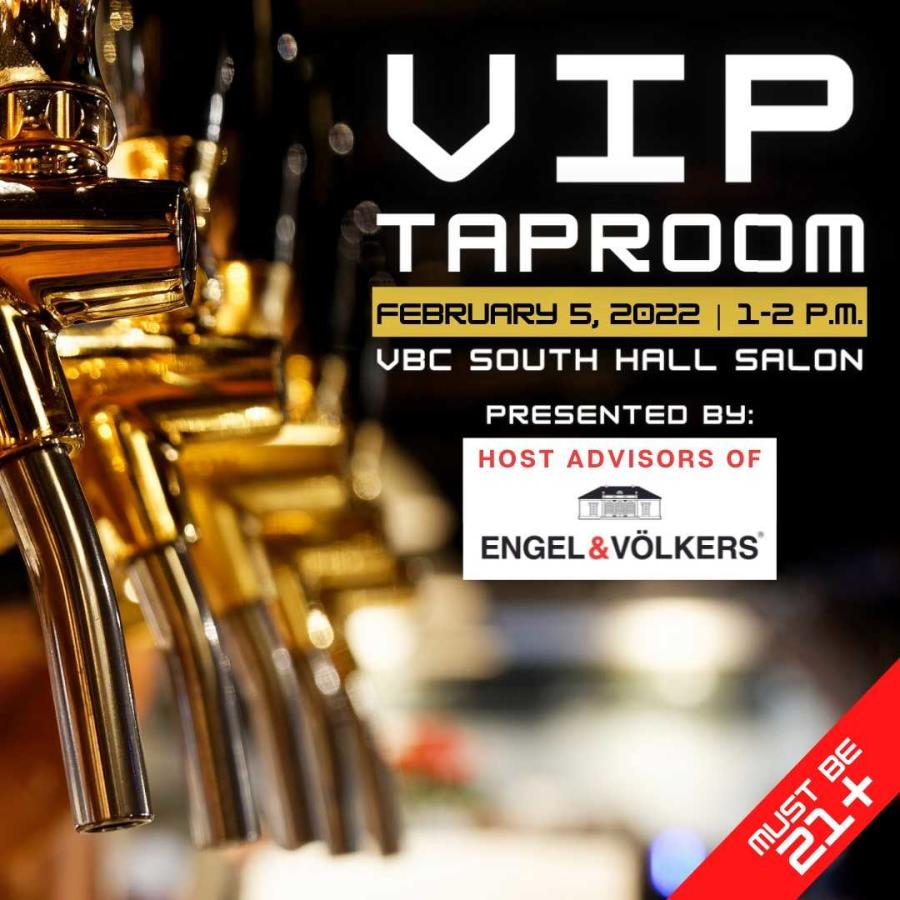 Also new this year - the VIP Taproom presented by Host Advisors of Engel & Völkers! This event has a separate ticket ($30) will be one hour prior to the Von Brewski Beer Festival (from 1pm-2pm). It will feature exclusive beers not found in the festival and light hors d'oeuvres. Get your ticket to this event when you purchase Von Brewski tickets!
Oh, and while you're at Von Brewski, remember to engage with (and thank) the breweries and the volunteers from Free The Hops for helping us make the event happen!
Make sure to follow the event on Facebook and Untappd for the latest updates on breweries you will see at the event.
Event Information:
Note: No children allowed.
Another Note: You must be 21 or older and have a valid ID to attend.

SHOW TIME(S)
February 5, 2022
2:00pm - 6:00pm
TICKETS
$50 Pre-Sale Sample Ticket; $15 Non-Sampling Ticket
$55 Sampling ticket at the door
$30 - VIP Taproom (1pm - 2pm)

Tickets available at the VBC Box Office or online at Ticketmaster through vonbrauncenter.com.