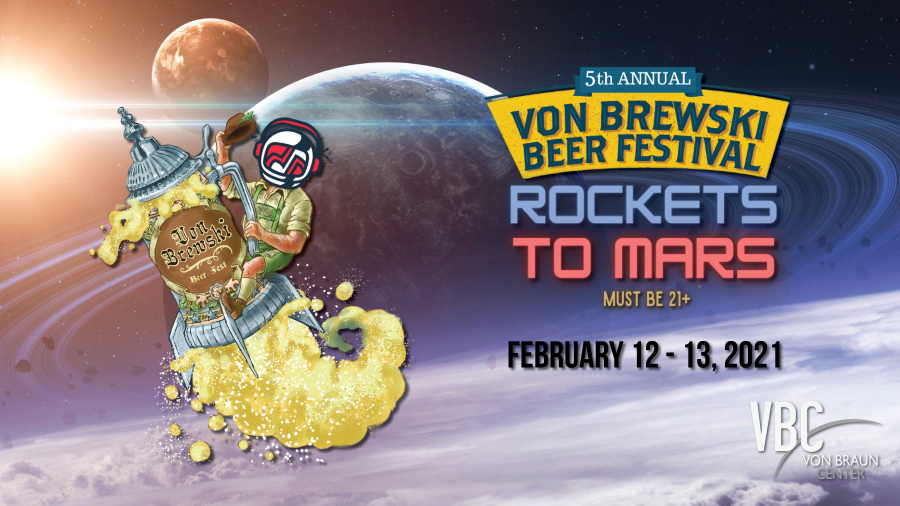 Let's face it. As the holidays come to an end, we all fall into a post-holiday slump. All the lights are taken down, gifts are opened and events just seem to come to a halt until the warmer weather arrives. That's where I introduce the Von Brewski Beer Festival at Mars Music Hall!
North Alabama Beer Festival Returns for 2021!
The Von Brewski Beer Festival – an annual winter beer festival held every February at the Von Braun Center in downtown Huntsville, Alabama, is the perfect combination of brews, brats, and beats tied together with a cheeky nod towards the Rocket City's rich space history.
For 2021, the Fifth Annual Von Brewski Beer Festival will look a little (let's be honest – a lot!) different; BUT, there will be plenty of beer on tap, live music, and of course (pre-made) pretzel necklaces!

Instead of the usual 4 hour/1 day large event in the Von Braun Center's South Hall (which historically sees 1,600+ attendees), Sir Von Brewski is donning his helmet and rocketing his brew-ship to Mars (Music Hall) for four separate events. Each event will last three hours and be limited to 200 tickets, so social distancing won't be a problem.
In between each session, the VBC team will deep clean and sanitize the entire venue and restock for the next event.

Each sample pour will be served in a disposable cup, but don't fret – guests will receive the signature limited edition glass souvenir sampling cup when leaving the event!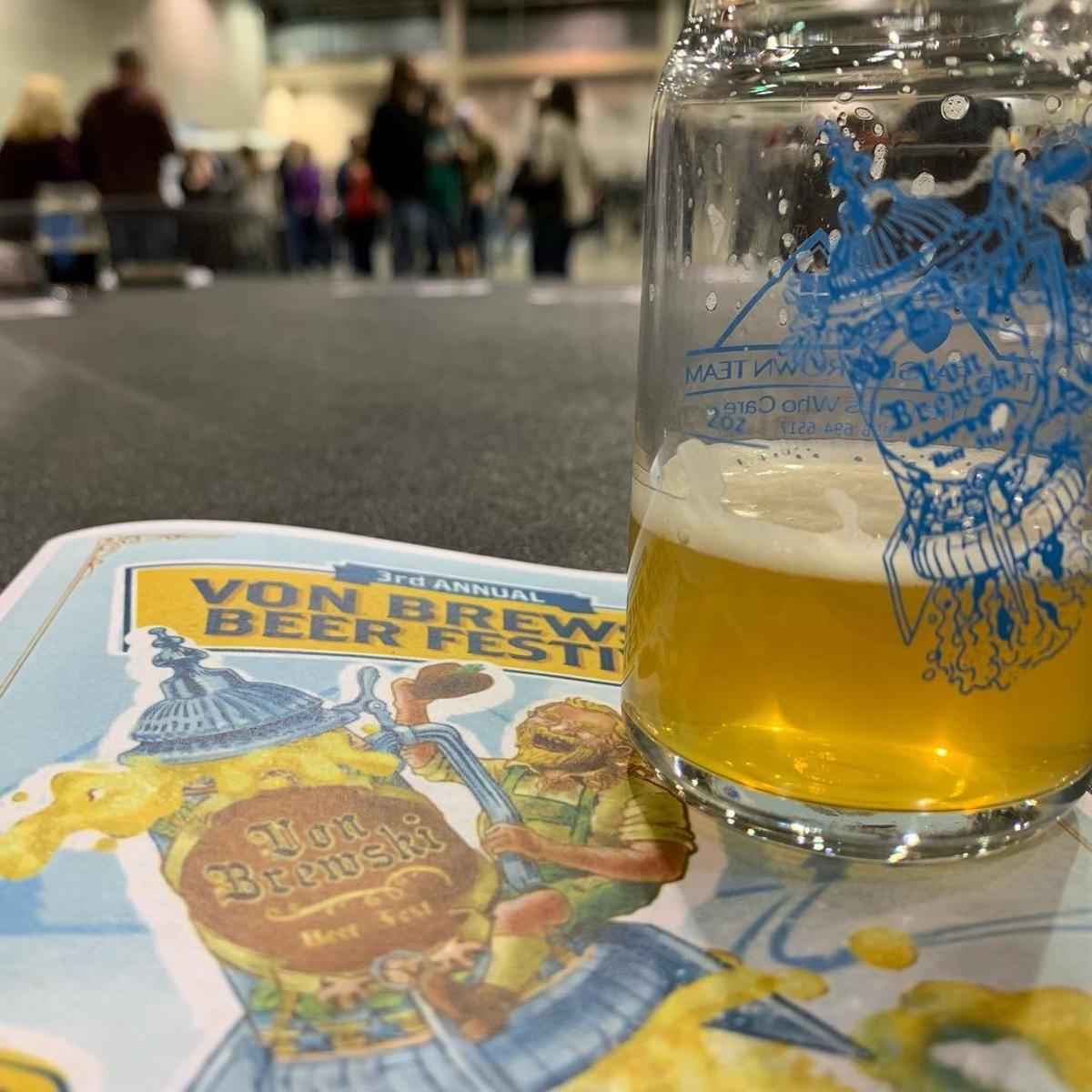 ​
Photo Credit: instasims
Local, Regional & International Brews + Food + Music
Beers will be served at each of the three bars in Mars Music Hall and will include over 70 taps including local, regional and international brews! Like previous years, there will be a cider and mead section.  A fully stocked cash bar for non-beer drinkers will also be available, and you can purchase a non-sampling ticket for only $15!
Make sure to follow the event on Untappd for the latest updates on breweries you will see represented at the event.
We all know the Golden Rule when it comes to drinking – don't drink on an empty stomach! Signature brats, pretzels, and loaded nachos will be available for purchase (I recommend the brat with peppers and onions).  And when you arrive at the event, you'll get a pre-packaged pretzel necklace for light snacking between samples.

Since this will be in the VBC's new state-of-the-art music hall, local musicians will provide upbeat background music to heighten your sampling experience! This year, a different solo artist will perform live during each event.  Follow @marsmusichall on Facebook and Instagram to see the lineup as the artists are announced.
Since each event is limited to 200 people, tickets will sell fast. If you are planning on going with a group, don't hesitate to snag your tickets or you may miss out on your preferred date/time!
Event Information:
Note: No children allowed.
Another Note: You must be 21 or older and have a valid ID to attend.

SHOW TIME(S)
Friday, February 12, 2021 from 6 - 9 p.m.
Saturday, February 13, 2021 from 11 a.m. - 2 p.m.
Saturday, February 13, 2021 from 3 - 6 p.m.
Saturday, February 13, 2021 from 7 - 10 p.m.
TICKETS
$40 Pre-Sale Sample Ticket; $15 Non-Sampling Ticket
$50 Sampling ticket at the door

Tickets available at the VBC Box Office or online at Ticketmaster through vonbrauncenter.com.