The holidays are here! December is one of my favorite months! There's something about the twinkling lights, the smell of hot chocolate, and the sound of holiday cheer that can make even the grumpiest crack a smile.
For those of us who have children, or even those who love to show their inner child at heart, December also means crafting! Children's crafts are very special and unique. No matter the outcome, we know families cherish those creations in the years to come. I searched around the city to bring to you a list of Christmas craft opportunities that Huntsville has to offer! Crank up the creativity and get your children ready! From pottery to coloring, there's something for every artist on the list. Vamos! 
 
Mrs Claus Snow Stroll on Gas Light Alley at Stove House 
Stovehouse 
3414 Governors Dr SW,
Huntsville, AL
I got to connect with Bethany Allen, marketing manager for Stove House to get the scoop on this incredible event that promises lots of snow and endless fun for your littles! The event will highlight the women and locally-owned small businesses of Gas Light Alley. Snow machines will be running from 6-9 p.m. on the first three Fridays and Saturdays of December. The shops on Gas Light Alley will be providing kid-friendly accessible experiences inside their shops. Bethany shared some of these activities with me. Crafts include ornament making, letter to Santa, coloring sheets, DIY snow globes, and more!  Take a look below for details on when this incredible event will be taking place. Bring your kids, nieces, or nephews and stroll around the Alley for endless fun in the snow and craft away through the night!
Cost: Free!
Event Hours: 6-9 p.m.
Open to the Public on:
- Friday, December 2nd
- Saturday, December 3rd
- Friday, December 9th
- Saturday, December 10th
- Friday, December 19th
- Saturday, December 17th
Need pictures with Santa? Visit the Gas Light Alley at Stove House on Saturday, December 17th, and take advantage to snap a picture with St. Nick.
Color Me Mine Huntsville
1024 Mid City Drive
Huntsville, AL 
Located at Mid City, Color Me Mine is a paint-your-own pottery studio. It is open seven days a week and no reservation is required. You can simply walk in and get started! All you have to do is pick your pottery piece, paint it, and leave it to the masters to do the rest. Don't worry if your child struggles to make decisions, help will be provided to make this experience as smooth as possible for you and your artist!  Your piece will be glazed, fired, and ready for pickup in one to two weeks.
With the Christmas spirit around, Color Me Mine has an ample variety of pottery pieces that your littles can create to gift for a loved one or to showcase in your home.  You can make it your own or choose from their list of projects on their website for ideas. Projects also include some that are Hanukkah inspired like the Star of David Mandala, Ombe Menorah, the Star of David Plate, plus more.  Check out their social media to stay up to date and their website for their calendar of events like pajama night, teacher gifts, and daddy/daughter. The calendar also shows specials like half-off studio fee days, Veterans discount, and $5 after 5 p.m. for the studio fee.
Studio Hours:
Sunday - 12:00 pm - 6:00pm
Monday - 1:00 pm - 9:00 pm
Tuesday - 1:00 pm - 9:00pm
Wednesday - 1:00 pm - 9:00pm
Thursday - 1:00 pm - 9:00pm
Friday - 1:00 pm - 9:00pm
Saturday - 11:00 am - 9:00pm
First Baptist Church
600 Governors Dr SW,
Huntsville, AL
First Baptist Church invites everyone to attend their Jingle Jam Night for the Advent season.  From their website, "Jingle Jam is a great way for families and their friends to celebrate the birth of Jesus! The fun begins in the Life Center with a program that will have you in stitches (audience participation is encouraged!). Then make crafts and snacks and play games in the Gathering Place. Share the joy - invite people who don't have a church home to join you for this special night."
Location: First Baptist Church
(If you see the Eggbeater Jesus, you are in the right place!)
Date: Dec. 7
Time:  5:45-7:15 p.m.
Huemanity Studios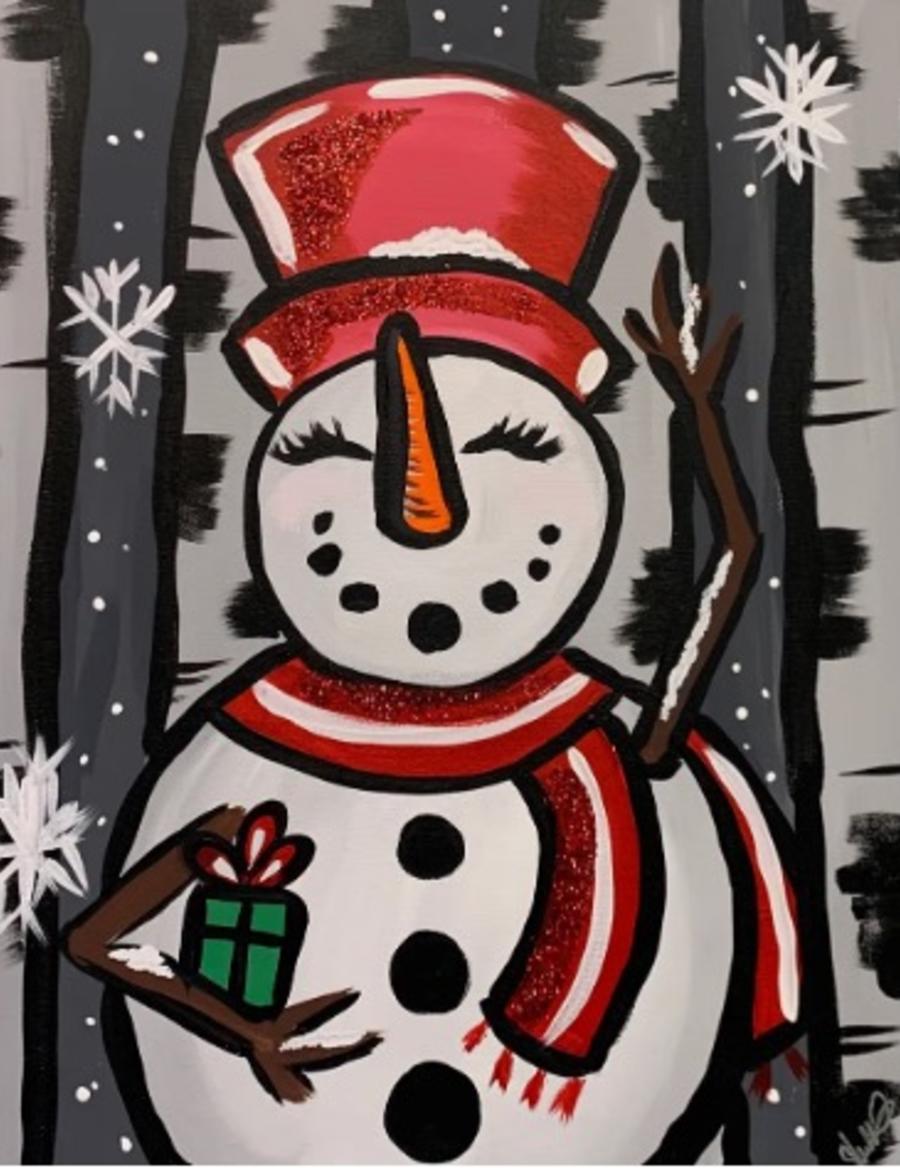 6200 Mastin Lake Road Northwest
Owned and operated by Stephanie Kirkland, Huemanity Studios in Huntsville is a paint and crafting studio that the entire family can enjoy! The holiday cheer continues here with various Christmas-inspired events that children and parents can both enjoy. Take a look at the website for the calendar of events happening throughout the month of December. There are plenty to choose from! Check out the details below if you are planning on attending one of the upcoming events. Private-party options are available as well.
Price: $25 per canvas or 2 for $45
Size of Canvas: 11X14
*Purchase your tickets for a session at: Huemanity Studios
I hope this list sparks your interest to create wonderful craft memories with your littles! No matter which one you choose, know these will be creations that will last a lifetime! Take some time this holiday season to try a new adventure in crafting. Whether your family is full of beginners or experts, there is something for the entire family to enjoy! Feliz Navidad!