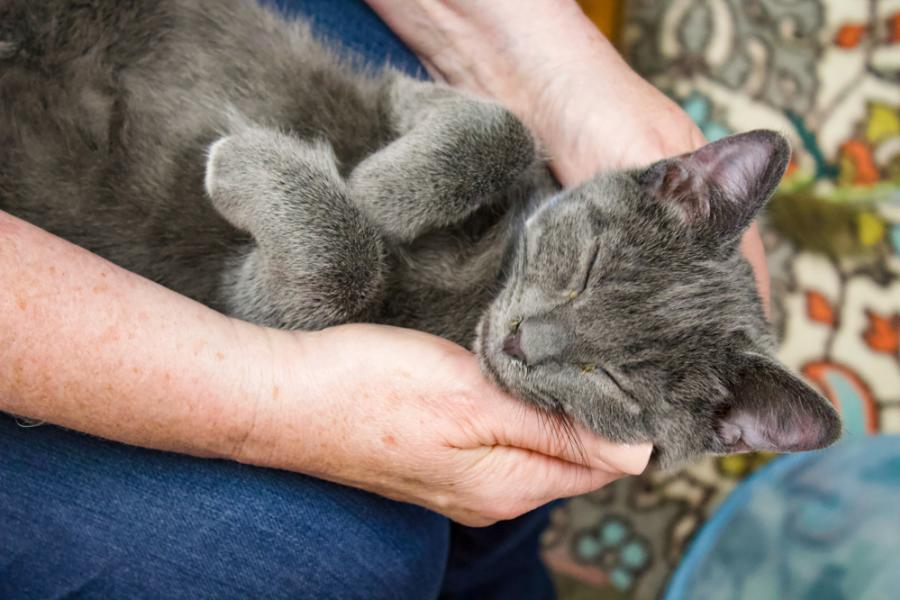 When the television host of My Cat From Hell, Jackson Galaxy, supports your idea for a cat café, you listen. That's why Tina Cooley, owner of Cattyshack, decided to make her dream of opening a nonprofit cat adoption lounge in Huntsville a reality.
Located on the first floor of Lowe Mill ARTS & Entertainment, Cattyshack is a feline-friendly studio with comfortable chairs, colorful cat-themed murals, and plenty of free-roaming furry friends to meet.
"After years of working with Friends of Rescue, I decided to take it a step further and open a cat café," said Tina. "We are a nonprofit facility where guests can reserve an hour with our cats in parties of one, two, four, and six. It gives them a chance to spend time with our adoptable cats and hopefully fall in love with their next pet. It's a new kind of adoption outlet for Huntsville."
Cat cafés are a concept that is becoming more popular around the globe with new ones popping up in larger cities all the time. Huntsville, however, was missing this unique kind of adoption center.
One of the great things about visiting the Cattyshack is that visits are private to your group. For one hour, you and your friends will have free rein of the facility with the ability to meet each cat as you please. Let's be honest—once you find a cat you love you may not want to share.
In addition to scheduling private groups, Cattyshack is also taking several other precautions to ensure visitor safety. Masks are required, hand sanitizing stations are available, and all cat toys are thoroughly cleaned after each visit.
"We're a small enough studio that we've been able to easily maintain proper safety procedures and still provide a fun experience," said Tina. "At the moment, we are offering guests a beverage and snack to take with them after the visit."
Once you grab your treats, you can finish up your visit by exploring the grounds of Lowe Mill. It is the largest privately-owned arts facility in the country, and you can spend hours upon hours marveling at the masterpieces of local artists. Huntsville has some of the most artistically talented residents around.
"Lowe Mill has been an incredible place to house Cattyshack," said Tina. "It's the perfect size and vibe for what we were trying to accomplish. We've managed to make it very cozy for our guests and adoptable cats. We didn't expect to get a studio as quickly as we did. Once our application was approved, we kicked our plans into high gear."
When asked about the inspiration behind Cattyshack, Tina said she was inspired by a few similar spots she's seen around the country.
"I heard about a nonprofit place in Chicago called The Catcade," she explained. "The business plan is exceptional. You pay a fee to visit for one hour, you get a beverage, and there are arcade games all around. It brought the adoption process to a unique environment. That's what I wanted to do."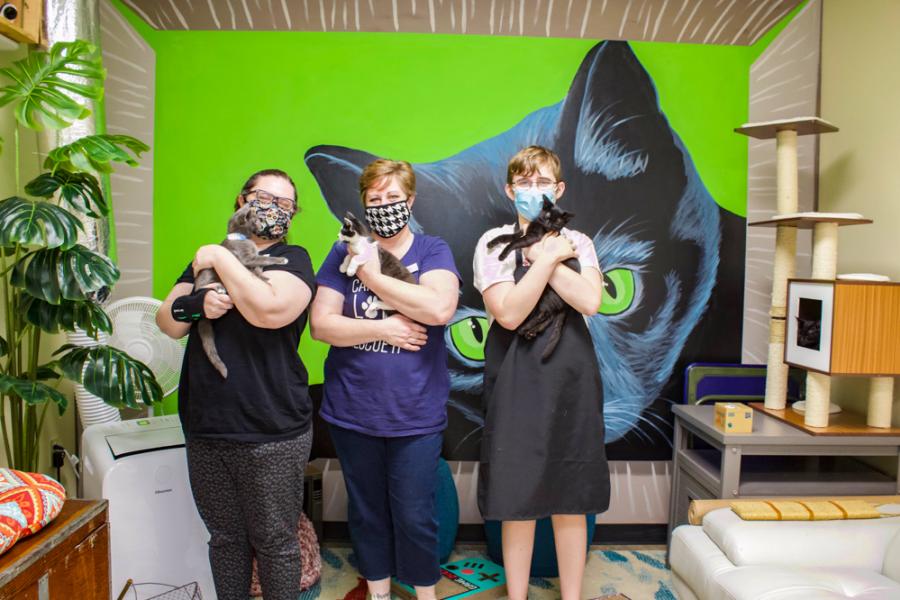 Tina has always been a cat person and still houses several foster cats at her home. She hopes Cattyshack will make the adoption process more seamless and enjoyable for Huntsvillians.
"Another thing we focus on is vetting the homes before our cats are officially adopted," she said. "We make sure to pair the right cats with the right environments and personalities. We help place them in homes where they will thrive."
If you or your friends are looking to adopt a cat, there are few better ways to do it than visiting Cattyshack. You'll be able to relax in a comfortable environment and take your time getting to know the cats' personalities. The hope is that you will fall in love and begin the adoption process, all while supporting a local nonprofit and visionary.
To make an appointment at Cattyshack, visit www.cattyshackhuntsville.org or call 256-203-4284. Tina and her team will be thrilled to have you.
Follow Cattyshack on Facebook and Instagram to help support the adoption of our local rescues.