How to Pick Your Own Peaches in North Alabama! Huntsville's Favorite Peach Farm: Scott's Orchard
Head to Scott's Orchard to select a date and time for your visit. $5/each admission (5 and under free) + $18 per basket of peaches
Arrive at Scott's Orchard on time to make the covered tractor ride to the peach orchards. A basket is provided and the tractor ride is included in the admission.
Check out the giftshop after picking peaches and save room for snacks and slushes!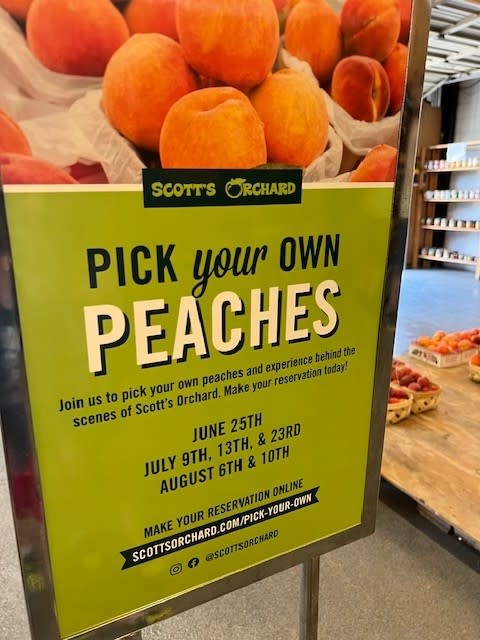 It's peach picking season here in North Alabama and a favorite family activity!  You pick farms are an amazing way to enjoy local in-season fruits and nothing feels like summer as much as a fresh juicy peach picked right off the tree! Picking your own food at the source of where it's grown and seeing the farmers hard at work, make the peaches taste even sweeter and juicier! Scott's Orchard has been family owned and operated for over 116 years! They are big supporters of the local community, sponsoring teams, events, scholarships, and community activities. With over 1200 acres including 150 acres of fruit trees, 90 acres of apples, 60 acres of peaches and several varieties, this is the go-to place to pick peaches this summer.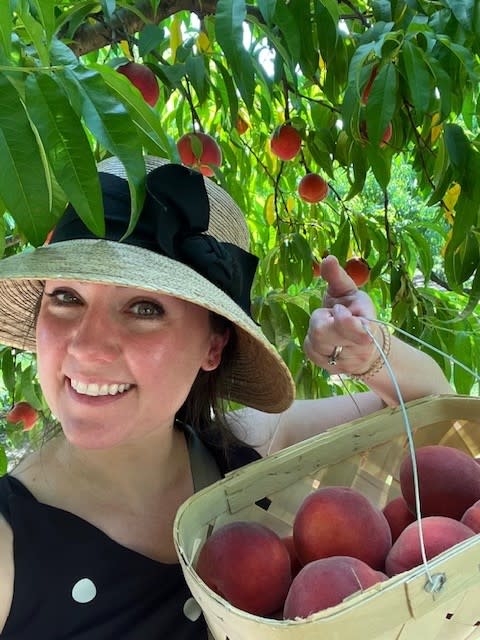 Find Scott's Orchard peaches at local farmers markets like: Greene Street Market at Nativity, HealthWorks Farmers' Market at Huntsville Hospital, Bailey Cove Farmers Market at St. Thomas, and Madison City Farmers Market during peach season.
A big part of the fun here is the tractor ride out to the peach fields. Scott's Orchard sits in two states. Start the tractor ride in North Alabama through a river bed, across corn and soybean fields, into Tennessee, disembark from the tractor, fill up your basket (provided with admission), and then hop back on the tractor for the ride back to the giftshop.The giftshop has an array of local gifts and snacks like local honey, local tea blends from Piper & Leaf, wooden bowls, local flowers, crafts, frozen apple and peach pies, ice cream (vanilla and peach), and slushes (apple cider, peach, and berry).
Pre-picked baskets of peaches are available here if you decide the trip to the field and tractor ride are not for you. If you're staying in Huntsville, your route back to town will likely take you past an amazing bakery and café in Meridianville named Hamley Bake Shoppe. This is a great place to grab some sandwiches for breakfast or lunch. Enjoy pastries, ice drinks, coffee, and treats. Patio and indoor seating available or pick up a grab n' go cooler for the road or to take back to your hotel or home.
Scott's Orchard
2163 Scott Road
Hazel Green, AL 35750
8am-4:30pm Thursday, Friday, Saturday
Peach Picking Season: June through August
Hamley Bake Shoppe
12023 Hwy 231-431 N
Meridianville, AL 35759
Sun-Mon Closed
Tue-Fri 6:30am-3pm
Saturday 8am-3pm
Easy Peachy Ideas:
Freshly sliced with cinnamon, drizzle of local honey (sold at Scott's Orchard), and topped with whipped cream
Grill your peaches and add to salads, sandwiches, oatmeal, yogurt or pizza!
Peach toast includes cinnamon brioche ricotta or whipped feta, cinnamon, and honey. (Available locally at Canadian Bakin).
Can't eat them fast enough?! Wash, dice, and spread on cookie sheet to freeze. Once frozen, transfer into a freezer safe container to enjoy later.
Life's a peach! Now go out there and pick 'em!