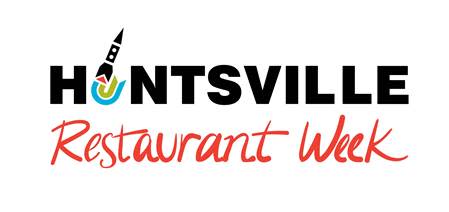 (Huntsville, AL) – It's the fifth year for Huntsville Restaurant Week, a county-wide event that promotes locally owned and operated restaurants by encouraging patrons to explore the diverse dining scene of Madison County, and providing unique culinary events for both residents and visitors alike to enjoy. Today the Huntsville/Madison County Convention & Visitors Bureau, along with County Commission Chairman Dale Strong, Huntsville Mayor Tommy Battle, Madison Mayor Troy Trulock, and representatives of the local hospitality industry gathered at Cyn Shea's Café and Catering to announce this year's participants and special events.
Chairman Strong stated, "This is a perfect opportunity to support the locally owned and operated Madison County restaurants while taking advantage of discounts and enjoying great food."
Mayor Battle showed appreciation for the diversity of Huntsville's culinary scene, adding, "As Mayor, I dine out a lot, and I enjoy the wide variety of restaurants Huntsville has to offer, whether it's ethnic fare, artisanal, or a homestyle meat and three, chefs are creating delicious meals for every taste."
Over 50 local eateries are participating with special deals, making this one of the largest Huntsville Restaurant Weeks to date. Huntsville Restaurant Week is a part of the larger, statewide Alabama Restaurant Week which aims to promote the state of Alabama's unique culinary offerings by encouraging residents and visitors to get out and try local cuisine.
The theme of Huntsville Restaurant Week is "ten tasty days of deals," referencing the specially-priced menu options provided by participating restaurants as part of the event. Lunch specials include fixed-price selections at $5, $10 or $15 featuring two courses. Dinner specials include selections at $10, $20 or $30 with three courses. Restaurants may choose to offer any combination of the above specials. Exclusive to Huntsville Restaurant Week, a 'Bonus Bites' category is also featured to include those establishments that don't offer a traditional lunch or dinner but do offer breakfast, desserts, appetizers or small bites exclusively.  For a list of participating restaurants and their specials, visit huntsville.org/restaurantweek or AlabamaRestaurantWeek.com.  
Judy Ryals, President/CEO of the Huntsville/Madison County CVB, spoke to the importance of having a strong culinary community to a destination city.
"Exceptional, local and unique dining experiences are one of the top reasons people travel," Ryals said. "And we already know the great economic impact travel has on Madison County – bringing in over $1.13 billion to our community in 2015. We have dozens of dining options reflecting different cuisine types and price ranges. From USA Today's proclaimed 'Best Southern Fine Dining' at Cotton Row to the food truck scene, we've got great selections for every palate."
This year, Pinhook Provisions Street Food Park will take part in Huntsville Restaurant Week, adding a unique twist outside of the traditional brick-and-mortar dining venues. Six local food trucks, including Hot Box, Honeypie Bakery, Neon Lilly, Pig Time BBQ, The Piled High Grill, and Southerland's Sno Depot, will offer a wide variety of options that diners can experience either at the park or on the go. Amy Vaughn White, Director of Development/Leasing for South Realty, Inc. and Founder of Pinhook Provisions Street Food Park, said, "We're proud of the diverse and rich culinary culture in Huntsville and Alabama. Food trucks aren't just a trend but a way to experience authentic street food while supporting local entrepreneurs."
Several Madison restaurants are participating again this year, including LawLer's BBQ, Taziki's, and two newcomers – Old Black Bear Brewing Company and Picasso's Grill. Madison Mayor Troy Trulock encouraged residents and visitors alike to discover local dining offerings during Huntsville Restaurant Week stating that, "Once again, Madison is proud to partner with Huntsville to recognize the unique restaurants in Madison and Huntsville. Go out to eat with your family, your friends, and enjoy the many outstanding restaurants we have in our community."
Other exciting additions to Huntsville's dining and beverage community this year include the recent opening of Straight to Ale at Campus No. 805 and the upcoming Redstone Gateway Conference & Dining Center, a mixed-use dining and event facility that will open this fall just outside of Redstone Arsenal's Gate 9.
Several new events and online activities were announced as part of Huntsville Restaurant Week 2016 including:
14 Official Huntsville Restaurant Week Events
The Huntsville/Madison County CVB has partnered with local organizations and restaurants on the following official Huntsville Restaurant Week events.
August 6, 13, & 20 – Downtown Dish Food Tour
August 6 – Cove Market at The Marketplace Café
August 8 – Rocket Chef Competition – Huntsville Restaurant Week Kick Off!
August 10 – Homegrown Huntsville's Dine & Dash
August 11 & 18 – U.S. Space & Rocket Center's Biergarten
August 12-21 – Huntsville Restaurant Week Social Media Contest
August 13 – Cyn Shea's and Church Street Wine Shoppe's Dinner with Your Dog
August 15 – Cyn Shea's Southern Summer Suppers
August 16 – Brickhouse's 4-Course Tequila Dinner Tour Through Jalisco
August 17 – Alabama Restaurant & Hospitality Alliance Bar Stars Competition at the Westin
August 19 – Downtown Huntsville Inc.'s Street Food Gathering
August 19 – Cyn Shea's Dinner & a Movie
August 20 – Cyn Shea's and Church Street Wine Shoppe's Alfresco Dinner on the Patio
August 21 – Nick's Ristorante's Whiskey, Wine and Cigar Lunch
#DineHsv and WIN! August 12-21
The Huntsville/Madison County CVB will be hosting 10 days of giveaways. Simply tweet or post to social media using the official Restaurant Week hashtag #DineHsv and tell your favorite part of Huntsville Restaurant Week, what dish you most want to try, etc. One winner will be chosen each day of Restaurant Week to win a gift certificate to participating restaurants.
BONUS: Tweet about Huntsville Restaurant Week using the hashtag #DineHsv, and your message could appear on a Madison County digital billboard!
Rocket City Food Bloggers Tour
July 29-31
Grille 29, Toybox Bistro, and Beignet Café
Four of Huntsville's most popular food bloggers joined forces with Charles Hunter III of Nashville's The Salted Table and Jennifer Gervens of Sweet T Makes Three to come together for a lunch tour of three participating Restaurant Week establishments. On Friday, the food blogger
crew met at Grille 29 in Village of Providence. On Saturday, the group convened at the new Toybox Bistro, along with a special guest – a RocketCityMom "Kid Reporter" who provided a pint-sized perspective on Huntsville Restaurant Week. The Rocket City Food Bloggers Tour wrapped up at Beignet Cafe on Sunday.  All food tour stops took place between 12:30 p.m. and 2:00 p.m., July 29-31.
Participating bloggers for the Rocket City Food Blogger Tour include:
Charles Hunter III: The Salted Table
Jennifer Gervens: Sweet T Makes Three
Sarah Belanger: The Jealous Crumpet, iHeartHsv.com
Stephenie Walker: RocketCityMom.com
Bo Williams: RocketCityMom.com; BoWilliams.com
Katie Wright: Katie Actually,
For more information, contact Kristen Pepper, Marketing Manager at the Huntsville/Madison County CVB, at 256.551.2294 or by email at kristen@huntsville.org.
About Huntsville/Madison County CVB
The Huntsville/Madison County Convention & Visitors Bureau (CVB) is a non-profit 501(c)(6) organization which was developed in 1970 to create economic growth for Huntsville/Madison County by marketing the community as a top-of-mind convention and visitor destination. As the official city/county agency which promotes the area as a tourist destination and convention site, the CVB partners with an array of hospitality industry partners to market our destination to visitors of all types.