Blog & restaurant hours updated 2023.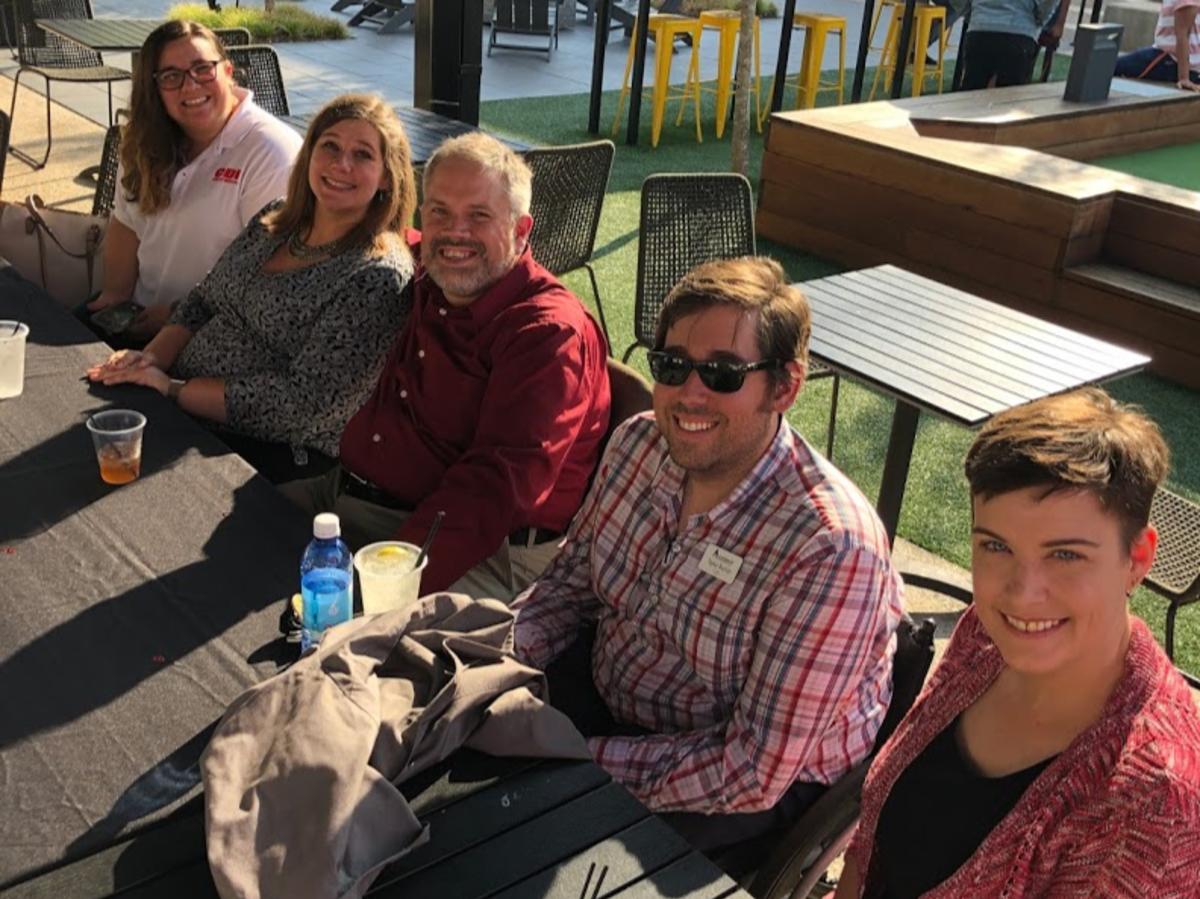 My wife Dana and I love to travel. Just in the past few years, we've traveled to places like Laramie, Wyoming (her hometown); Fort Collins, Colorado; Madison, Wisconsin; Bangor, Maine; Ottawa and Montreal... I could go on. We particularly like road trips versus air travel - just because of all of the flaming hoops a wheelchair user has to jump through when flying.
Nothing grinds my gears more than when we've planned out a road trip, down to our specific meals, only to be confronted by barriers, unaccommodating spaces, and other access issues (inaccessible bathrooms, anyone?!)
With that in mind, I thought I would publish a list of some local spots that we enjoy frequenting - trusty standbys that have proven to provide successful maneuverability, and equally important, a place where you can find an accessible toilet!
Huntsville is one of the most rapidly expanding metros in the country - right now, you could say our official bird is the construction crane - and more and more wonderful local eateries are popping up every month. Today's list attempts to focus on these local places, though I enjoy some chain establishments, as well.
A note: Accessibility is something that falls on a broad spectrum – as is disability, so my caveat is that for this article, the definition of accessibility is that this 36-year-old grown man using a manually-operated wheelchair can comfortably visit these locales, and even access a restroom if needed.
Day 1 Breakfast - Offbeat Coffee Studio at Campus No. 805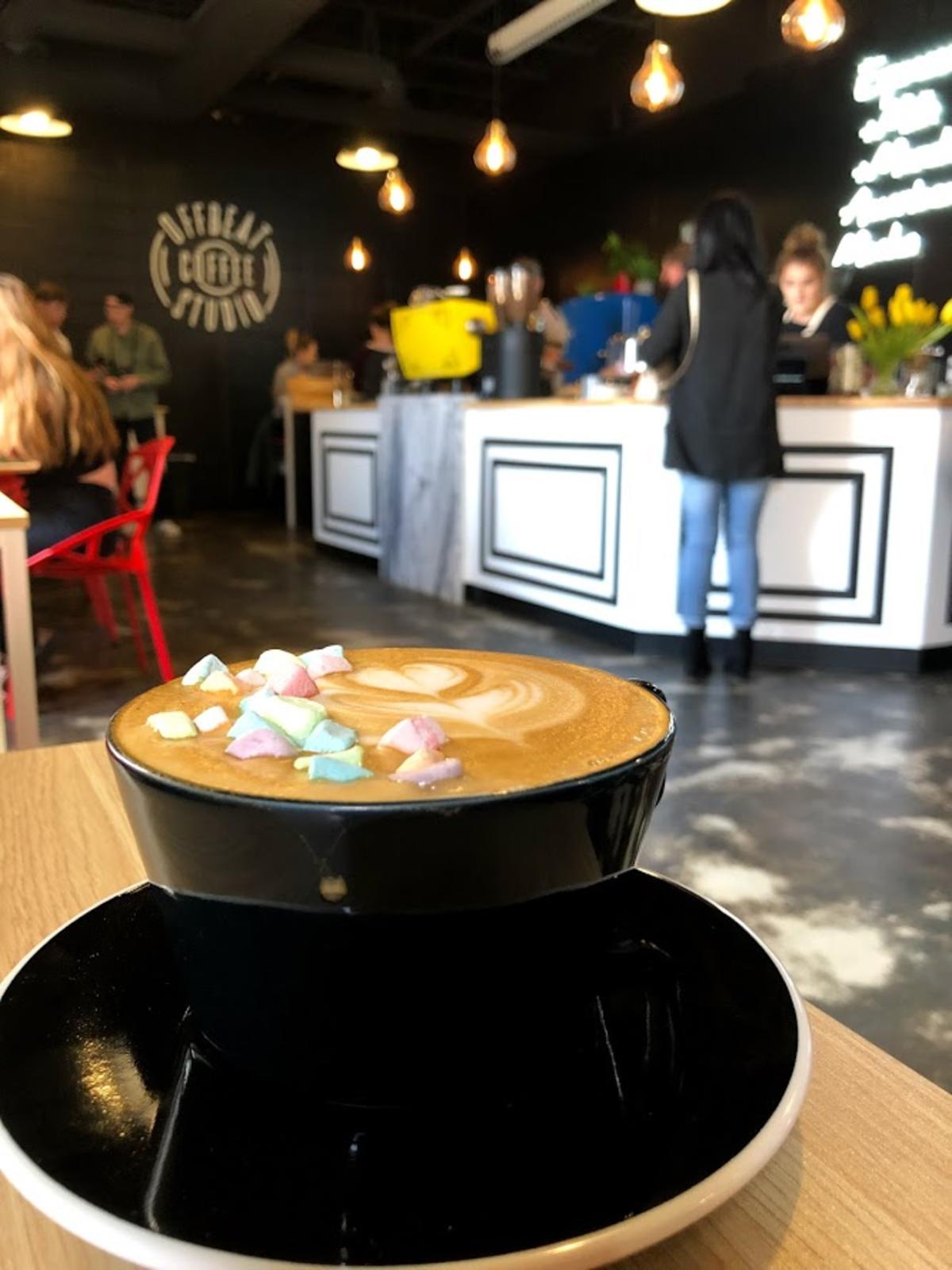 Located in what was once Stone Middle School, Offbeat Coffee Studio is a coffeehouse-meets-record store at the sprawling Campus No. 805 complex. I recommend the handicapped parking just downhill from the main entrance to the building. This haven for caffeinated hipsters is a perfect place to grab a breakfast sandwich or the ever-popular avocado toast.
Offbeat Coffee Studio
2620 Clinton Avenue West (inside Campus No. 805)
(256) 285-3800
Mon. - Thurs. 7 AM - 3 PM
Fri. - Sat. 7 AM - 5 PM 
Sun. - 7 AM - 3 PM
 
I swear that some of the finest places I've ever found have been in non-descript strip malls. This place is no exception. Dana and I have been coming here for years - we find the Grecian blue walls with the large Santorini mural, and the white fluted columns with bunches of plastic grapes to be endearing.
Ambience aside, the portion sizes of their aromatic stuffed grape leaves, spanikopita plates, and their namesake Big Papa Gyro combo with fries are downright colossal. The menu is copious, but there's a photographic menu board above the counter to assist you. Just close your eyes and point at one – it's all good.
Big Papa Gyro's
4925 University Drive, Unit 120
256-489-9050
Monday - Friday 10 AM - 9 PM
Saturday 11 AM - 9 PM 
Sunday - Closed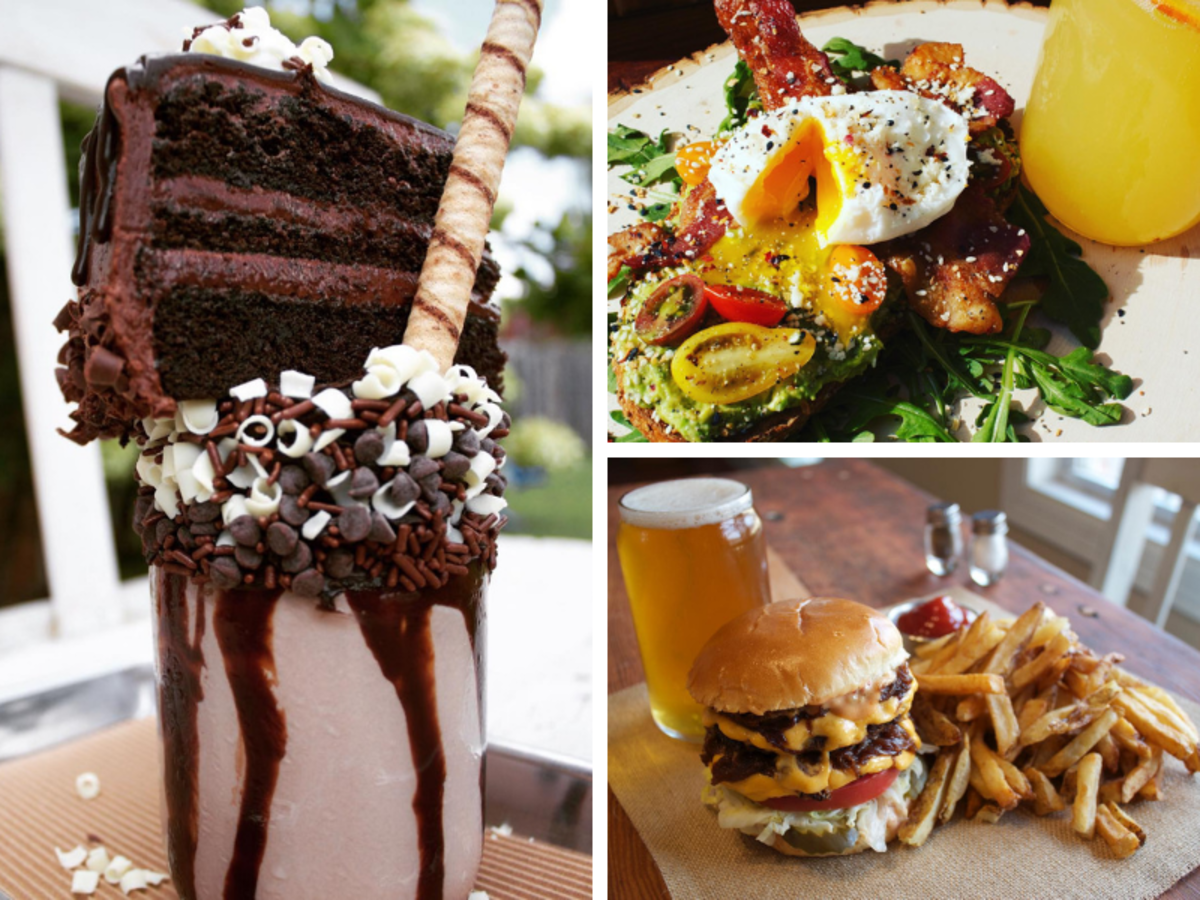 Okay, so this is a Madison joint. Madison is Huntsville's neighbor immediately to the west, and one of the fastest growing cities in its own right in the state. Dana and I actually live in Madison - we like some of the suburban amenities, and the highly regarded school zone is good for home value. The newest kid on the block in Madison is Goodland Pour House - elevated pub fare, "gastropub" is the lingo these days.
Start out with some sharables like potato, poblano, and goat cheese taquitos and pork belly corn dogs with house pickles, and proceed on to the Detroit-style pizza (it's sort-of like deep dish, but square-cut, extra thick, and very crispy at the bottom. We particularly enjoy the Notorious P.I.E., with pepperoni, burrata, pickled chili, fresh basil, and the all-important honey. So good.
We haven't had the room to go for it yet, but the times we've been there, we have observed other tables ordering Black Tap (NYC) -style milkshakes that feature outrageous things like a slice of chocolate cake on the rim of the glass! I love this place, and it's very easy to maneuver around, restrooms and all.
Goodland Pour House is a dinner-only establishment, at the moment.
12110 County Line Road | Suite A
Madison Monday - Friday | 11 AM - 2 PM | 4 PM - 9 PM 
Saturday 11 AM - 9 PM 
Sunday 10AM - 2PM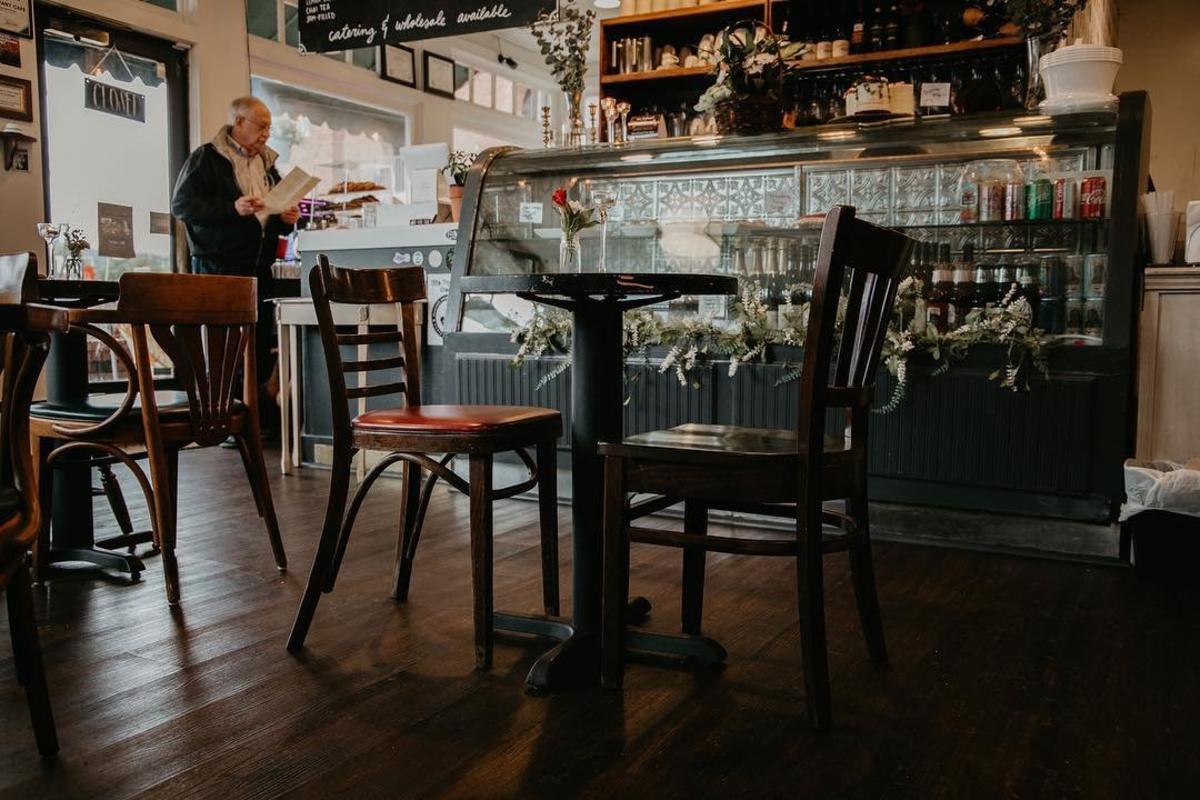 After you sleep in a little, start your day off right by heading to my favorite South Parkway destination - Good Company Cafe, located in the Main Street South shopping center. This women-owned cafe was founded by native Huntsvillian, Angela Ozbolt and Molly Jones, a Connecticut-bred former NYC pastry chef.
Jones and Ozbolt, who met in culinary school in Rhode Island, have made a name for themselves here in Huntsville with their inventive, hearty, and highly Instagrammable meals. You'll want to take advantage of their breakfast pastries, biscuits, muffins, and scones (all of which change daily), and probably what amounts to the best bacon in town. Enjoy a cup of local Rooster's Crow coffee while you're there, and don't neglect the addictive "firecrackers" - oyster crackers with a kick!
The place is cozy on the inside - and I say that meaning "small", but with big comfy chairs, it really feels like a living room in there. On a nice day, you'll want to utilize their rather expansive patio space. Don't forget to treat yourself to a slice of cake before you go. Tell them I sent you.
Their restroom is large enough for my chair, but not huge - there's also a larger restroom in the adjacent office building behind the cafe.
Good Company Cafe
7500 South Memorial Parkway, Suite 123
(256) 881-0044 Open
Monday Closed 
Tuesday - Sunday 8 AM - 3 PM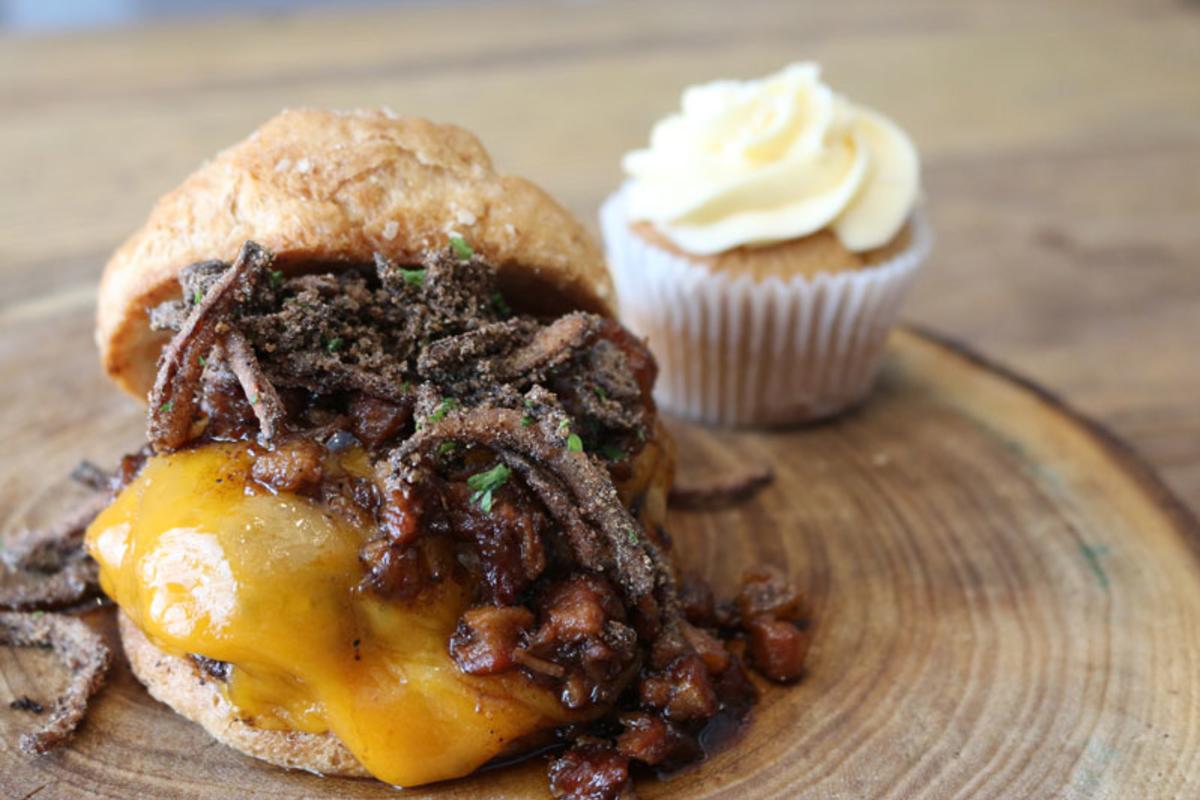 After you've worked off those morning muffins and mimosas, head over to the ever-charming Mason Dixon Bakery, located at 415 Church St NW. The first gluten-free bakery in Alabama, Mason Dixon has been listed as one of the 15 best gluten-free bakeries in America.
I don't happen to have any gluten sensitivity - I just think their food is darn good. In addition to offering full loaves, cakes, and the like, Mason Dixon also is a wonderful bistro, where you can enjoy everything from their delicious bulgogi tacos (lettuce wraps), to their award-winning MD Burger (beef burger with grilled onions, smoked Gouda, harissa aioli, and yes... a sunny side up egg.
"Treat yo' self", as Tom Haverford of Pawnee, Indiana would say (and Parks & Rec fans here?) and indulge in a cookie monster cupcake, a Take 5 cookie, or grab some take & bake cinnamon rolls before you go.
Mason Dixon Bakery - A Gluten-Free Bakery
415 Church St NW, Huntsville, AL 
(256) 213-7545
Tuesday - Saturday 7 AM - 4 PM 
Sunday Closed 
 
Day 3 Dinner Casual and Special Occasion 
 
I'm giving you a couple of options here, both in downtown Huntsville. A note about parking: sometimes I don't love to park on the curb, only to have cars zooming past me as I'm trying to assemble my wheelchair. You can avoid that by making use of the parking garages at Clinton Row or Fountain circle near the Early Works Museum.
If you want a casual Saturday night, I recommend Humphrey's Bar & Grill. If this is perhaps a special occasion, I would call ahead for a reservation and get a table by the door at Commerce Kitchen.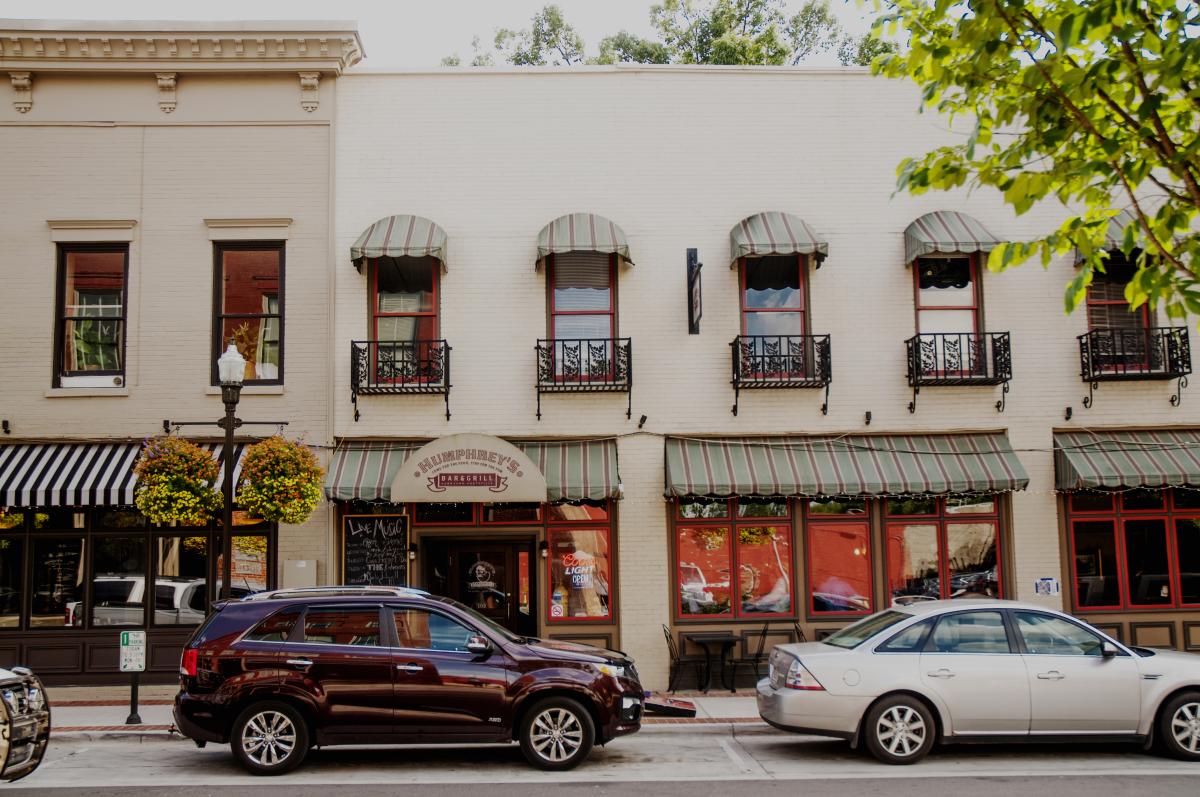 First, Humphreys. This place is recently back to firing on all cylinders after sustaining damage in a kitchen fire, and we Huntsvillians sure are glad they are back to their old ways. Located downtown on Washington Street, near the intersection with Clinton Ave, Humphrey's is one of my favorite places to invite out-of-towners, especially in warmer weather. I love driving my dinner guests through our gorgeous downtown, through the Antebellum homes of the Twickenham Historic District, and around our charming courthouse square.
Humphrey's strongest asset isn't any particular menu item (though they're all mighty fine), but rather their wrought iron New Orleans-style back patio where you can sit with loved ones on any given weekend and listen to local talents.
Popular orders in our household are the barbecue burger (which actually features pulled pork on top of the beef patty), or their ever-popular fried shrimp po'boy. Their beer selection is quite good, so it's a wonderful place to sample several local brews, too.
I can indeed attest that their restrooms are wheelchair friendly. A few years ago, I noticed that misplaced door hinges left me unable to maneuver in the stall. They were so apologetic and personally escorted me to their adjacent property The Bottle so I could use their restroom. The next day, I received a message with a photograph of the repaired door at Humphrey's. I was very impressed with their customer service and their prompt attention.
Humphrey's Bar and Grill
103 Washington St NE., Huntsville
(256) 704-5555
Monday - Wednesday 11 AM - 10 PM 
Friday 11 AM - 2 AM
Saturday 10 AM - 2 AM 
Sunday 10 AM - 10 PM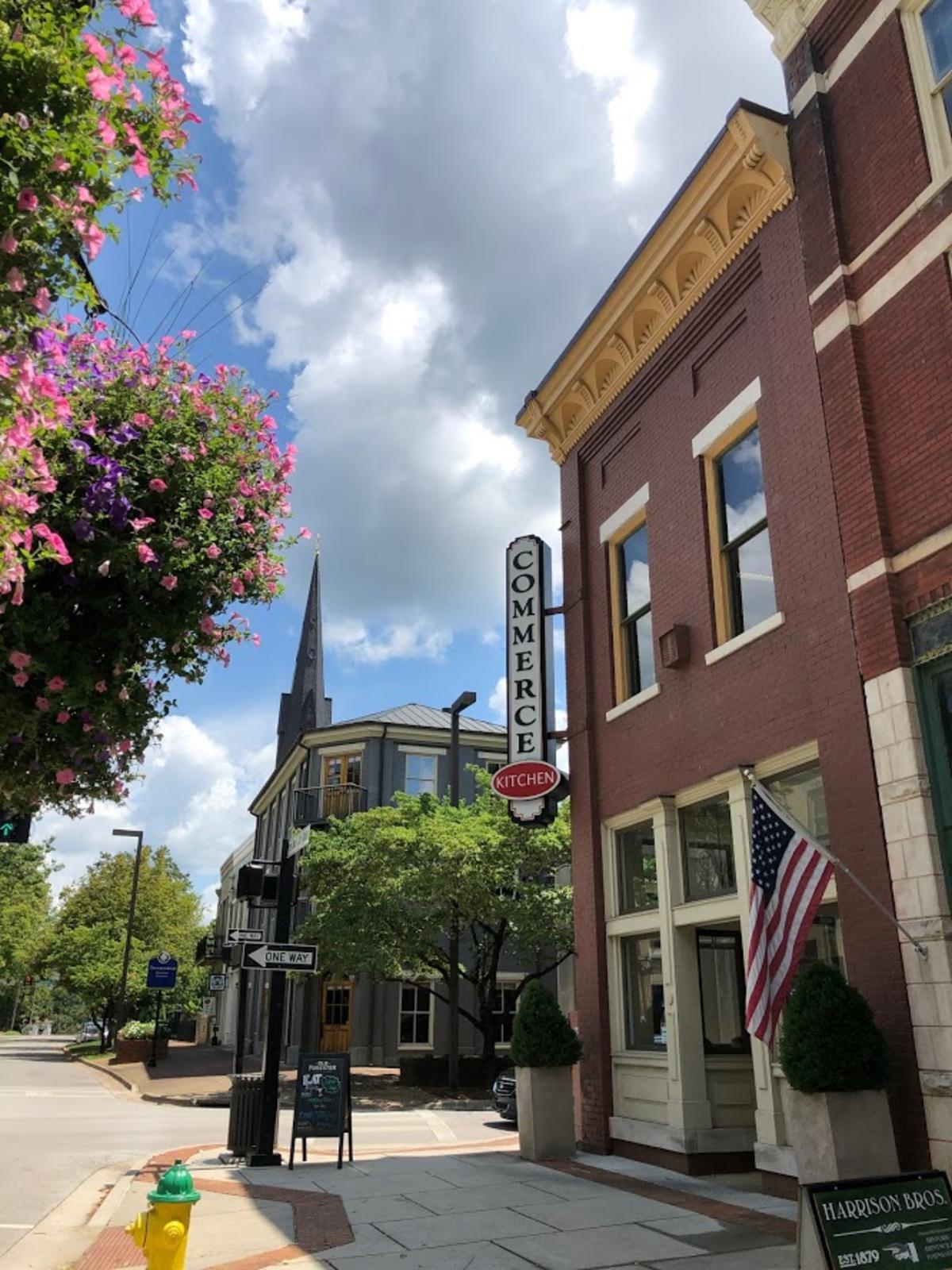 Located on Franklin Street, just off the courthouse square in our beautiful downtown, I've only been here once or twice. Okay once. And my parents paid.
What struck me about Commerce Kitchen, besides the impeccable James Boyce-crafted food and attention to service was that they bent over backward for my comfort and ability to celebrate my birthday with my family. I called to make dinner reservations with a couple of days' notice and mentioned I am a wheelchair user. They instructed me to meet them by the big side door, which they would unlock for me.
They anticipated our arrival, greeted us at the side door, and had the nearest table of four waiting for us. It is a small restaurant - how they fit as many tables in there is quite the feat, and they do so without it feeling crowded.
I really need to find an excuse to go back there. I don't remember what I ate, as much as I remember how well I was treated. It's the small things. Their menu changes often, but I recommend their fried green tomatoes with pimento cheese, and their shrimp & grits.
Commerce Kitchen
300 Franklin Street
Monday - Friday 11 AM - 10 PM
Saturday - 10:30 AM - 3 PM | 4 PM - 10 PM 
Sunday - 10:30 AM - 3 PM | 4 PM - 8 PM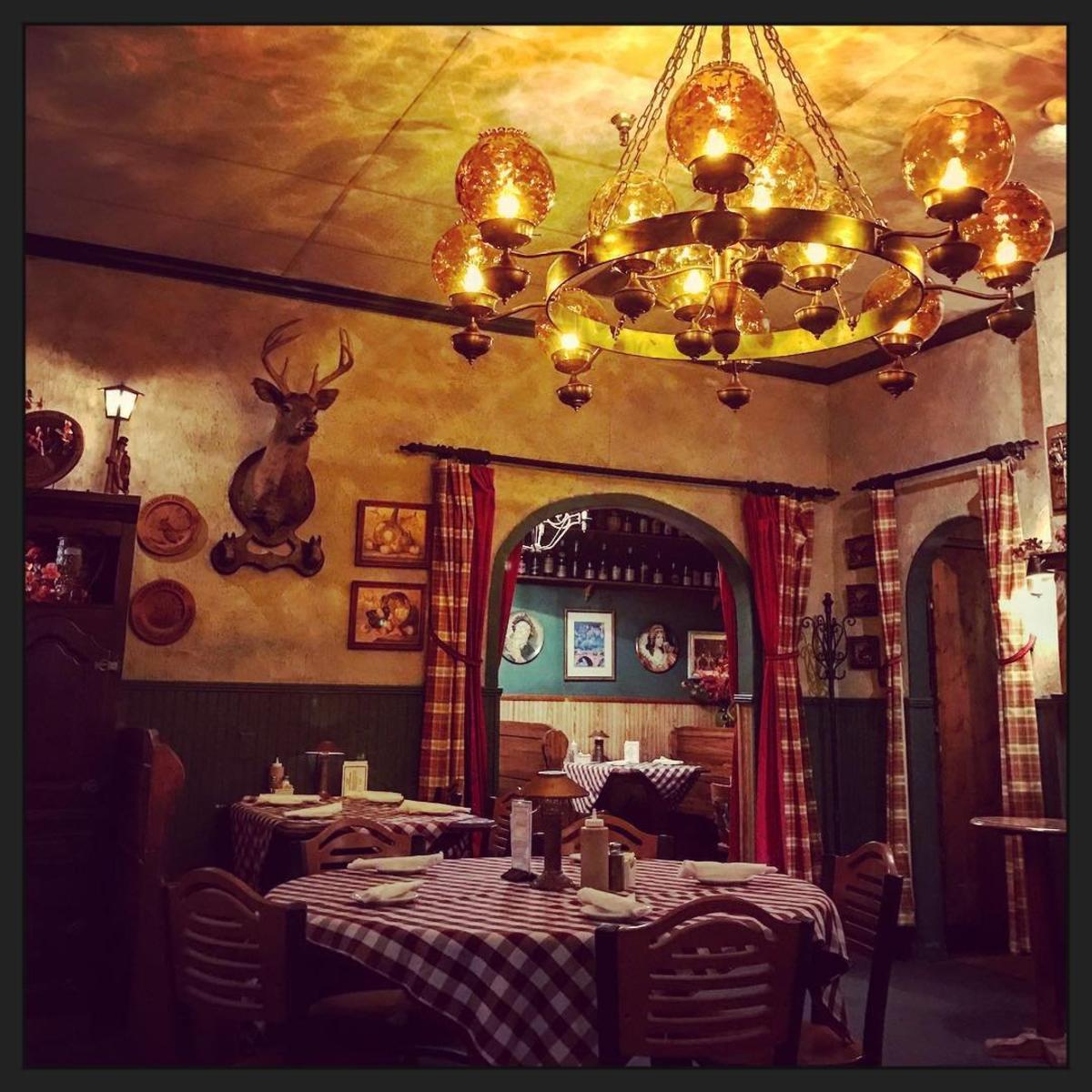 Okay, so for your last meal in Huntsville, I'm gonna want you to leave feeling absolutely stuffed to the gills.
After World War II, 118 German scientists came to the United States to work for Uncle Sam. In 1950 Dr. Wernher von Braun and his team relocated from Texas to Huntsville, Alabama to give our rocket program a proverbial shot in the arm.
German culture is still abound here, with several German restaurants opening (some closing) over the years. Since 1972, Ol' Heidelberg has been feeding Huntsville with rich, authentic family recipes. The restaurant is located, again, in a pretty unremarkable strip mall, next to one of my favorite Mexican restaurants, Phil Sandoval's. In fact, if you show up to Ol' Heidelberg and there's too much of a wait for your liking - that's where I would suggest you go.
Anyway, a meal at Ol' Heidelberg is always a special time. It's cozy and dark inside, with your expected knickknacks and cuckoo clocks that you see at many Bavarian places. The waitresses wear the customary dirndls, and perhaps the first thing that catches your eye is the glass case displaying all of the outrageously decadent cakes and desserts. Yes, you do want to make room for those. I usually get something like the Hungarian schnitzel - sauteed chicken with mushroom, peppers, and onions, in a hunter's sauce, which is a rich brown gravy with mushrooms.
I don't go here for light fare! Make sure you get a slice of Black Forest cherry or German chocolate cake before you go. I wasn't expecting the restroom to be accessible here, since the restaurant is a bit older, but it certainly did work for me. I hope that this local's guide to accessible dining over a weekend visit is helpful to you.
There are several other places that fit the bill, but I wanted to focus on locally-owned establishments and ones that I enjoy visiting. Maybe I'll run into you at one of them.
Cheers!