Being home to the U.S. Army's Redstone Arsenal, Huntsville loves to celebrate our military community and strong military heritage. The community has many Veterans Day activities celebrating all of those who have served in the U.S. military.
Admission to Attractions
Huntsville Havoc Hockey Veterans Day Game 
FIVE DOLLAR TICKETS FOR VETERANS FT. $3 beer 
When: Thursday, November 9 
Tickets HERE! 
 
Huntsville Botanical Garden 
Free admission to the gardens for active or retired military and their immediate family
Where: Huntsville Botanical Garden - 4747 Bob Wallace Ave SW, Huntsville, AL 35805
When: November 10 & 11 
Alabama State Parks 
Free admission to any Alabama State Park!
The 'Parks for Patriots' statewide program grants free admission for veterans to Alabama State Parks, so plan a visit to Monte Sano State Park on Veterans Day! 
Veterans Day Parade
Huntsville will honor all of our country's veterans with a grand Veterans Day Parade on November 11 in downtown Huntsville.  
When: November 11, 2023 at 11 am 
Where: Parade route will begin at lot K on Woodson St, it will include the Veterans Memorial on Monroe Street and end near the Lumberyard on Cleveland Ave.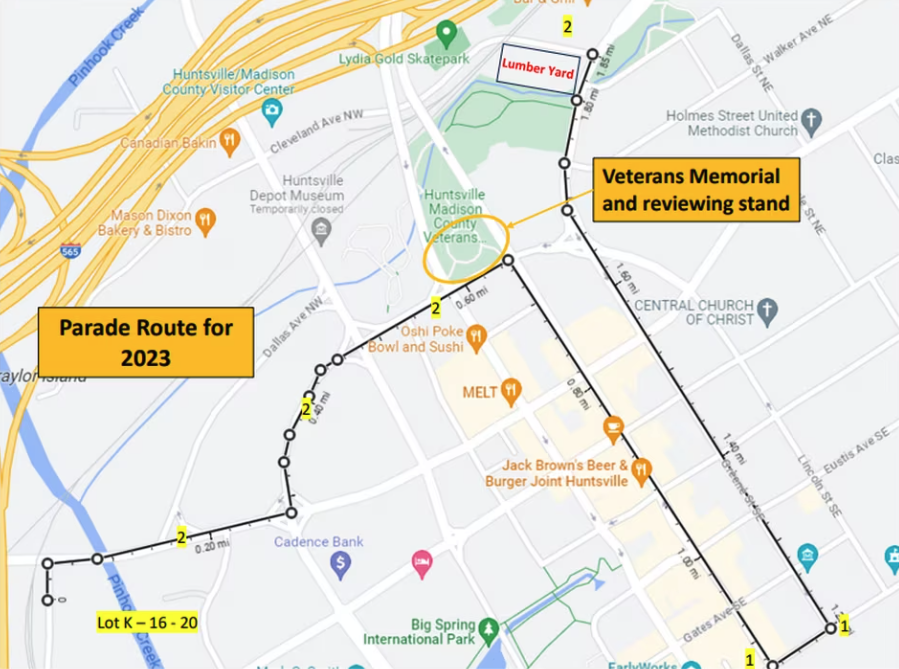 Every day is Veterans Day at the U.S. Veterans Memorial Museum. See the oldest known surviving jeep — the Ford Pygmy — and more than 30 other historical military vehicles from World War I to the present, as well as a large collection of military artifacts and memorabilia.
2023 Veterans Day Open House
Attention veterans! The U.S. Veterans Memorial Museum cordially invites you to a celebration of your service and sacrifice to our nation. Please join us for refreshments, a tour of the museum, and a time to share your stories with those in attendance. Admission is free to all. Donations are gladly accepted.

 

Take a stroll in scenic Downtown Huntsville, where this open park takes you on a journey of U.S. military history. Read facts about each American war, as well as memorials to those who bravely fought.

Location: 200 Monroe St NW, Huntsville, AL 35801
 

In 1866, Congress passed legislation establishing two cavalry and two infantry regiments, whose enlisted composition was made up of African Americans, to serve in the United States Army. This special memorial at Cavalry Hill is dedicated to the Buffalo Soldiers of the 10th Cavalry. The Buffalo Soldiers participated in the battles of Las Guasimas, El Caney, and San Juan Hill, winning six medals of honor for gallantry in action. Today, the memorial honors all African Americans who have served in all of the nation's wars.
Location: 2800 Poplar Ave NW, Huntsville, AL 35816