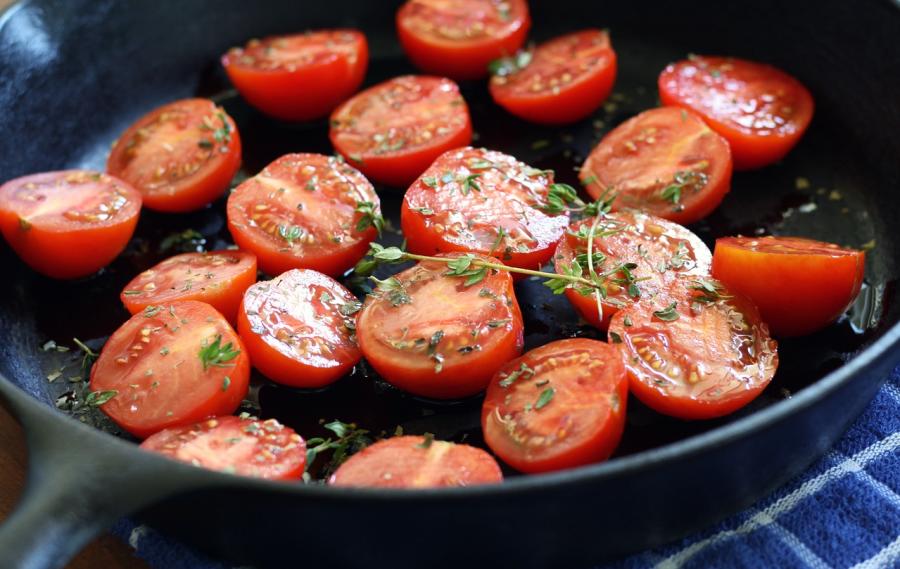 Most people are staying home, so folks are trying to get their favorite foods from their own kitchens. No meat, no cheese-- no problem! With a little help from your local Huntsville and Madison restaurants, quarantine cooks can score delicious recipes from Chikn Parmesan to Kombucha Cocktails. This recipe list will help you support local businesses while cooking at home.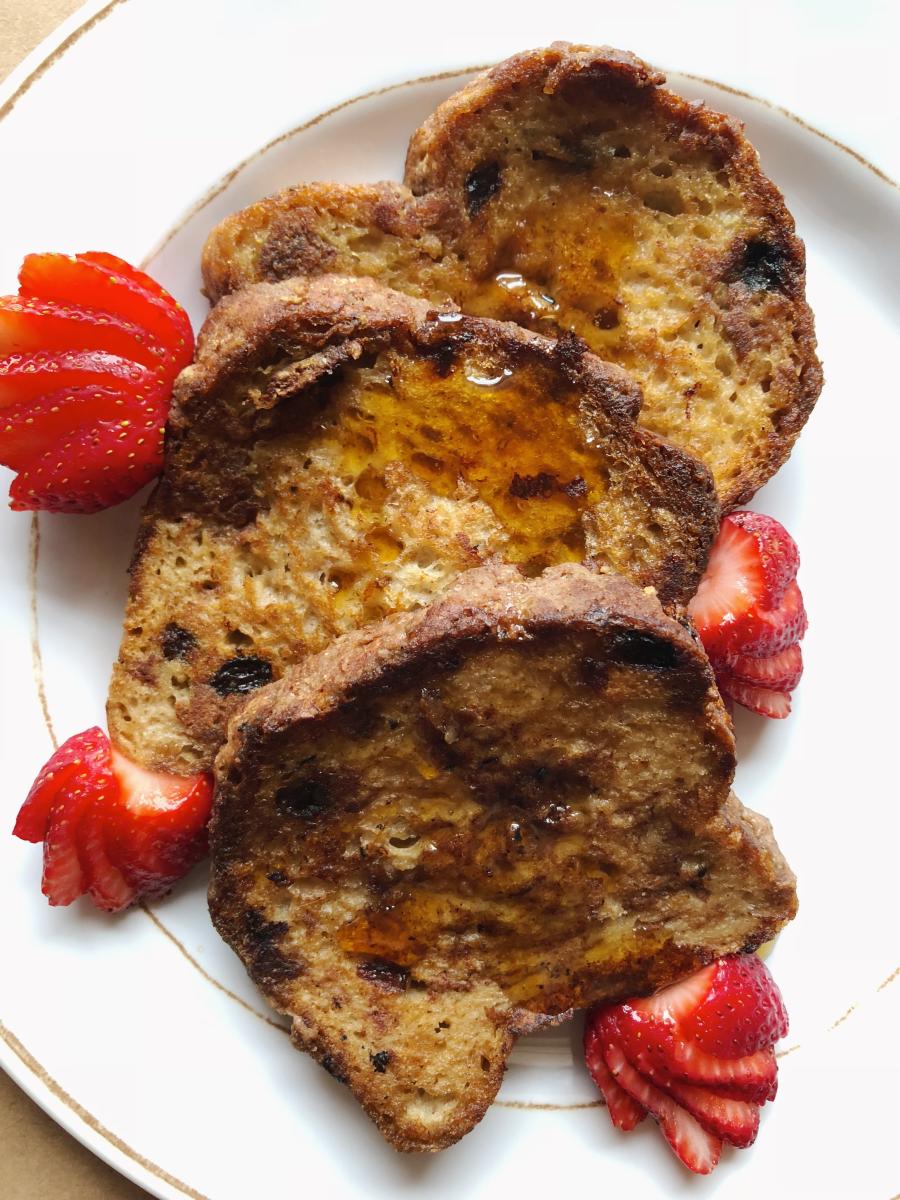 Mason Dixon Bakery & Bistro is a dedicated gluten-free bakery and restaurant. They offer vegan treats including cupcakes, donuts, biscuits, and bread. They have an easy online ordering system on their home page for shipping, pick-up, delivery, and in-store gift cards. 
French Toast Featuring Mason Dixon Cinnamon Raisin Bread
Ingredients:
· 6-8 slices of Cinnamon Raisin Bread 
· 1 cup Unsweetened Vanilla non-dairy milk
· ¼ Arrowroot (or cornstarch)
· 1 tsp Egg Replacer (Ground Flaxseed)
· 1/2 tsp Baking Powder
· 1 tsp Ginger
· 2 tsp Maple Syrup
· 2 Tbsp Oil
 In a bowl large enough for a slice of bread, whisk together milk, arrowroot, egg replacer, baking powder, ginger, and maple syrup. Place the bread in the batter and allow 5 seconds on each side. In a medium-high heated skillet with the oil, let the bread cook for 2-3 minutes per side. Remove from pan once either side is golden brown and top with your choice of fruit, maple syrup, or powdered sugar.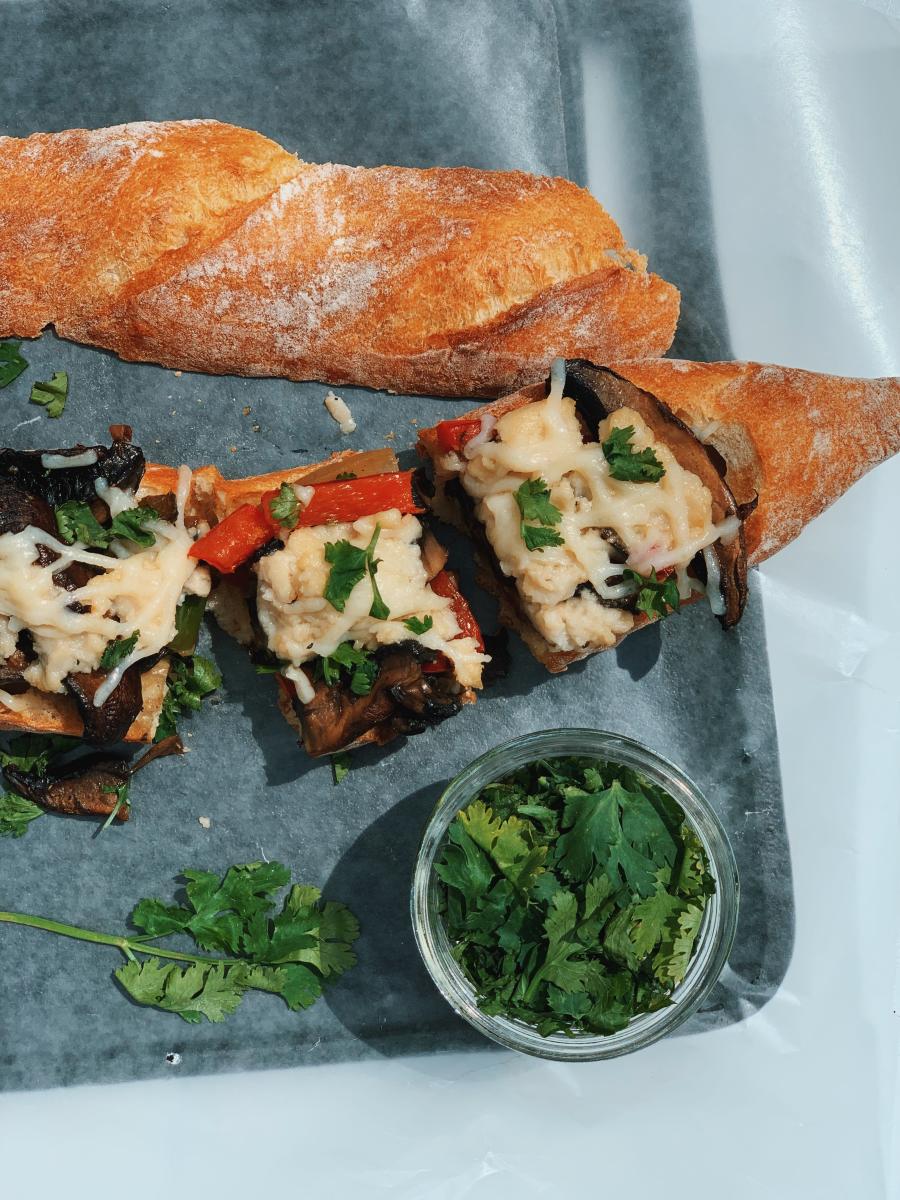 Canadian Bakin is a locally owned bakery and cafe specializing in hand-rolled bagels and artisan bread, baked fresh daily. They offer day-of service with curbside pickup. Ordering is available online just before opening each day.
Philly Cheesesteak Featuring Canadian Bakin Baguette
Ingredients:
· 1 Baguette
· 3 Portabella Mushroom Heads
· 1 Green Pepper
· 1 Red Pepper
· ½ White Onion
· Tbsp Italian Seasoning
· Tsp garlic powder
· Tbsp Liquid Smoke
· Tbsp Tamari
· 1/3 cup Mozzarella Style Shreds
· ½ Fresh Vegan Mozzarella
 Preheat oven to 375. Cut mushrooms, peppers, and onion into long diagonal slices. Heat medium-sized skillet with a tablespoon of oil. Add in veggies, tamari, liquid smoke, and seasonings. Toss lightly to coat evenly. Stir occasionally, until veggies are lightly browned and onions turn translucent. Remove from pan and set aside. Take the baguette and cut out the center, layer some mozzarella shreds, veggies, fresh mozzarella, and last of the mozzarella shreds. Place on a parchment-lined baking sheet, and place it in the oven for 10 -15 mins until cheese is completely melted.  One option is to finish it with fresh cilantro as a garnish.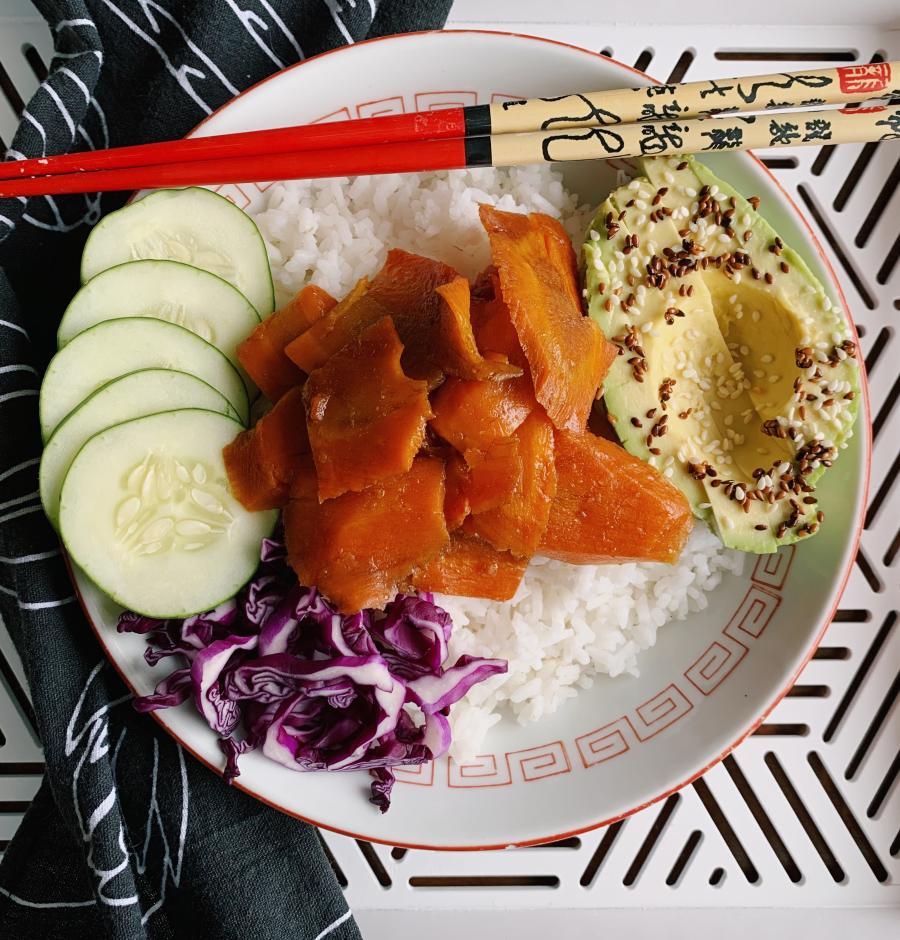 The Hippea Camper provides the Rocket City with healthy and delicious plant-based options. This vegan food truck offers everything from juices and homemade granola, to smoked 'salmon' carrots by the jar. The Hippea Camper travels to different locations throughout the week. They list their schedule on Instagram and Facebook weekly. On their direct website, they added a pre-order option. 
Sushi Bowl Featuring Hippea Camper's Smoked 'Salmon' Carrots
Ingredients:
· 1/3 cup Smoked 'Salmon' Carrots
· 1 cup cooked Sushi Rice
· ½ Cucumber
· ½ Avocado
· ¼ cup Red Cabbage
· Tsp Toasted Sesame Seeds
 Sushi Rice: Rinse and cook white rice. Heat vinegar with sugar and salt then toss with rice.
- In a large bowl, place sushi rice, sliced cucumber, shredded red cabbage, smoked 'salmon' carrots, avocado, and sprinkle toasted sesame seeds.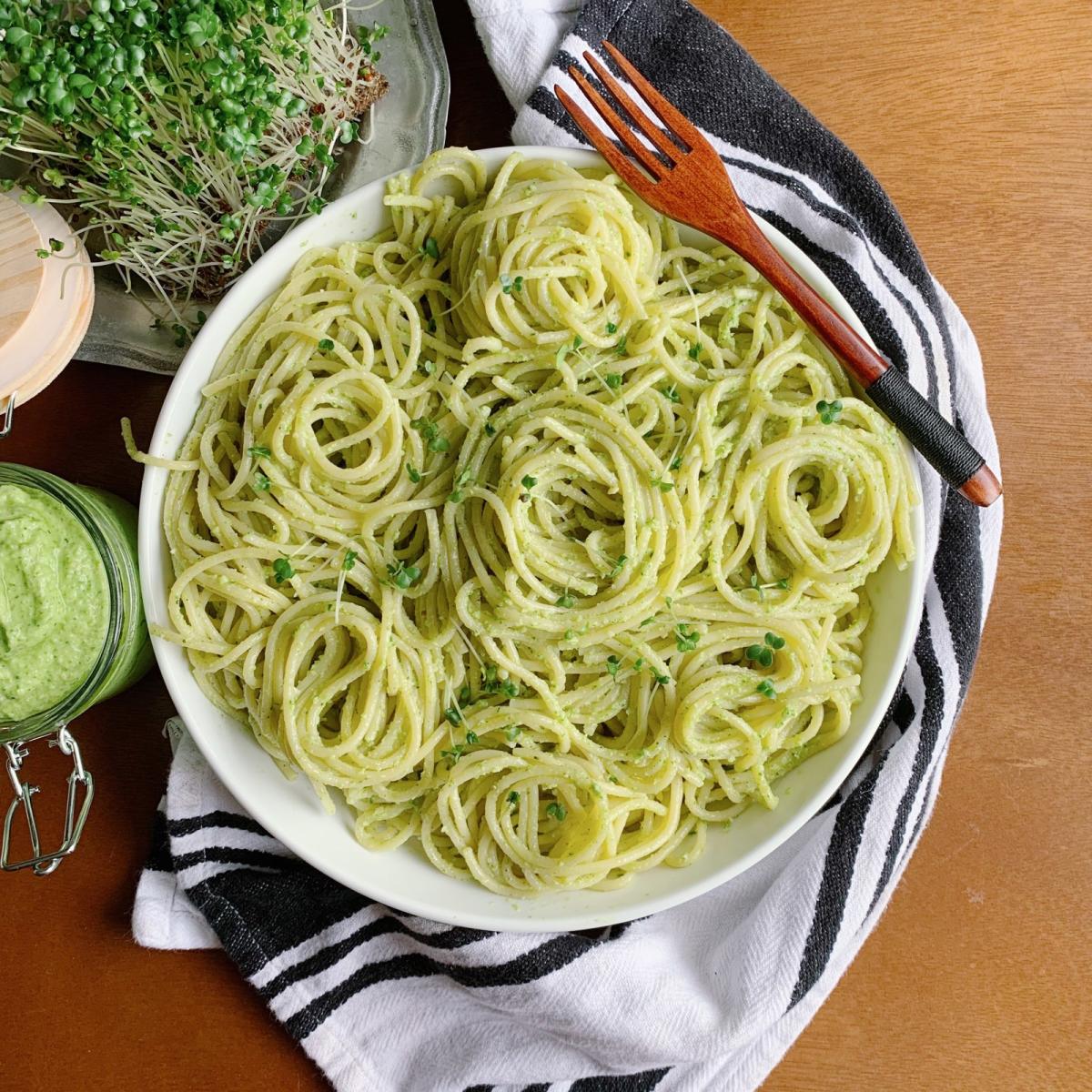 Sweet City Micros is an urban farm dedicated to bringing Huntsville and the surrounding community the freshest microgreens possible using the purest growing practices -no pesticides, herbicides, or fertilizers. Microgreens are up to 40x more nutritionally dense than their mature counterparts. An order can be placed by Thursday evening and will be delivered on Friday.
Pesto Featuring Sweet City Micros' Broccoli 
Ingredients:
• 2 cups Broccoli Micro Greens
• 2 large cloves Garlic
• ½ cup Olive oil
• ½ Lemon, Freshly Juiced
• 1 Tbsp Nutritional Yeast
• ½ cup Vegan Parmesan Cheese (I used Follow Your Heart)
• 2 Tbsp Toasted Pine Nuts
• 1 Tsp Himalayan Salt
  Place the pine nuts in a dry cast-iron skillet and cook over medium-low heat, stirring frequently, until golden (about 3 minutes). In a blender or food processor, pulse toasted pine nuts, garlic, broccoli microgreens, parmesan cheese, nutritional yeast, lemon juice, and salt. Slowly pour in olive oil while still processing. Occasionally scrape the sides with a rubber spatula.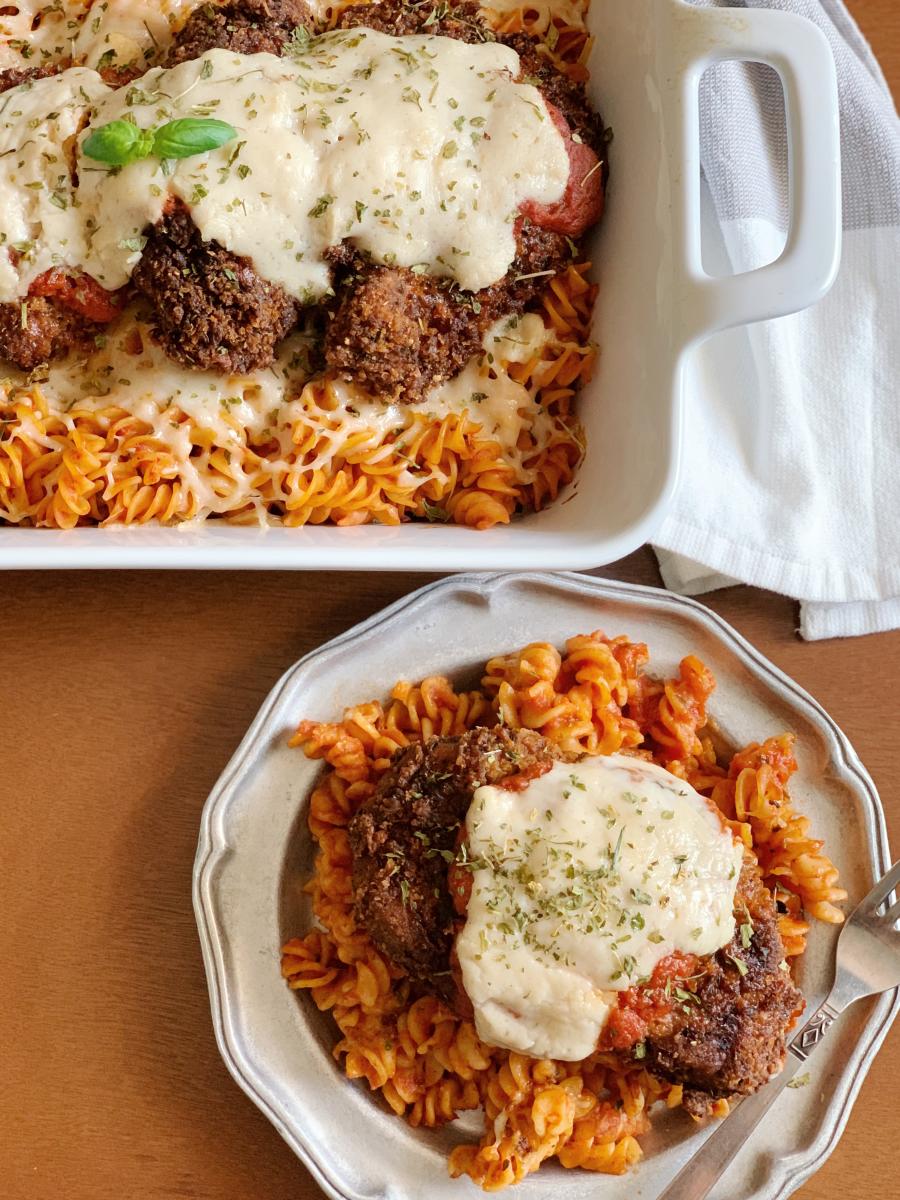 Heaven's Healthy Kitchen meals are homemade, made from scratch food. The menu is updated on Instagram. Everything from the Classic Chikn Pieces to the Oxtail Plate can be ordered for delivery. HHK's goal is to reach communities to promote, teach, and educate them on the family, health, and wellness.
Chikn Parmesan Featuring HHK's Chikn
Ingredients:
· 4 Chikn Pieces
· Bag of Rotini Pasta
· 11 Fresh Tomatoes
· 1 White Onion
· 4 Cloves Garlic
· 5 Tbsp Basil
· 1 cup Vegetable Broth
· 1 Tbsp Sugar
· 2 Tbsp Olive Oil
· Whole Fresh Vegan Mozzarella
 Preheat the oven to 350. In a medium heated pot, add olive oil, chopped onion, and minced garlic. Cook for one to two minutes then add chopped and squeezed (to remove seeds) tomatoes, sugar, basil, and vegetable broth. Stirring often, bring to a low boil. Simmer for 2 hours on low heat, stirring often. For one hour, leave the pot uncovered; cover for the final hour. Take ½ cup of sauce and place it to the side. Add cooked pasta to the sauce then transfer to a large baking dish. Place Chikn on top of pasta, drizzle leftover pasta sauce, and add Fresh Vegan Mozzarella before placing in the oven. Bake for 20 mins till cheese is melted.  I love to finish the dish by adding fresh basil as garnish.