As the U.S. Paralympics Cycling Open, presented by Toyota, arrives this weekend at Cummings Research Park, here are some important things you should know:
Road to Tokyo
About: This is one of four events that will play a part in helping determine Team USA for the 2021 Paralympic Games in Tokyo in August. More than 100 athletes are expected to compete. Numerous medal winners from past Paralympic Games will be among the contenders for spots on this year's team.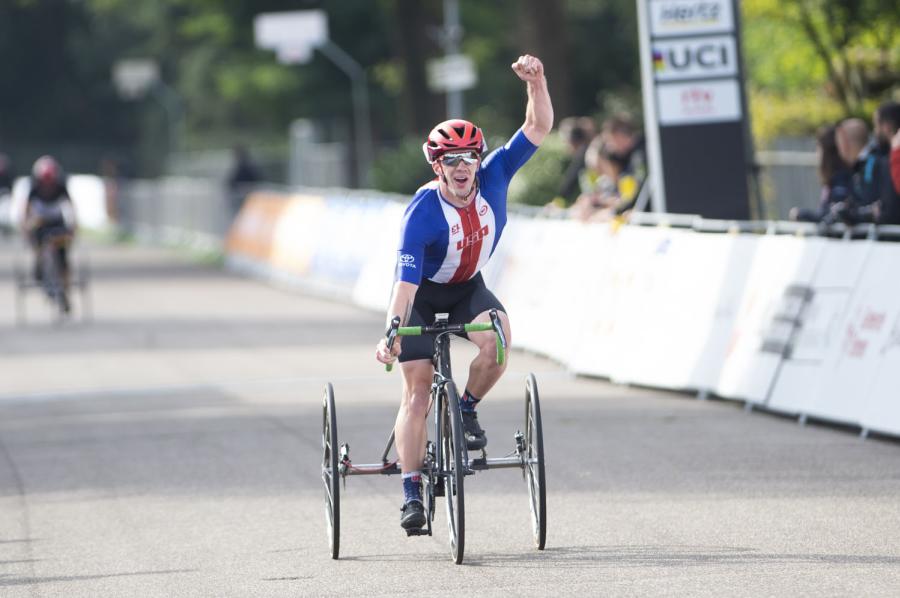 Credit: Casey B. Gibson / U.S. Paralympics Cycling
Paralympic Cycling Races
Types of Race: There is a broad spectrum of cycle style, and within each category there are classifications based on the athletes' challenges. Among the cycles:
Handcycles, using arm or arm trunk power while in a recumbent position, and another classification in which the athletes are kneeling.
Tricycles, for athletes who have balance issues or other restrictions.
Tandem cycling, with an able-bodied pilot in front, and a "stoker" in the back who is visually impaired.
Traditional two-wheeled cycles.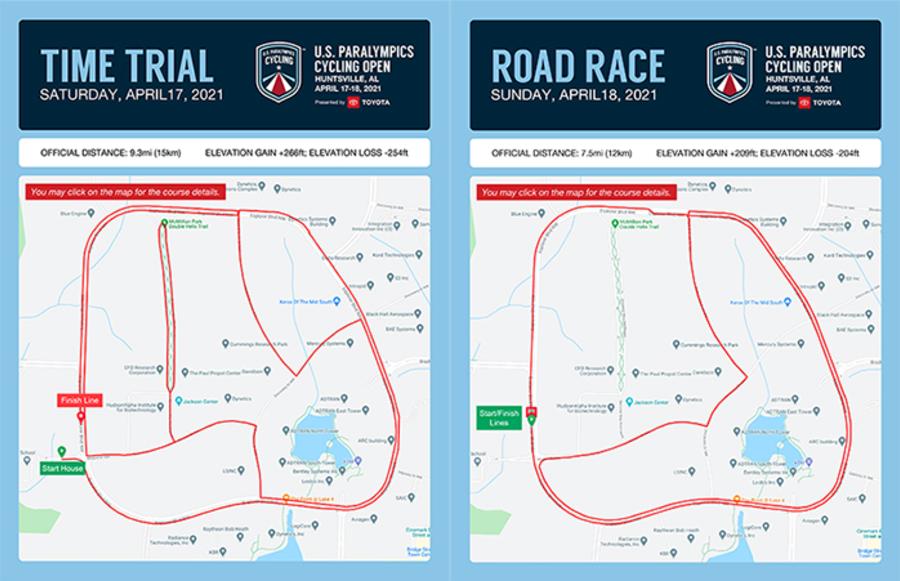 How to Watch
To best enjoy the U.S. Paralympics Cycling Open at Cummings Research Park this weekend, a little bit of planning will help make the experience more enjoyable and more efficient. Here are some questions and answers for you, and we suggest you download the spectator guide prepared by the Huntsville/Madison County Chamber of Commerce.
The schedule: Racing starts at 9 a.m. on Saturday and at 8:30 a.m. Sunday.
Saturday will be the time-trial races, with a 15-kilometer lap around Cummings Research Park, then a path through the HudsonAlpha Institute for Biotechnology, and up and around the McMillian Park Double Helix Trail. The start-finish line is at Columbia High School.
Road races will take place on Sunday, on a 12.1-kilometer course, with races lasting anywhere from two to seven laps, depending upon the category.
On both days, there will be exhibition races by members of the Paralyzed Veterans of America Racing team, competing in recumbent events.
What will I see? There are more than 90 athletes beginning their quest to earn spots on Team USA for next summer's Paralympic Games in Tokyo. They'll be competing on a variety of cycles and variety of races, from recumbent bikes pedaled by arm-power to tandem cycles in which an able-bodied partner navigates for a visually impaired cyclist.
What should I bring? Make it a picnic. Bring a cooler and camp chairs and a blanket. You'll be watching from any of a number of spots on the perimeter of Explorer Boulevard -- no crossing the road to watch from inside the track – and you should be weather-prepared. Check the forecast before you leave the house. And, yes, there will be plenty of portable restrooms available along the course.
When should I go? Saturday will be time-trials, beginning at 9 a.m. and lasting until approximately 3:30, with athletes starting at designated increments. So there will be a constant flow of racers in front of you. Sunday's action begins at 8:30, racing on a 12.1-kilometer course. The start-finish line is at Columbia High School. You'll be able to watch live action from across the course via the Chamber of Commerce Facebook page.
How should I get there? Enterprise Way, Discovery Drive (coming from Enterprise), Voyager Way and Jan Davis Drive provide the best access to the course and the various parking lots. Avoid Bradford Drive, Farrow Road and Pegasus Drive.
Where do I park? An interactive map can assist you with parking. Many of the Cummings Research Park companies on the exterior of the course are providing complimentary parking. These include Sangoma, Collins Aerospace, ASRC Federal/Aviagen/Yorktown Systems Group, TSC, Bridge Street Town Centre, Intrepid, Delta Research, S3, Yulista, Kord Technologies, Lakeside Office Center, Quantum Research and Dynetics.
Why should I go? We'll leave this answer up to a couple of the athletes:
"This past year been so tough, you can't pretend to know what people are going through," said Travis Gaertner, already a Paralympian medal winner in wheelchair basketball. "If you've had a tough year and you're looking for motivation, you see folks who have pushed through things in their lives who had an excuse not to do anything."
"Seeing people who were dealt bad hands and just deal with it," said Samantha Bosco, a two-time bronze medal winner in the 2016 Games. "Seeing it in person and having that personal experience of triumph can change minds across the world. I definitely feel like people should come watch, to cheer us on, to see strength and see adversity and see perseverance. And we love having fans!"
Partnerships: The U.S. Olympic and Paralympic Committee is the governing body, but there's a large team providing assistance. The Huntsville/Madison County Chamber of Commerce leveraged a long-time relationship with Medalist Sports, an Atlanta-based sports management group with a history in cycling, to land the event for Huntsville. The City of Huntsville is providing support, and Toyota is the title sponsor. Other sponsors include the Huntsville-Madison County Convention & Visitors Bureau, Raytheon, Blue Cross Blue Shield of Alabama, Aerojet Rocketdyne, Nesin Physical Therapy, Phoenix and KBR.