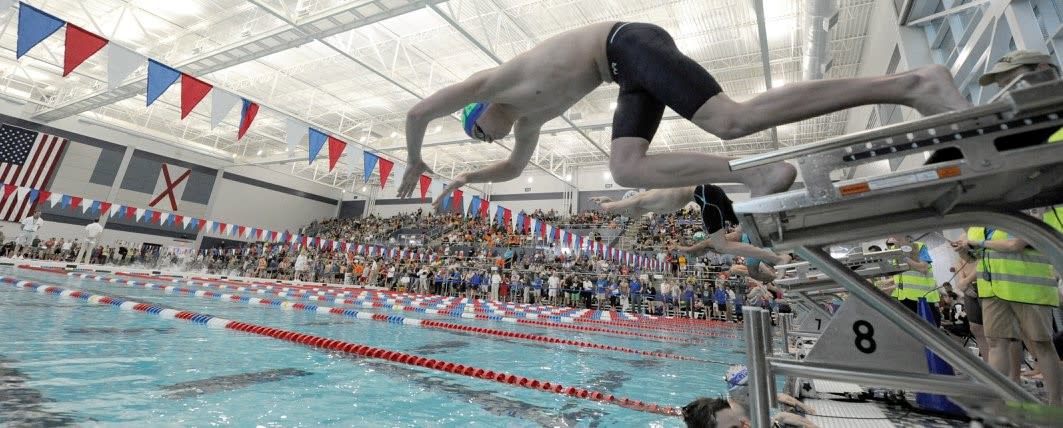 Huntsville Aquatics Center
It isn't all hype and bluster when Chris O'Neil calls the Huntsville Aquatics Center "a world-class aquatic facility." He knows of what he speaks.
O'Neil, the City of Huntsville's Facilities Construction Manager, happens to be one of the most decorated swimmers in Huntsville history. He's traveled the globe to compete. A four-time All-American at Texas A&M, he was a gold medalist in the 1986 Goodwill Games in Moscow.
He was part of the team of visionaries that designed and constructed the Huntsville Aquatics Center. The facility opened in July 2017 and has already gained national attention. It has served the Huntsville swim community. It's also been a boon to sports tourism as the site for numerous state and regional meets. Said O'Neil, "It'll pay dividends for years to come."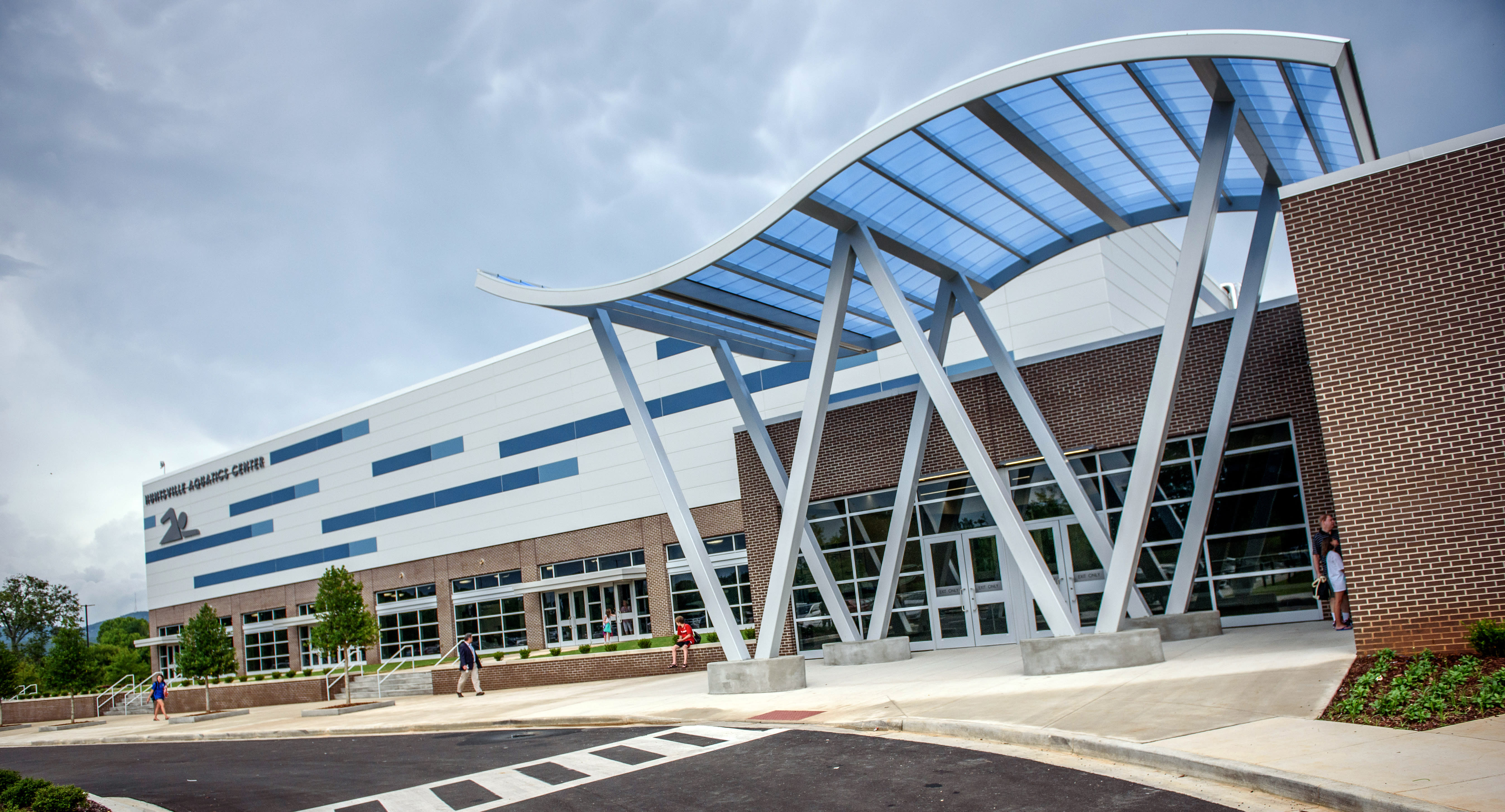 Three Pools - One Complex
The Huntsville Aquatics Center is a spectacularly beautiful building, right down to the water-blue decorative touches and a wave-shaped roof line over the entrance. Aesthetics aside, it's functionality and attention to other detail sets it apart from similar facilities.
The complex actually holds three pools – the Competition pool, with spectator seating for 1,400-plus fans and 500 seats for competitors on the pool deck; the Legacy pool, formerly the Brahan Springs Natatorium and the cornerstone for the construction; and the Instructional pool, which is used for lessons and also for exercise therapy. The complex is the only one in the Southeast with two 50-meter competitive pools under the same roof.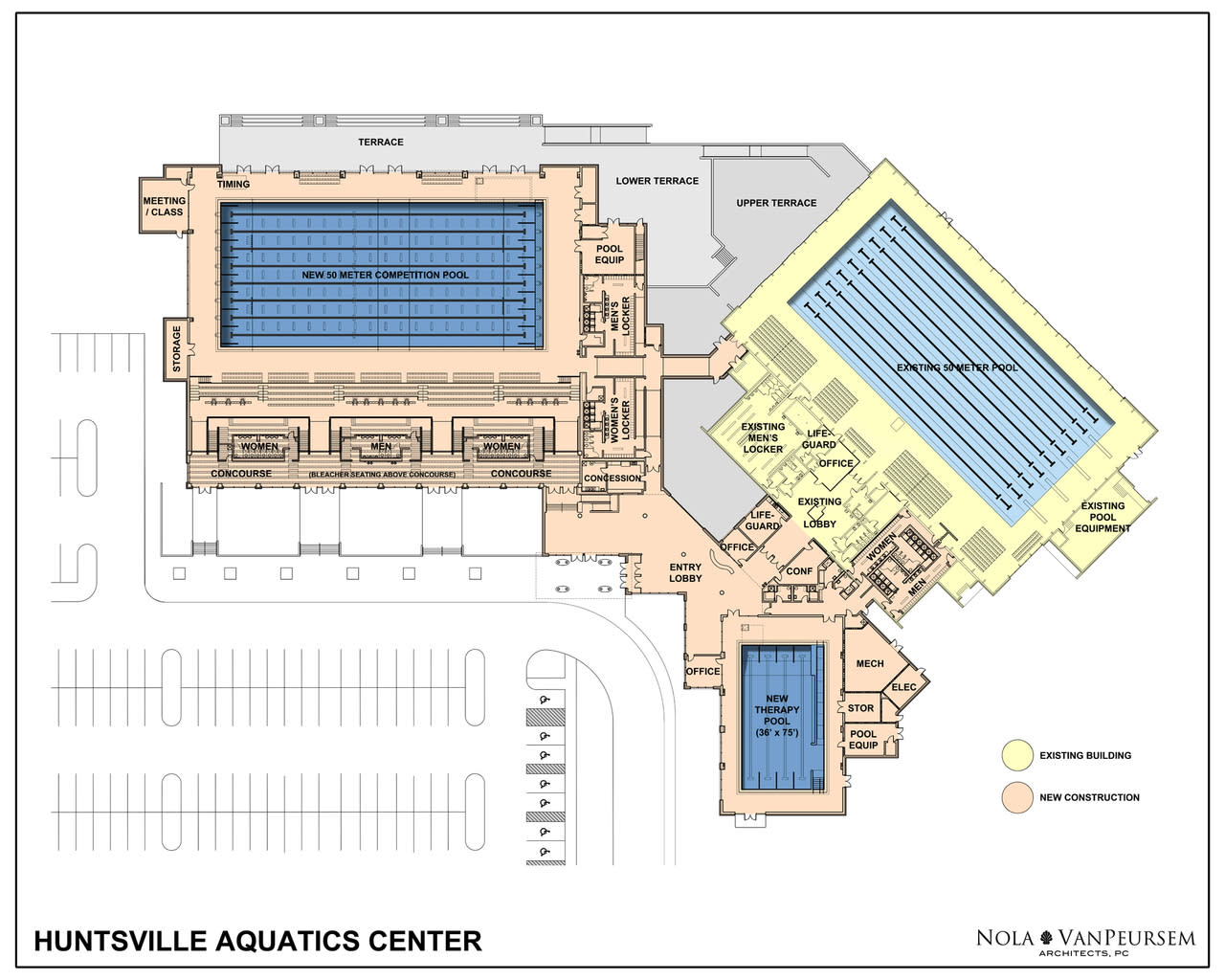 The Competition pool has a movable bulkhead and can be arranged as a 16-lane, 25-meter pool or eight-lane 50-meter pool. The starting blocks are the same style used in Olympic and major events. Plus, there is indirect lighting so that swimmer won't deal with glare.
Of special emphasis, designers demanded a state-of-the-art ventilation system that removes the heavy smell of chlorine. The smell can take its toll on fans and swimmers alike during the course of a long meet. An enormous wall of windows opposite the grandstands, with a view of Monte Sano in the distance, the Huntsville Aquatics Center avoids that "Vegas syndrome" of being trapped inside all day with no sense of time.
There are other important touches – plenty of parking, meeting rooms, concession stand, four locker rooms and a modernization of the four-decades-old Legacy pool, where swimmers like O'Neil and three-time Olympic medalist Margaret Hoelzer launched their careers.
"We had the opportunity to do something right," O'Neil said, "and we did."