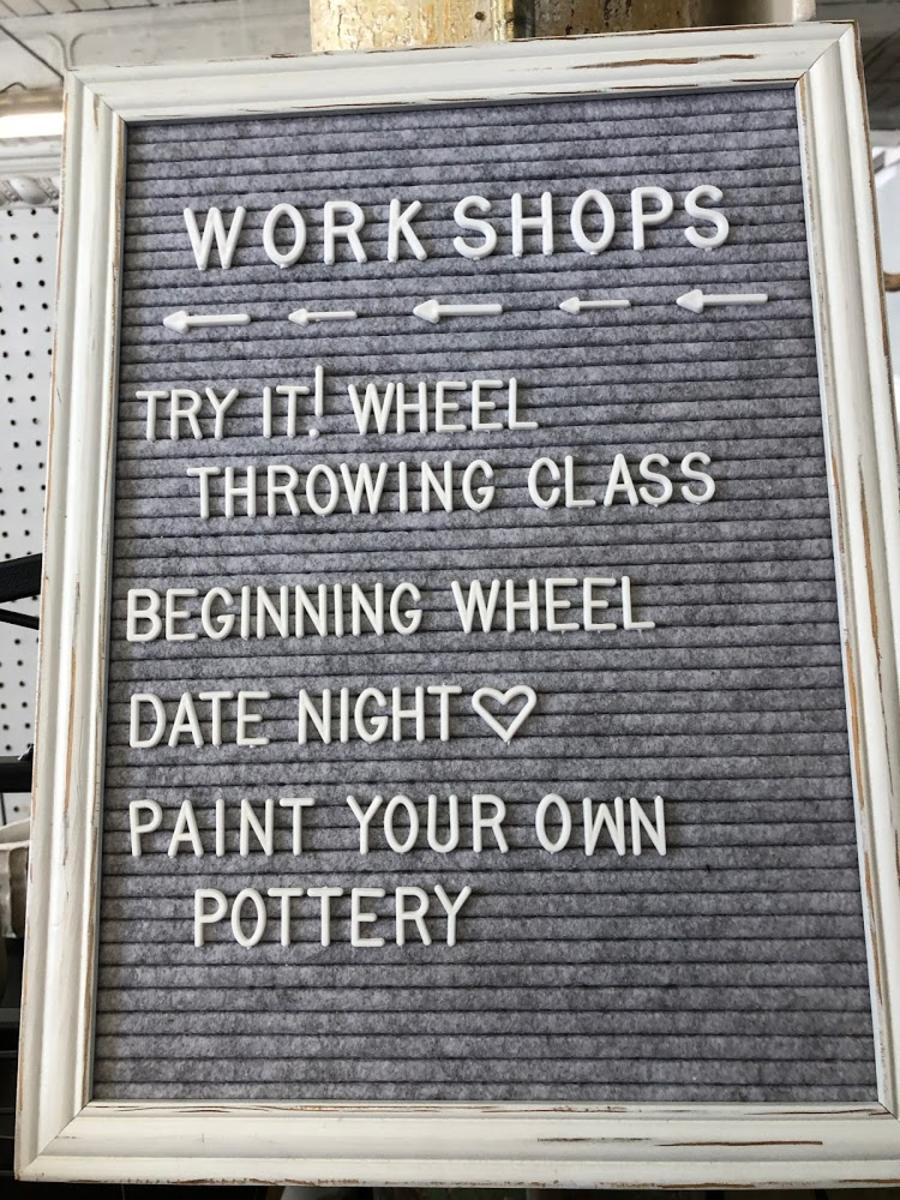 Want to impress your love interest with a super unique and fun date night while visiting or staycationing in the Rocket City?
I got you.
Listen, keeping the love fresh and exciting, especially while on the road, can sometimes be a bit burdensome, but thanks to our mother-in-law, who knows how to drill down and find the perfect Christmas gift, my husband and I found ourselves on the ideal date night in Huntsville on a recent weekend.
Yes, you really can plan a romantic evening while you are traveling. And yes, you will get dirty. Keep reading.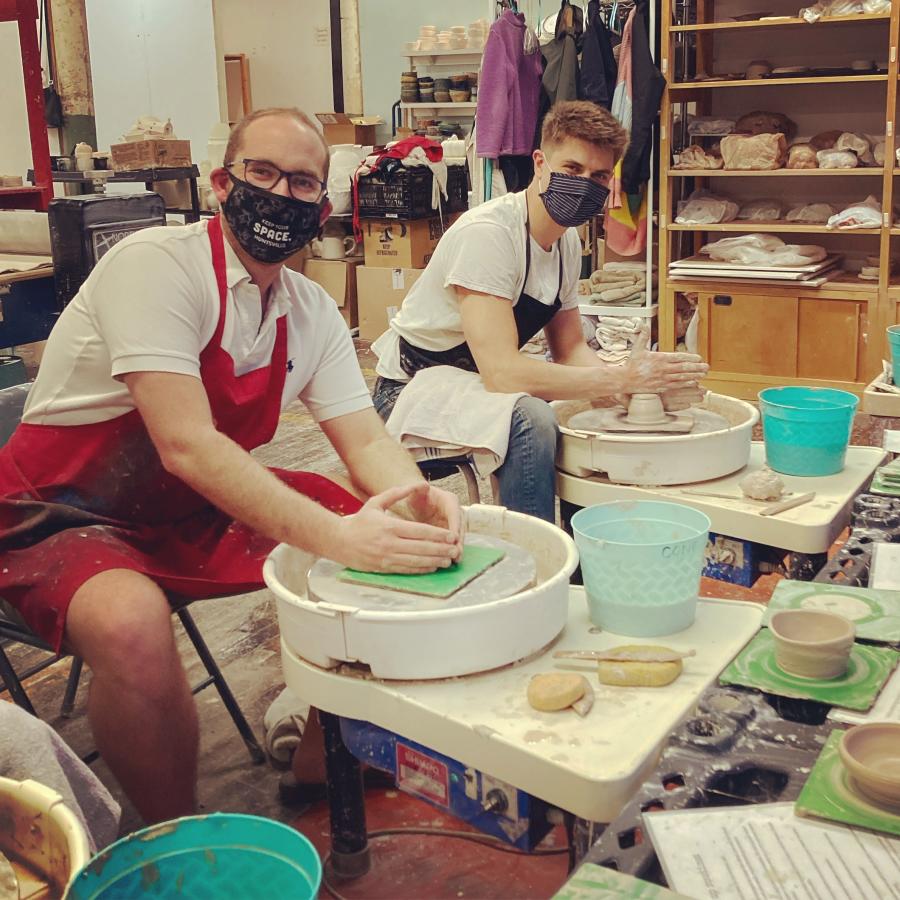 The Christmas gift that sparked this perfect date night this year was a gift certificate to a wheel-throwing pottery class. Designbyhart Pottery Studio is located on the second floor inside Lowe Mill ARTS & Entertainment: the largest privately owned arts facility in the southern United States.
We booked our class on a Friday night, about a month out. The spots fill up fast, so book in advance! Before I tell you how I was a natural pottery creator, let me tell you it is not as easy as it looks. Our class included us, and two other couples circled up and bellied up to the pottery wheels with a beautiful professional potter leading us through the process. We watched a demo as she casually cranked out a perfect bowl from a wet, mound of clay to a stunning masterpiece. Our instructor chatted with us about using our fingers to do the real work, and it seemed like it took her about 2 minutes; her workspace was clean and tidy, not a drop of wet clay on her. She was still smiling.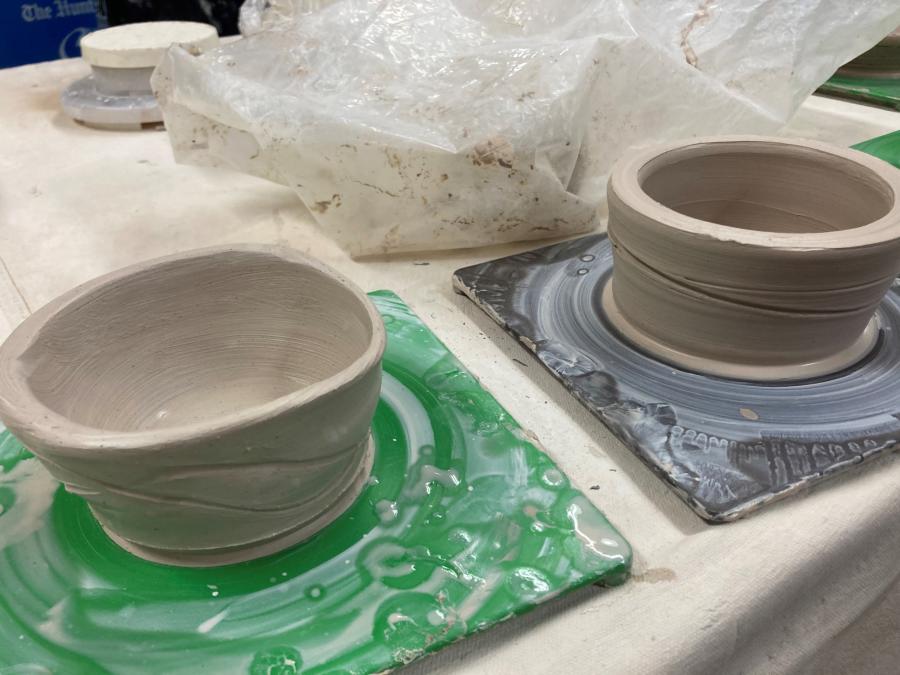 Ok, this is going to be easy…. an hour later and four starts and failed attempts later, I had a somewhat bowl-shaped object in front of me. Chris (my hubby) was far more accurate to the mysteries of the clay. His bowl was something I would show off and use down the road. 
We spent the hour laughing and bonding with the others in the class, making authentic connections and memories that will truly last. At the end of the night, I realized I wouldn't be switching my day job for a potter's wheel seat anytime soon, but I will be back to book another class!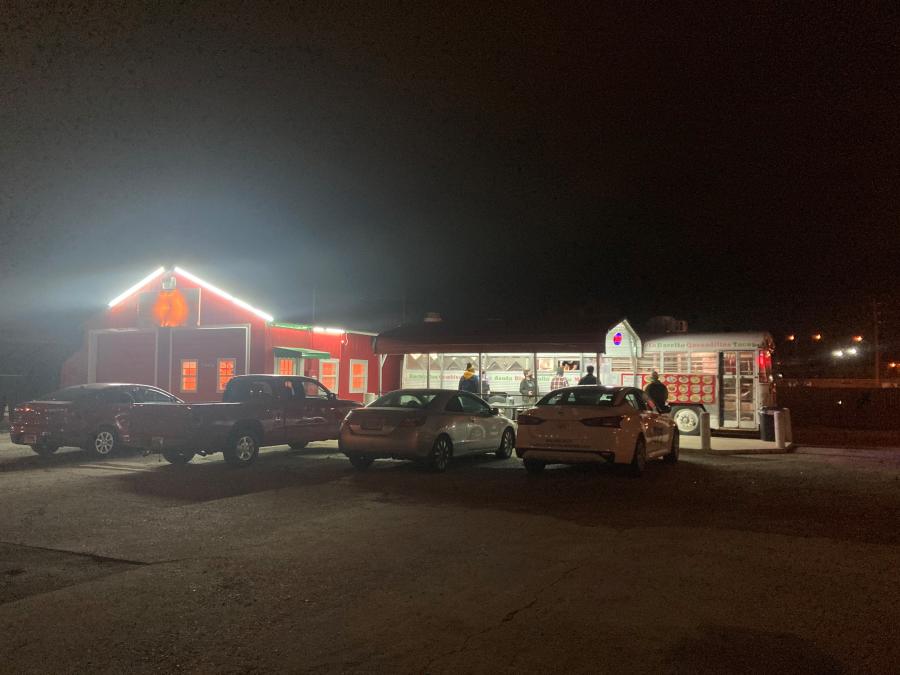 Now, this wouldn't be the perfect date night without a refuel for our next stop. We find quirky, locally owned, and a little off the traditional path to be our perfect bite. We headed over to Taqueria El Cazador #2, "the taco bus," parked near Lowe Mill along Governor's Drive for some late-night feasting with those goals in mind. You order from the window of a legit school bus, with the menus plastered on the side. They have the cane sugar, glass bottle of Coke, and even though I don't typically drink soda, I always order one. 
Do yourself a favor and go big with a few street tacos and the carne asada platter. I mean, why not? You are on a date.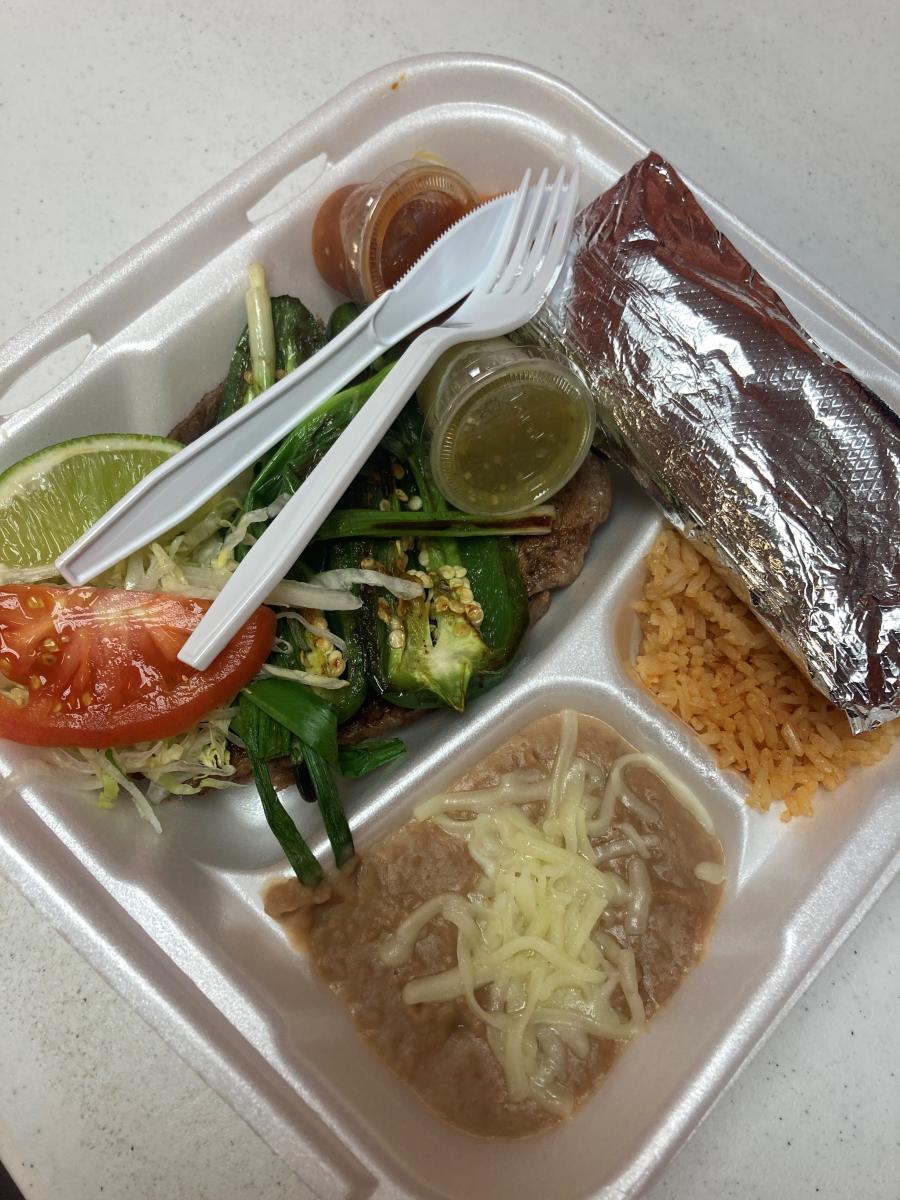 We sat outside on the picnic tables, and it was a perfect evening under the stars.
Full and worn out, we headed back to our little #RedDoorRetreat to sleep off the perfect (random) date night in the Rocket City.
This is one example of how you can turn the "dinner and a movie" date routine into something slightly different. Along the way you can support local artists and small business owners.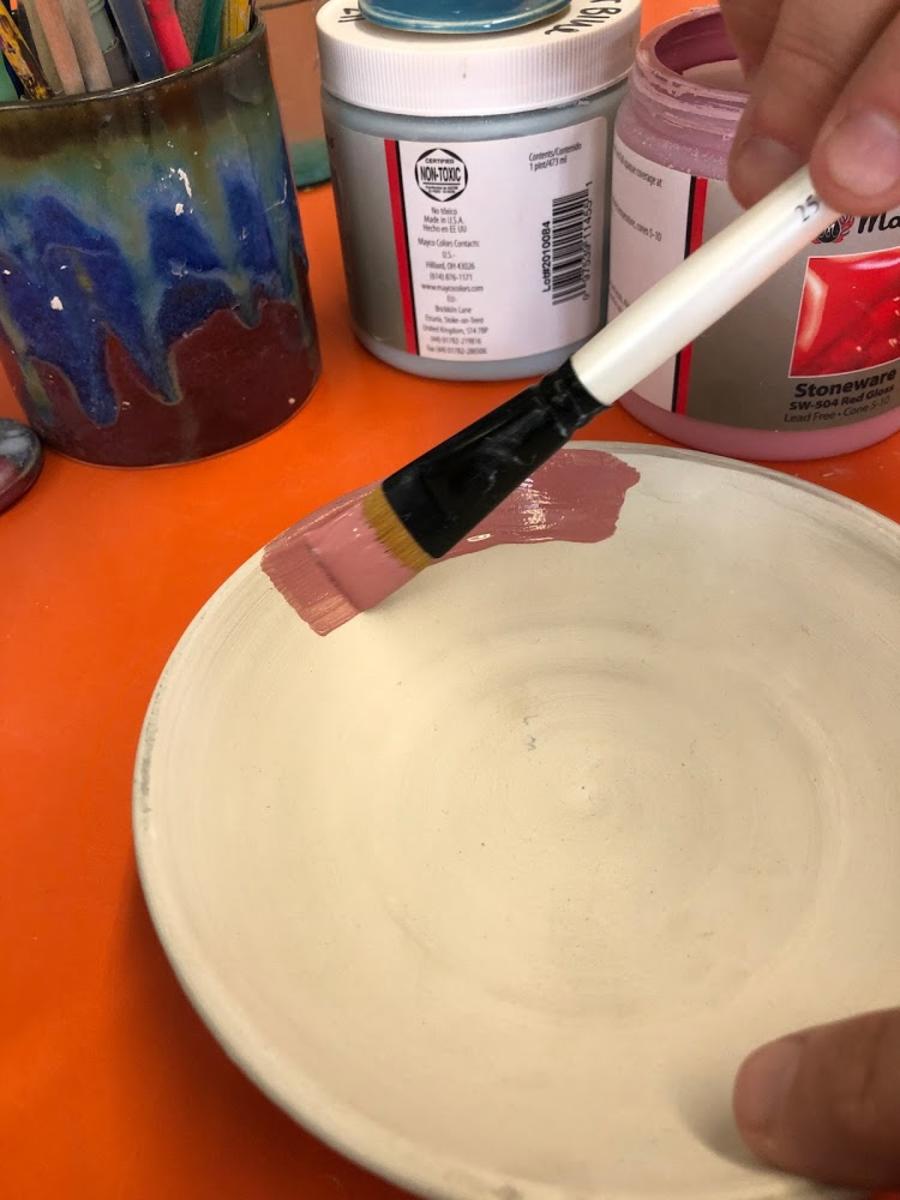 It's even got a second date built in with glazing your bowls just a few days after first creating them. After this step, head to Campus No. 805 or Stovehouse for another night of music, food, and fun after being creative!
Happy trails!
Plan Your Date Night Right:
Stop #1
Designbyhart Pottery Studio
Pottery Class | Designbyhart Pottery Studio | United States
Stop #2
Taqueria El Cazador | Home (elcazadortaqueria.com)