Don't let your pooch be a bah hum-pug; here are a few places to celebrate the PAWlidays with your favorite furry friend! 
Get in the holiday spirit with a walk through the Tinsel Trail with your best four-legged friend. The Tinsel Trail is a holiday showcase in Big Spring International Park made of hundreds of decorated live Christmas trees. Every evening the trees light up the park from dusk until midnight. It's a magical sight for you and your pup! 
Date: November 24, 2023 - December 31, 2023
Time: From dusk till midnight | lit daily 
Location: Big Spring International Park - 200 Church St SW, Huntsville, AL 35801
Admission: FREE 
The howl-idays are here! Enjoy the Rocket City Christmas Light Show with your furry friends! This year, Santa Paws approves as the dazzling mile-and-a-half maze of festive lights twinkle to the rhythm of 'Santa's Favorite Tales.' It's a tail-wagging experience you won't want to miss! Roll down your windows, turn up the holiday tunes on 95.5fm, and embark on a merry drive, kicking off every night at 5:00 p.m. Fetch your car keys, buckle up, and let the woof-derful festivities begin! 
Date: November 17 - January 1, 2024
Time: 5:00PM - 9:00PM Daily
Location: Toyota Field - 500 Trash Panda Way, Madison, AL 35758
Admission: $30 per car - Ticket Link: Ticket Link
Dive nose-first into a world of holiday magic at the Galaxy of Lights – where you'll enjoy two-and-a-half miles of millions of twinkling lights that make even Clark Griswold's Christmas dreams seem a tad dim! This dazzling display boasts over 200 light displays and immersive holiday experiences like.... SNOW! 
Dates: OPEN December 17-31, 2023
Time:  5:30 PM - 9:00 PM
Location: Huntsville Botanical Gardens - 4747 Bob Wallace Ave SW, Huntsville, AL 35805
Admission: Ticket Link: Public Tickets
Dog Walking Nights: 

Every Monday and Tuesday during Walking Nights (November 20 & 21 and December 18 & 19)
Purchase regular walking night tickets 
Paws and Claus come together at Bridge Street Town Centre's Pet Photos with Santa benefiting Luna Farms Rescue! Your four-legged friends are invited to get their photo with Santa in front of the 45-foot Christmas tree!
For a donation to Luna Farms Rescue – You can take photos of your pet with Santa, using a cell phone or your personal camera. You can also enjoy any of the other holiday magic happenings at Bridge Street with your pup. Bridge Street Town Centre is pet-friendly! 
Pet Photos 
Dates: December 2, 2023
Times: 2:00 PM - 4:00 PM
Location: Bridge Street Town Centre - 365 The Bridge St, Huntsville, AL 35806
Admission: donation
Light Show
Dates & Times: Multiple dates HERE 
Location: Bridge Street Town Centre - 365 The Bridge St, Huntsville, AL 35806
Admission: FREE 

Bark the herald angels sing at Christmas on The River at Ditto Landing! From December 1 to 31, 2023, this festive tail-wagger invites you for a daily dose of paw-liday magic, and guess what? No admission fee! Take a leisurely stroll down the Christmas Card Lane adorned with 4' by 8" lit Christmas cards, each a masterpiece crafted by local businesses. 
Dates & Times: Open December 1-31, 2023
Christmas Card Lane Walking Nights 
Dates: December 1st - 6th | 8th - 13th | 15th - 20th | 22nd - 27th | 29th - 31st 
Time: 7:00 AM to 10:00 PM
Location: Ditto Landing - 293 Ditto Landing Rd SE, Huntsville, AL 35803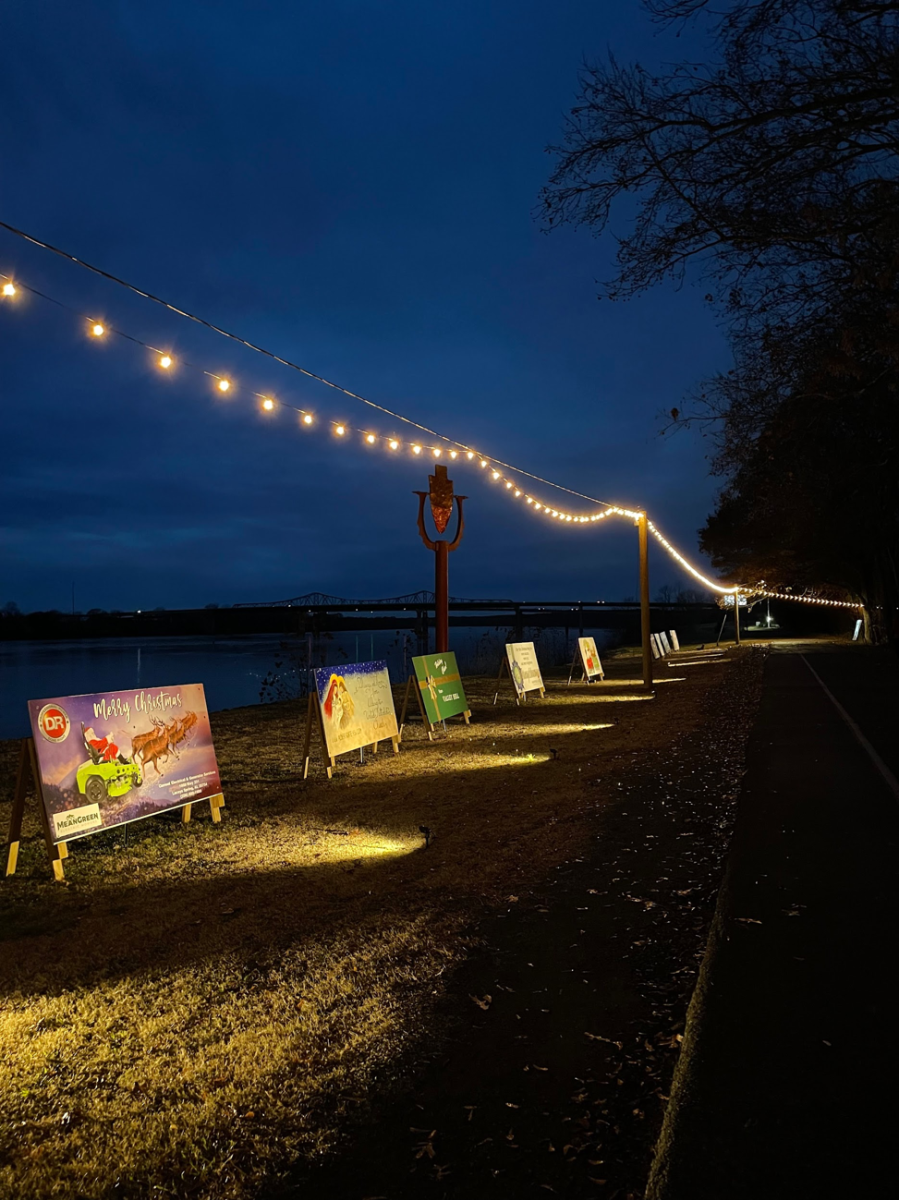 Photo by: Cyle Augusta Lewis