There are many reasons to get outside including exercise, stress relief, and quality time with friends and family – all of which are even more important in light of our current situation. But one that we can't overlook is the prime Instagram content. And nothing gets more love than a good waterfall picture, so we've made it a little easier to find your way to the perfect shot. Here's our favorite hikes to find a waterfall on Land Trust trails.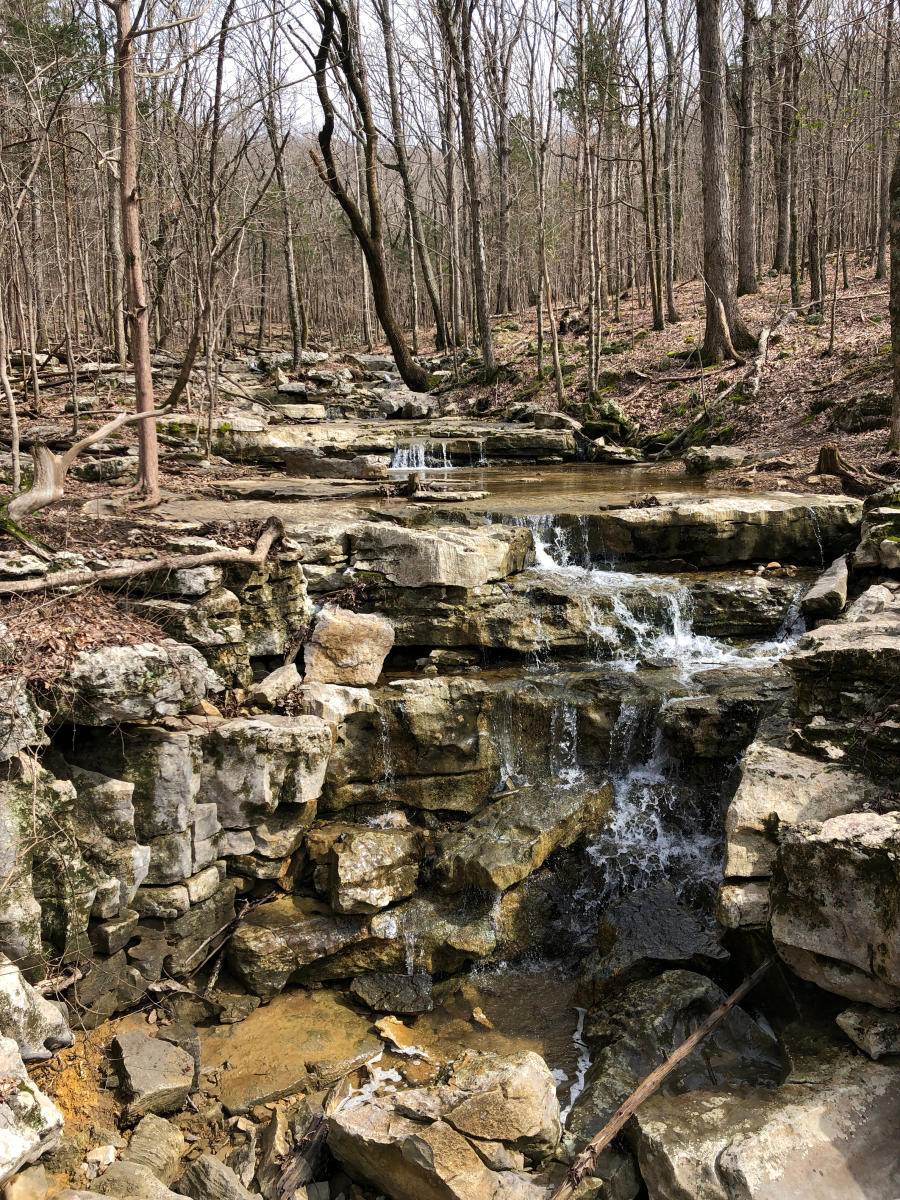 Most people are familiar with Blevins Gap Nature Preserve because of its picture perfect overlook along Bill and Marion Certain Trail. And if you haven't been, you should definitely go. However, valley views are not the only reason to visit this natural oasis. A little further down Cecil Ashburn from the preserve's main trailhead within sight of Jones Valley's Target shopping center, you'll find a lesser known natural jewel hidden behind Southeast Church of the Nazarene.
Fanning Trailhead is the access point for the smaller but just as beautiful northern portion of Blevins Gap Nature Preserve. This side of the preserve climbs up the side of Huntsville Mountain and includes around 4.5 miles of mostly steep, rocky trails. While most of the hikes in this area will involve working up a good sweat because of the quick increase in elevation, there's a short, easy hike with a big reward.
Follow Jones Valley Loop Trail about 600 feet from the trailhead and you'll find Bailey Cove Branch, a wet-weather wash area that filters water down the mountainside. Where the trail meets the branch, is a picturesque waterfall. Stop and enjoy the view – uphill the falls spill over the rocks and looking downhill you can see the water's winding path through the trees. If you just needed a quick nature moment to ease tension from the day, you can turn back the way you came. If you're up for a more challenging hike though, continue on Jones Valley Loop which takes a turn uphill after the bridge.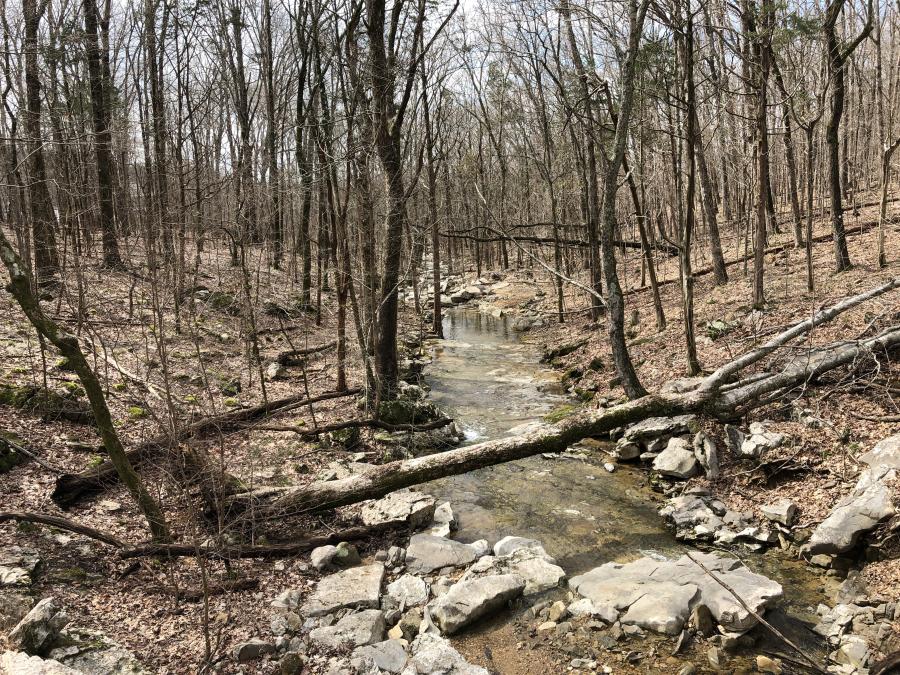 On the eastern end of the loop, the trail crosses back over the branch and you'll find waterfall #2. With a short but steep hike from here you can navigate to the intersection of Walsingham and Chittamwood Trails to find a third waterfall worth a visit. All of these can be found within an approximately 1.5 mile hike (including your return to the trailhead) and are mostly wet weather dependent. The first falls at the bottom of the hill is the most consistent and photogenic.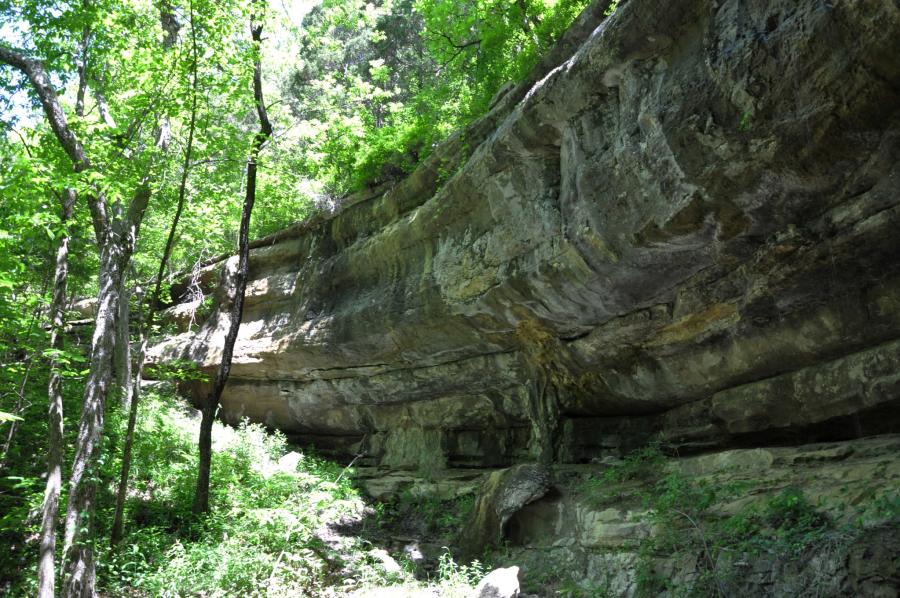 Monte Sano's name, meaning "mountain of health", was coined because of a spring – which many believed had healing properties – so it should be no surprise that the mountain's over 2200 preserved acres (including State Park and Land Trust property) are dotted with water features. All are most prevalent after rainfall, these are our favorites.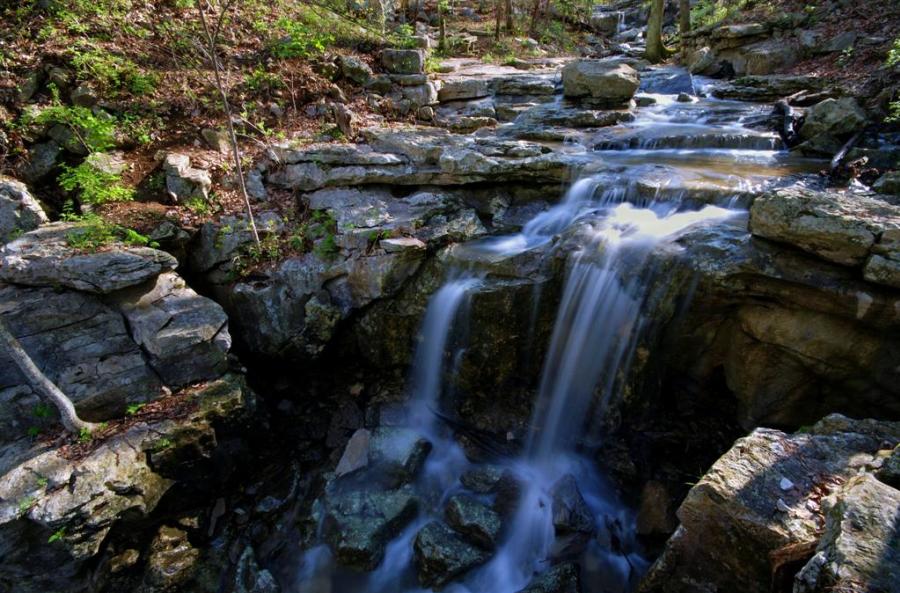 Photo Credit: Wes Thomas
Wildflower Trail is notorious for the explosion of blossoms you'll find there each spring but it's just as familiar to many because of its peaceful path alongside Fagan Creek. The creek bubbles up and over the rocks beside the trail providing a relaxing soundtrack for your hike. At the end of Wildflower Trail, turn east on Fagan Springs Trail, you'll find the spot where the creek creates a memorable, gentle falls. There's a second falls close by at the intersection of Alms House and Old Railroad Bed Trails.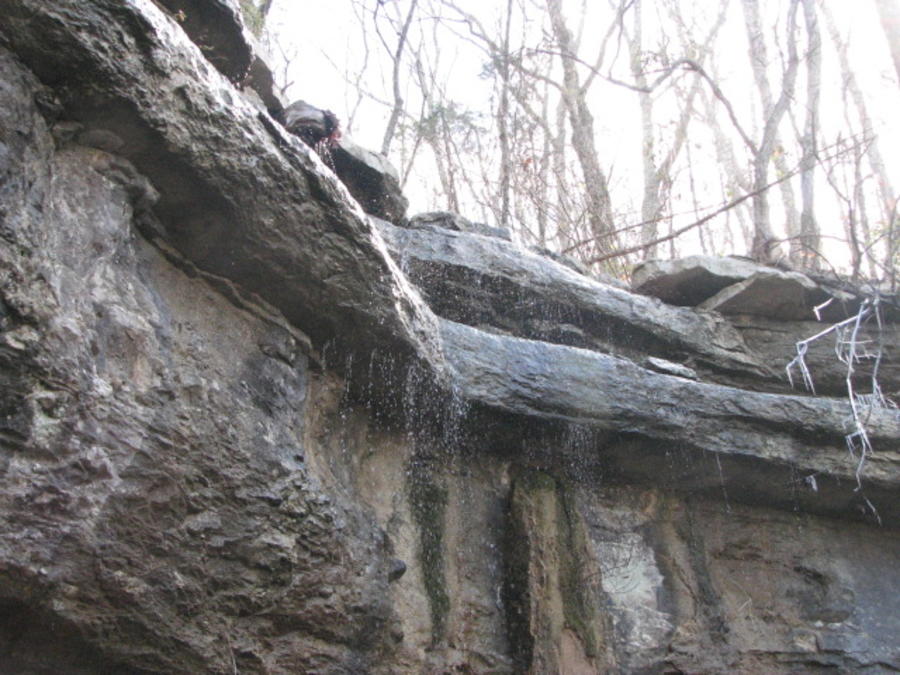 Start your hike on Waterline Trail from Three Caves Loop. You can pause for a look down into Three Caves, a former limestone quarry more recently used as a concert venue for Land Trust fundraisers. Then turn to hike uphill. Waterline Trail follows the old waterline (duh!) that provided a secondary water source for residents on top of the mountain when their spring was dry. You can see the pipe laid above ground that was used to pump water 1184 feet to the top. Luckily the elevation change on this hike is a little less strenuous but still a challenge at 650 feet in a little less than a mile. Just before you reach the end of Waterline Trail, you'll make it to Dry Falls. Unsurprisingly based on the name, you'll have to catch this one after rain but the rocky cliffs are photo worthy even without water.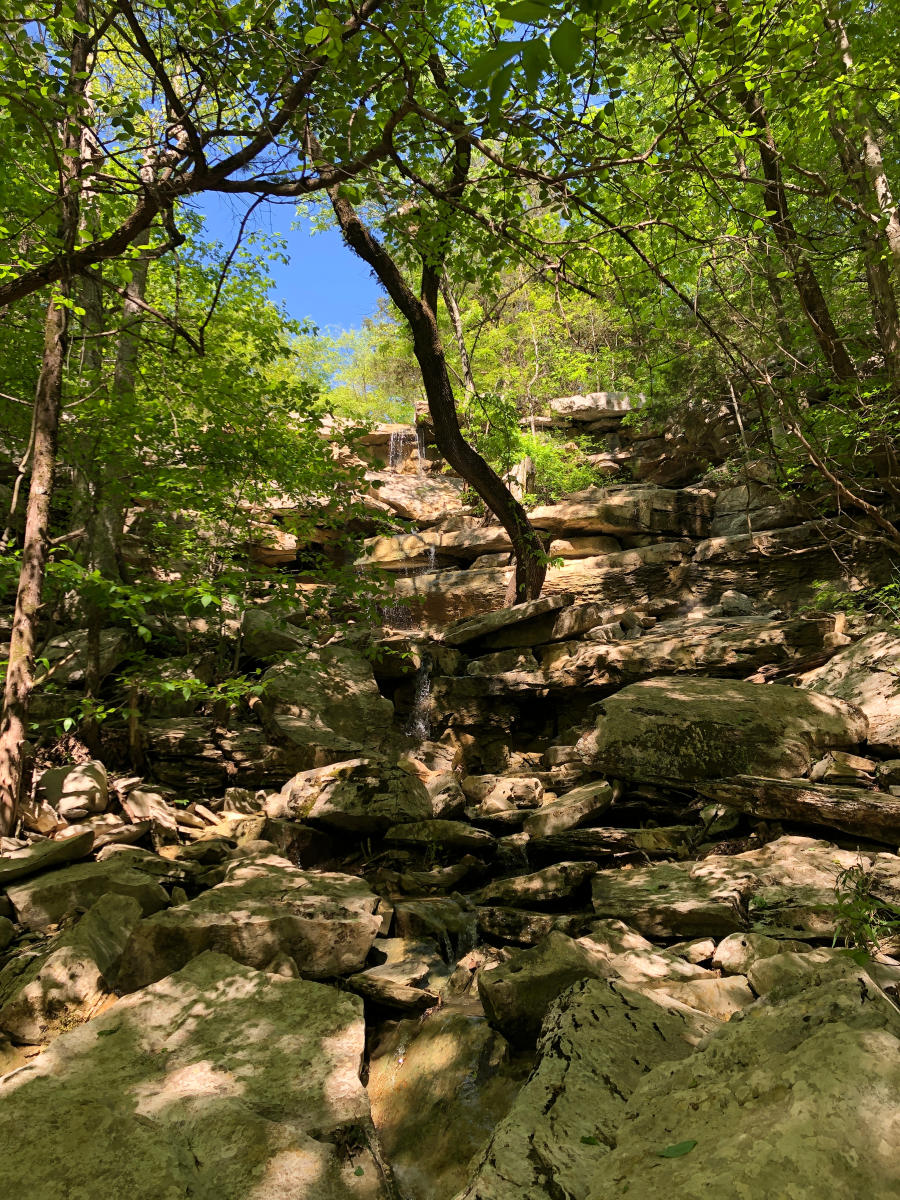 On the back side of the City of Huntsville's Oak Park behind the baseball fields, you'll find a Land Trust trailhead. Take an easy hike along Oak Park Trail to Buzzard's Roost Trail. Along the way, you'll cross a bridge built by neighbors completely by hand! Look closely and even the nails are made from wood. But keep going because the waterfall is what you came for. From Oak Park Trail, you'll turn onto Buzzard's Roost Trail which crosses and follows alongside a creek known as Dallas Branch and eventually provides the lovely falls about three quarters of the way down. There is a bench beneath the falls where you can sit and enjoy the view.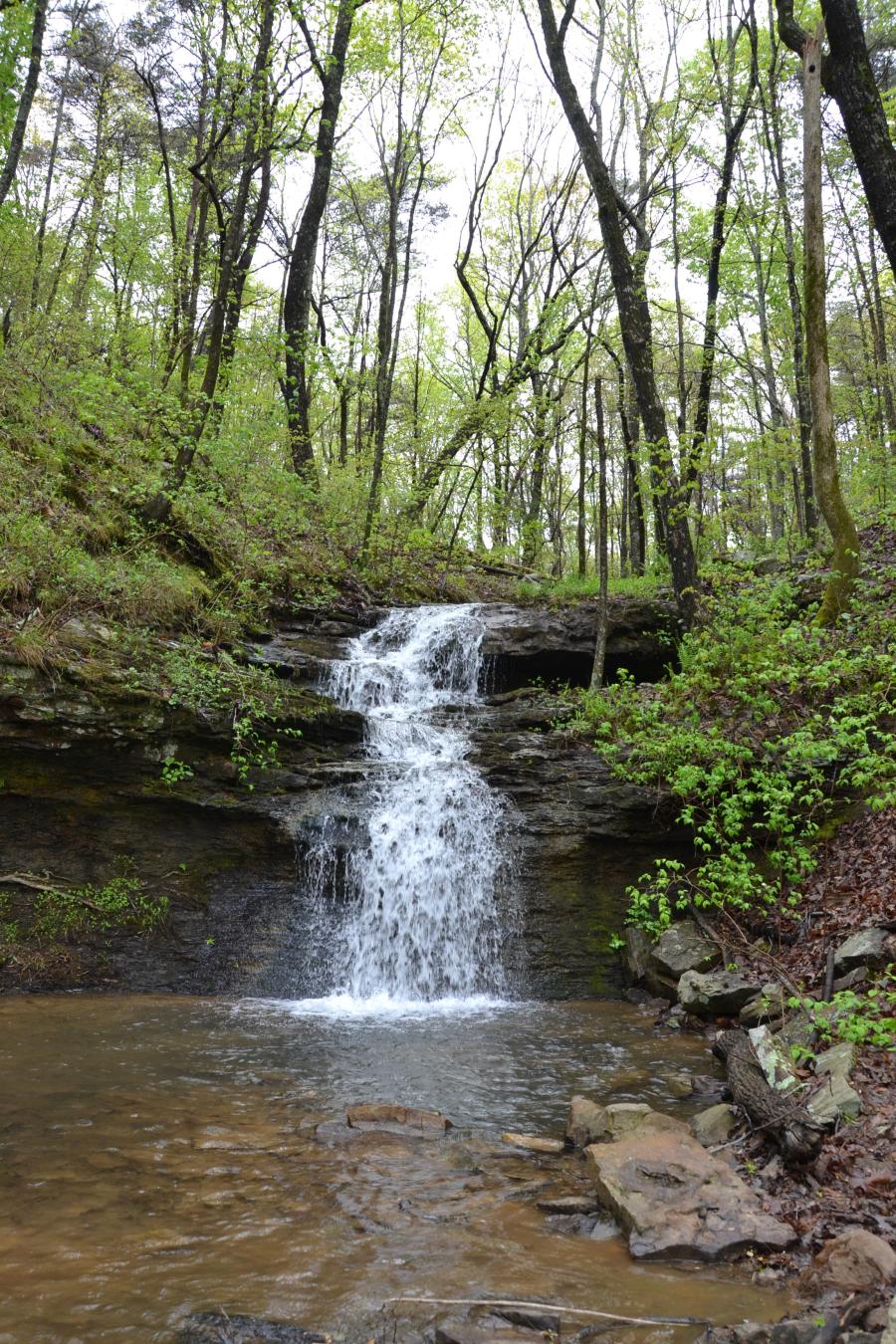 Just a little ways past the entrance to Madison County Nature Trail, you'll find the Land Trust's Green Mountain Nature Preserve. Alum Hollow Trail is the main trail in the Green Mountain network. Beginning from the trailhead, it follows along the bluff. It's an easy hike with the exception of a steep downhill climb at the very end but your final destination is Alum Falls. The falls run parallel to the trail here. While you're there, continue around the corner to Alum Cave – a rock overhang used by Native Americans for shelter.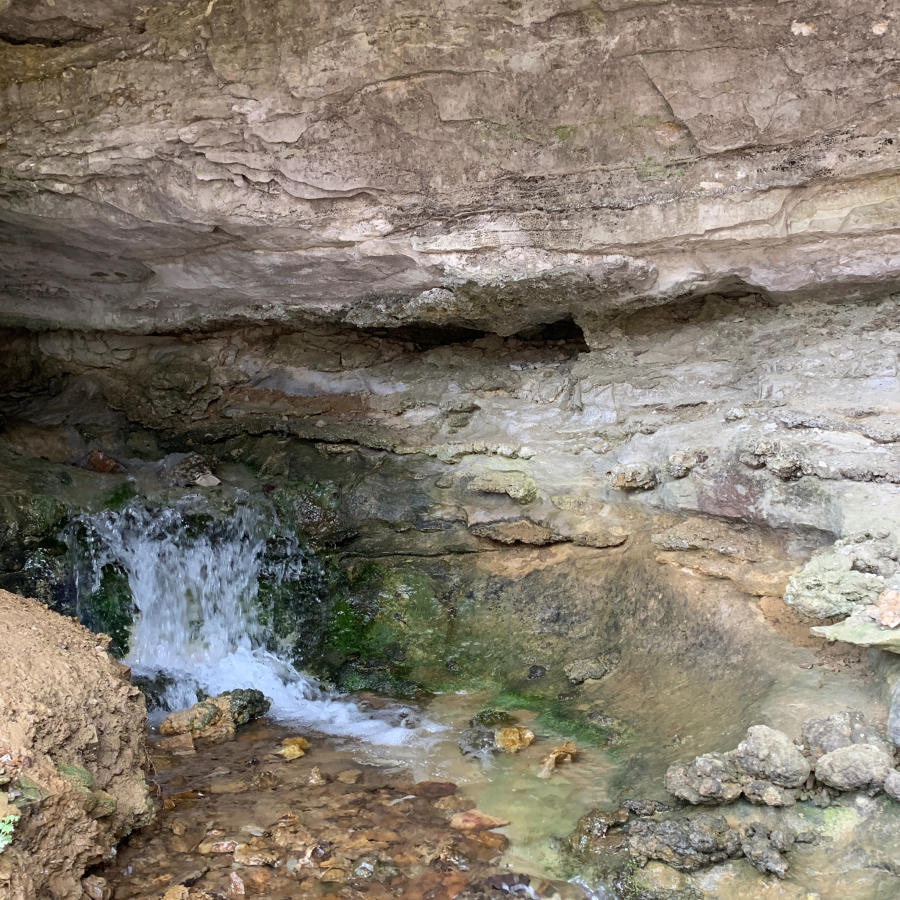 For a different kind of waterfall and a more advanced hike, take Talus Trail down the mountainside. You'll find this .6 mile trail on Alum Hollow not too far past the trailhead. Talus means "a sloping mass of rock fragments" and you'll see it was very appropriately named. It is very rocky and quickly descends approximately 350 feet into the hollow below. Keep in mind you'll have to climb back up just as far as you go down on your return. This is a difficult trail and is recommended for experienced hikers but near the bottom a waterfall spills out directly from the large rock wall, appearing unexpectedly from its underground source.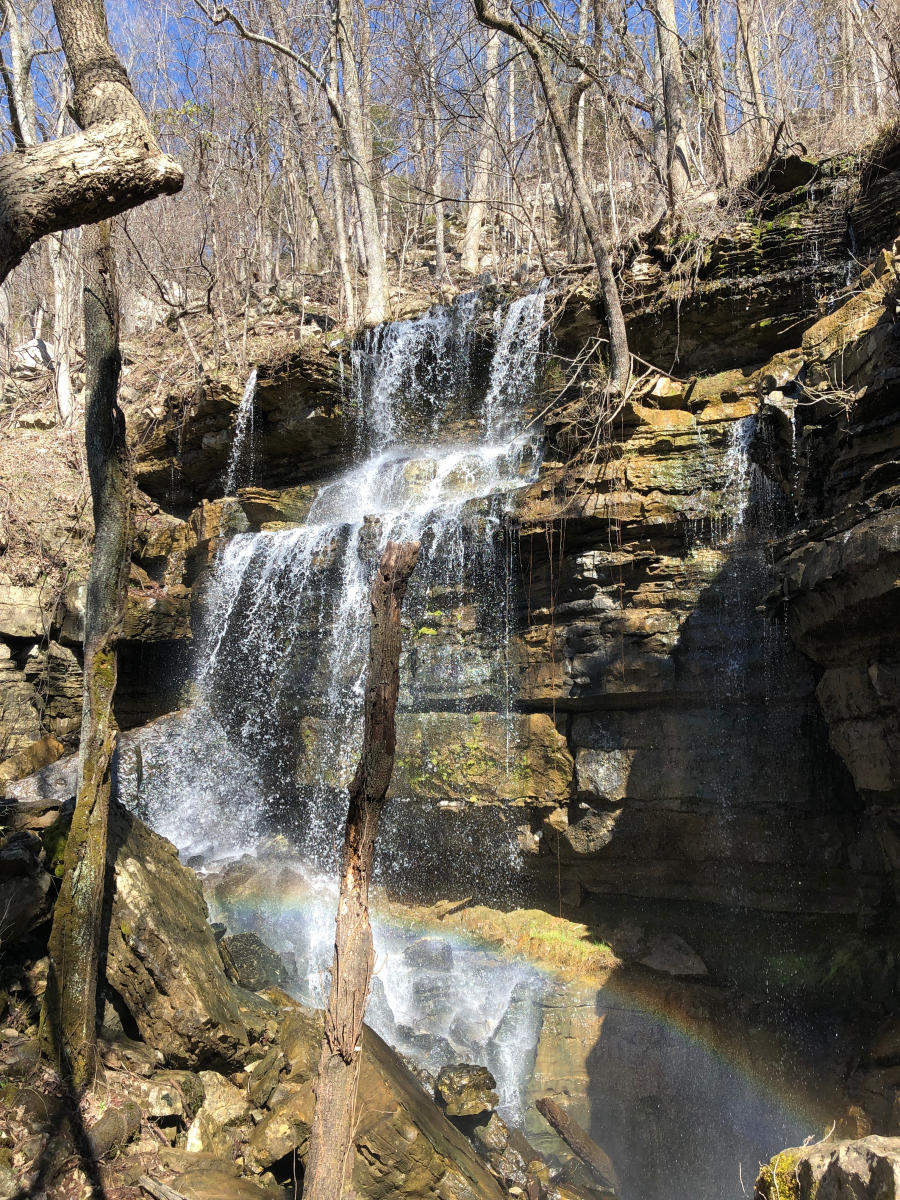 If you've been waiting for something spectacular, this is it. Bethel Spring Nature Preserve is the Land Trust's newest public trail system. This 360 acre property is located southeast of Huntsville on Keel Mountain. Your visit begins at the former home site of the two sisters who donated the land to the Land Trust, to ensure it will be preserved and shared with the community always. The house is no longer there but you'll pass by the chimney and garage as you stroll down Bethel Spring Loop. This accessible crushed gravel trail is flanked by working farmland and Bethel Creek before meeting Carpenter's Trail at the base of the mountain. Before you start your climb though stop beside the spring and what remains of an old spring house.
This is the beginning of the creek but also the destination of the water you'll see pouring over the falls. Water from the waterfall flows underground as it descends the mountain then emerges here. Start your hike on Carpenters Trail, part of which includes an old roadway created by early settlers to the area in the 1800s. At the end of Carpenter's Trail, take a sharp left onto Falling Sink Trail. This part of the climb is pretty challenging and rocky but definitely worth it. From the spring to the falls, there is an approximately 400 foot increase in elevation. Just when you've worked up a sweat, you'll hear it before you see it. The waterfall is estimated to vary from 35-55 feet tall and 50-75 feet wide and may even be the tallest in Madison County. Stop, enjoy, have a picnic, definitely take a photo, then take Mill Trail to begin your return hike.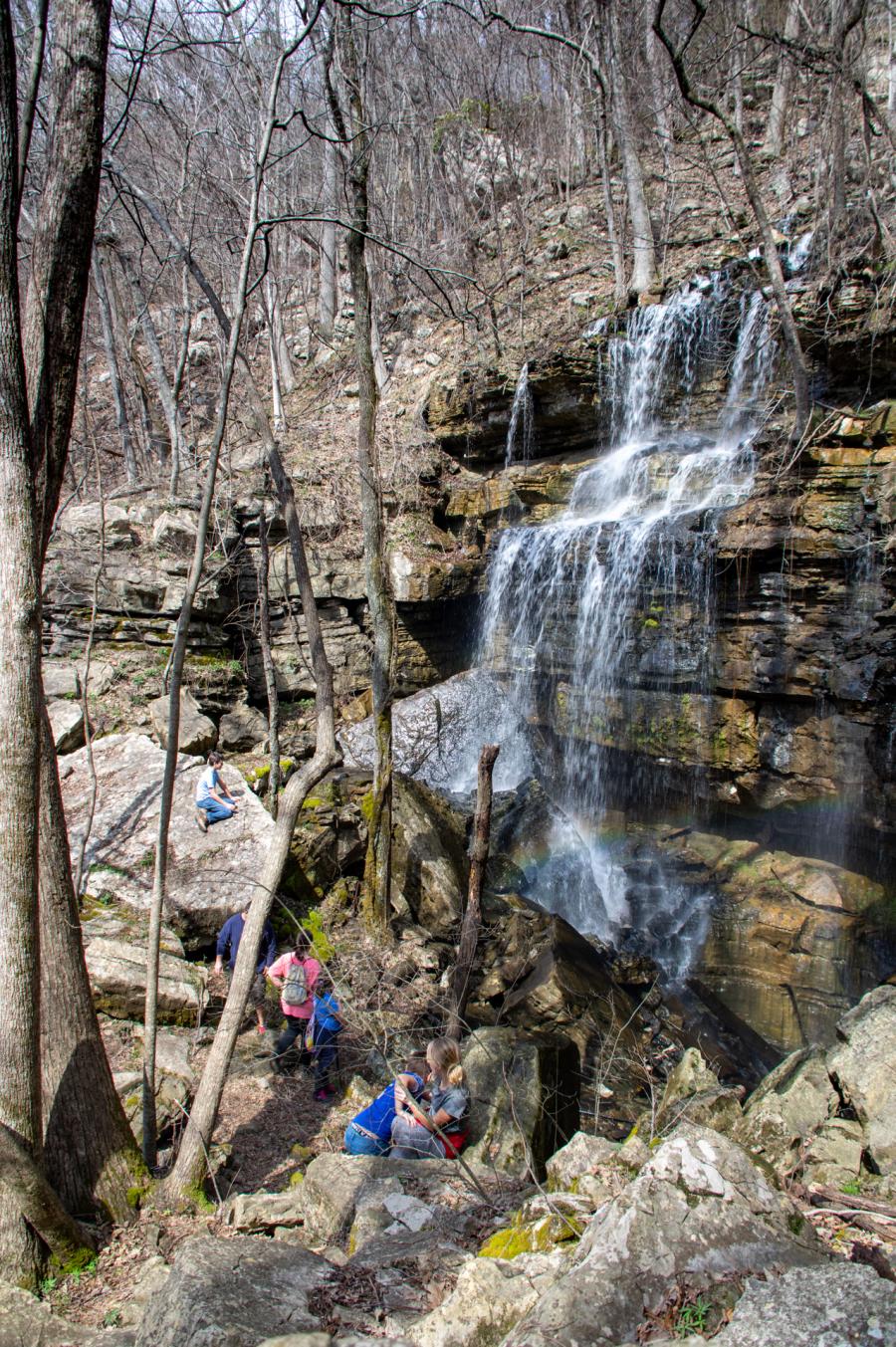 You can find trail maps for all Land Trust nature preserves and tips for your next hike at landtrustnal.org/explore.