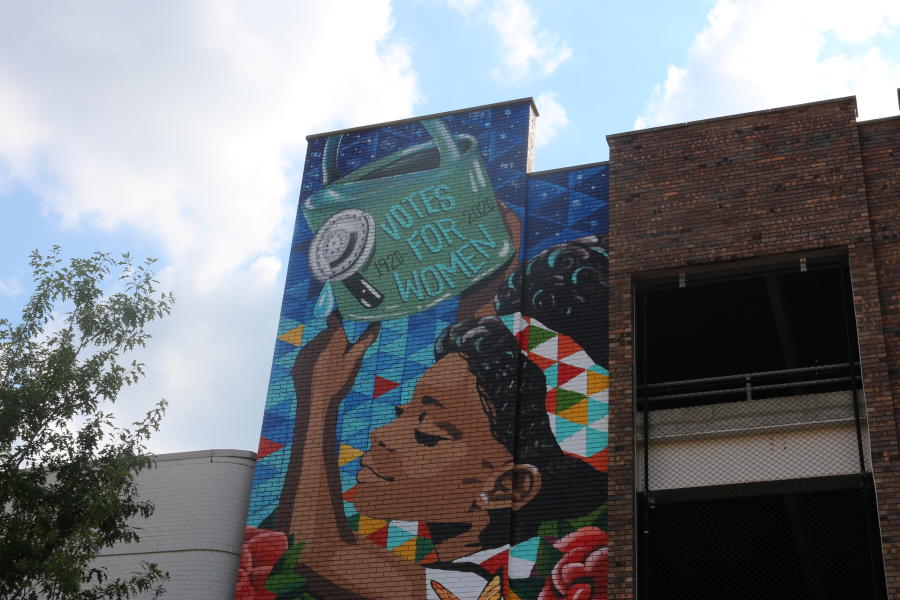 Washington Street in downtown Huntsville was recently made more colorful thanks to the addition of a beautiful, three-story mural that elegantly celebrates the 19th Amendment's centennial during Women's Suffrage Month. Two years ago, the League of Women Voters of the Tennessee Valley approached Arts Huntsville about the project. After much planning and painting, it commemorates a historic milestone. The "This Girl Can" mural reads in bold letters at the top, "Votes for Women 1920-2020."
(Read more about the mural here.)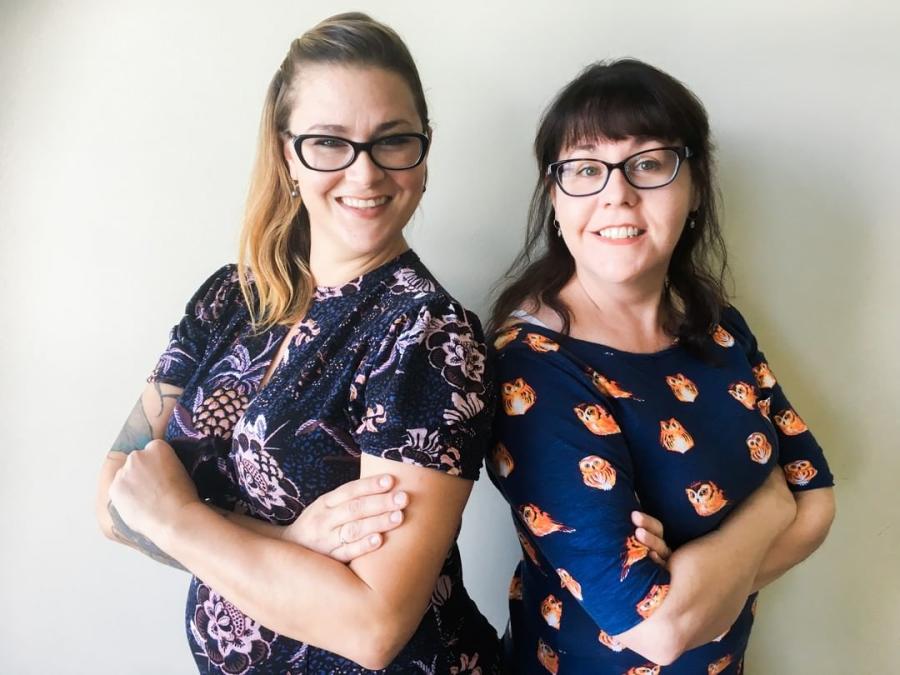 Photo Credit: Owners Michelle and Caitlin of Pizzelle's Confections 
This week also marks another celebration in our city. It's officially Huntsville Restaurant Week, the time each year when we showcase our local restaurants and award-winning cuisine by enjoying specials, discounts, and giveaways. 2020 has been unpredictable, to say the least, so this year we come together to show support to our local restaurateurs by enjoying dine-in, takeout, and tons of delivery options.
With the culmination of these events—Women's Suffrage Month and Huntsville Restaurant Week—sitting so closely together, we thought there would be no better time to shed some light and love on the Rocket City's Women-Owned Restaurants. These incredible ladies have an entrepreneurial spirit, business savvy, and love of serving others with delicious food, drink, and culinary creations.
We want to showcase as many of these businesses as possible. For this list, we have included restaurants that have a woman as the sole owner or as a co-owner.
If you know of a woman-owned restaurant that's not on the list, please let us know in the comments so we can update!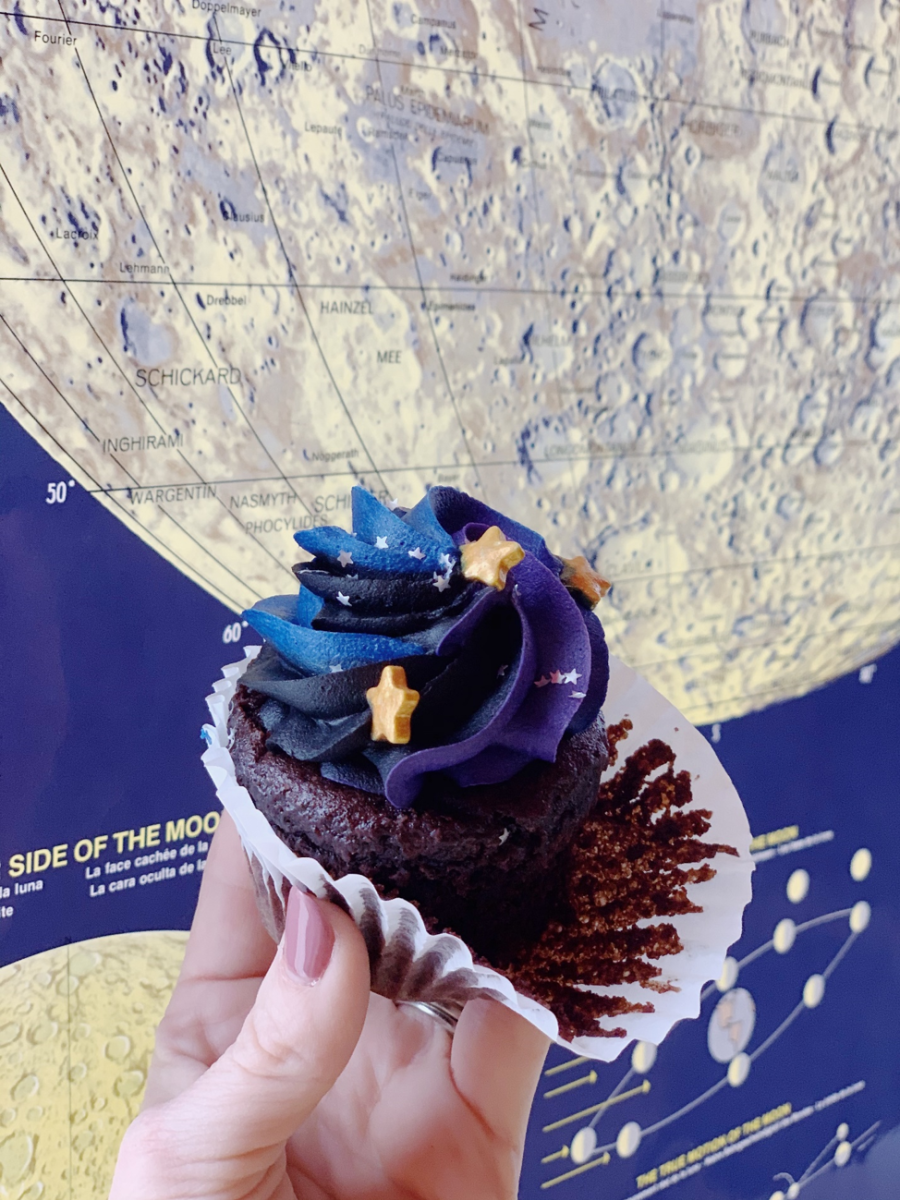 Going gluten-free doesn't mean having to sacrifice taste. Mason Dixon Bakery & Bistro is known for whipping up some of the city's most incredible comfort foods, baked goods, and treats for various diets. Its menu has sandwiches, sides, cupcakes, bread, and coffee drinks. Best of all, gluten-free, vegan, and vegetarian guests can all have an excellent meal without worry. We recommend the Veggie Burger. It's incredible!
The Veggie's Chef and Owner, Adyre Mason, is committed to developing creative vegan dishes. You can choose from vegan meal-prep packages, breakfast options, pasta pans, fresh beverages, jackfruit chicken salad, and their famous cinnamon rolls that are to die for!
If you drink coffee and work in downtown Huntsville, you have probably met Christy Graves. She's the owner of Honest Coffee Roasters located at The Garage at Clinton Row. This shop has a full breakfast and lunch menu, along with its beautifully roasted coffee drinks. If you visit, you have to try one of the acai bowls. These chilly, acai-based treats are topped with fruits, nuts, and even salted dark chocolate!
Healthy eating becomes easier once you discover Sweet City Micros, a family-run urban farm. Its microgreens are available in several restaurants throughout the city, but you can also pick them up or order them for yourself. Pickup sites are available at Greene Street Market, Madison City Market, and MidCity @ The Camp. Some of the selections include radish, broccoli, cilantro, pea shoots, leek, and spring mix microgreens.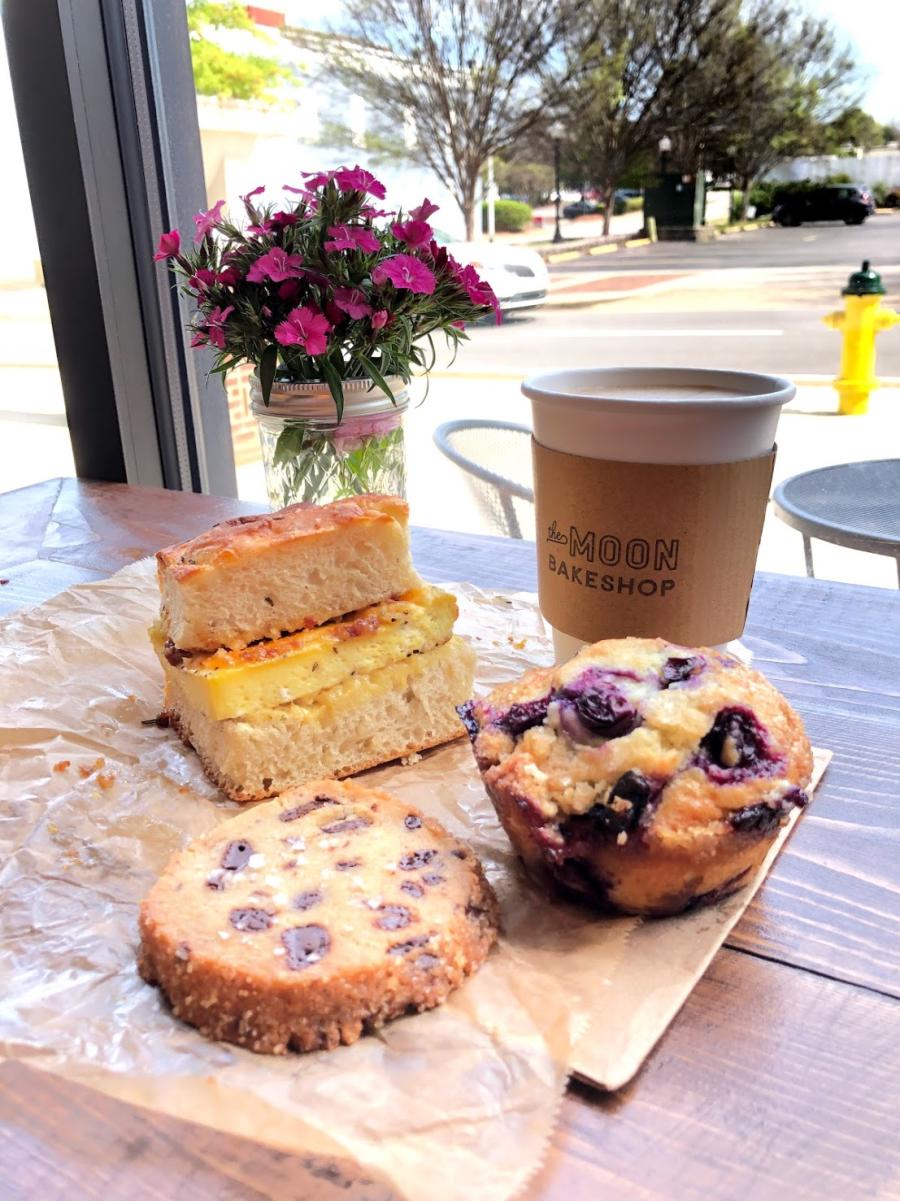 Featuring Southern-influenced, European-style baked goods, The Moon Bakeshop is a cozy respite from the busy downtown atmosphere. This made-from-scratch shop serves pies, cakes, power bars, muffins, scones, quiche, and much more. They also have a full coffee/espresso menu.
Taco Mama is an award-winning taco bar that serves up fresh Mexican cuisine! Guests can choose from tacos, burritos, burrito bowls, and more. Plus, there's a delicious margarita menu that makes for the perfect afternoon treat.
In Jones Valley, you'll find a cake shop for every occasion. Nothing Bundt Cakes serves up several cake flavors in various sizes. There's bite-sized "Bundtinis", miniature "Bundlets" and full bundt cakes that serve anywhere from 8 to 26 people. Flavors range from classic chocolate chip and vanilla to pecan praline and carrot. Try them all!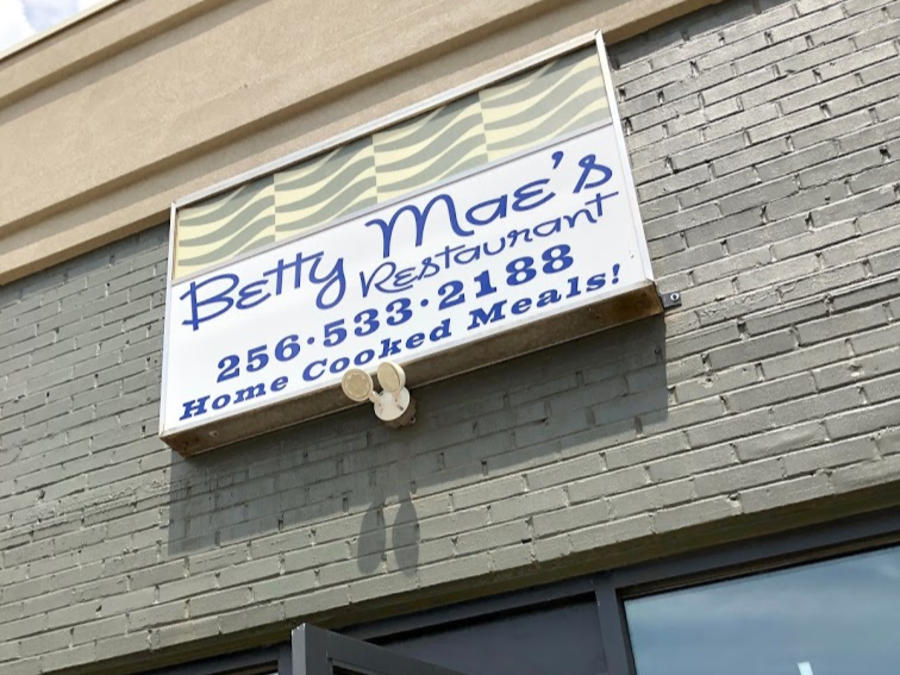 This family-run Huntsville hot spot offers some of the best soul food and Southern eats in the city. There's a new special available each day of the week. We dream about the pork chops, meatloaf, mashed potatoes, macaroni and cheese, and fried green tomatoes. Still hungry for dessert? Order some sweet potato pie, banana pudding, or pound cake. YUM!
Domaine South lets guests delight in fine wines and cheese, sandwiches, salads, and specials. Located on the historic square in downtown Huntsville, the boutique winery and restaurant introduces visitors to new, exciting flavors and beautifully prepared dishes. There's even a selection of artisanal gifts and art for purchase. There's no better place to unwind with wine.
A bite is all you need to realize that Baby Bite Bake Shoppe is a game-changer. Situated at Westbury Square shopping center on Airport Road, this shop serves bite-sized treats that come in flavors like cinnamon, almond, red velvet, caramel, chocolate, strawberry margarita, and more. When you pop in, say hello to owner Emily Sharmon.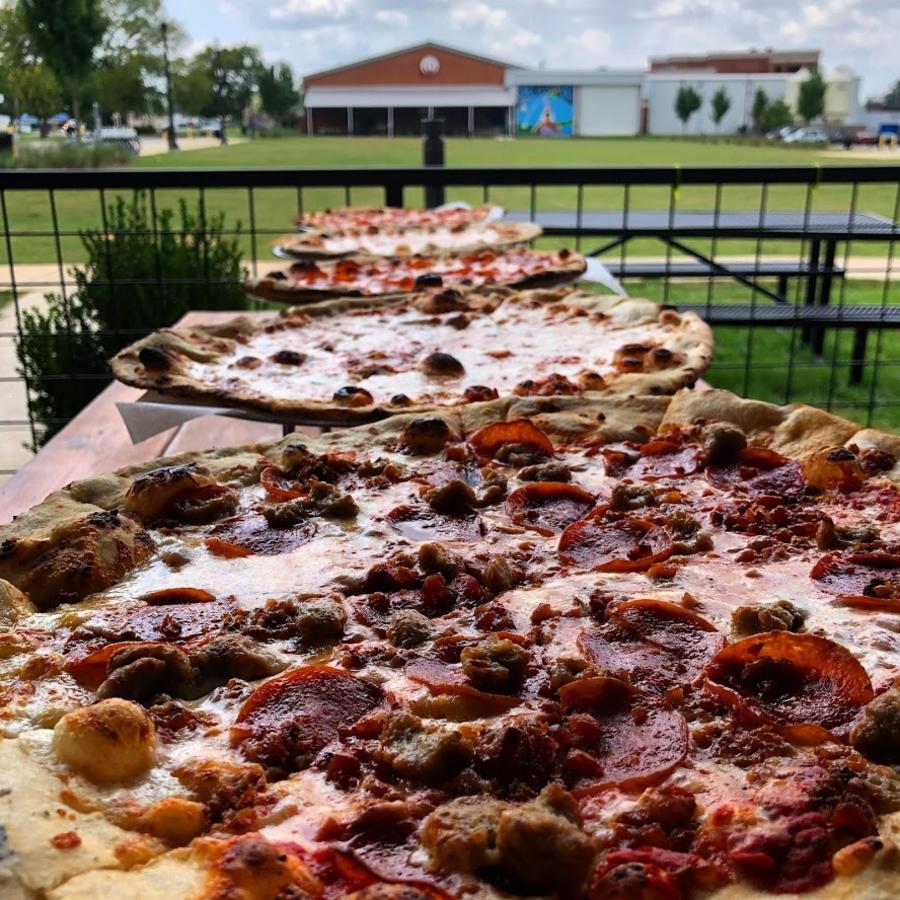 Earth & Stone Wood Fired Pizza
After making a great impression at local farmers markets, Tina Ford and Stan Stinson's pizza deserved its own restaurant. It was then the co-owner team created Earth & Stone Wood Fired Pizza. All of its delicious pizzas are baked in a traditional wood-fired oven and topped with garden-fresh ingredients. Featured pizzas like "The Porkalicious" and "The Latham" keep guests coming back for more. They also have calzones, sandwiches, and even adult ice cream infused with various spirits.
Now with two locations—one in Madison and another at Stovehouse—Bark & Barrel is also a creation from Tina and Stan. After their success with opening Earth & Stone, the duo took on the new challenge of developing a barbecue joint. Now Bark & Barrel is known for its tender pulled pork, Cajun sausage, smoked turkey, brisket, and loaded baked potatoes. You can even order meat by the pound for events, and there are side dishes galore! Make the most of your BBQ dinner with smoked mac and cheese, green beans, potato salad, collard greens, slaw, and more.
Self-Serve Drinkery
Tina and Stan didn't stop at pizza and barbecue. Now, there's another concept under their belts—a self-serve beer and wine bar in downtown. Walls are lined with 24 types of beer and four wines to choose from. They also sell pizza by the slice, hot sandwiches, and sodas. It's the perfect quick bite if you're feeling famished after a walk in Big Spring Park. Bonus! You can shop at The Garage at Clinton Row after you've finished your food!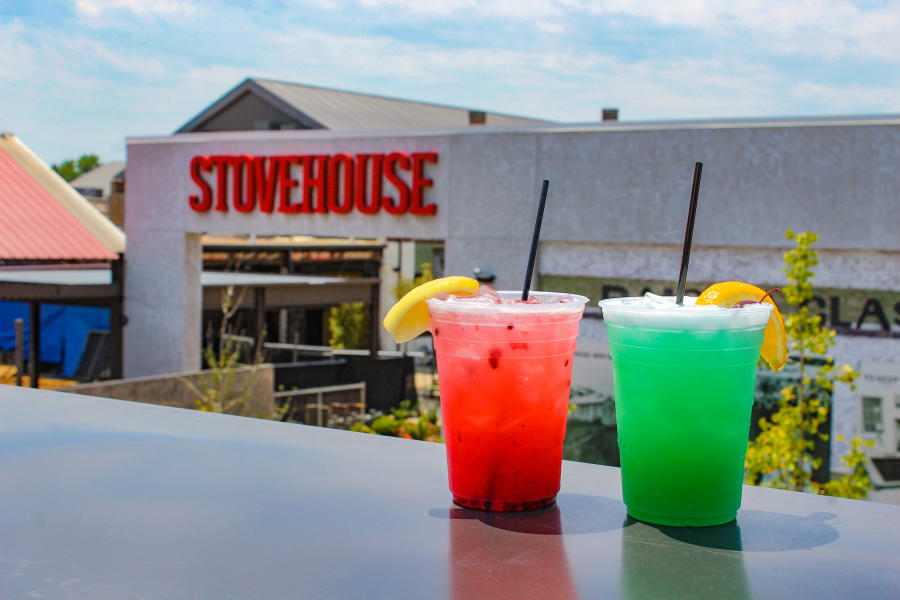 Church Street Family Restaurants
Church Street Family Restaurants, creations of Matt Mell and Stephanie Kennedy-Mell, are concepts under one family. Anything you try at one of the Church Street restaurants will be fabulous. It's amazing across the board. Here's a quick breakdown of each one.
Church Street Wine Shoppe – This was the first concept in the family. Church Street Wine Shoppe specializes in fine wines, delicious tapas, and salads.
 
Purveyor – Purveyor means "a provider of particularly high-end fare, provisions, and merriment," which is exactly what this restaurant offers. Nestled in at The Avenue apartment complex, Purveyor is perfect for a night on the town. Think spiced duck or gourmet burgers made with Wagyu and ribeye patties. Everything has a twist that's surprising and tasty.
 
Corner Pour – Church Street Family's newest addition, this is a perfect stop for beer, wine, and small bites in the heart of Downtown Huntsville.
 
Pourhouse – The Stovehouse Food & Leisure Garden has become a well-known hangout in Huntsville. Anchored in the middle of the many casual restaurants, outdoor games, and live musical entertainment is Pourhouse (complete with rooftop bar). Described as the "comfortably swanky" little sister of Purveyor, Pourhouse offers a cozy setting and cool vibe complete with classic cocktails, local craft beer, and wine.
This coffee shop in south Huntsville comes with an interesting story. When Owner Angel Hussain was a child, she lived with her family in Fiji where they served as missionaries for over 10 years. She learned the coffee craft during her time there. Eventually, Angel's Island Coffee was born. The drink menu features drip coffee, espresso drinks, hot chocolate, Piper & Leaf teas, and Fiji Tea. For food, guests can choose from a selection of wraps, salads, and sandwiches. There's even a kid's menu. Don't forget to try one of their signature ice cream drinks or smoothies.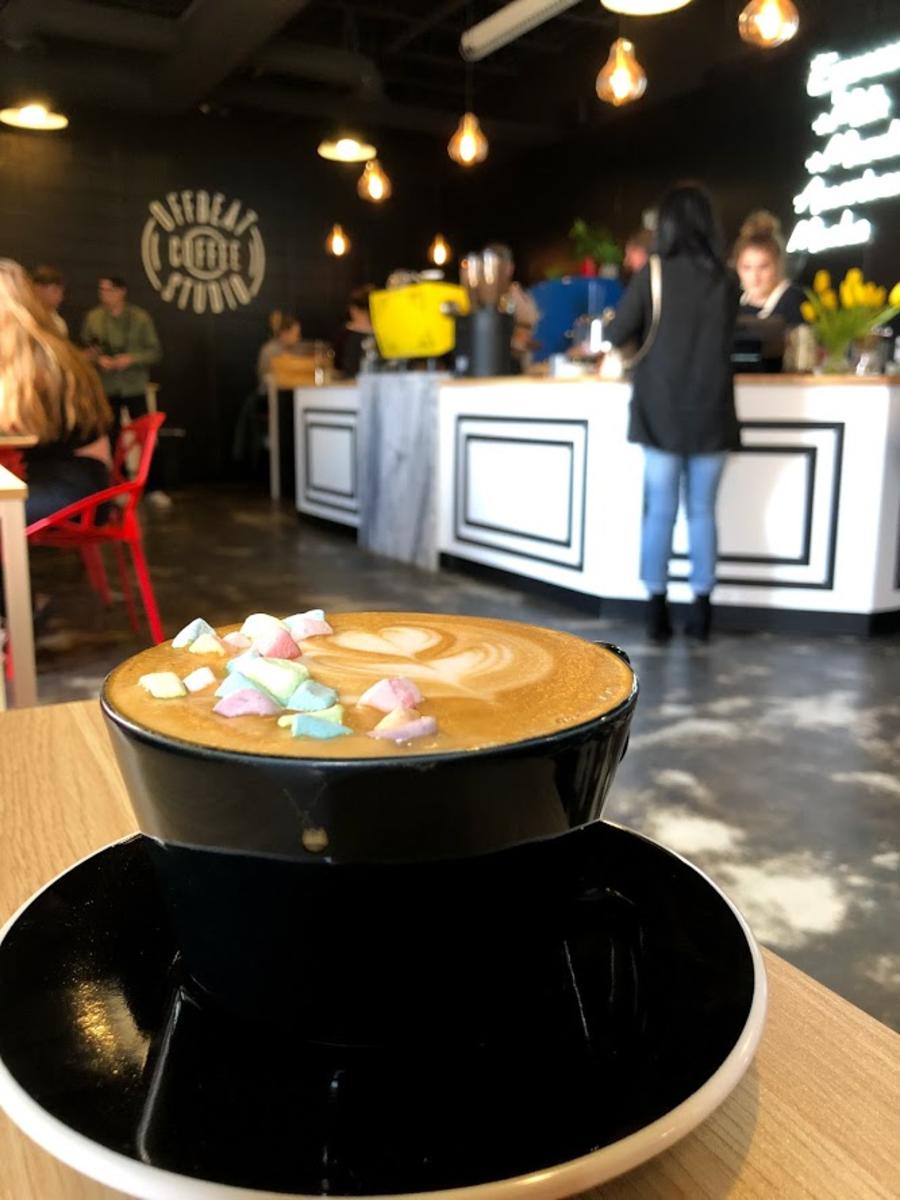 Offbeat Coffee Studio
What goes perfectly with craft coffee? Vinyl records and a unique vibe. Offbeat Coffee Studio now has two locations—Campus 805 (where you can also find records) and a drive-thru concept at Redstone Gateway (recently opened). This incredible coffee shop takes great care to create some of the best-tasting coffee drinks around. The flavors are incredible and the staff is super friendly. We love everything on the menu, but it's especially hard to say no to one of Offbeat's cereal milk lattes. Need a bite with your coffee? Offbeat has a menu of pastries, toasts, and biscuits to curb your appetite.
Suzy's Pops at Lowe Mill ARTS & Entertainment serves gourmet ice pops in a plethora of flavors. The business also makes an effort to feature produce from local farmers in its recipes. The menu is divided into fruity, creamy, and lush selections. Fruity choices include Strawberry, Avocado, Cucumber Lime, and others. Creamy pops come in Chocolate Sea Salt with Cayenne, Key Lime Pie, and many more. Lushy pops showcase spirits like Bailey's Irish Cream and Irons One Bourbon. You really can't go wrong.
Chocolate lovers rejoice as they enter the beautiful Pizzelle's Confections shop at Lowe Mill. All of their chocolate truffles and bonbons are made with fine, fair-trade chocolate and it's all prepared in-house! Choose from a robust chocolate menu, marshmallows, caramels, and more. Each and every chocolate is almost too beautiful to eat…almost…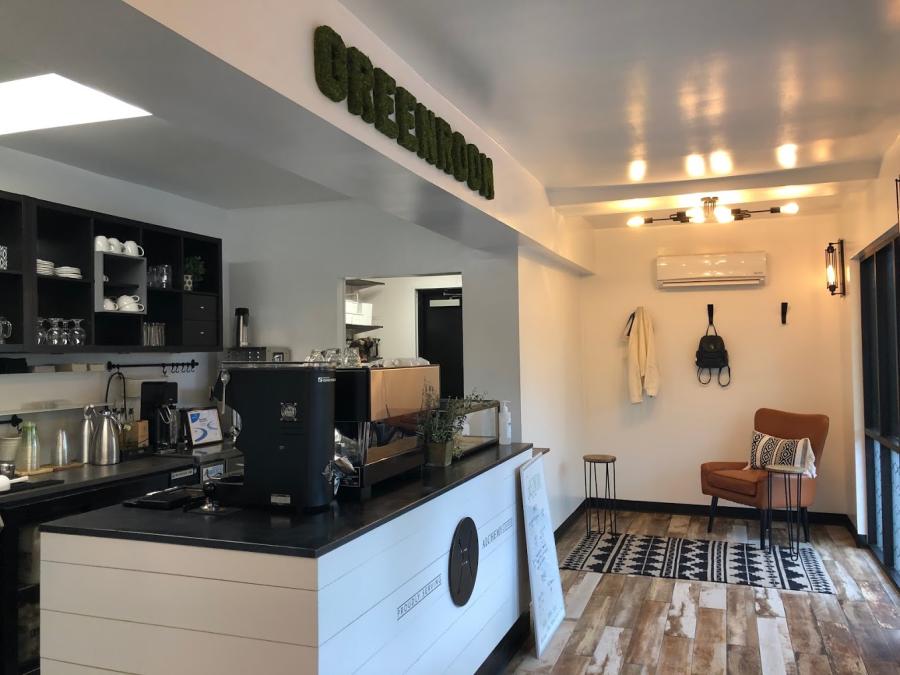 The Greenroom
If you haven't visited The Camp at MidCity, you are missing out! This cool hangout is home to entertainment, food trucks, and a hip coffee shop—The Greenroom, which proudly serves Alchemy Coffee. Choose from traditional coffee shop faves like espresso, lattes, and cappuccinos. Or grab a chai latte and cold brew. They also have oat milk and almond milk as dairy alternatives.
At Good Company Café, you can brunch all day long. This adorable café is located at the Main Street South center and doubles as a cozy getaway. Start your day off with "Dad's Egg Sandwich" topped with garlic aioli, fried egg, cheddar, and bacon. For lunch, choose from several sandwiches and salads like chicken salad, muffuletta, or "Glorified Grilled Cheese" with pulled pork and Swiss. There's also a full coffee menu, and wine, beer, and cocktail menus. (You can't have brunch without mimosas, right?) Before you leave, you have to try one of the many sweet and savory pastries that make this café a must-visit destination. We're still dreaming about the Banana Nutella Muffins.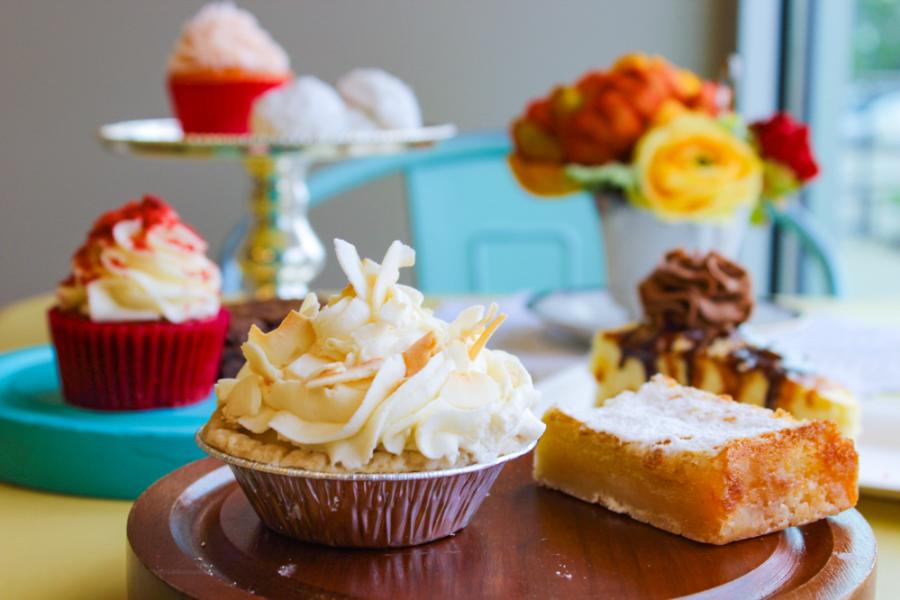 Wrapped in nostalgia and dripping with icing, The Dessert Fork in Madison bakes fresh-from-the-oven cakes and dessert creations. Its vintage vibe makes you feel like you're visiting your mother or grandmother's house to indulge in some homemade goodies. Owner Pauline McFarlin is very passionate about her shop and is always coming up with new creations. She also has a heart for community and works closely with the local Department of Human Resources to help children in the foster care system have memorable birthdays with delicious cakes.
Cuban Café
Authentic Cuban cuisine like ropa vieja, picadillo, and classic Cuban sandwiches are what you'll find at this eatery in Madison. Every menu item uses traditional ingredients and family recipes to make for a memorable experience. Try their famous flan for dessert!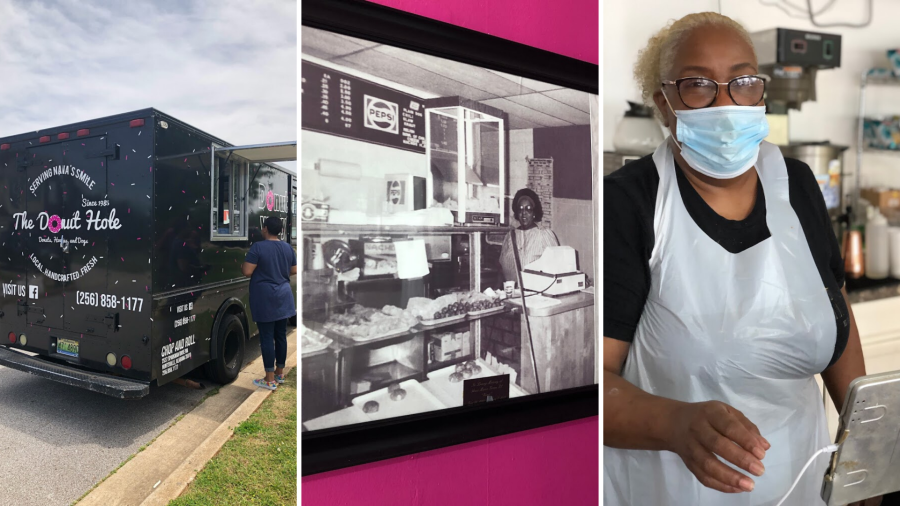 The Donut Hole
The Donut Hole team chooses to use all-natural ingredients, infused with love, for the best taste and quality because they know the key to delicious food starts with the ingredients. You'll find both traditional and creative doughnut flavors plus the best cheesesteak and street dog in town.
 
Flight Plan Wine and Tapas is a locally owned restaurant serving wine and tapas in Jones Valley and sells retail wine and beer. Come "take flight" with friends and experience carefully selected international and domestic wines and beers paired with delicious tapas!
The pizzas at The Boot Pizzeria are serious business. The dough is fresh and delicious, a real ingredient of its own, adding great flavor to the pizza. The specialty pizzas are interesting and tasty and include such things as a Shrimp Po Boy Pizza with chipotle mayo and Cajun shrimp, Smoked Salmon pizza, and a Smoked Italian Sausage Pizza with blue cheese added. They even have specialties like prime rib and duck pizza.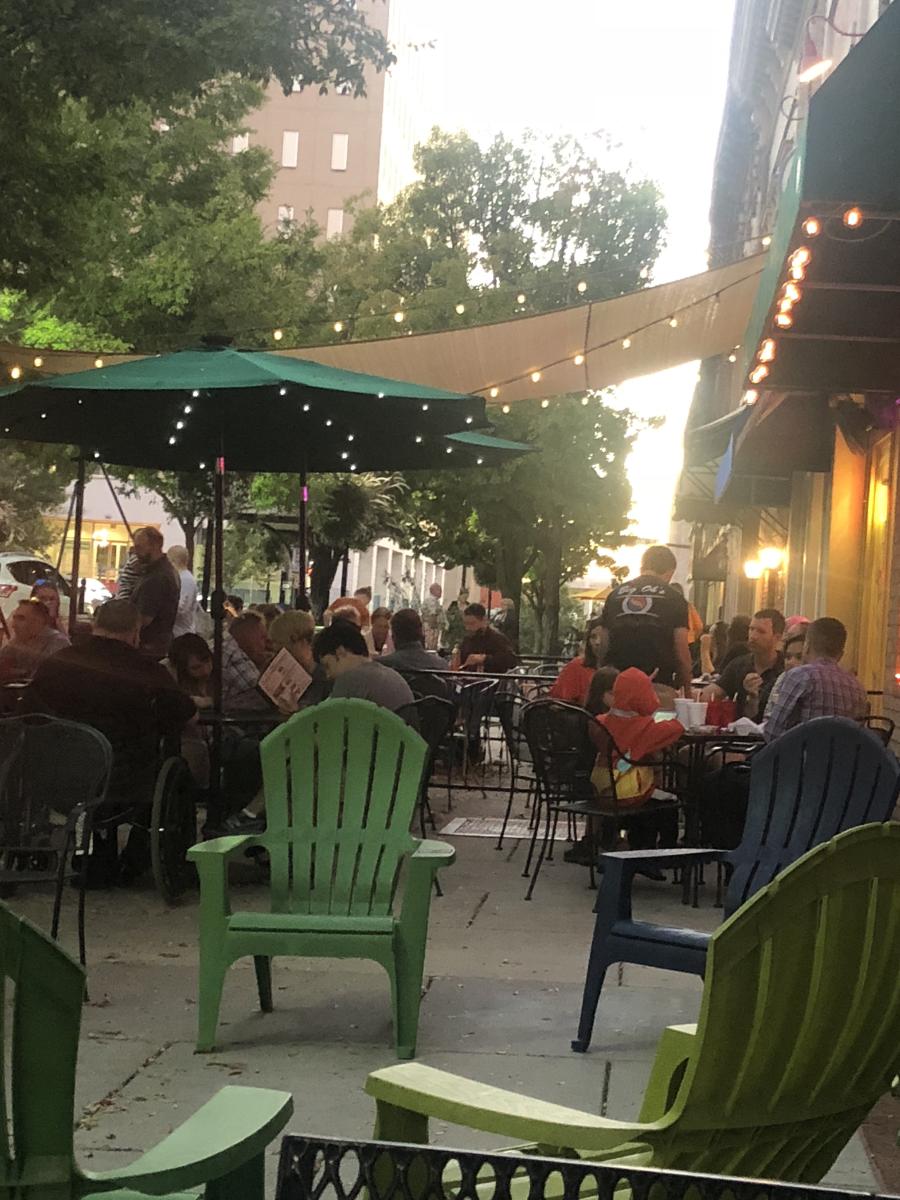 Big Oh's
Established in December 2015, Big Oh's has become a popular family-owned and operated Korean Fusion restaurant located on the Northside Square in downtown Huntsville, AL. They offer casual dining with a cozy atmosphere.  You can find outdoor patio seating, downstairs counter seating, and an upstairs dining room. 

Happy Tummy
Happy Tummy is located outside in one of the railroad rooms of historic Lowe Mill ARTS & Entertainment, the largest arts center in the Southeast. The staff serves up unique sandwiches daily with a side of chips for you to eat while you walk through the arts center.
Enjoy food prepared using only the finest ingredients, from 100% Certified Angus Beef® to seafood that is flown fresh daily from the shores of Hawaii. Delicious, handcrafted cocktails and brewed in-house craft beer are always on the menu, with weekly drink specials to inspire your adventurous side. With an elegant yet comfortable atmosphere, Tom Brown's Restaurant in Madison is the area's newest premium casual destination.
Hildegard's German Cuisine prepares every dish in their scratch kitchen. It's cooked to order and served by the friendliest staff anywhere. They also have one the best selection of German beer and wine in town. Try their tender schnitzels, imported German sausages, and house-made desserts – you will never leave hungry!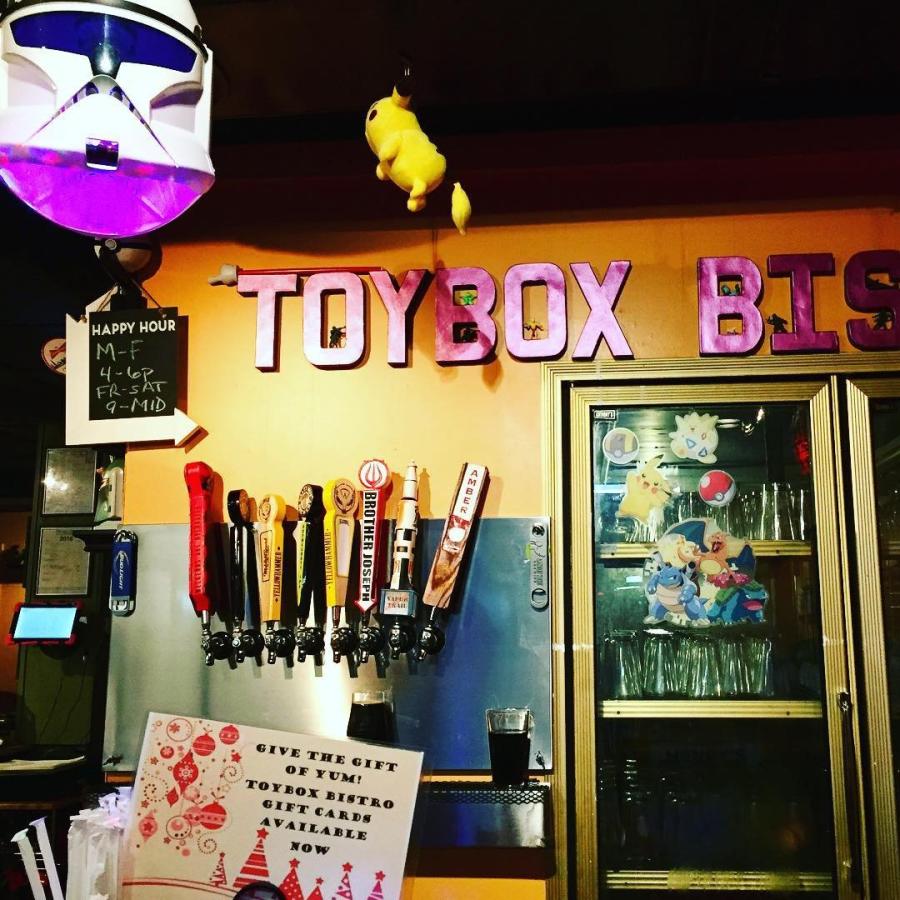 Toybox Bistro
The Toybox Bistro is Huntsville's place to eat, drink and be nerdy. Amazing food, drinks, and an atmosphere that any self-professed geek or nerd would love. When one of the owner's husband passed away, she joined forces with an old friend to showcase her late husband's nerdy collection and create a wonderful restaurant.
Main Street Café is a historic southern food restaurant. Today, Madison's third City Hall is the popular Main Street Cafe. Opened in December 2000, the cafe features the two previous jail cells as private dining rooms and offers fresh, popular food every day.
If you know of a woman-owned restaurant that's not on the list, please let us know in the comments so we can update!
Photo Header: Heather Mendez of Tribal Kombucha (Photo Credit: Amber Poole), Pauline McFarlin of The Dessert Fork (Photo Credit: Gari-Ann Kia Photography), Yeon Arnold of Big Oh's  (Photo Credit: Yeon Arnold), and Adyre Mason of The Veggie (Photo Credit: The Scout Guide)