Salads are the perfect summer meal: crisp, fresh, crunchy, flavorful, and filling. Gone are the days of only eating boring salads! The secret to a salad that's craveable and not boring is varied textures and flavors with something crunchy, salty, creamy, chopped, and slightly sweet. This list explores salads that are not only destined to be a powerhouse for a nutrient-dense meal, but can be a unique vessel of flavors that stretch your palate into appreciating all that a salad can be.
We start with a Huntsville favorite spot for salads of all kinds:
6125 University Drive, Suite B12, Huntsville, AL 35806 | 931 Bob Wallace Avenue, Suite 207, Huntsville, AL 35801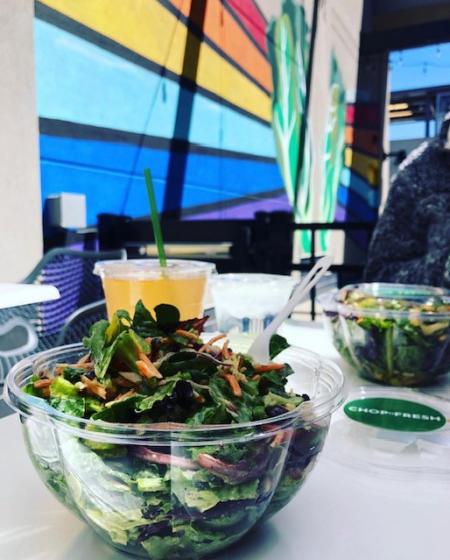 Create your own or choose from the deliciously crafted and balanced salad options on the menu. Seasonal bowls have me anticipating their return in the off season and menu staples keep me coming back for more. My pick is the Sweet Bowl Alabama. I always grab a local Alabama bubbly kombucha on tap, Better Kombucha, for a refreshing and gut healthy beverage alongside my fiber and nutrient rich salad. You can enjoy these salads to go, inside, or outdoors with patio seating.
Korean BBQ Chicken Salad at Big Oh's
121 Northside Square, Huntsville, AL 35801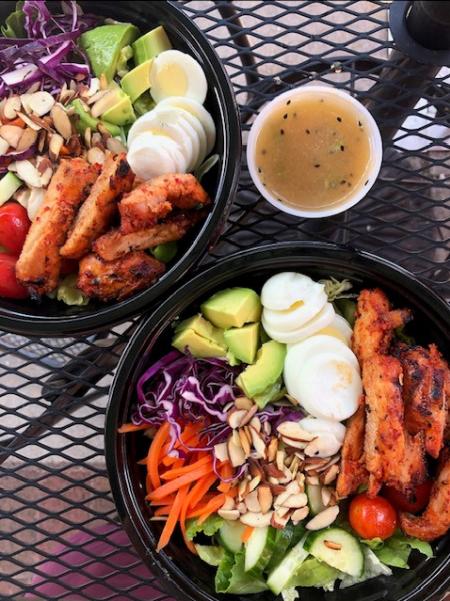 This family owned and operated Korean fusion restaurant is located downtown on the square with patio and upstairs seating and features Korean foodie favorites like: yakimandu, Bibimbap, bulgogi, and hot and cold ramen. For a colorful and flavorful option, chose the Korean BBQ Chicken Salad: chopped romaine, diced cucumbers, avocado, cherry tomatoes, boiled egg, shredded purple cabbage and carrots, slivered almonds, and sliced grilled Korean BBQ chicken with a side of house-made black sesame dressing.
104 Jefferson Street, Huntsville, AL 35801


This underground, phunky tiki bar is THE place for eclectic food and amazing fun drinks and home to the craveable Phat Fries (poutine with runny egg, sweet Chinese sausage gravy, and cheese curds). Phat Fries is my go-to order for late night eats but I always order the Heady Boi salad too because, #balance. This salad is not just a sideline salad. This salad has pizzaz! Butter lettuce topped with chopped sugar snap peas, black sesame, thinly shredded carrot, baby corn, toasted cashews, tiny crispy shrimp for a surprise flavor packed crunch, green onion, and a house-made spicy miso ranch that keeps me coming back for this delicious salad.
445 Providence Main Street, NW Huntsville, AL 35806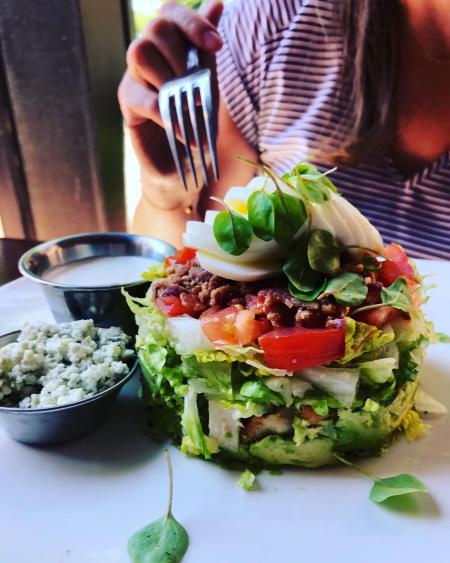 Stacked to perfection, this classic cobb has an unexpected presentation that levels up. Chopped Romaine, tomato, bacon, chicken, boiled egg, avocado, crumbled blue cheese, and buttermilk ranch are presented and served in a perfectly stacked circle that adds to the fresh and flavorful experience of this salad. If you enjoy people watching, eat on the patio and listen to the fountain in the middle of Town Providence or, dine inside the restaurant and catch up on the news while seated at the bar.
Smoked Watermelon Salad at Fusion BBQ
300 Meridian Street, N D-104, Huntsville, AL 35801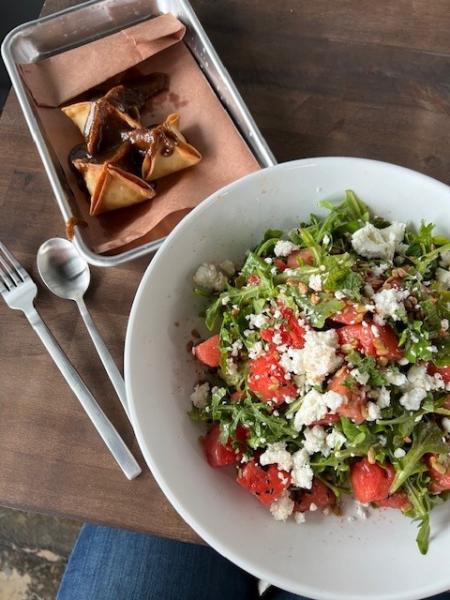 Inside the newly renovated Lincoln Mill, the Smoked Watermelon Salad at Fusion BBQ stands out with its diced smoked watermelon, goat cheese, candied pecans, fresh mint, and yuzu black sesame vinaigrette. Eat this salad on its own or as a compliment to your barbeque, pork belly bao buns, smoked edamame, or hog wild burger.