Dismals Canyon, about 90 minutes southwest of Huntsville in Phil Campbell, Alabama, is a sandstone gorge that's been a popular attraction since prehistoric times.  Visited by Paleoamericans, Chickasaw, Cherokee, and European settlers, the network of tiny canyons and boulders was formed by a mix of water and tectonic activity millions of years ago.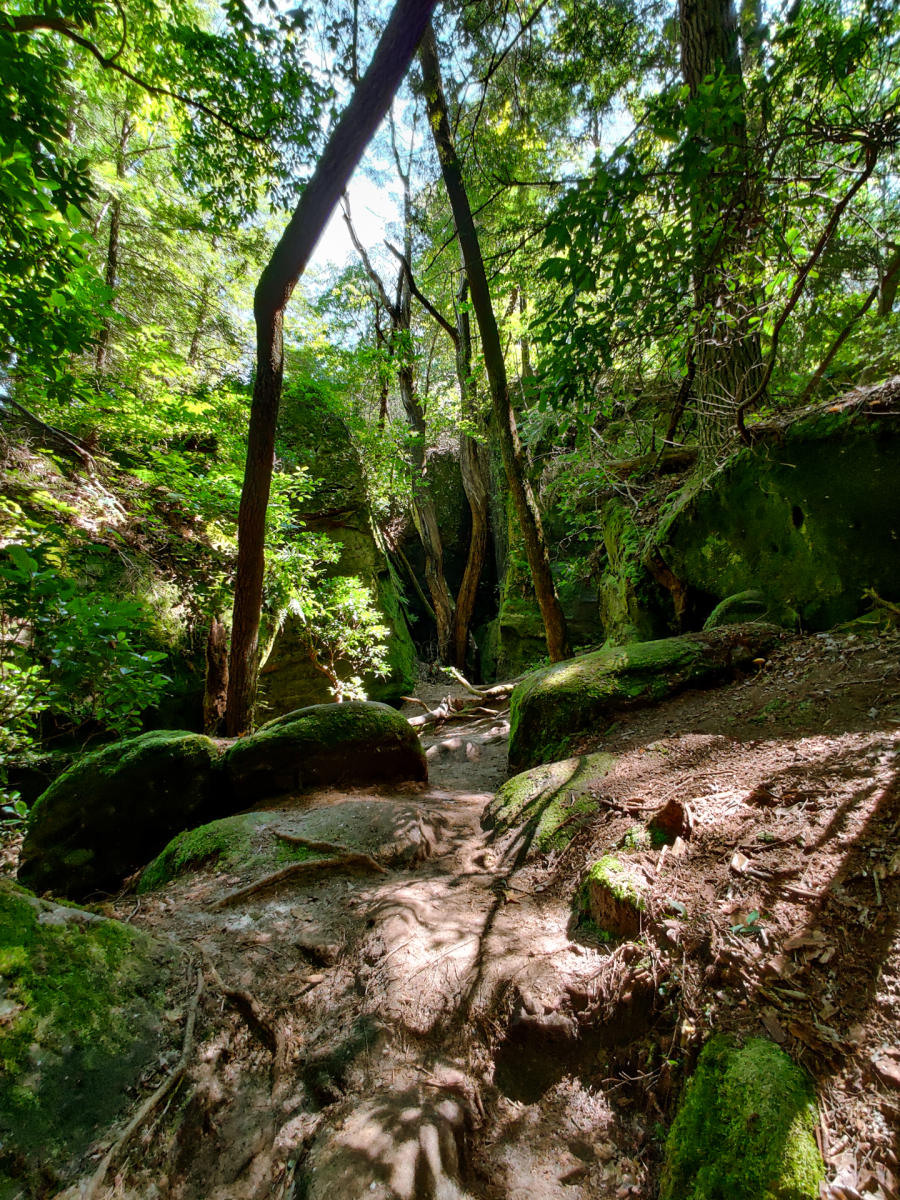 Today, Dismals Canyon is designated a National Natural Landmark and operated since 1995 as a privately owned 85-acre park featuring not just the surprising geological features, but a large variety of old-growth trees including a massive 138 foot tall 350-year-old Canadian Hemlock (Tsuga canadensis) very far from its natural range.  Numerous waterfalls and moss-covered seeping boulders feed into a cold spring that runs along the bottom of the canyon, helping keep the temperature in the gorge a few degrees lower than up above.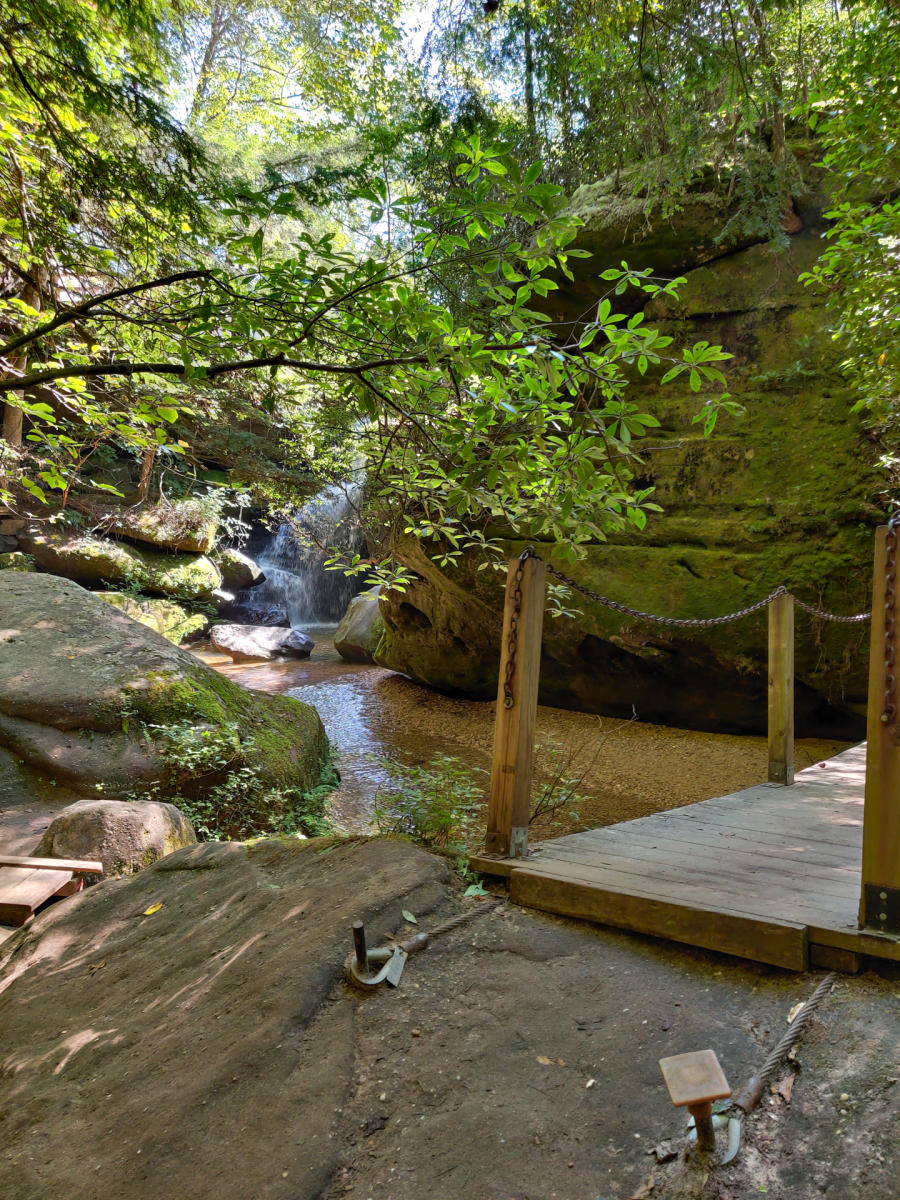 Dismals Canyon is open seasonally and hours change, so check their web page for details and rate before you plan a visit.  The parking lot is cramped and the park heavily trafficked, so I recommend planning a visit when the park first opens and/or on weekdays, and parking on the road outside on the graveled shoulders.  The park is not friendly to wheelchairs, strollers, walkers, or other mobility aids, and you should not plan to be able to use any of them.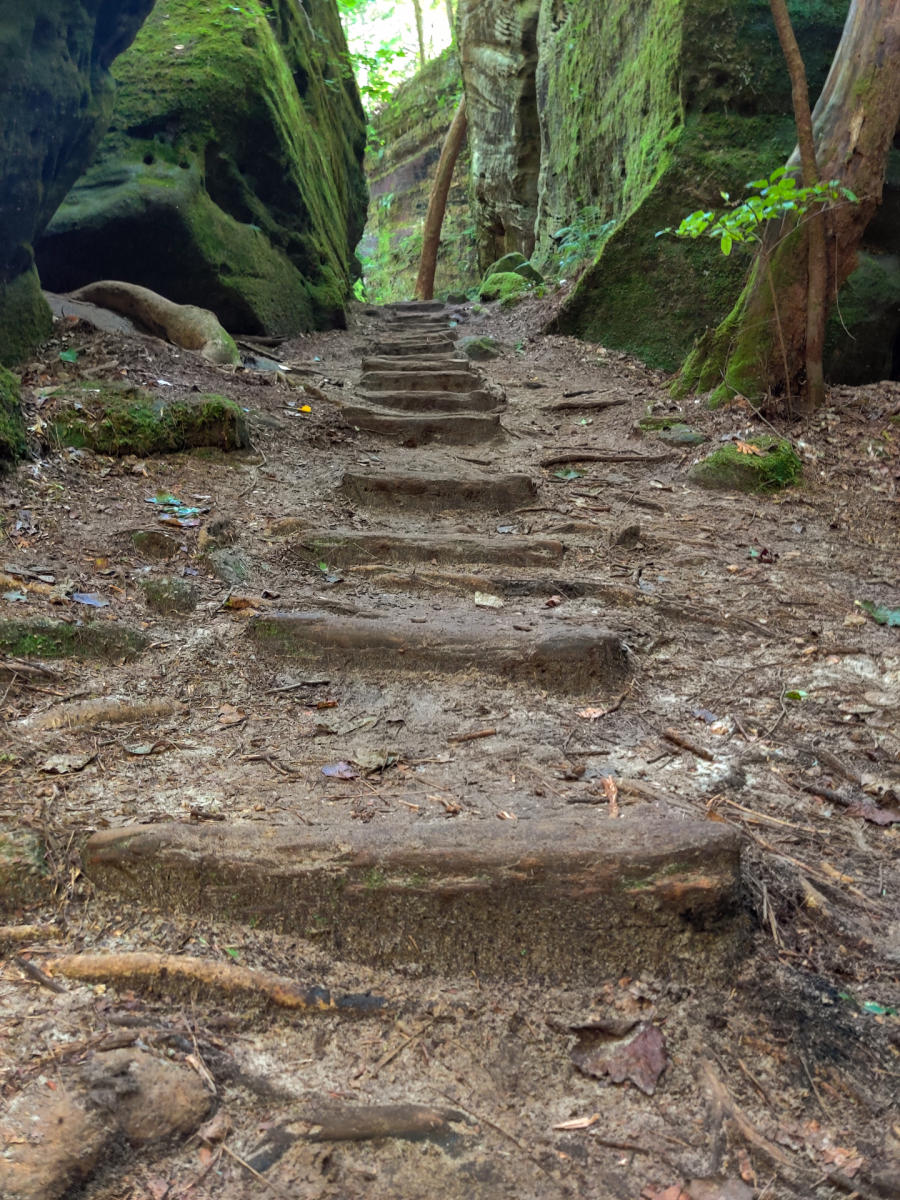 The mile-and-a-half out and back trail begins with a steep stairway descending into the gorge.  This is the toughest part of the trail; once down in the canyon, the trail is easy enough for even young children. The trail meanders through a maze of giant boulders covered with tree roots, mosses and ferns and the walls weep with water.  There are a few water crossings over stepping stones, so you may want to have a pair of dry socks and shoes back at the car.  Leashed pets are welcome.
No discussion of Dismals Canyon is complete without mentioning Orfelia fultoni.  Nicknamed "dismalites," this bioluminescent fly makes its home on wet sandstone walls of caves and along stream banks in the Appalachian Mountains and on the Cumberland Plateau.  The larvae spin webs and light up their head and tail to attract, trap and poison flying insects for dinner.  Dismal's Canyon, with its wet surfaces and sheltered area out of the wind, is an ideal habitat for these flies. The canyon offers seasonal night hikes by flashlight (usually May through September) to view these creatures.
By day or night, Dismals Canyon offers a unique experience whether you are interested in geology, trees or insects… or just want to explore a place that looks like it belongs on a distant planet.  Be sure to check their website for any seasonal details before you go.  Cabins and campsites are also available with a reservation.