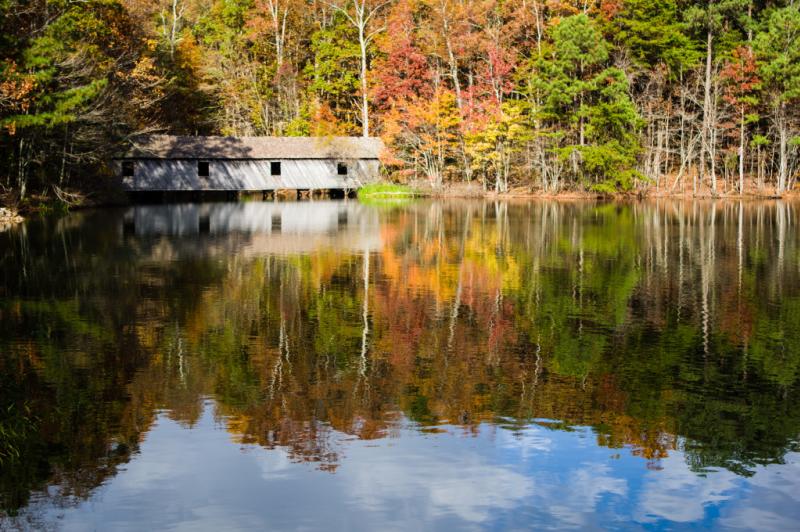 Photo: Green Mountain Nature Trail
Crisp colorful leaves, chilly nights, cozy drinks, pumpkin spice-flavored—well—everything! What's not to love about gorgeous Fall? From festivals and hayrides to strolling with the local ghosts, the Rocket City packs in tons of activities to make the most of it.
If you are ready to fall in love with Fall, here are a few things you can do to get in the spirit of the season: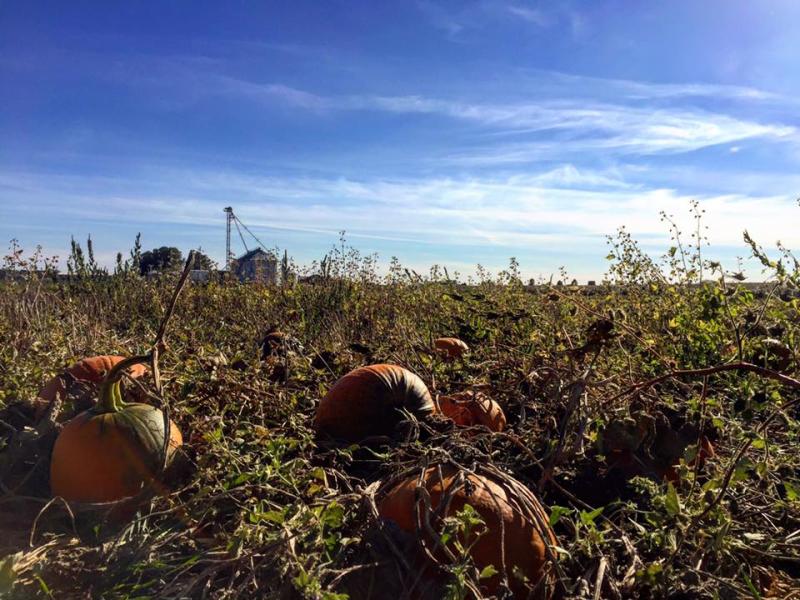 For many, a trip to Tate Farms is the tradition that makes it feel like it's "officially" Fall. Encircled by blossoming pumpkin patches, dusty hayride trails, and picturesque fields, Tate Farms is a one-stop destination for Fall-themed family fun.
Begin your visit by exploring the grounds where you'll find slides, a hay maze, pumpkin smashing, corn cribs, giant jumping pillows, farm animals, and much more. Then make your way to the old-fashioned Country Store where you can pick up gifts and take care of your seasonal décor needs. There's also the Pumpkin & Vine Café where you can grab a glass of Piper & Leaf Tea.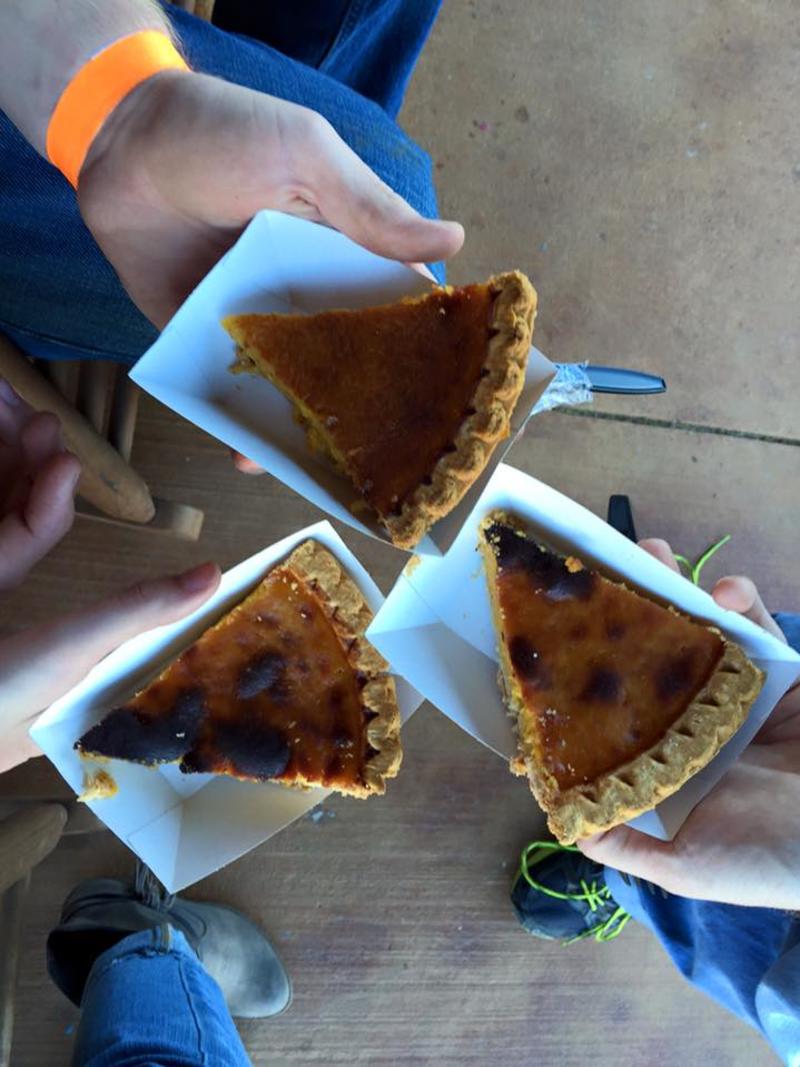 If you're hungry between the many activities, enjoy a meal from the Country Café and Barn Café. Order picnic staples like hamburgers, hot dogs, grilled chicken sandwiches, pumpkin slushies, and other tasty treats. Did you know that the farm uses its own pumpkins to prepare many of the homemade items they sell? It's all delicious!
Finally, hop a hayride out to the pumpkin patch where you can find your perfect front-porch pumpkin. Then, sit in one of the rocking chairs on the porch nearby as you sink your teeth into a slice of homemade pumpkin pie.
Don't forget to bring your camera! There are tons of photo opportunities on-site. This year's season begins on September 23rd.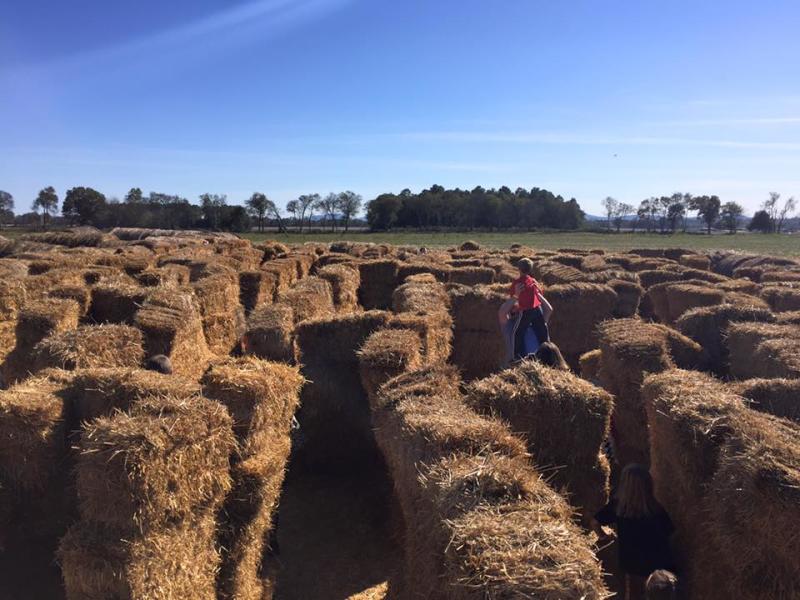 Madison Street Festival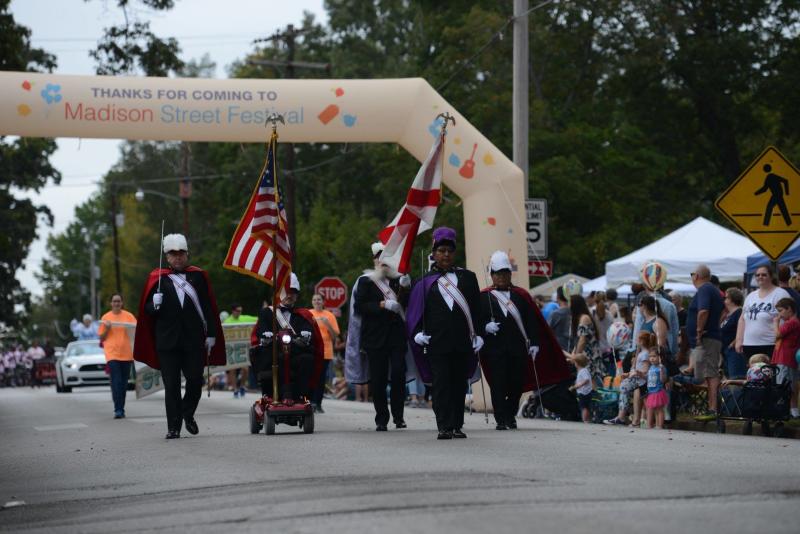 Photo Credit: Click Photo Design
On October 5th, the Madison Street Festival will have its 39th-annual event in the heart of downtown Madison. Drawing in an estimated 30,000 plus people each year, the event is only getting bigger!
Recognized as one of the Top 20 Fall Festivals in the state of Alabama, the Madison Street Fest has activities for all ages (and pets too). At 9 a.m., the event kicks off with a big parade to get everyone excited about what's to come.
Throughout the day, several musicians play at one of the multiple stages around the festival grounds while visitors browse one of the signature areas like Artist's Alley, Crafter's Cove, the car show, or a fairly new area called the Teen Zone.
There's also a community showcase stage reserved for local presentations like the Madison Community Orchestra, Fantasy Playhouse, Von Braun Astronomical Society, and others.
But don't forget all the incredible food you can savor at the event! You can enjoy everything from ice cream to Greek food all within one area. The curators of the festival make sure to invite a diverse list of food trucks and vendors so there's something to satisfy everyone.
Best of all, the event is FREE to the public! But all proceeds made at the festival go directly back to the City of Madison through its grant program that supports the local library, school systems, and more.
You can get info about the Madison Street festival here.
Maple Hill Cemetery Stroll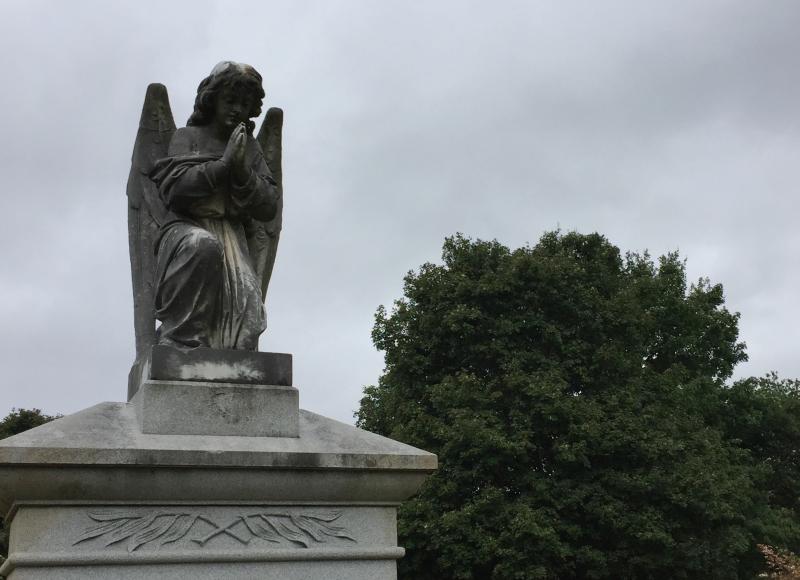 Why read about history when you can live it…in a cemetery? Notable figures from Huntsville's past come to life each year at the annual Maple Hill Cemetery Stroll.
You'll be able to walk and talk with more than 75 costumed characters—some whose real-life counterparts were actually buried in the cemetery. You'll hear stories, explore the grounds, gaze into the past, and mingle with the spirits of the season. You can even participate in scavenger hunts!
While the event is free to everyone, the organizers welcome donations that are used to preserve and restore historic sections of the cemetery for generations to come.
Get all the info you'll need about the event here!
Huntsville Botanical Garden Scarecrow Trail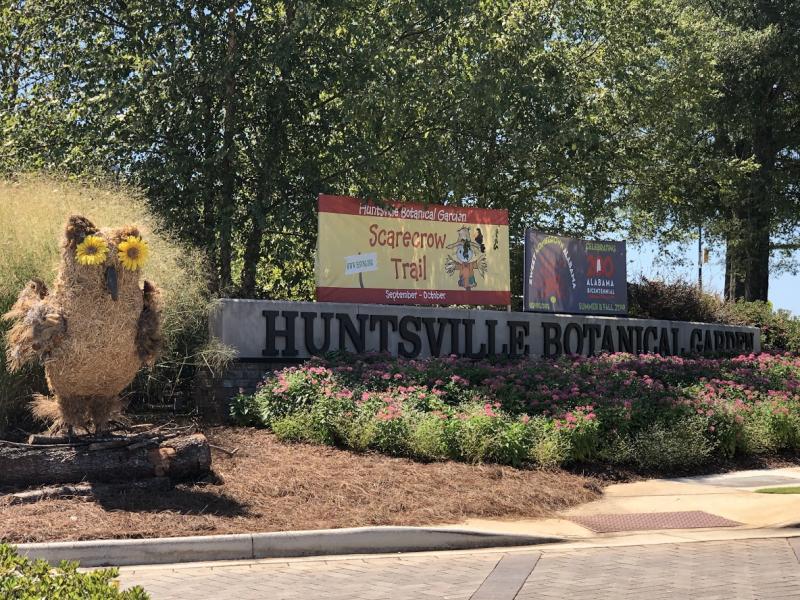 Creativity abounds when Fall makes its way to the Huntsville Botanical Garden. During September and October each year, the garden is decorated with more than 40 scarecrow displays designed by local businesses, clubs, schools, and other organizations for the annual Scarecrow Trail.
There are also weekend hayrides, pumpkin displays (October ONLY), and a corn maze!
This year's trail will also have a Night Hike events where visitors can amble through the garden under the moonlight while sipping on snacks and warm cider. It's feeling like Fall!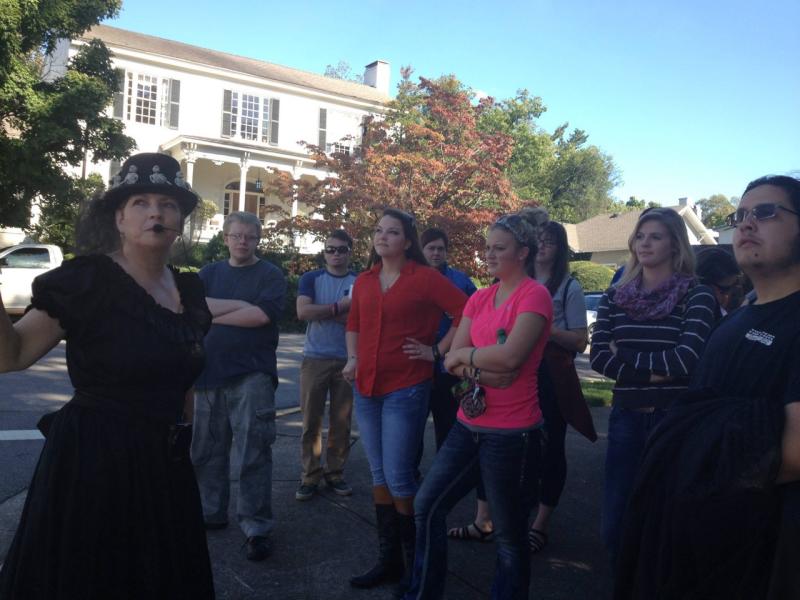 Huntsville has a rich history and sometimes it's fun to take a glimpse into its spooky side. Ghost Walks have become a Fall event that visitors and locals can't get enough of.
On September 6th, the season will begin. All explorers wanting to learn more about Huntsville's haunted past can purchase a ticket at Harrison Brother's Hardware in downtown Huntsville in advance or on the night of the event.
Walking tours begin at 6 p.m.; however, in October there are also walking tours on Saturdays at 8:30 p.m. You choose one of three guided tours through the Twickenham District, Old Town District, or through downtown.
You'll hear creepy stories about spirits that still move about the city making their presence known. You can also hop the Haunted Trolley for a 90-minute tour that takes you to the Historic Huntsville Depot, Georgia Graveyard, Maple Hill Cemetery, and other hot spots. But remember, seating is limited to 28 people, and those seats will sell out before you can say "BOO"!
Read more HERE about all the available tours and options so you can plan the perfect evening of meeting and greeting Huntsville's most famous ghosts.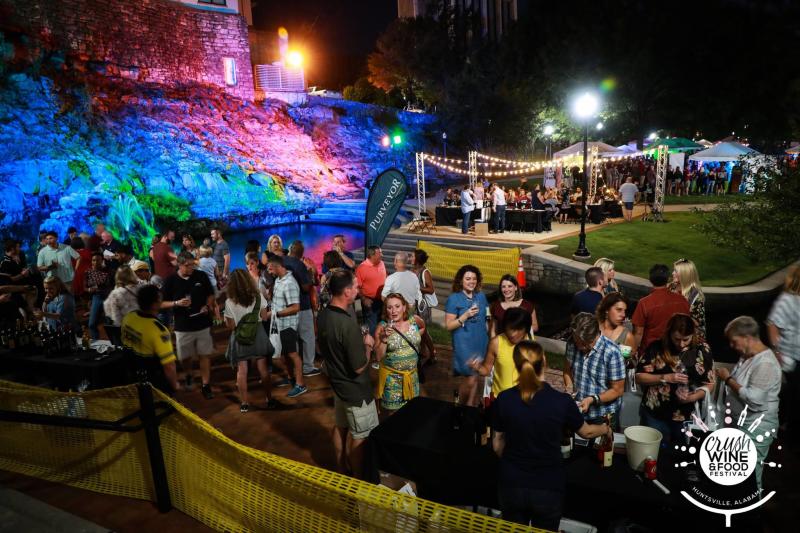 Each year, the Crush Wine & Food Festival has grown to incorporate more events and offerings. This year—for the first time—the festival will be five days long!
It all begins with a Champagne Kick-Off Party at The Westin at Bridge Street Towne Center on Wednesday, September 25th from 6-8 p.m. All appetizers at this event will be prepared by The Westin's Chef Bill Stellwagen, which will pair with Mumm's Champagne. You'll be able to meet and greet some of the best chefs, winemakers, and chocolatiers in the industry!
Thursday will be the festival's new Wine & Whiskey Dinner Pairing event that's a VIP experience with a three-course winemaker and distiller dinner prepared by chefs Johnny Dolan from Lion's Share in San Diego and Rene Boyzo from Purveyor in Huntsville.
If you're all about Whiskey & Wild Game, you don't want to miss Friday evening! This event will feature 20 spirits with samples of scotch, bourbon, and whiskey. And each tent you visit will have samples of wild game to go with your selections. This night will bring back the incredible chef duo of Dolan and Boyzo from the previous evening. (Don't worry wine lovers! A few select wines will be available at this party too.)
The biggest day of the Crush Wine & Food Festival will take place on Saturday, September 28th at Big Spring Park! The "tastefully spirited" evening will offer guests the chance to sample 150 wines from all over the globe. There will also be live music, grape stomping, and wine-inspired food items to try! Don't' miss out on chocolate pairings with Michelle's Chocolate Laboratory and cheese pairings by Williams-Sonoma.
Finally, the festival will come to its close with a Champagne Bruch at the AC Hotel & The Gemini. It will be catered by the culinary team of the new AC Hotel in downtown and feature live music, wine tastings, and Tito's bloody-mary bar.
Tickets for all of these events are going FAST! To learn more about each individual event or to purchase tickets, click here.
Redstone Arsenal Oktoberfest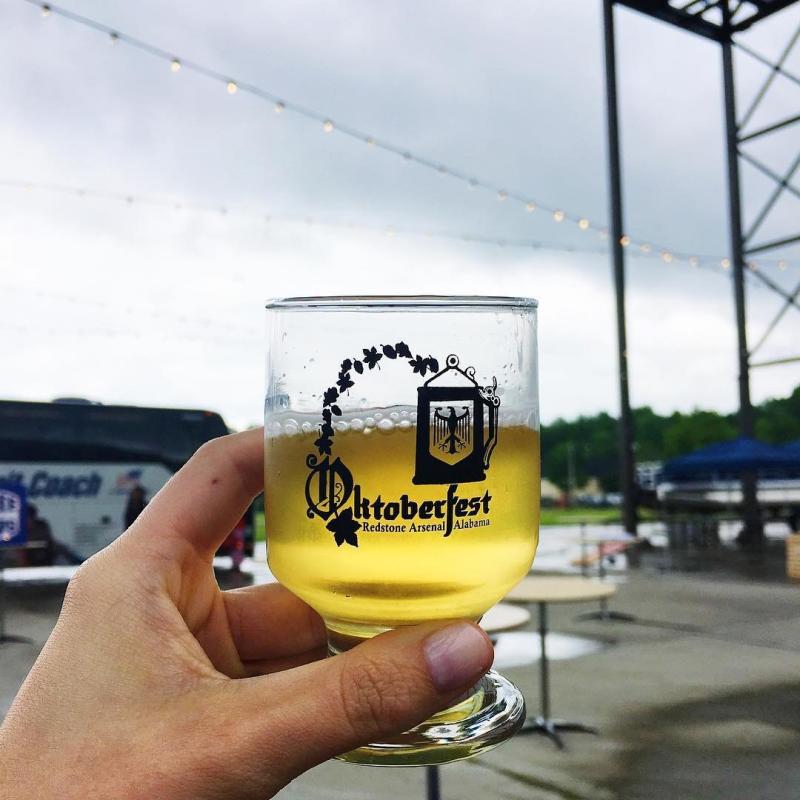 Photo Credit: KK Travels and Eats
Head over to the Redstone Activity Field near Governors Drive to sample quintessential German cuisine, sip on local craft beers, and dance the day away—lederhosen optional.
The Redstone Arsenal Oktoberfest is a popular event that comes with a stein and plenty of polka music. This year, the event is happening on September 12th-15th and will include carnival rides, games, bratwurst, schnitzel, sauerkraut, German beers, music, and much more!
Don't forget the event's Craft Biergarten, which includes unlimited beer samples, souvenir glasses, and more musical entertainment.
Join the official Facebook event here to get all the latest updates!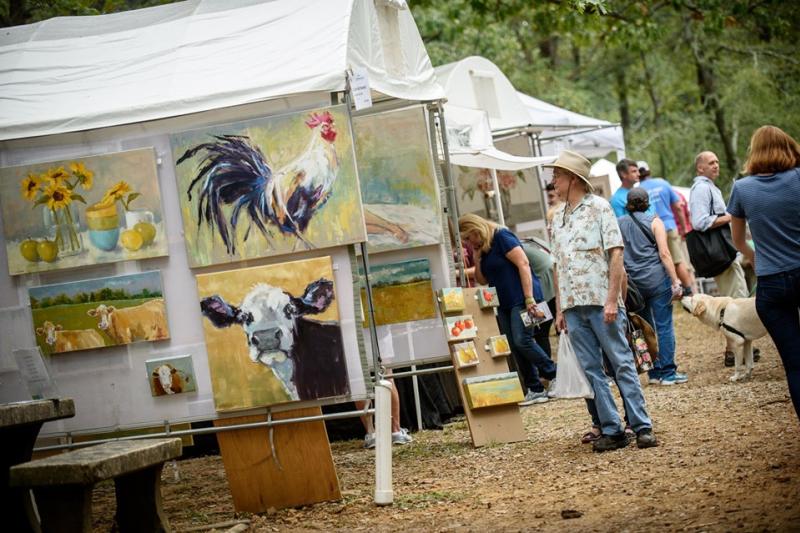 If you're looking for an event where you meet local artists and enjoy a stroll with scenic views, the Monte Sano Art Festival—hosted by Arts Huntsville—is perfection.
Each winding road is lined with tents from 150 local and regional makers who are ready to share their creative talents. The festival has been going on for around two decades and continues to expand each year.
You'll see all kinds of artwork from painting and stained glass to pottery and woodwork. Plus, the skies are filled with music from live musicians and the smell of delectable goodies from local food trucks. There's plenty to discover!
This is a free, family friendly event. But remember, Monte Sano Park will charge $10 per car for parking or $5 per walk-in. Cash only.
Read more about this seasonal event by clicking here.
This is just a short list of all the MANY Fall activities in the area. Do you have more to add? We want to hear from you! Drop a comment below so we can continue to update our post!