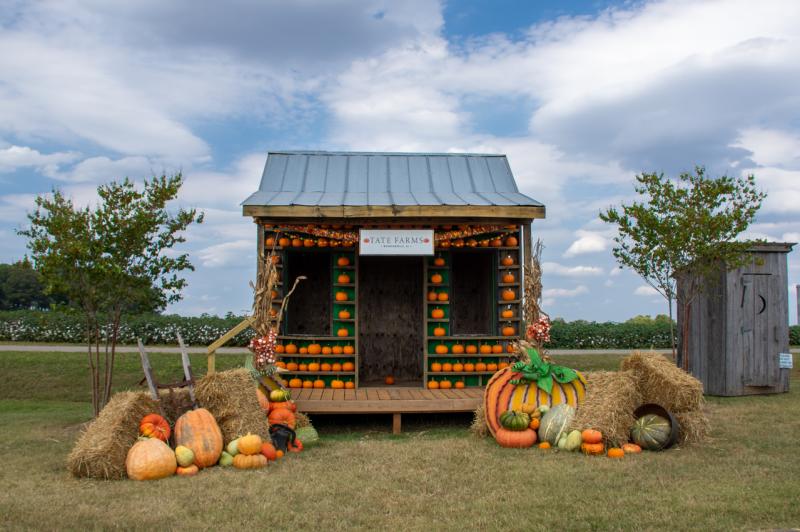 Since 1948 Tate Farms Cotton Pickin' Pumpkin Patch has offered wholesome outdoor fall fun for the Huntsville area.  Tate Farms isn't just a pumpkin and gourd patch: it's a working farm growing cotton and soybean plus eating varieties of pumpkin for local businesses like Piper & Leaf Tea and Cotton Row restaurant.
Hay Maze, Corn Cribs, Picking Pumpkins and More
If you are looking for a traditional hayride, jump in the wagon for a trip out to their 85-acre no-till pumpkin and gourd field to hand select your pumpkin.  Pick any size or shape you like; all pumpkins are $7.  I recommend saving the hayride for last because there's so much to do, from the petting zoo to the hay maze, that you should find your pumpkin(s) last.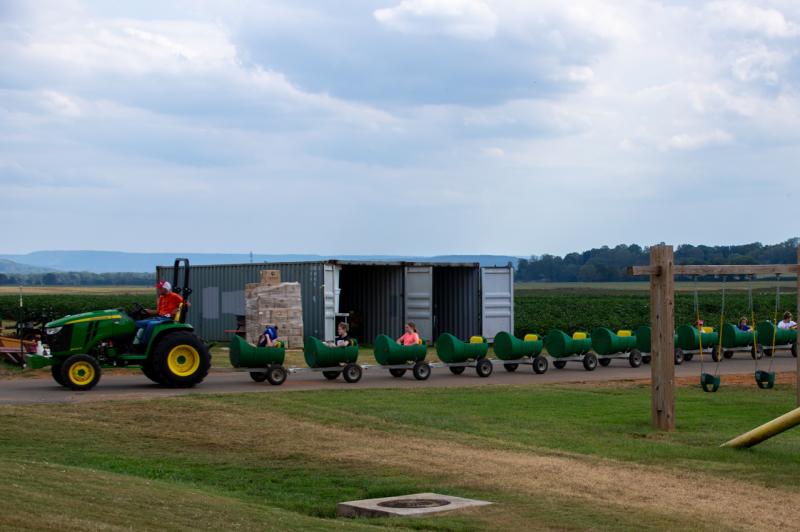 The large playground features farm equipment and buildings repurposed into unique play spaces and slides, and a giant outdoor jumping pillow filled with air.  Kids can race each other on the pedal cart track or relax as a tractor pulls the on the corn train ride.  Popular with adults and kids alike are the giant bins filled with whole dried corn.  (As young gentlemen about hip high solemnly assured me that is better than sand because it doesn't get in your underwear.)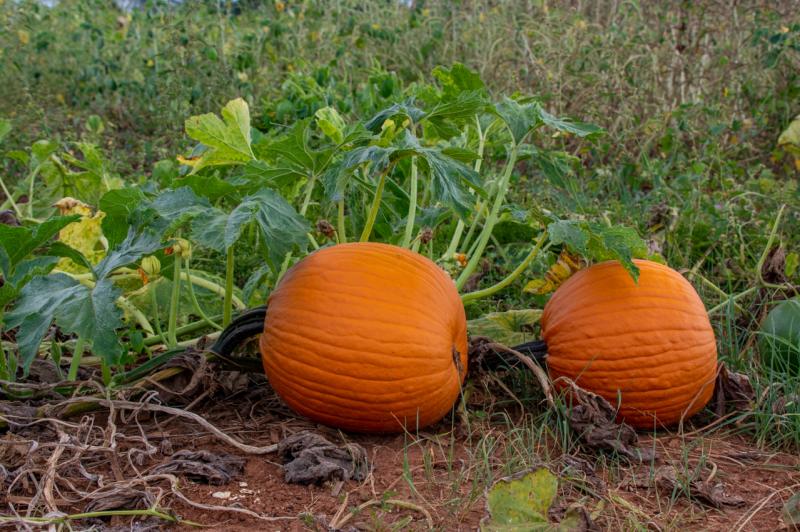 Before you head out, be sure to grab your pumpkins.  If the adults are too tired after all this for the pickin' patch, the produce shed has a variety pre-picked: traditional jack-o-lanterns pumpkins, spooky white ones, mini decorative pumpkins, bird house gourds, Georgia Candy Roasters for good eating, and more.  Or take a shortcut and just buy the pumpkin pie from the Country Store.
If you are like me and enjoy pumpkins for eating, October sometimes feels like the Designated Month of Pumpkin Slaughter.  For the rest of you who don't get sad at decorated pumpkins left uneaten, Destruction Day on November 2nd is for you.  All the rejected pumpkins will meet their final fate via monster trucks, mallets, the Pumpkin Cannon and the Pumpkin Catapult.  Destruction Day is $20 and is open from 9am until the fireworks show after dark.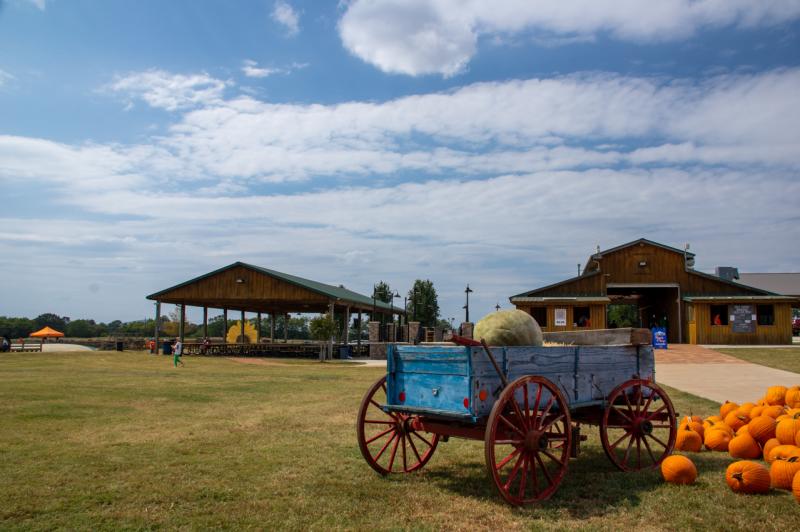 Details on Tate Farms in Madison County 
Open the last week of September - October 31
Weekday hours are 2:00pm until 6:00pm
Saturday hours are 9:00am - 6:00pm, with extra activities
Ample parking is available at the farm and wheelbarrows for pumpkins are provided.
Admission is $12 per person, or you can buy a season pass for $25.  There's a coupon on their website for an easy discount on weekdays.
What to bring: Sun protection and the whole family.
How to get there: Take highway 72 east over Chapman Mountain and turn left at Moores Mill Road.  Follow Moores Mill for about 15 minutes and Tate Farms will be on your right.