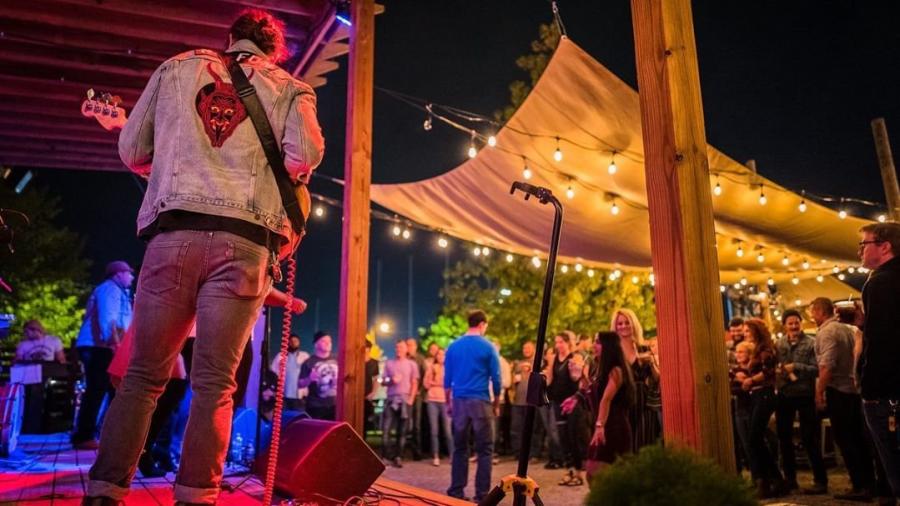 Live music is returning in a blaze of glory, retaking its rightful place on our local stages. But with so many new transplants and people who were just beginning to explore Huntsville before the pandemic hit, one question looms large- where are these local stages? Enter HuntsvilleMusic.com, a collective online calendar for the city's live music scene.
We understand that this amount of information can still be a little overwhelming when you aren't sure where to begin, so in the spirit of Alabama summer nights, we wanted to share our favorite outdoor stages with you.
Where You Can Find Music Any Weekend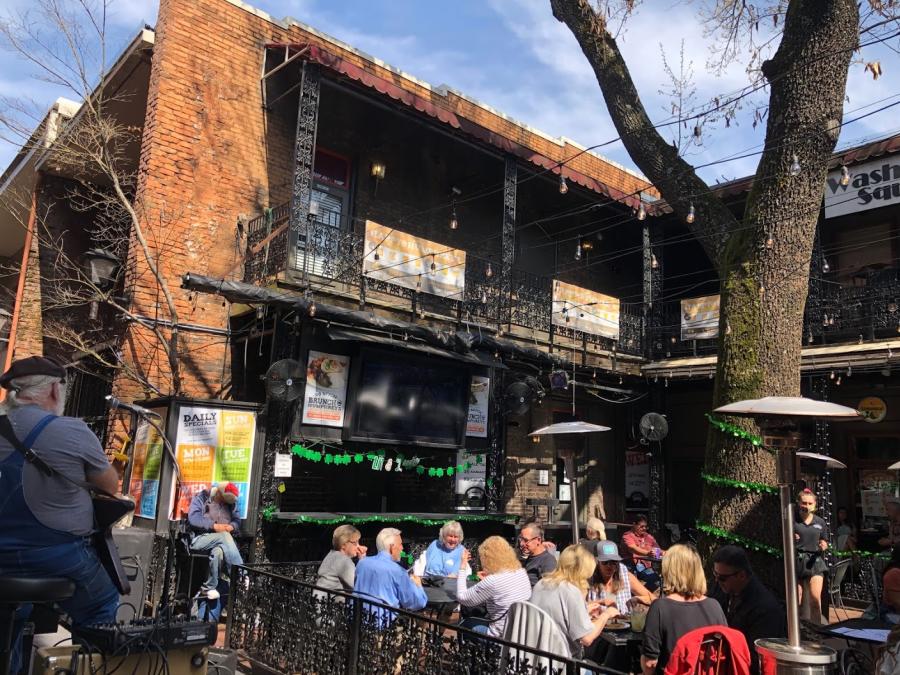 Humphrey's Bar & Grill in downtown Huntsville is a collection of things we love. Historic building full of charm that could very well be haunted? Check. New Orleans-style courtyard complete with a large tree growing through the center? Check. Roomy stage that sits in the middle of a cool alley surrounded by murals? Check.
From a music lover's standpoint, there's nothing better than listening to your favorite local artist or band as the breeze blows the market lights and the scent of smoked wings wafts through the courtyard. From a musician's standpoint, playing at Humphrey's just makes you feel cool, period.
Food/Drinks: Humphrey's is a full restaurant and bar with patio service.
Seating: Patio tables that are seated by the hostess and tables have servers.
Dog friendly? Yes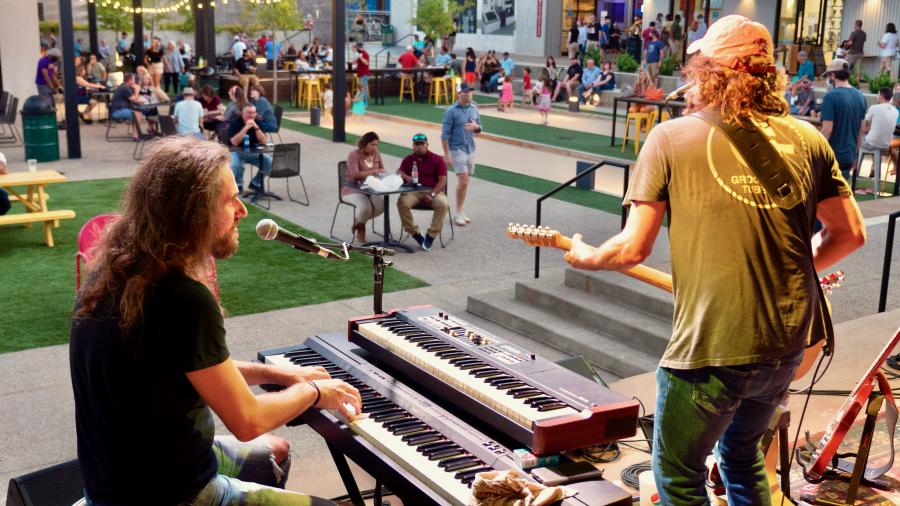 Stovehouse is the new kid on the block, but it's already got us saying "You Got It."* With a plethora of food and drink options (now including giant photo-worthy milkshakes) it's a great place to settle in for an entire night of fun. There's also enough space for your whole friend group, so this could be your new spot for squad meetups at any time of day, but especially when there's a great show happening.
*If you were born after 1991, please Google New Kids on the Block. And yes, that's Donny Wahlberg.
Food/Drinks: Various food options at Stovehouse include tacos, barbecue, crepes, Mediterranean food, milkshakes and coffee. Pourhouse is the full bar on site.
Seating: Tables, chairs, benches and more scattered throughout the main Stovehouse area.
Dog friendly? No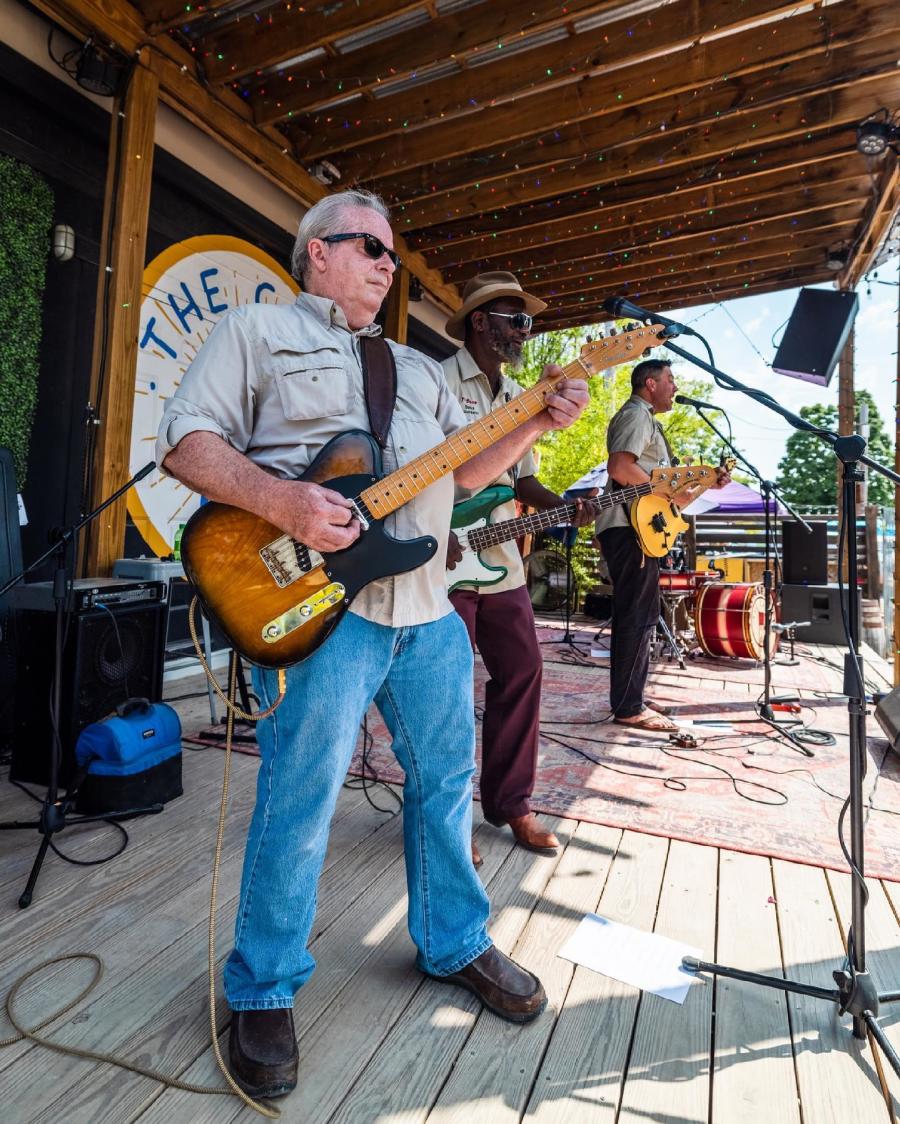 The Camp may be known for their immersive holiday pop ups (we're still recovering from Mardi Gras), or their weekly Sunday Farmer's Market, but they also know how to host a great concert. Regional and touring acts both find their place on this outdoor stage located inside the MidCity District, where it's easy to feel like you're in a different corner of the world as you sip specialty drinks under the eclectic décor.
Food/Drinks: The Camp is always innovating their food options, with fan favorites like sushi burritos and Adult Capri Suns, and have eats and drinks available during all live shows.
Seating: Round tables placed throughout the space, as well as a fire pit during colder months and fun nooks and crannies to relax into.
Dog friendly? Yes
Salty Nut Brewery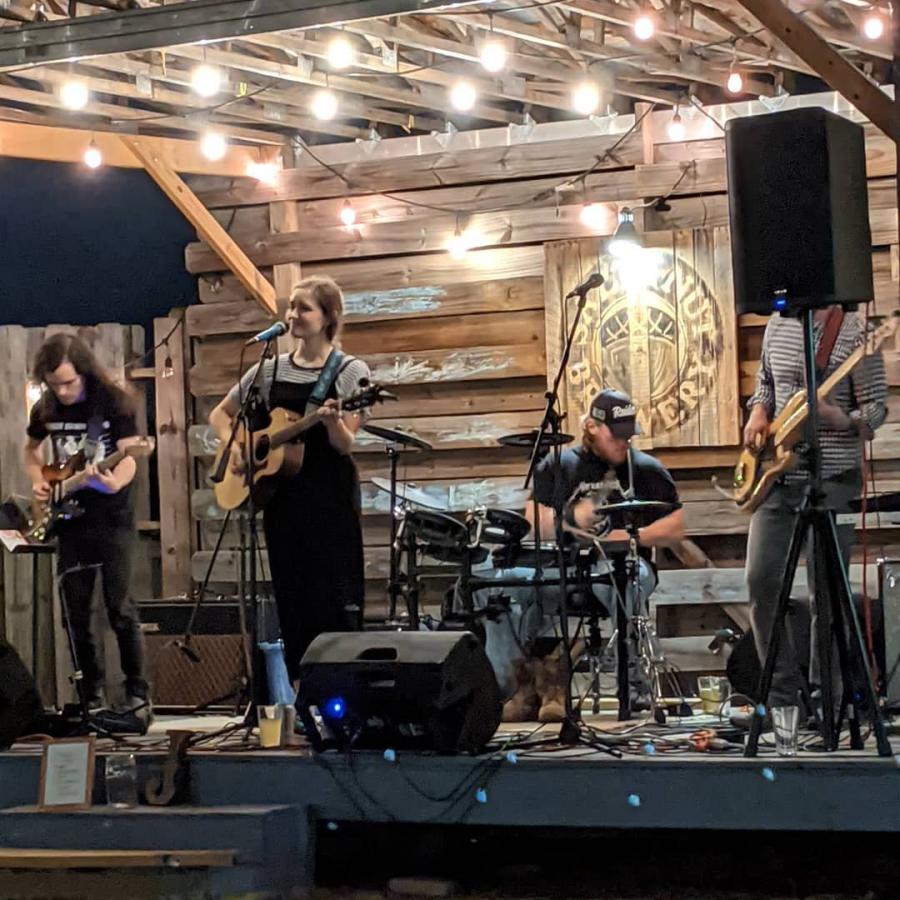 Photo Credit: Andrew Judge
One of the Huntsville craft beer heavy hitters, Salty Nut Brewery also knocked it out of the park when they built an outdoor stage and converted part of their property into a biergarten. Grab a brew from inside and head straight back, where you'll find shaded seating on the left and a magnificent live music setup on the right.
Food/Drinks: Craft beer galore, with an unaffiliated food truck usually parked nearby. You are also welcome to bring your own food.
Seating: Bring your own chair or blanket to set up right in front of the stage, or grab a table in the biergarten under the lights for a little more space.
Dog friendly? Yes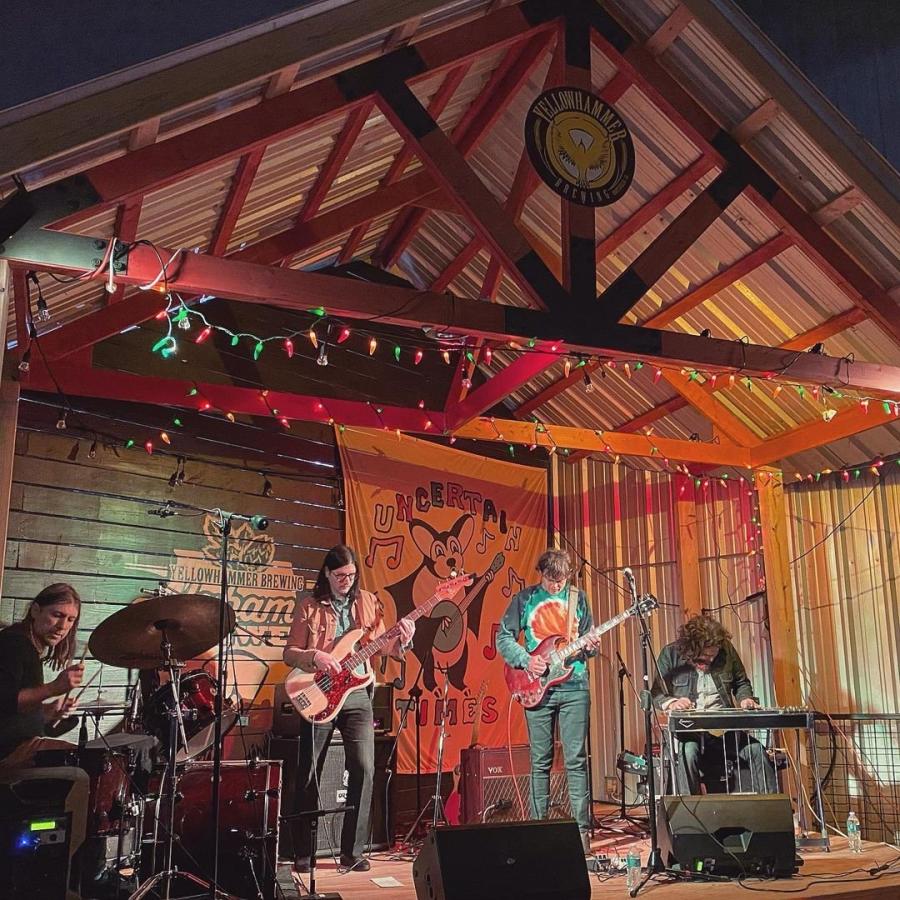 Photo Credit: Michael Stevens
Just down the street from Salty Nut is Campus No. 805, where Yellowhammer Brewery is housed. Their brews have become fan favorites, both inside the city and regionally. With tables set up on a long, skinny patio, as well as picnic tables outside the gate on the grass, there's no issue finding a place to park up. Yellowhammer inspires more of a come-and-go listener, with people popping in to grab a couple of beers or a pizza before moving on to the next stop.
Food/Drinks: Huge craft beer selection, and Earth and Stone Wood Fired Pizza is nestled inside Yellowhammer for amazing woodfired pizzas.
Seating: Lots of table seating on the patio itself, as well as picnic tables right outside on the grass.
Dog friendly? Yes
Where You Can Find Live Music for Special Events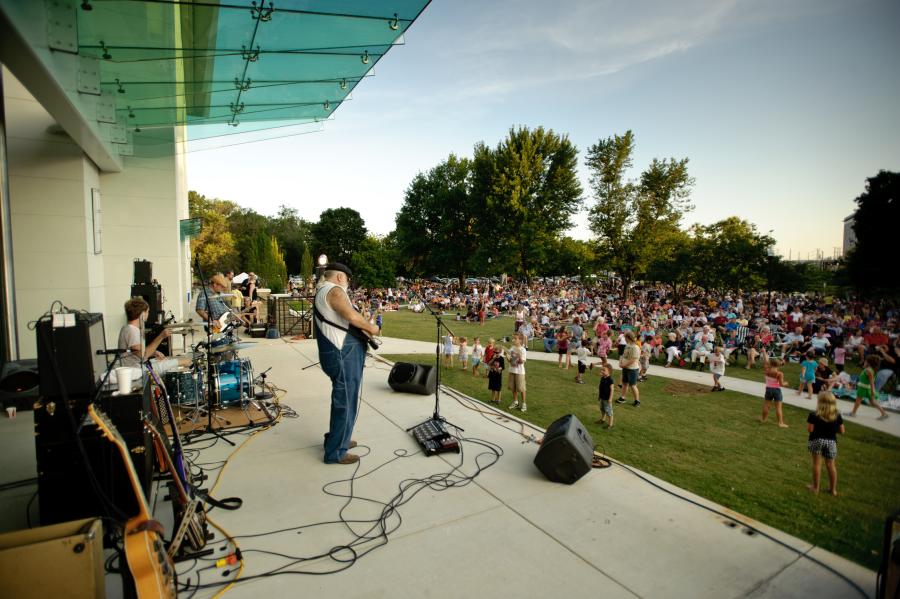 Concerts in the Park has just started back for the season with an amazing roster of local talent lined up. Every Monday through August 9th, Big Spring Park at the space in front of the Huntsville Museum of Art will be transformed into a concert space from 6:30-8:30, drawing families, friends and couples ready for a night of community and entertainment.
Food/Drinks: Various food trucks are parked on the street during this event and Big Spring Park itself is a purple cup district where you can bring a drink purchased downtown.
Seating: Bring your own chair or blanket.
Dog friendly? Yes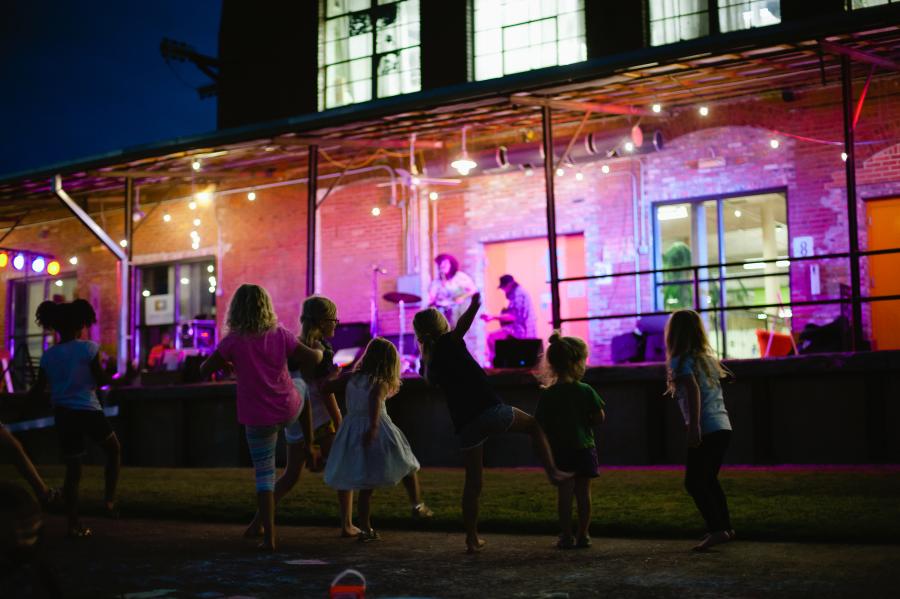 Concerts on the Dock at Lowe Mill ARTS & Entertainment is one of our favorite Huntsville series. The backdrop of the Mill creates such a cool stage experience, especially right at sunset when the water tower is lit up. Lowe Mill always curates an impressive musical roster for this series, blending cool and unusual acts with local fan favorites. This series has yet to announce a return, but we are crossing our fingers!
Food/Drinks: Food trucks will be plentiful during this event, as well as some of our favorite Lowe Mill food vendors like Piper and Leaf Artisan Tea Co, The Veggie vegan eatery and more.
Seating: Bring your own chair or blanket.
Dog friendly? Yes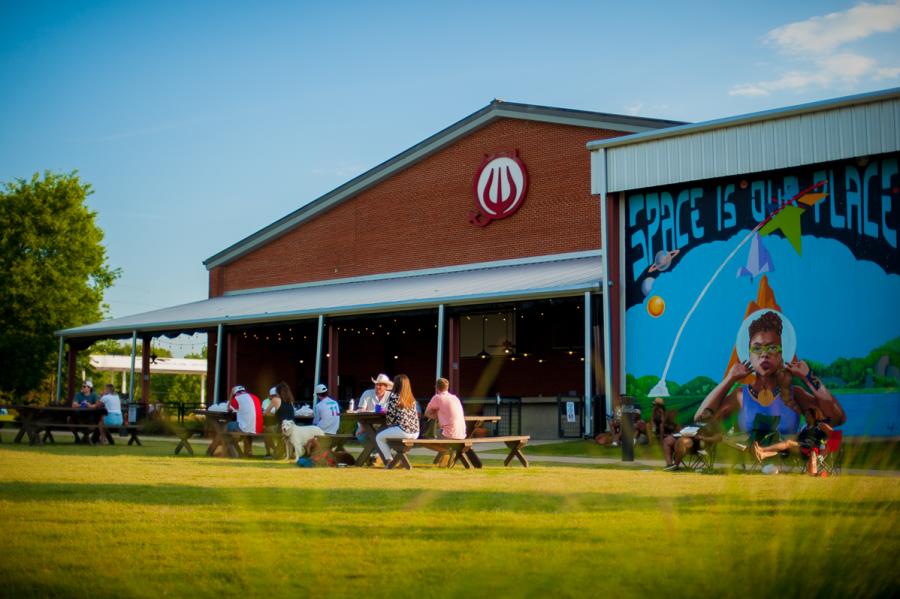 Did you know that the grassy area between the buildings at Campus 805 is called Butler Green and is actually an official city park? With lots of parking and plenty of surrounding restaurants, bars and breweries to choose from, Butler Green is a perfect place for a concert series. Unfortunately, currently there doesn't seem to be anything on the schedule here, but keep your eyes peeled for events.
Food/Drinks: Food options at Campus 805 include Hops N Guac Mexican food, Ale's Kitchen Southern pub-style fusion, Earth and Stone Pizza and Offbeat Coffee with pastries. Grab a purple cup from any brewery or bar on site, including Lone Goose's full bar.
Seating: Bring your own chair or blanket.
Dog friendly? Yes