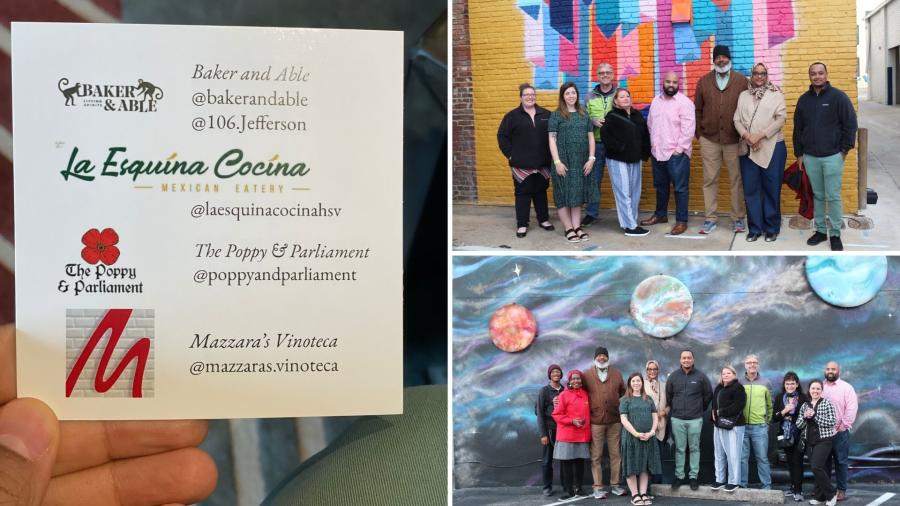 SceneThat Tours is now offering a downtown Huntsville food tour, filling a need in our area. While the tour may focus on the food, you'll also learn history, see some public art, and find some of Huntsville's hidden gems. The four locally-owned restaurants deliver a complete and delicious course to your extended dining experience. Plus, if you are so inclined, you can purchase an adult beverage and take it to go in a purple cup.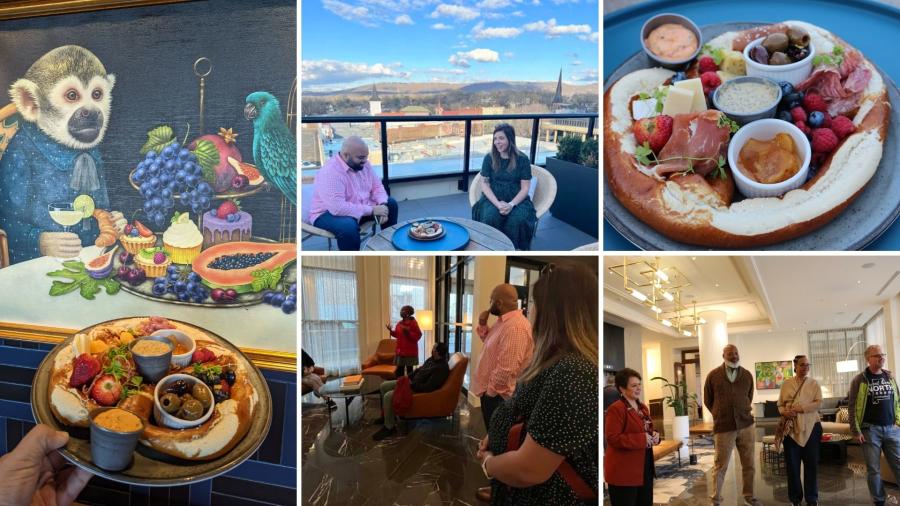 Her tour starts at Huntsville's newest boutique hotel, 106 Jefferson. Denise Swain, owner of SceneThat Tours, will give you the rundown of your walking/eating tour. You'll meet everyone on the tour and head up the elevators to the rooftop view. You learn why they named the hotel 106 Jefferson and why monkeys hang off the building. You'll be treated to some fantastic charcuterie boards at Baker and Able to start the foodie tour. The combination of cured meat, cheeses, and fruits, really complemented each other well and could quite literally stand as a meal on its own!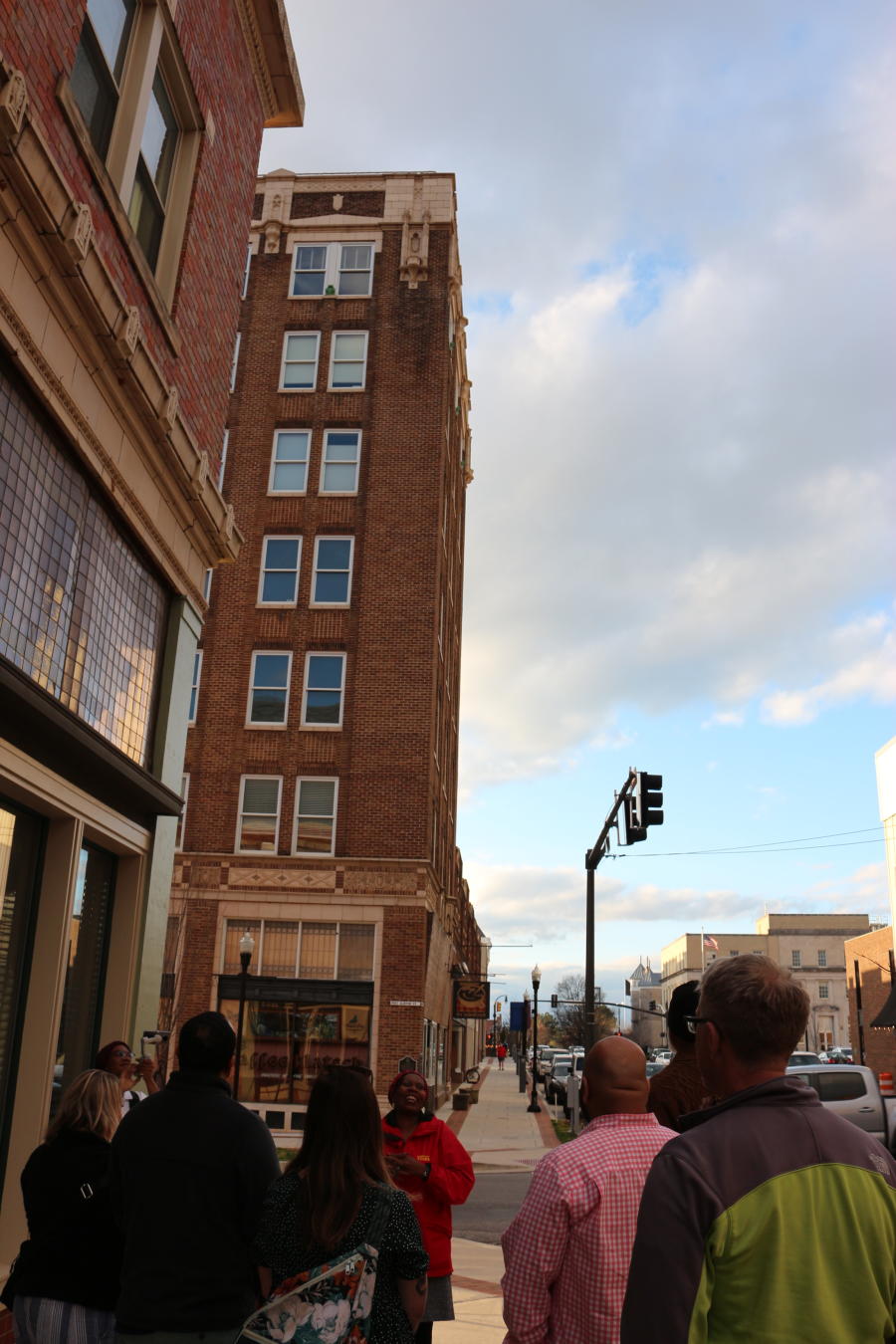 As you leave the rooftop bar named after Miss Baker and Able, two monkeys involved in the space program, you'll learn more about Huntsville's first "skyscrapers" and the dispute over how many floors each had. Walking along, you'll also discover some murals of Huntsville's secret art trail with pieces by Jesse Andrews of Honeyblood Art.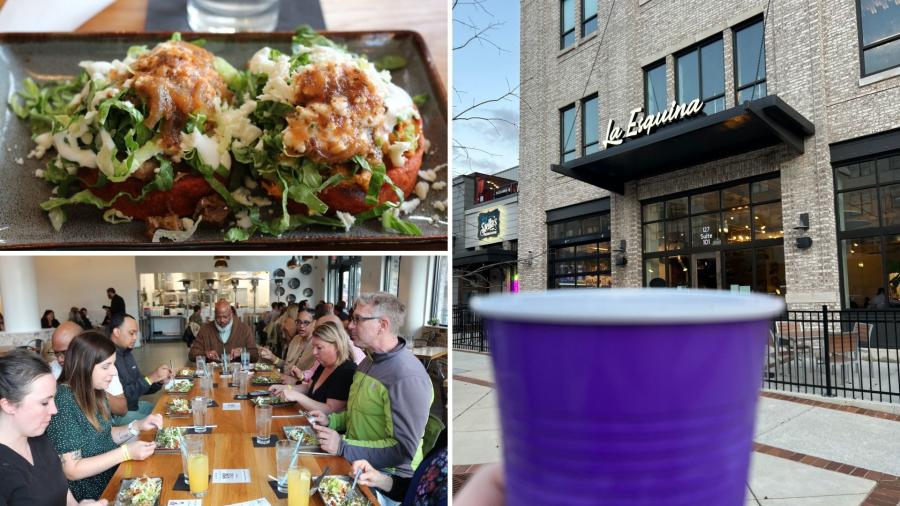 When you reach your next destination, the charcuterie board is a thing of the past as the staff at La Esquina Cocina greets you. This "kitchen on the corner" prepared 2 Tortas De Papa, cheesy fried potato cakes filled with queso fresco, roasted tomatillo salsa, and caramelized onions. This family-owned restaurant has a menu inspired by family recipes from Mexico City, the state of Jalisco, and different areas in Mexico. It's worth it to grab one of their seasonal margaritas to sip on and take with you.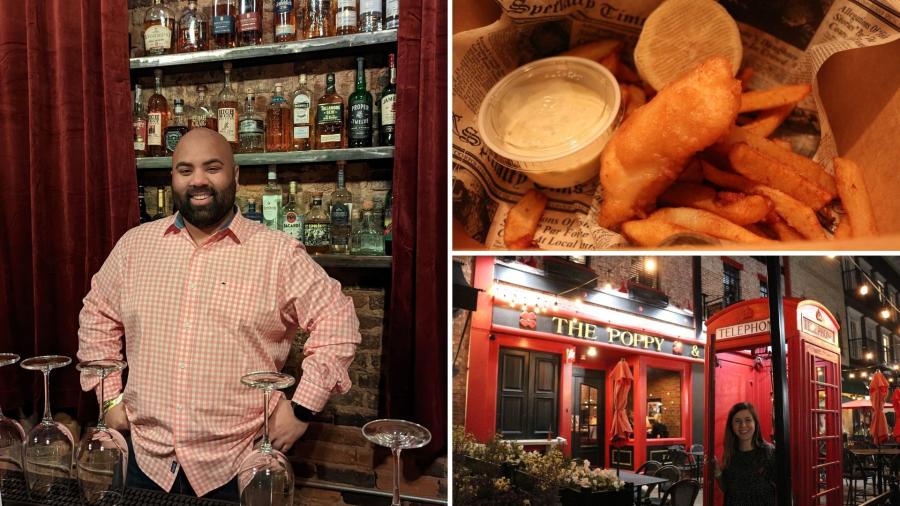 Before moving from Mexico to the United Kingdom, you learn more about the Huntsville Times building and some of Huntsville's Civil Rights history from Denise. While your food digests, you casually stroll along the downtown streets and get a better understanding of what all makes up the Rocket City. You'll pass the multi-story mural of 'This Girl Can' to celebrate women's voting rights before making your way past the red telephone booth to The Poppy & Parliament. Inside you'll be whisked away up the stairs to a separate dining area. What else would you expect but a freshly fried basket of fish and chips, made with sustainable line-caught Atlantic cod and served with beef fat chips and tartare sauce, all wrapped in newspaper for the traditional British experience? Make sure to put this place down as both  a date night option and a place where you can catch an international futbol match while being served a cold beverage.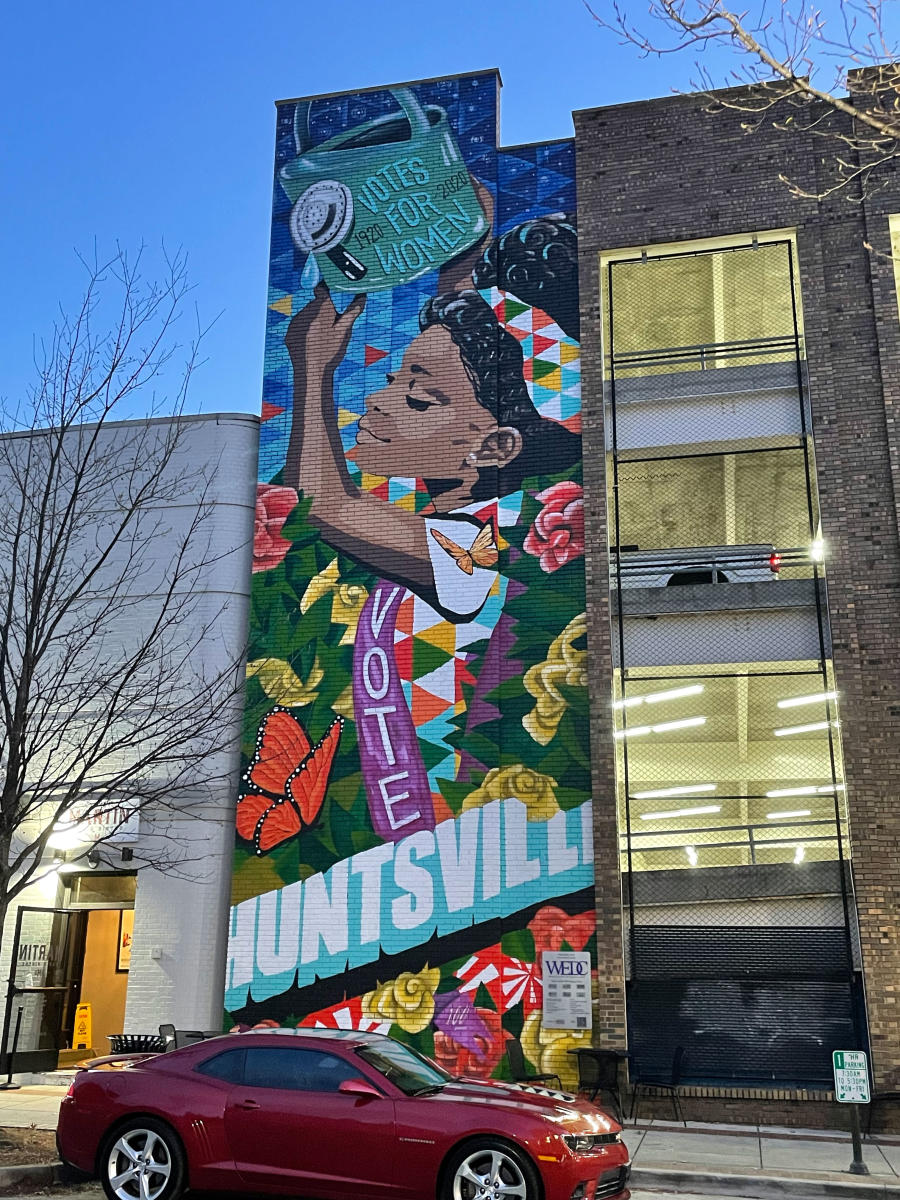 Stop 4: Mazzara's Vinoteca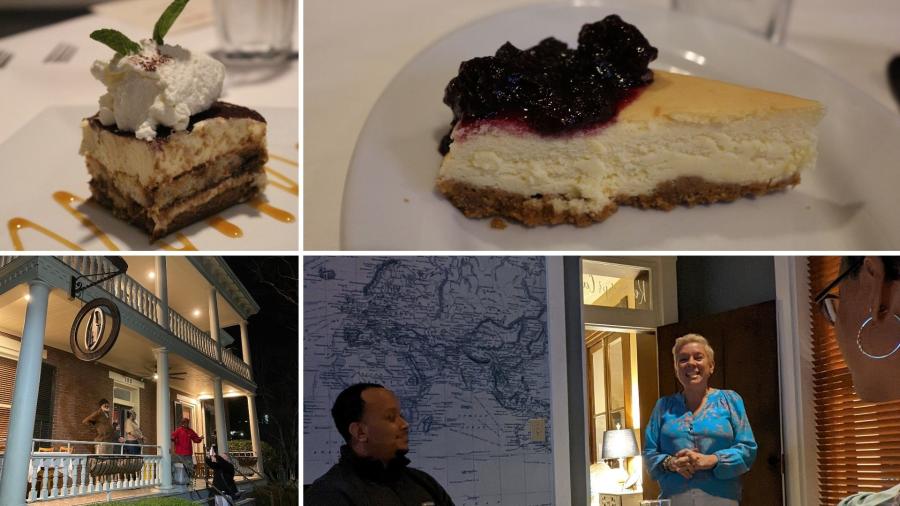 As you slowly (because you may be getting full) make your way to the last stop, you'll pass by the start of Alabama's statehood, Alabama Constitution Hall Park. In 1819, the state convention was held there, and the constitution of Alabama was created and signed. Denise will also talk about the future of Huntsville and how all of the cranes seen downtown will bring new buildings like a City Hall in the next few years. When you reach the historic Humphrey Rodgers home, you've made it to the final stop of Mazzara's Vinoteca - a Church Street Family owned establishment. This restaurant serves some of the best Italian food in town, but we were here for dessert on this night! You will have the option of the limoncello cake, housemade lemon lavender cheesecake, or the classic tiramisu. It will be hard to choose just one! That's why you bring along someone!
Downtown Huntsville Food Tour Review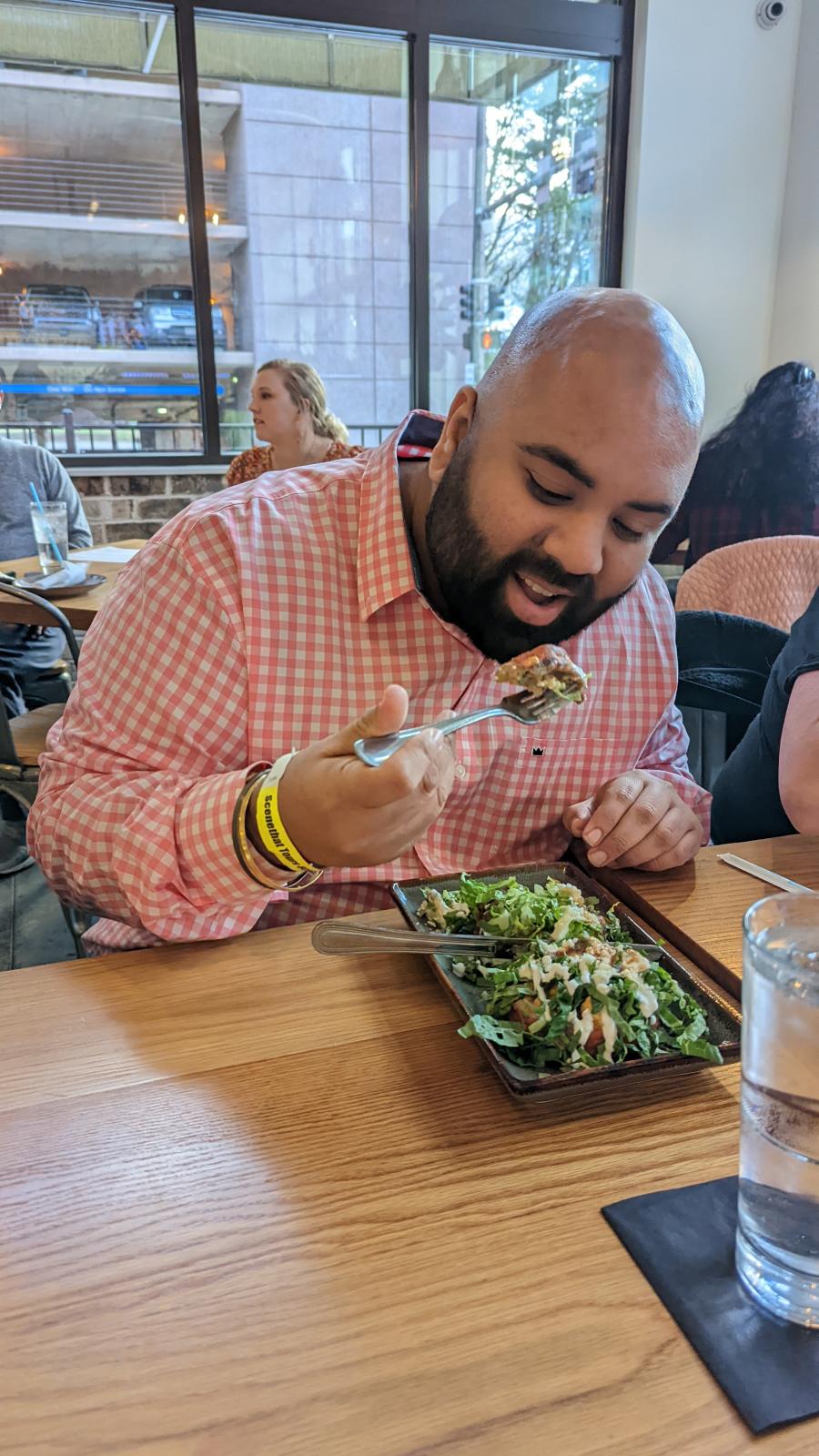 This tour is best with friends, so grab your buddies and sign up to dine around the Rocket City's downtown! We invited one of our friends Akshay Ahuja to participate in the tour. 
He gave us this feedback, "As we wrapped up what was our fourth-course meal of the night - I started to reflect. Was I full? Absolutely. Did I get a variety of food? That's a yes. And most importantly, did I have a great time? To be quite frank, I had more than a great time. I had wonderful conversations with folks on the tour, my stomach (which is truly the way to my heart) was content, and I even garnered a new appreciation of Huntsville's history and art. I cannot recommend Denise's SceneThat food tour enough - I am already thinking about going back and doing it again!"