This February treat yourself, your valentine or your friends to a fun night out in the Rocket City. Many Huntsville restaurants and businesses are offering specials, but the time to book and make plans is now. Good luck narrowing down your search from these partners who shared what they are planning for a romantic night out.
Please note this list is not exhaustive and you are best served to check with the restaurant and make reservations beforehand.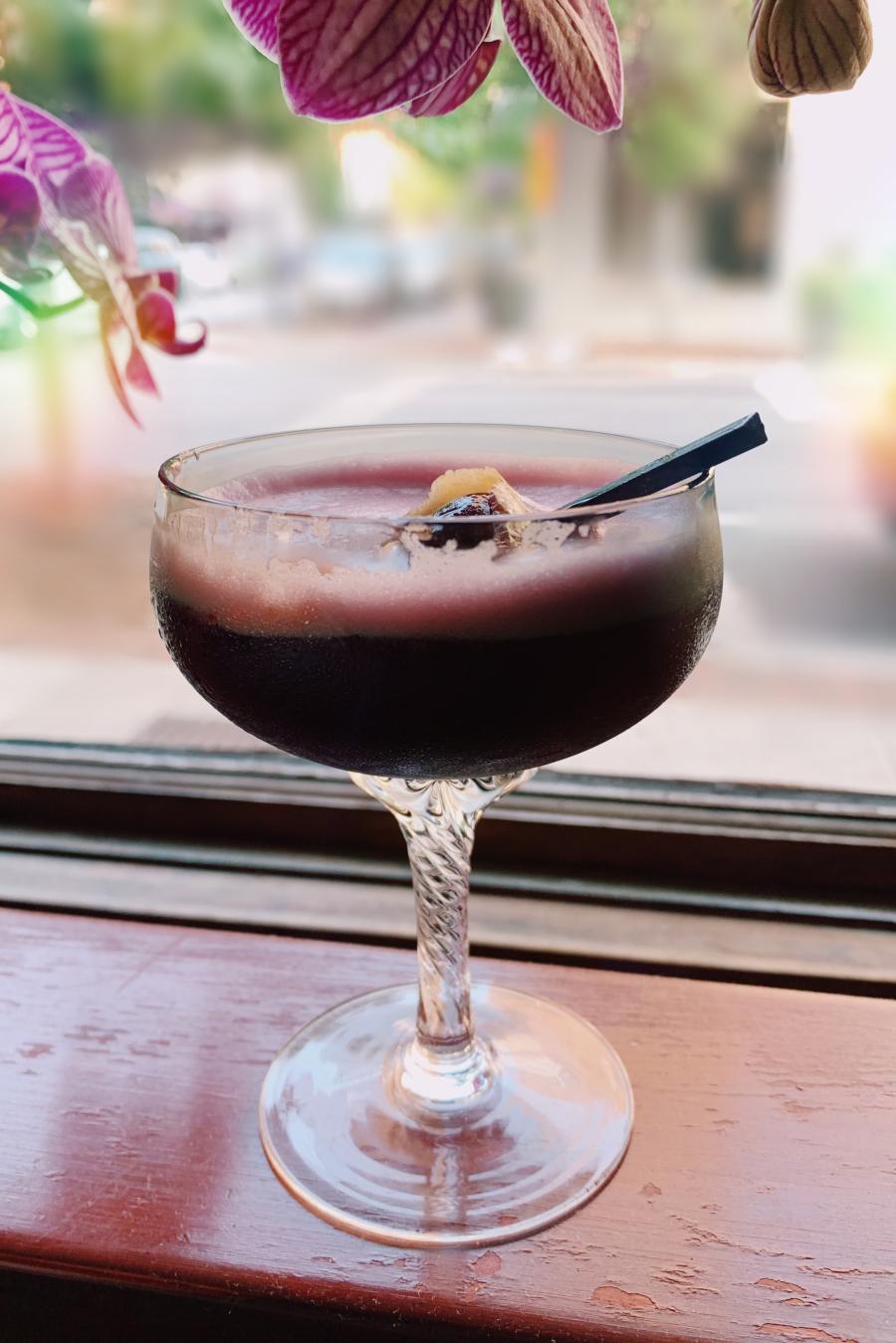 Celebrate your love all weekend at THE BOTTLE! They are taking reservations for their Valentine's Day Celebration on Friday February 11, Saturday February 12, Sunday February 13, and Monday February 14. Chef Andy and Chef Chris are planning some great romantic inspired features on their a la carte menu, so make your reservation today! 
For Valentine's day they are hosting a pre-fix menu of $65 per person excluding beverage, tax and gratuity. For a starter guests can pick from lobster bisque, cornmeal crusted Gulf oysters, or roasted winter beet salad. The entrée will be a herb roasted chicken breast, harissa rubbed salmon, grilled center-cut filet of beef or braised Angus short rib. End the meal with a peanut butter lava cake, sweet butter cake or a double chocolate brownie cheesecake.
La Esquina in downtown Huntsville will be celebrating Valentine's Day on Saturday 02/12 (reservation only) and Monday 02/14 (reservations preferred, walk-ins accepted). They will be using this set menu. It includes starters of El Trio, charcuterie, pear gorgonzola, and a beet salad. The entrees will be "mar y tierra" - a16 oz ribeye with grilled shrimp, red snapper, grilled lamb chops, scallop fettucine, pechuga de pollo, and a taco flight of 4 tacos. The dessert will be the chef's pick.
Head to the Von Braun Center for Rhythm on Monroe's speciality cocktails and menu they are serving up February 10th - 14th. You can make reservations online. They also have a special menu they have prepared that includes an 8 oz black angus filet with grilled shrimp or shrimp and bay scallop scampi pasta.  Their desserts never disappoint with a chocolate for two including blackout chocolate cake, strawberries, chocolate mousse, fresh whipped cream and chocolate curls.
Celebrate Valentine's Day early with a Saturday date night on February 12th at Flight Plan Wine and Tapas. They will have two seatings for this event at 5 PM & 7:30 PM. Enjoy a five-course meal for $85 a person with a wine or beer pairing, or $60 per person without wine or beer. This event is RSVP ONLY so give them a call at 256-715-1653 to make your reservations. Course 1 will be: House salad with sparkling vinaigrette or goat cheese log with an olive oil drizzle served with crackers. Course 2 will be: California dates stuffed with chorizo sausage, wrapped with bacon and deep fried with a balsamic glaze or Roasted Red Bell pepper soup. Course 3 includes: Caprese Eggplant fried, mozzarella, Romesco sauce and Roma tomato and pesto drizzle or Fried Green Tomato topped with pepper jelly, pork belly slice and blackberries. Course 4: pork tenderloin with red mushroom sauce and roasted broccoli or spicy chicken skewers with jasmine coconut rice. And you will end the meal with ancho chili chocolates or iced berry turnover.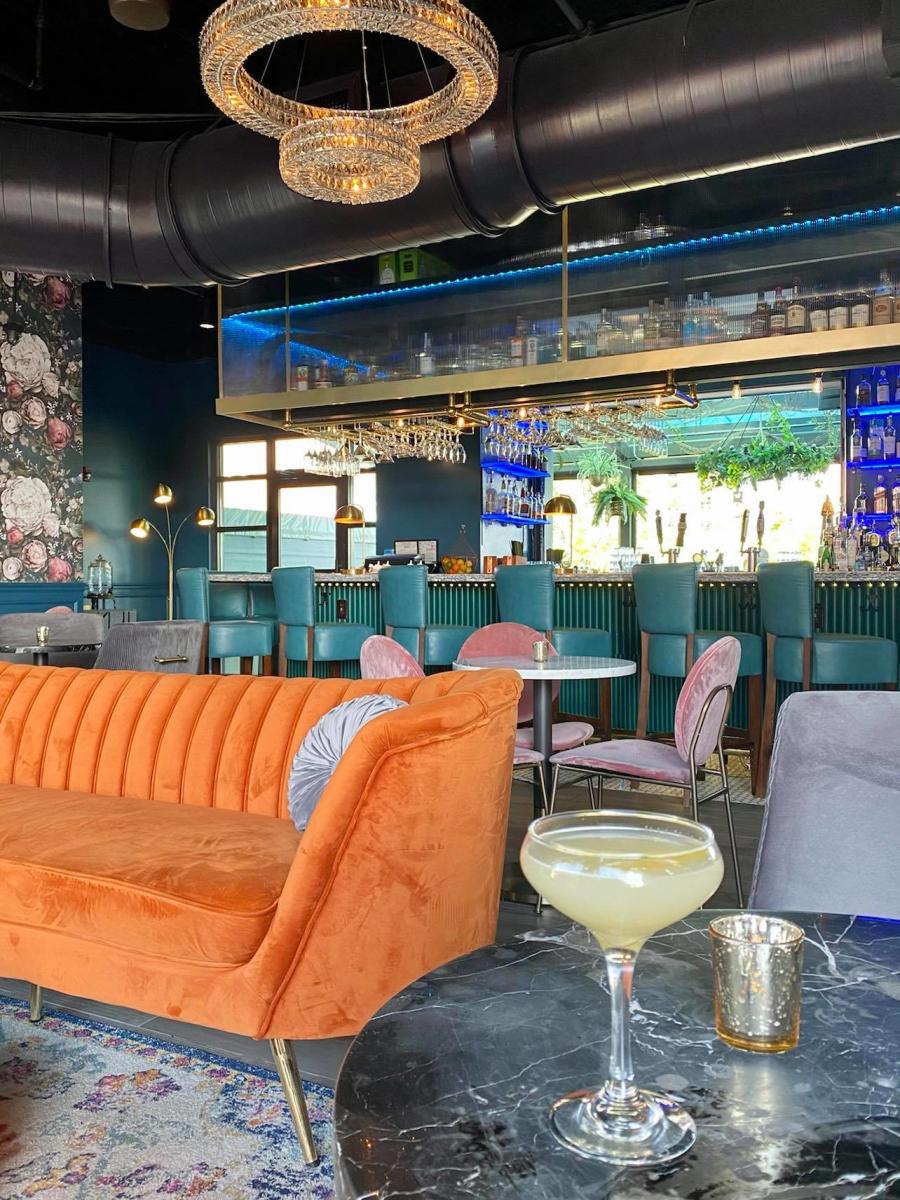 As part of their traditional Monday Vintage Night theme, Stella's Elixir Lounge is celebrating Valentine's Day as one super classy time machine! They will carry you back to the golden days of jazz, with stylish decor, a romantic atmosphere and of course, snazzy music! Showcasing Nashville's best swing music, The Happiness Band will be playing from 8 pm until midnight. They have partnered with Southern Elegance Dance Studio who will be providing dance lessons (included in the ticket price) at 7:30 that evening! Get involved with the theme and dress to impress in your best vintage outfit! You can purchase presale tickets of $6 to secure your spot at the door!  Must be 21+ with a valid ID. No smoking/no vaping strongly enforced.
They are offering a Valentine's Day Special on Friday, February 11 and Saturday, February 12. They will offer both lunch and dinner with a prefix price of $75 for two people plus tax and gratuity.
You will get: Asparagus Rolls, Soup or Salad, Pan-fried Chicken or Pork Schnitzel with choice of gravy, Bratwurst and Polish Sausages served with sauerkraut, Hunter's Stroganoff with spätzle, Choice of one additional side, and Chef's choice dessert.
If you're looking for somewhere to take your favorite beer lover for Valentine's Day, Das Stahl Bierhaus has got you covered with a four-course beer pairing dinner! Tickets are $40/person & will include a 4-course dinner plus a curated pairing flight & a 10oz pour of your favorite selection. They are limiting this to 20 tickets.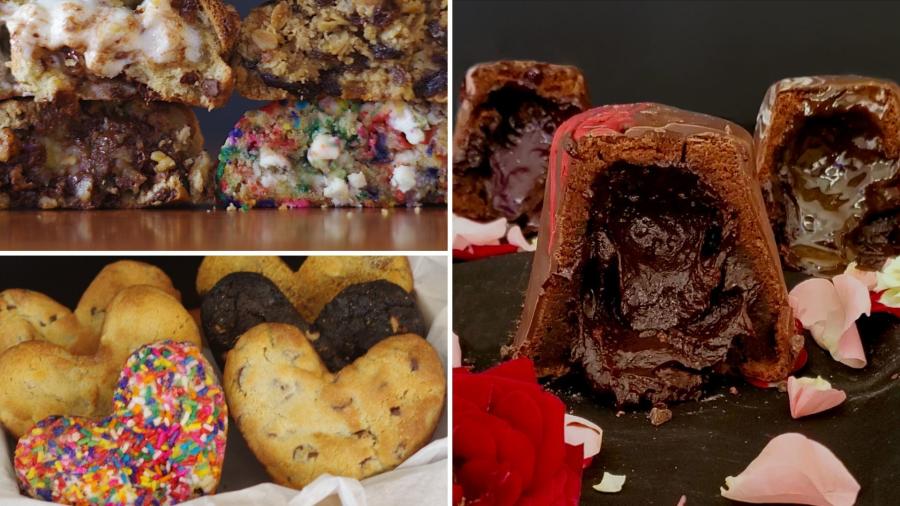 The Bakingtist is offering two specials for Valentine's Day for you to order. The first is a chocolate trio of lava cakes that includes everything you need to cover your Valentine's Day bases. Indulgent, decadent lava cakes – covered in a tempered chocolate shell just like real gourmet chocolates, topped with fresh roses, and filled with gooey cake. If that's not love, what is? Three lava cakes: Chocolate, Chocolate Caramel, and Chocolate Raspberry. Each cake is approximately 3/4 of a pound. The second special are heartbreakers. Our ever-loved Groundbreakers are willing to break hearts for your love. Making an appearance only for Valentine's Day…embrace your true love: a half dozen, 1/3 pound, gooey, heart-shaped…Heartbreakers. Order your Bakingtist goods online.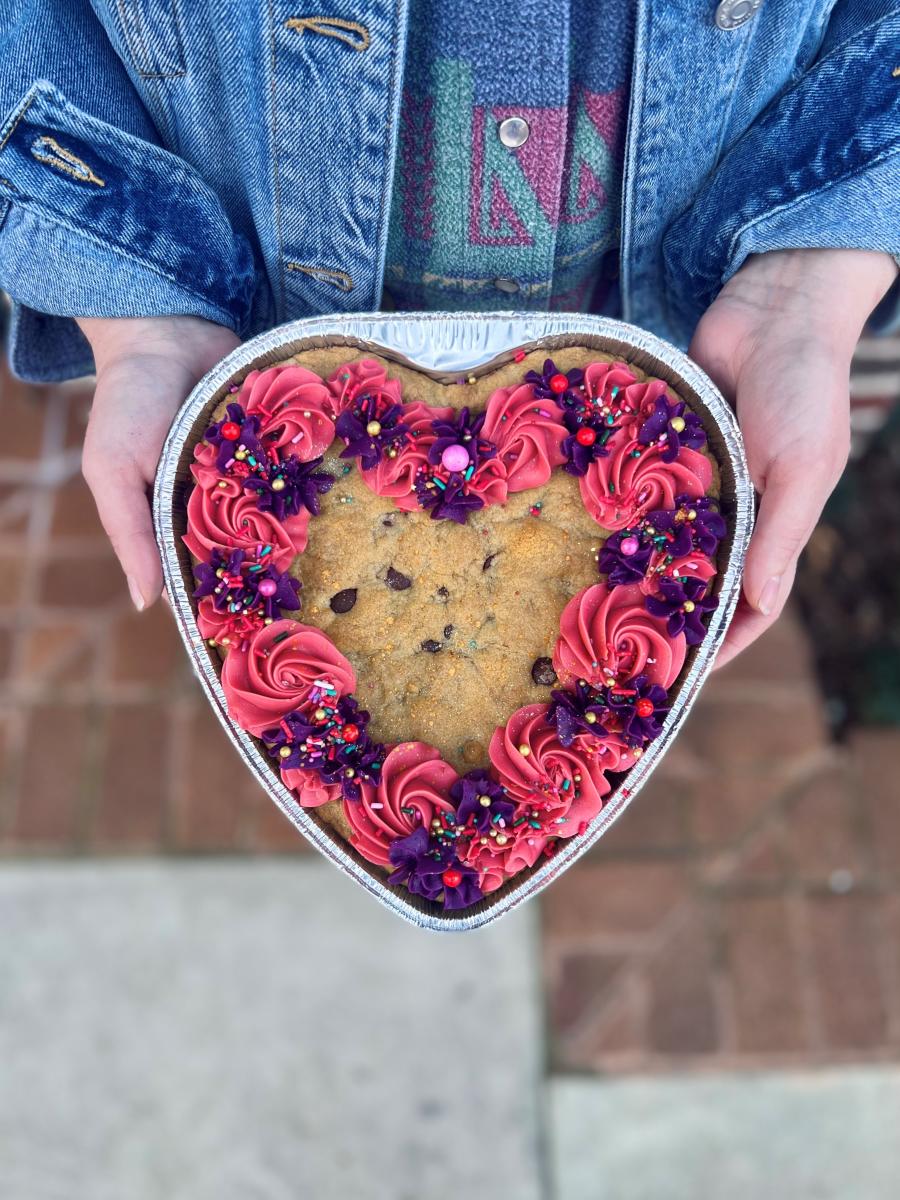 The Moon Bakeshop is offering a heart shaped 9' cookie cake for $36. This cookie cake is topped with their signature vanilla buttercream, sprinkles, and (of course) edible glitter! All within an adorable heart shaped gift tin.
These items are available through their preorder online, and you can pick your pickup date.
Maybe you just want to start your weekend or Monday morning out with some coffee. Honest Coffee Roaster's Valentine's Day specials are a raspberry dark chocolate mocha and a raspberry and chocolate biscotti with a raspberry drizzle.
We were able to get the scoop from Rooster's Crow Coffee about their specials for February. It will be a white chocolate-covered strawberry latte. On February 14th they will have a one-day special called "Sweethearts Buque". 
Good Company Cafe is keeping it simple with an order and pick up plan so you can enjoy from your home. They are offering a charcuterie for two, lobster mac and cheese, or a chicken dinner. Their sides you can order include focaccia and a side salad. Don't forget the dessert with either a dozen chocolate covered strawberries or a 6 inch two layer white chocolate raspberry cake.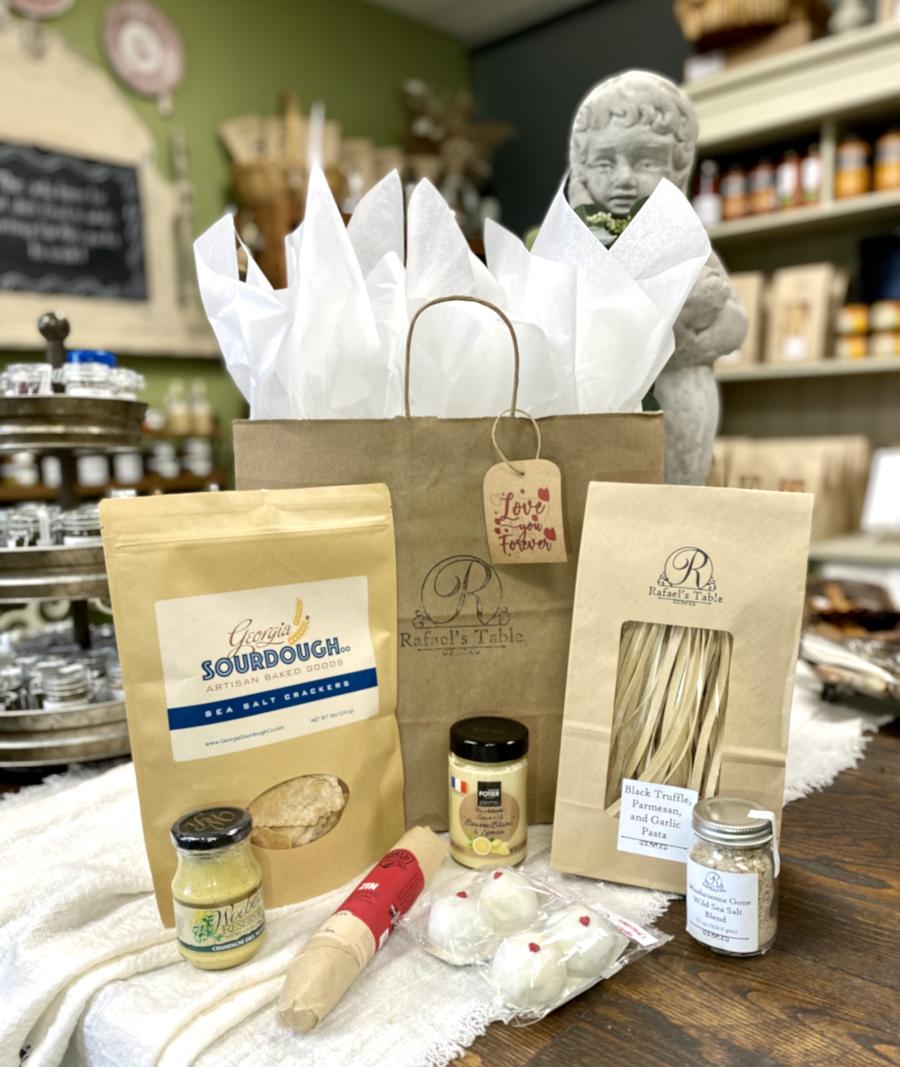 Rafael's Table inside Lowe Mill A&E will be offering Valentine's date night bags. Wanting to have a romantic dinner at home on Valentine's, but also want it to be quick and easy?  Rafael's Table can help you with that! Their "Valentine's Date Night Bags" are exactly what you're looking for!  There will be two specially priced options, and each will include the appetizer, a delicious pasta meal, and a special Valentine's sweet for dessert for two.  Pre-orders will open on their website on February 2 and will close on February 10 for store pickup on February 11 & 12. 
Cocktails & Cosmos at INTUITIVE Planetarium
The ring you may be hoping for this Valentine's Day pales in size compared to the rings around Saturn! On Friday February 11th, head to the U.S. Space & Rocket Center's INTUITIVE planetarium and explore not just Saturn's rings but others within the Solar System and even Beyond(ce) in a show that will have you singing. 
Continue celebrating Valentine's Day on February 17th as Touronimo partners with Church Street Wine Shop to bring you a decadent treat! Combining two of everyone's favorite indulgences – wine and chocolate! Not surprisingly, when carefully paired, they provide a bold taste experience.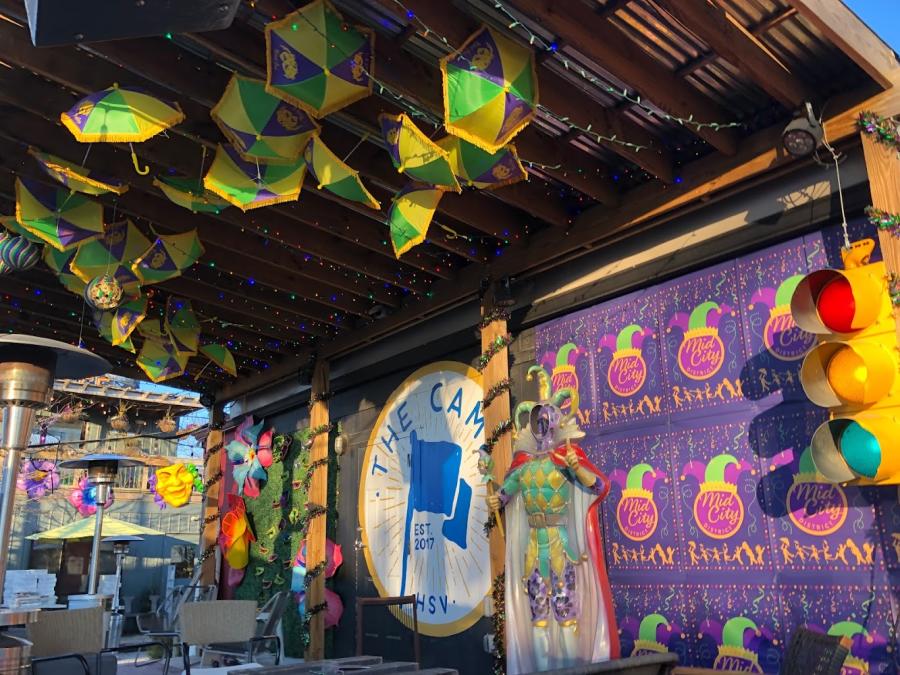 Let your good times roll with a fun night at The Camp as your celebrate Mardi Gras early! Snag a private area and treat your date to some king cake, cajun food, and amazing drinks.
Get ready for the best girl's night out yet at Stovehouse in the new Electric Belle. You can get a four-person table with one bottle of wine for $20 and an eight-person table with two bottles of wine for $40. There will be drink specials, games, a viewing of Magic Mike, a build your own bouquet bar from Noëlla's Flower Truck and charcuterie from Cured and Company. 
: https://bit.ly/34CEtbu
Ride on with Rocket City Rover
Grab your Valentine or your Galentine and cruise around downtown Huntsville with your favorite purple cup drinks. Compete for fun team prizes playing a photo scavenger hunt and interactive bar guest bingo! Prizes will be awarded each ride!  Book your ticket in advance here.

Neon Lilly 
On Saturday, February 12th, Neon Lilly will have our own #iHeartHsv writer and musician Taylor Burton performing at their location at Bridge Street Town Centre.
On Friday, February 11th and Monday, February 14th Vintage Cigar Lounge is hosting a cocktail workshop at their location at Bridge Street Town Centre. $40 / person. 
Celebrate Valentine's Day and learn to build the perfect cocktail in this hands-on, socially distant, workshop. With the guidance of Vintage Cigar's top sommelier-instructor, you will be crafting innovative new cocktails and discovering your inner mixologist.
Whether you're hosting friends or unwinding with your partner, making gratifying, high-quality cocktails at home is a skill worth having. This class is your bartending 101 guide into spirits, cordials, and all the tools of the craft. This hands-on, class to bartending will have you experimenting with flavors like a master mixologist.
This class will include 2 cocktails per person + chocolate pairing.
Kona Grill at Bridge Street Town Centre will be hosting a Valentine's Weekend along with a Big Game party for the football fans too. You can find their menu specials that are available for dine-in, takeout or delivery online. 
Join The Wine Cellar in Huntsville for a super fun charcuterie workshop! Learn how to build your own Charcuterie board using tips and tricks learned hands-on, in class. Feel free to eat your food during the event, or take it home to show off to your friends! It's $75 for the class and it will take place February 12th at 1pm. Learn more about the workshop online.
Charcuterie Class and Beer Pairing
Join HoneyBox and Graze Charcuterie Co for a Valentine's Day Date Night. They are offering a charcuterie workshop and craft beer pairing at Bowler Hat Brewery on February 14th at 6pm.
Together, you and your date will create a Charcuterie board, while tasting and pairing delicious craft beers from Bowler Hat Brewing Company. Tickets are $125 for two people.
Valentine's Paint & Sip
Go on a  painting date night with your boo or your friends on February 12th with The Social Elite Group. Everyone will receive their own pre-drawn canvas to create their own piece of art! The location at Lotus Lounge is very inviting and relaxed. They will also have a live DJ so you can turn up with your friends or partner. Happy hour drinks will be available for purchase and complimentary wine will be given out while supplies last! ( You must be 21+ to drink). Tickets can be purchased online.
See a show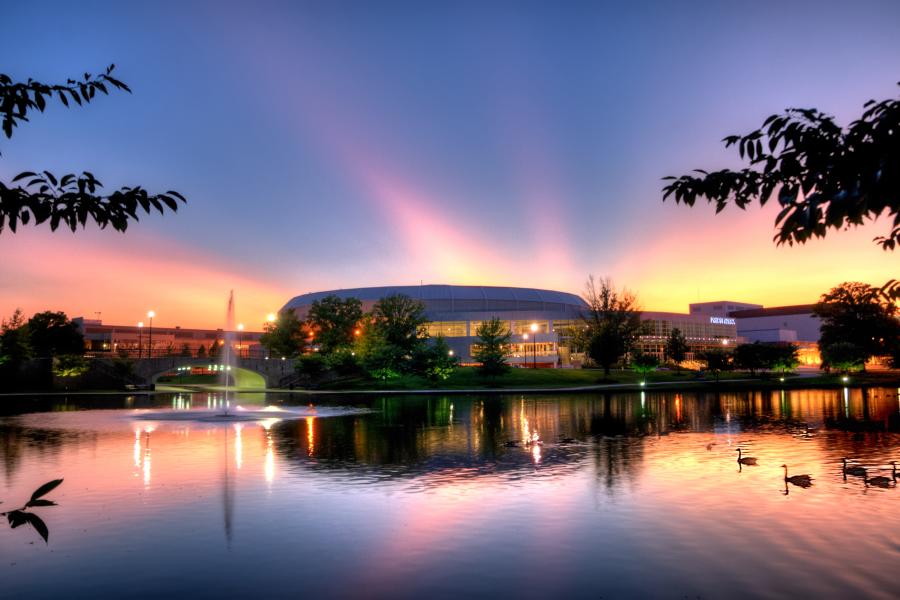 The Von Braun Center will have Laughing for Love Comedy Tour happening on February 10th. See comics : Kountry Wayne, Lil' Duval, DC Young Fly, and Gary Owen!
Stand Up live in Huntsville is hosting HUNKS The Show on Galentine's Day (February 13th). Attendees must be 19+ and the doors open 5:30pm. HUNKS The Show is the #1 Bachelorette Destination on tour, celebrate your bachelorette party, birthday, divorce, or just because. What a great way to treat you and your besties to a well-deserved girls' night out. See for yourself what all the fuss is about.
Shenanigans Comedy Theatre will be hosting a night of Music and an Improv Comedy Competition where you can be as judgy as you wan on the weekend before Valentine's Day.
Watch A Lover's Story - live with Charles and Tanya Harris on February 12th at Robyn's Garden.  Its Valentines Weekend and there's not a better way to spend it with your significant other than coming out to Robyn's Garden and getting the live band experience with a happily married couple, Charles & Tanya Harris!! You'll be in for a treat! Get your tickets as soon as possible, seats are limited!
The Studio Theatre in Lowe Mill is presenting a  a different kind of Valentine's Day treat! Love Letters is an unique and imaginative theatre piece is comprised of letters exchanged over a lifetime between two people who grew up together, went their separate ways, but continued to share confidences. As the actors read the letters aloud, what is created is an evocative, touching, frequently funny but always telling pair of character studies in which what is implied is as revealing and meaningful as what is actually written down. It's happening nightly at 7pm inside Lowe Mill A&E and a Saturday Matinee at 2pm.
Harvest Arts presents a beautiful evening of chamber music and paintings for Love Notes from Abroad on February 11th. Founder, flutist, and painter Madeline Cawley will be joined by harpist Dr. Sarah K Crocker to share a program of romantic music from around the world. Enjoy this global tour from the comfort of your seat, as the duo takes an intercontinental musical journey, each location paired with a love letter from that region. After the concert, enjoy an art exhibit of Cawley's paintings. Tickets include refreshments and dessert.