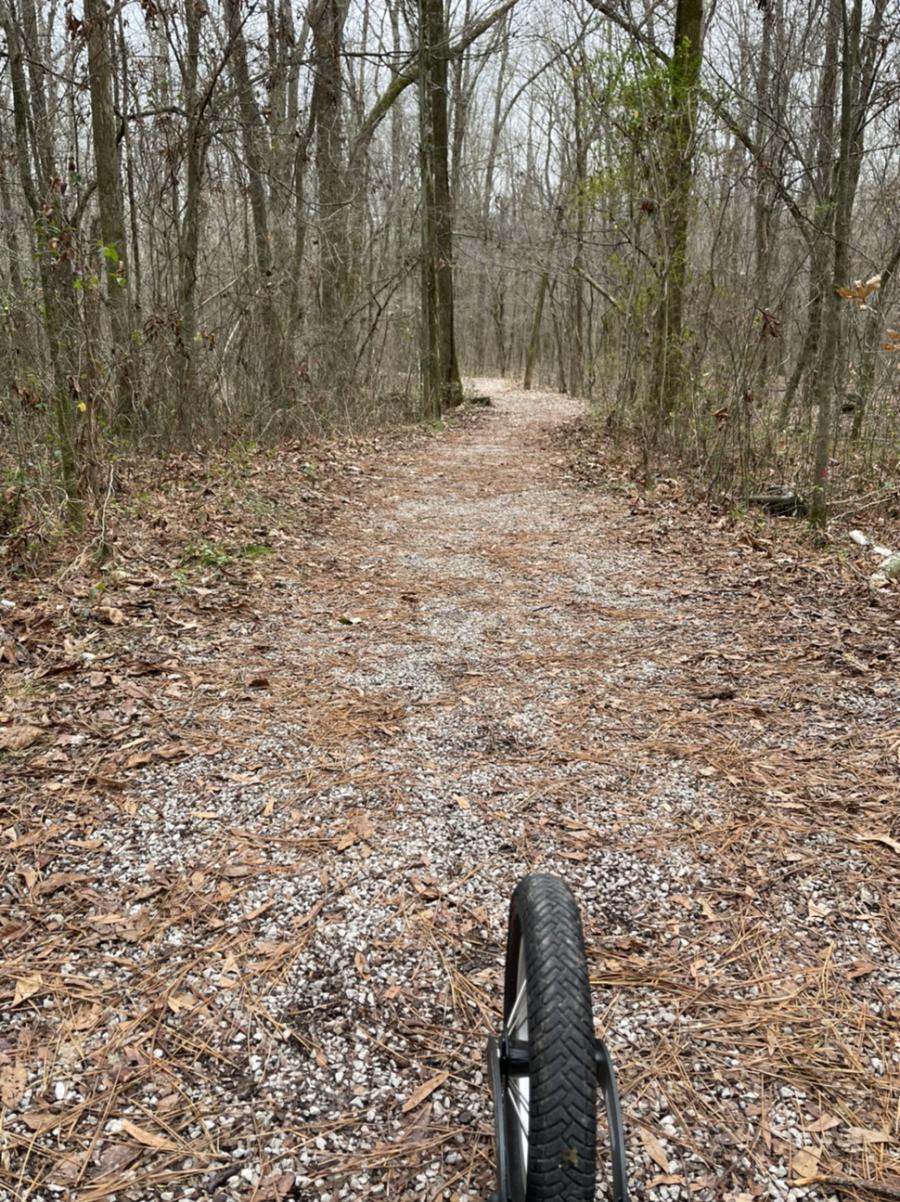 Sometimes you've got to just get out of the house, lace up those hiking boots, and hit the dusty trail. Then again, sometimes you're not looking to get too invested in an adventure. This past weekend was one of those "let's not get crazy" lazy Saturdays where we just wanted to get off the couch, but for no more than an hour. We had episodes of "The Americans" to watch on Hulu. (Wow, what a show!)
Before I discovered the back way of getting to work, I used to drive down I-565 every morning on the way to my office in Tanner, AL. I would always see this frontage road over to my left that just...stops. Sometimes there'd be a car or two parked at the terminus.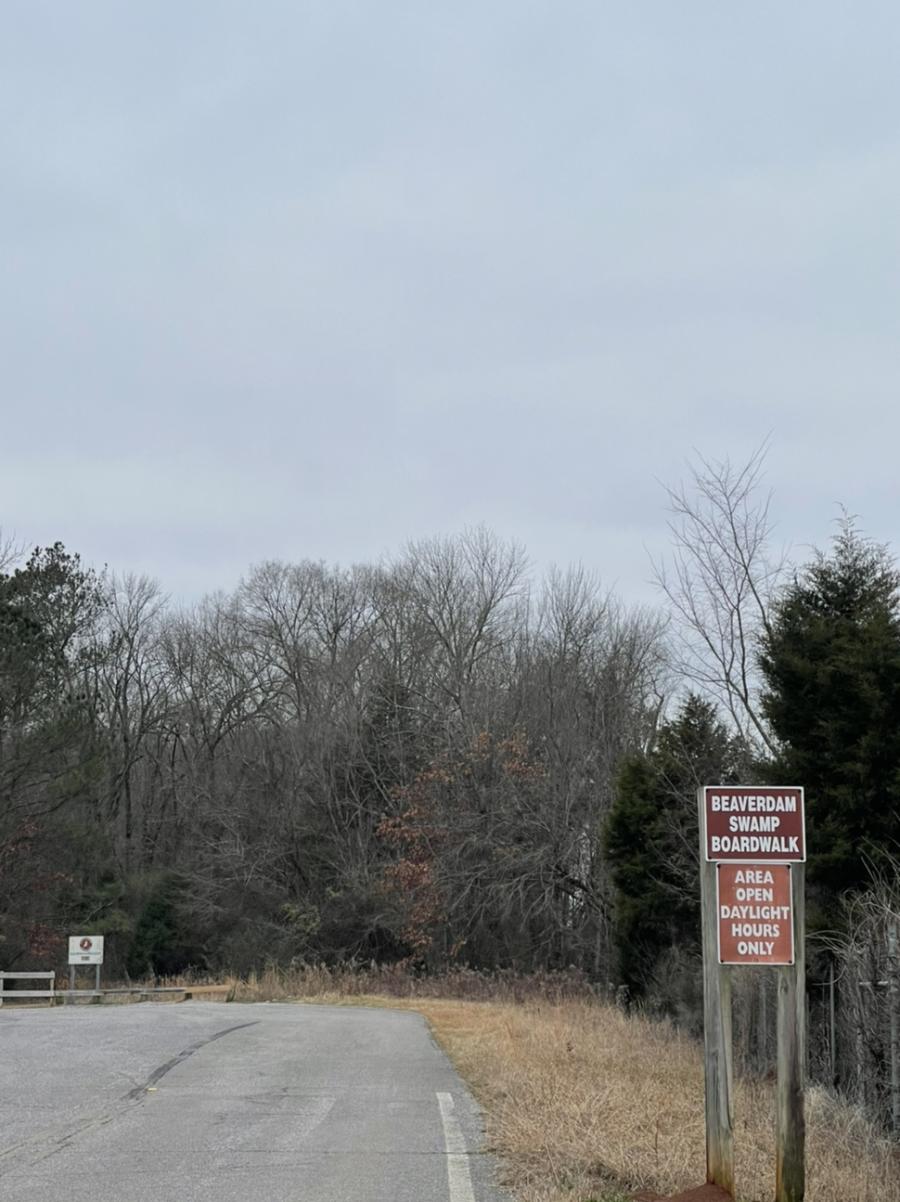 A few years ago, we were Googling some places around the Huntsville metro to explore, and I saw pictures of this place called Beaverdam Swamp Boardwalk. Giving it a further Google showed that this was just beyond that mysterious "Road to Nowhere" that I wondered about on my daily commute.
From where I live in Madison, I take County Line Road, crossing I-565, and almost immediately turn right on Old Highway 20. This is the mysterious "Road to Nowhere" that ends at a parking area at the head of a short gravel trail to the Beaverdam Boardwalk. Here's a link to the map.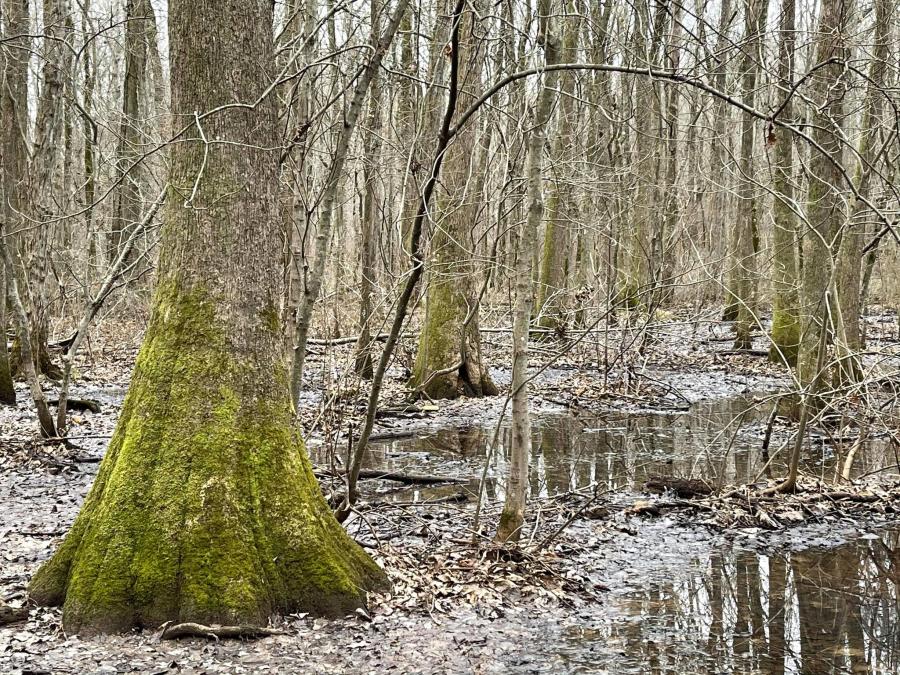 The largest tupelo swamp in Alabama, Beaverdam Creek Swamp is teeming with wildlife in the spring and summer months – why it is that Dana and I always go in the winter remains a mystery to me! I saw lots of natural beauty, but only one creature – a Red-Bellied Woodpecker who eluded my camera. I am sure had we stayed longer than our hour, we would have discovered more animal life.
Part of the vast and wonderful Wheeler National Wildlife Refuge, the boardwalk is Site #25 on the North Alabama Birding Trail.
We will have to visit in warmer weather to see Barred Owls, Great-Crested Flycatchers, Downy Woodpeckers, Yellow-Billed Cuckoo, Tufted Titmice, and lots of other feathered fauna. I've heard anecdotally about the alligators, in addition to the requisite frogs, snakes, and turtles one would expect to see.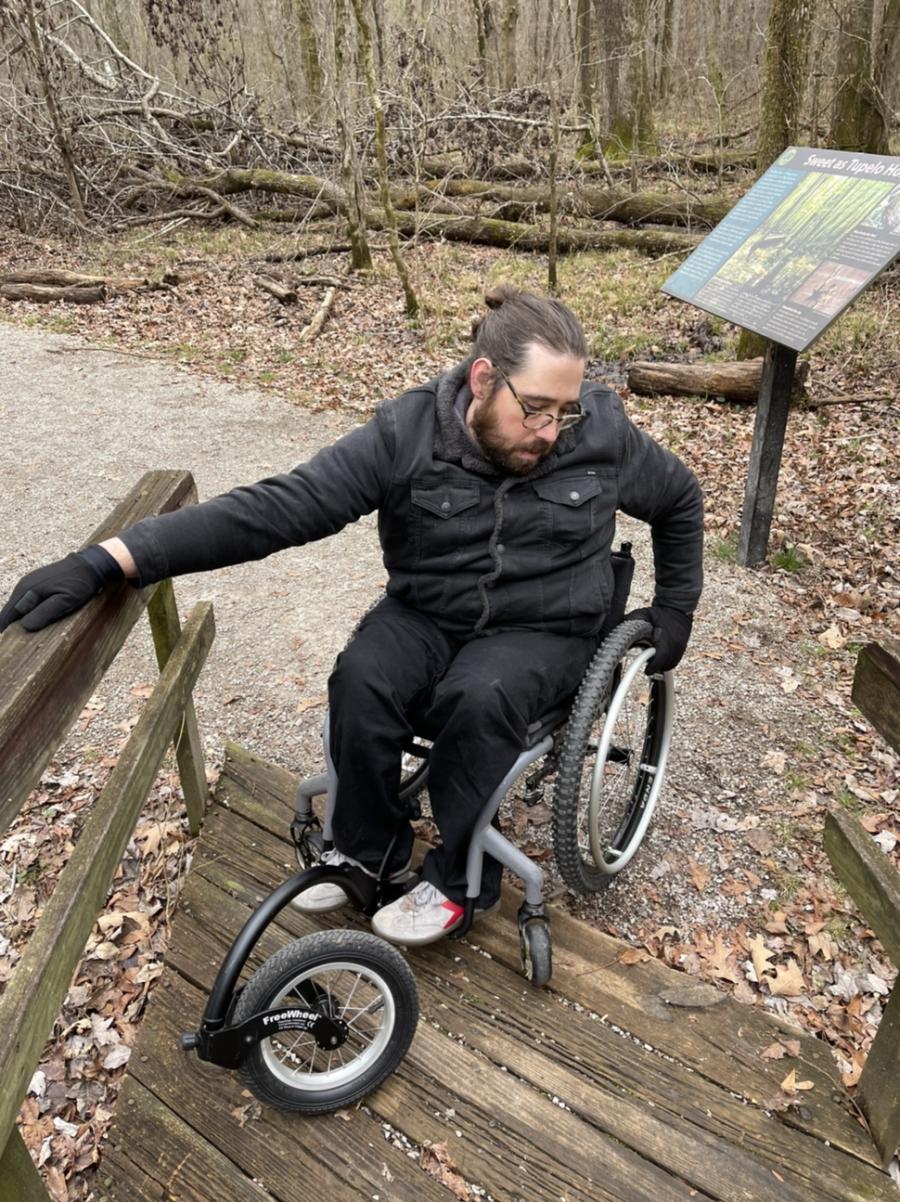 This was our third or fourth time over there, so I knew I'd want my Freewheel attachment and my Sumo wheels on my chair to glide over the gravel. It's not completely necessary, as the trail is packed well, and it's just small pea gravel, but it certainly helps during this short section.
The start of the boardwalk has a bit of a hop up on the end of the ramp. I like to pop a wheelie and then grab the handrail to pull myself up. We were able to do the whole boardwalk this time - - about a mile round trip. On a previous visit, a large, old tupelo tree had fallen across the boardwalk, cutting our trip short. We could see the new lumber where it had been repaired, as well as evidence of other tree-fall damage at the very end of the boardwalk.  It is clear that there's a dedicated individual or team that maintains the woodwork, and routinely checks on the structure.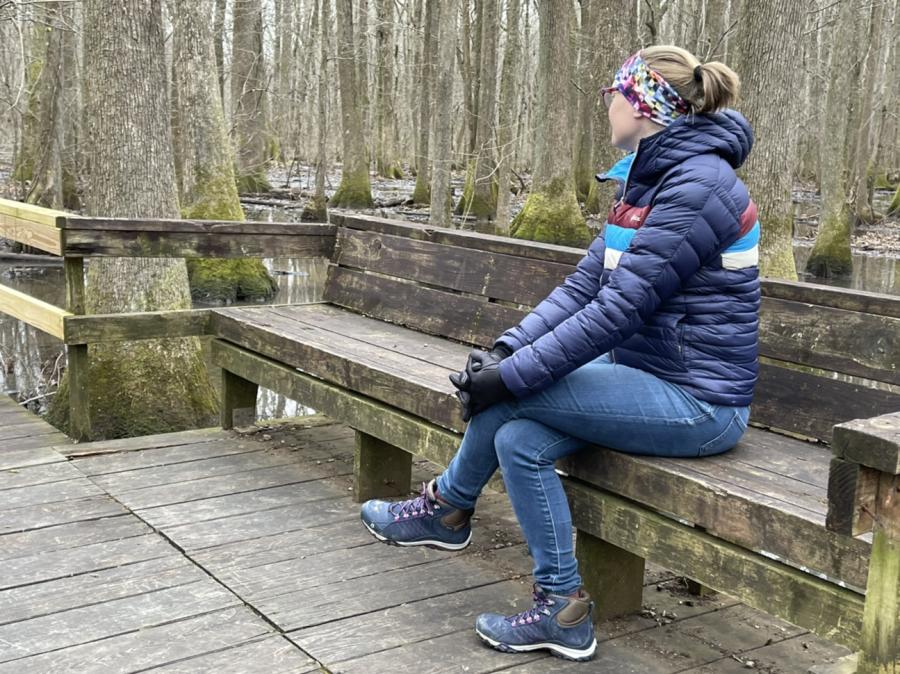 There are several pull-outs with benches along the boardwalk where you can stop to take in the surroundings without being in the way.
The boardwalk is a popular place for dogs and strollers, but not the kind of place you'd want to take a bike. We started our walk alone on the trail, but we must've attracted some folks - there were two other groups by the time we left.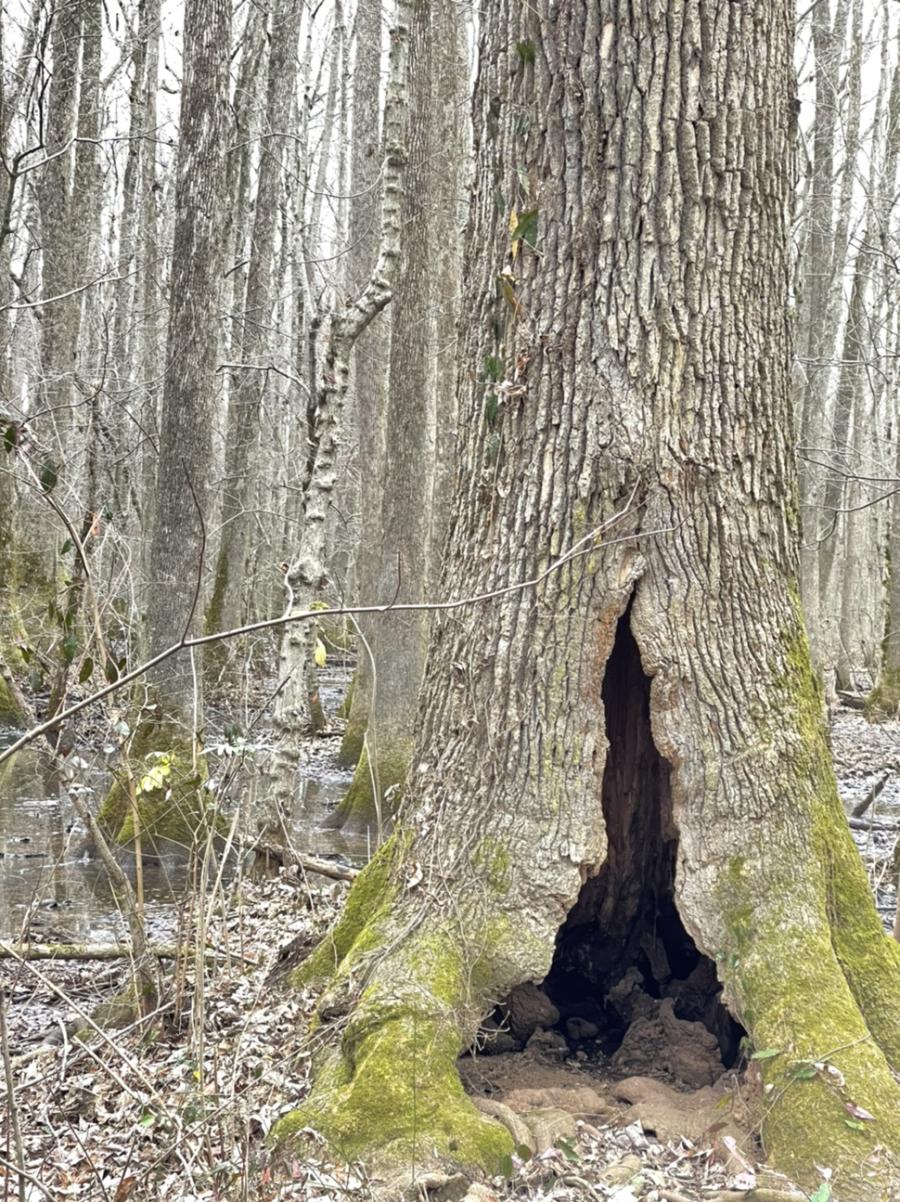 I'm always amazed at how close to the beaten path Beaverdam Boardwalk is – it's quite close to the interstate. Yes, you will hear cars in the background as you walk the planks. However, I never find the road noise to be intrusive in any way.  This hour-or-less nature stroll is one of my favorite ways to just get out of the house for a bit, without feeling like I'm on a true hike.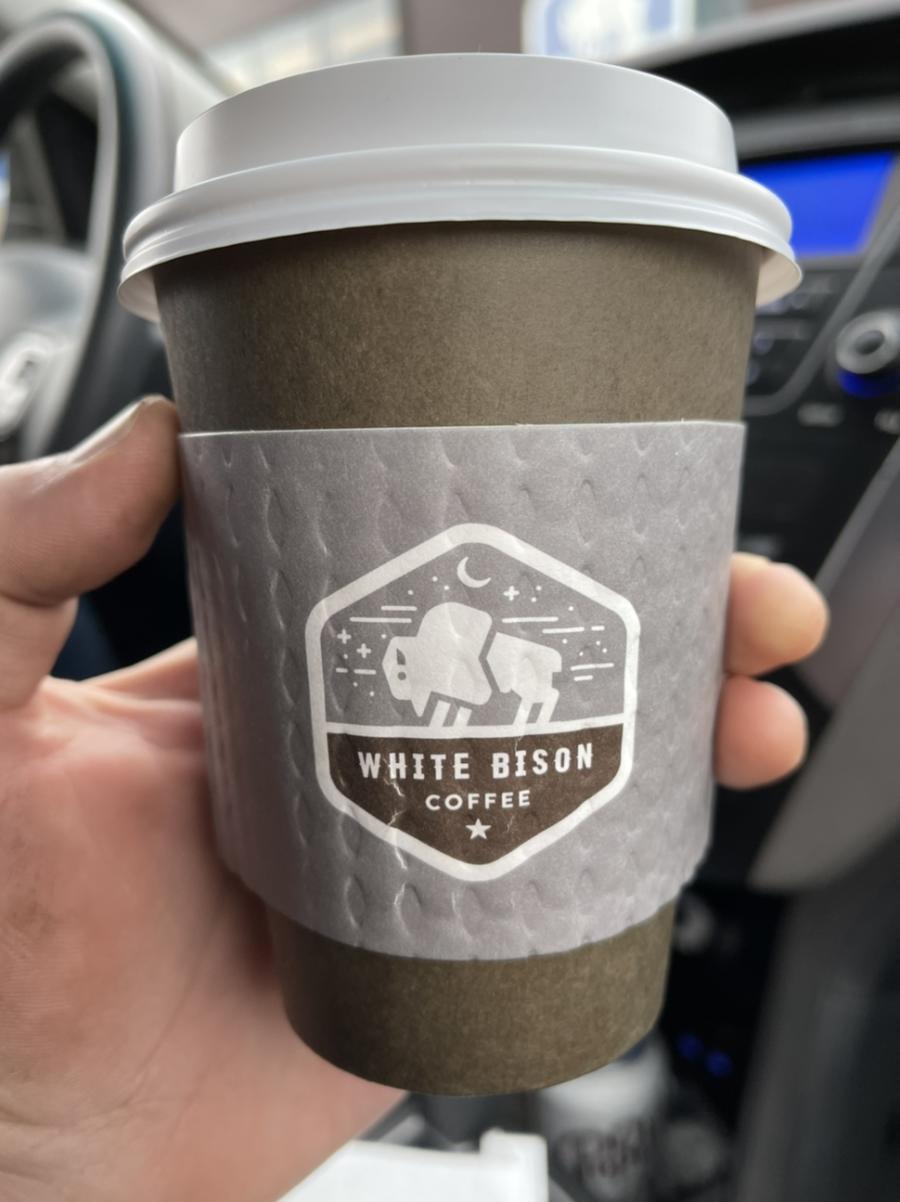 After our "non-hike", we went over to one of my new favorite chains – White Bison Coffee. It's located at 115 Graphics Drive in Madison, which is part of the Twice Daily gas station and convenience store. Over near Duluth Trading Company where Wall-Triana and 565 converge, the Nashville-based coffee purveyor seems pretty consistent. The staff is beyond courteous. (The kicker for me was the drive-thru window). They're open 24/7 now, which is nice!