SEC Gymnastics Championships

Click here for important attendee information
Event Schedule for Sessions I and II
Welcome to the Rocket City!
We welcome the athletes, their friends and families, and all attendees to Huntsville for this year's Southeastern Conference Gymnastics Championships! We're here to serve as your guide to Huntsville. Everything from local restaurants to things to do while you're in town and more, we want your visit to the Rocket City to be... out of this world. 
Bonus: access special discounts to local restaurants and other venues with our digital pass!
We're betting your time in Huntsville will reveal things about our city that you maybe weren't expecting - like our sublime mixture of art and science, our rich history, and so much more. Before you arrive, here are some key resources to help make your visit as smooth as possible:
Looking for accommodations with a great in-house restaurant? Or a hotel that's close to the Von Braun Center, so you're right near the action? How about a place with an indoor pool? Browse our lodging options to find your perfect stay.
All you need to know about the Rocket City - download it or get your print copy from the CVB!
Both Uber and Lyft services are available in Huntsville.
What to do, when to do it, and maps to get you there.
The safety of our visitors and event attendees is our top priority. This event will adhere to the Von Braun Center's health and safety protocols, as well as precautions outlined by the SEC, including (but not limited to) required facial coverings, physical distancing, and increased sanitization measures. As an additional safety measure, the SEC is implementing a clear bag policy for this event. Read here for details on the bag policy and other important attendee info.
While You're Here, Check Out...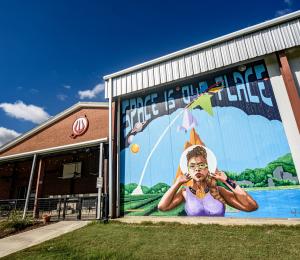 5 Unexpected Things to Do in the Rocket City
Think you know everything there is to see and do?