FOR IMMEDIATE RELEASE
September 1, 2020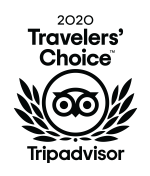 (Huntsville, AL) – The Huntsville/Madison County Visitor Center® has been recognized as one of the best points of interest for visitors in the region, based on 2019 traveler reviews on Tripadvisor. This award is given to the top 10% of establishments listed on the travel website.

The Visitor Center has been recognized with the Tripadvisor Certificate of Excellence for several years, entering into the Tripadvisor Hall of Fame in 2019 for such long-standing commitment to superb guest experience.  

The awards are based on a full year of Tripadvisor reviews, prior to any changes caused by the pandemic, and show travelers' ultimate favorite, top 1% of hospitality businesses around the globe.

"Winners of the 2020 Travelers' Choice Awards should be proud of this distinguished recognition," said Kanika Soni, Chief Commercial Officer at Tripadvisor. "Although it's been a challenging year for travel and hospitality, we want to celebrate our partners' achievements. Award winners are beloved for their exceptional service and quality. Not only are these winners well deserving, they are also a great source of inspiration for travelers as the world begins to venture out again."
Huntsville/Madison County Convention & Visitors Bureau (CVB) personnel were delighted to be recognized with this achievement.

We are honored to receive this award, and with the outstanding customer service our staff provides, it comes as no surprise," said Judy Ryals, President/CEO of the CVB. "Our Visitor Information Assistants go above and beyond to ensure every guest is shown the Southern hospitality we're known for, and leave them with a positive, lasting impression of Huntsville."
Lynne Williams, Visitor Center Manager for the CVB, added, "Visitors are very appreciative for the assistance they receive from our knowledgeable and passionate staff. Our guests frequently recommend the Visitor Center to others that may be traveling to Huntsville, and those word-of-mouth referrals are crucial to both spreading the word about our services and educating visitors about what Huntsville has to offer as a travel destination."
Visitors and locals alike can stop by the Huntsville/Madison County Visitor Center® at 500 Church Street NW, Suite One, Huntsville, AL 35801 any time during operating hours (Monday – Saturday, 9 a.m. – 3 p.m. and on Sundays from noon to 3 p.m.).
For more information, visit www.huntsville.org or contact Kristen Pepper, Director of Marketing for the CVB, at 256-551-2294 or kristen@huntsville.org.
###