A worldwide pandemic has made food delivery services like GrubSouth even more popular lately now that so many of us are embracing homebody tendencies. Huntsville's own local service has worked with new restaurants and helped keep them afloat while providing a service to those staying home.
Dana and I both love to cook. I almost never cook because I hate to clean. She loves to cook – and is much better about the clean-up. However, a couple of times a week, we're just tuckered out and decide we'd rather not cook.
We began a concerted effort to give our business to local restaurants on a regular basis during this shutdown. A favorite take-out order is from Madison's Main Street Cafe, home of the best Poulet de Normandie and strawberry pretzel salad I've ever had. Sometimes, we don't even want to drive to our favorite restaurants for curbside pickup.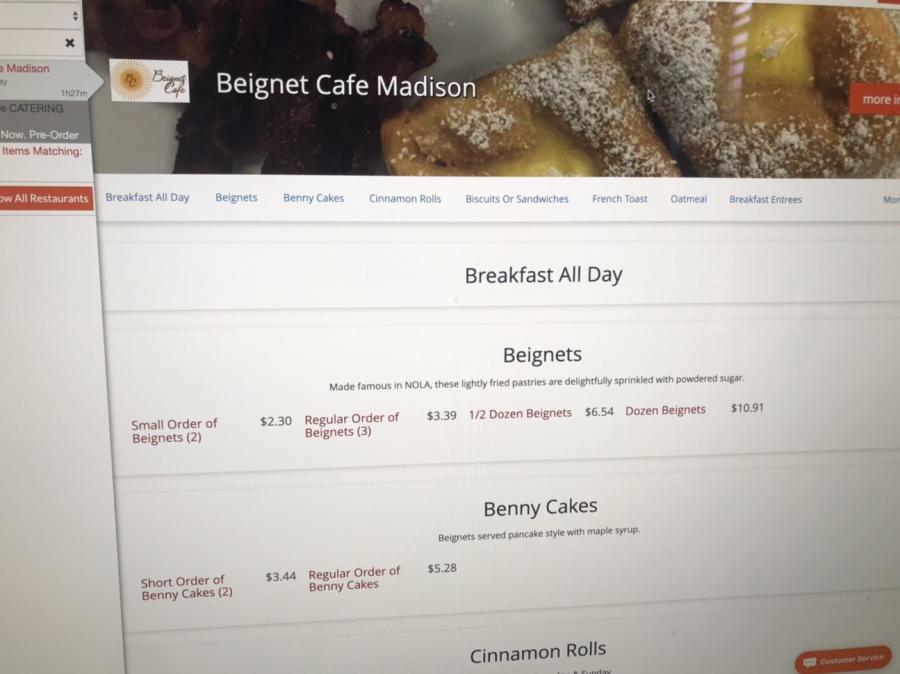 Enter Huntsville's own GrubSouth.
A popular third-party restaurant delivery service since 2012, they've been doing a lot of the legwork for the Burton household lately. A worldwide pandemic has made services like GrubSouth even more popular lately, now that so many of us are embracing homebody tendencies. We recently decided to send in an order for a lunch delivery, guessing that they might be less busy midday than at dinner time.
GrubSouth is affiliated with more than 720 restaurants, according to the company's Madeline Sandlin, with 400 of those in the greater Huntsville area. It delivers more than 2,000 orders a day, with a growth of 30 percent during the pandemic. It is not only in the Rocket City and Madison, but Athens, Decatur, Hartselle, Florence, Muscle Shoals, and even Chattanooga. I won't be getting Chattanooga's Aretha Frankenstein's pancakes delivered, though - GrubSouth will deliver to me from their partner restaurants that are within a 7-mile radius of my house in Madison. (For what it's worth, local groceries sell Aretha Frankenstein's mix, and you should try it.)
When you go to GrubSouth.com, you will first be asked to enter your address. Generated from that is a list of restaurants and their estimated delivery time. 
The ceremonial back-and-forth "Hey, babe, what food are you in the mood for?" took only a couple of minutes this time, before I suggested a nearby joint that I knew would hit the spot.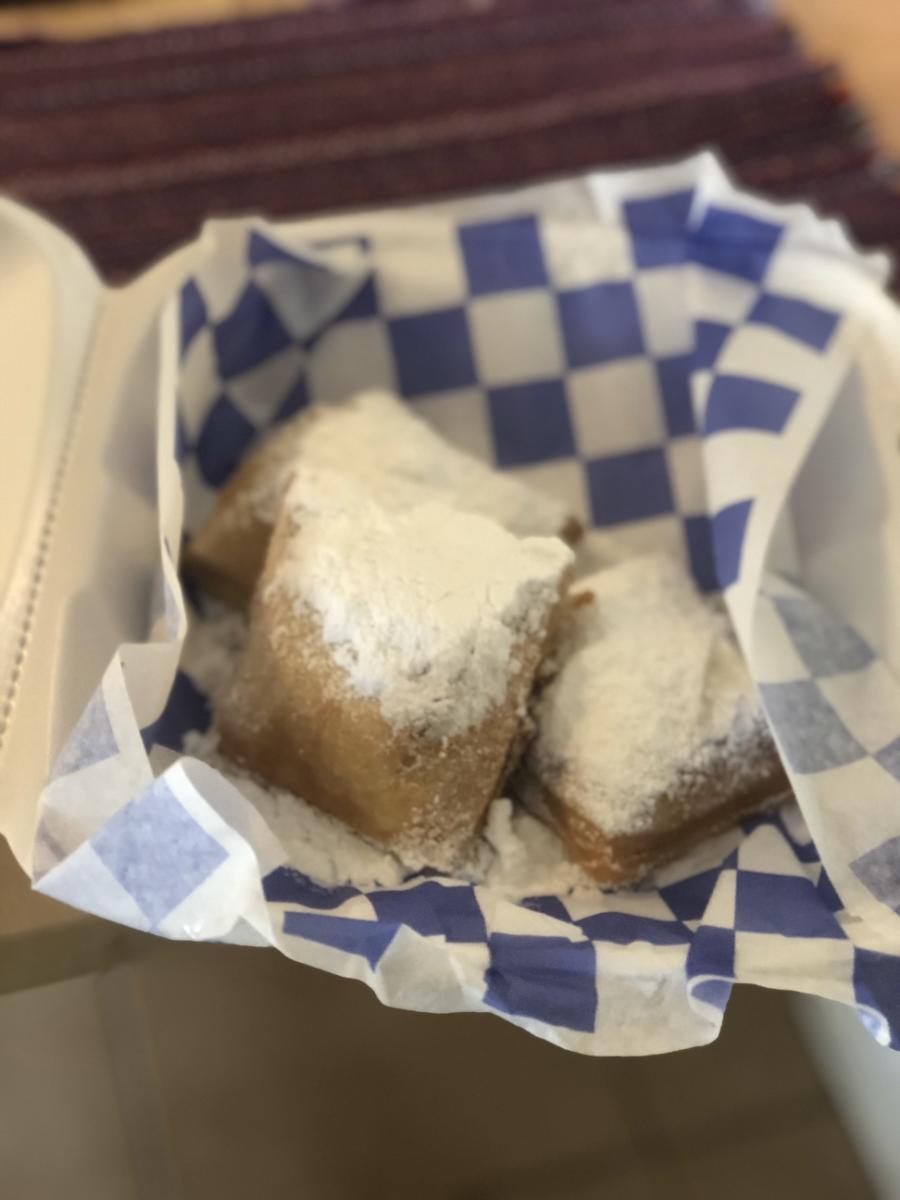 A great brunch/lunch spot in Madison is Beignet Cafe, and we decided that the stress of changing our routines so drastically lately called for pillows of fried dough pummeled with quite more than a dusting of powdered sugar. We decided that it'd probably be civilized if we actually got real food too.
I'm fairly reliable about certain foods. If there's a po'boy on a menu, I will be having that. My wife is the same about shrimp and grits. So we ordered our entrees - a fried oyster po'boy, shrimp and grits, and a regular order of three beignets. Just to make sure I covered my bases, I ordered a side of their cheese grits, too.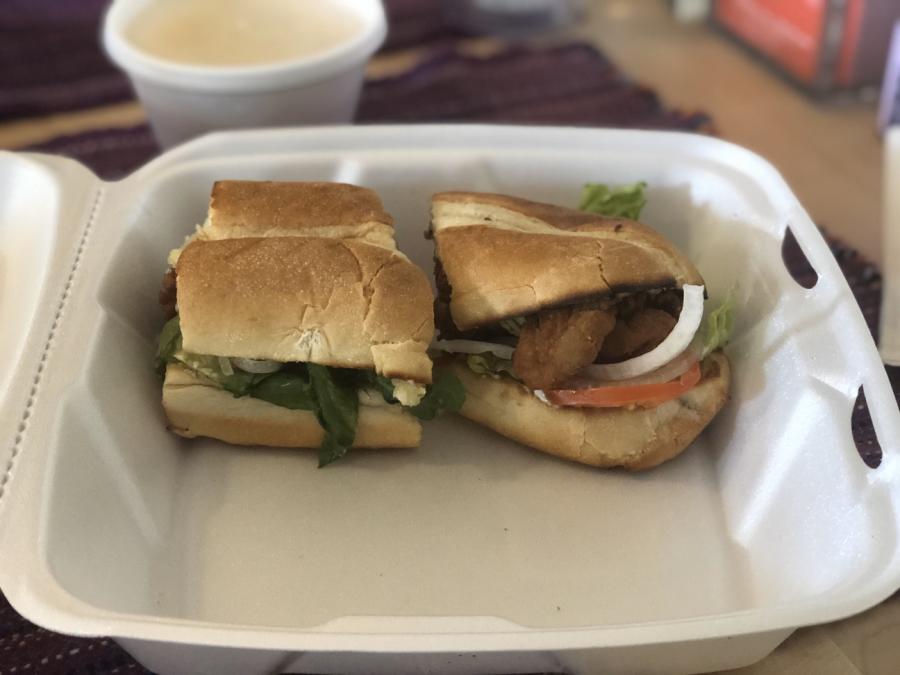 I appreciated the confirmation screen that showed me an estimated delivery time of between 12:17 and 12:37 p.m. There was a tracker on the screen to let me know at what stage of the process my order was.
In the process of checking out, I made sure to select a box that read "No-Contact Delivery: Leave Food at Door", which is a wonderful added precaution right now in the COVID-19 era.
Partner restaurants require a minimum $10.00 order, and GrubSouth charges a $3.99 fee for their online service ($4.99 by phone), and they suggest a $5.00 tip for their drivers.
The times when we have ordered from GrubSouth, our food has arrived at least warm, if not hot, and we have enjoyed being able to support them as a local venture, as well as their local partner restaurants. During a period where we aren't going out of our way to be in a lot of public settings, we've still been able to support and eat local grub, thanks to GrubSouth.
It's like Netflix, but tasty. And without the loud DUN DUNNNNN when you start it up.
Bon Appetit!