The 46th annual Taste of Huntsville scheduled for January 25, 2022 has been cancelled.
"After endless consideration and weighing all options, we are devastated to announce The Huntsville-Madison County Hospitality Association Board of Directors has decided to postpone the Taste of Huntsville 2022. We will revisit planning again in 2023 and look forward to coming back stronger than ever. We are extremely appreciative of your support through our numerous reschedule dates over the past sixteen months. We concluded that this was the best decision because of the following:
the growing number COVID-19 + cases, all variants
the ongoing staffing shortage in our local and regional restaurants
the inability to enforce masking for a food + beverage event
concerns with patron, staff, and restauranteur safety
Our goal is to host a safe, fun, and charitable event each year.
If you have purchased a table or ticket, you will receive information regarding your full refund in the next 24-48 hours. Please be patient with us as we work through the refund process. Processing takes 5-7 business days.
If you were planning on attending our event, we encourage each of you to donate $5 to our amazing benefiting charities, UCP Huntsville or Huntsville Community Drumline. They continue to do amazing work in our community and they need our support! In lieu of our cancellation, The Huntsville-Madison County Hospitality will also be donating to their causes.
If you have questions regarding your tickets, tables, sponsorship, or the event, please email us at tasteofhsv@gmail.com.
Stay safe, stay well, and see you in 2023,
The Taste of Huntsville 2022 Planning Committee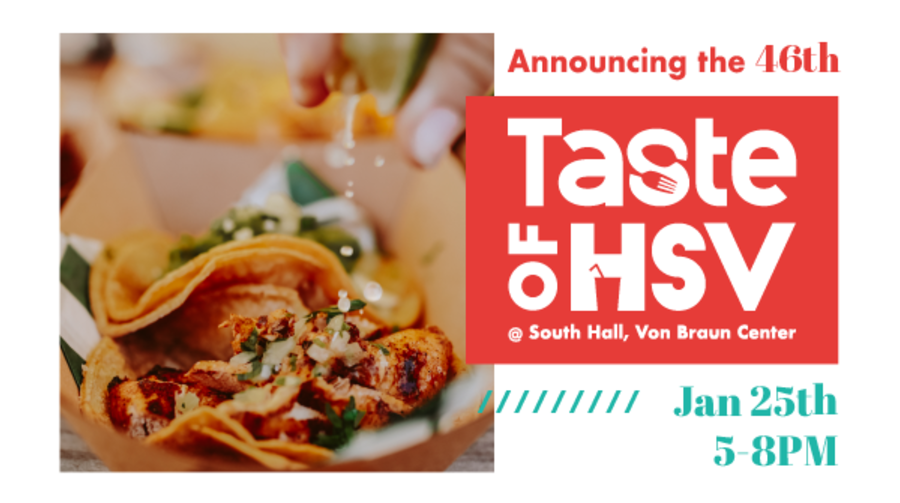 Each year, the Huntsville-Madison County Hospitality Association hosts the Taste of Huntsville, an event with good food for a good cause! 
The Taste of Huntsville is a delicious dining experience where guests can gather, give, & "taste" the fine foods and beverages served locally throughout Huntsville / Madison County. With nearly 50 restaurants and beverage vendors participating, "The Taste" not only provides a delight for your taste buds, but restaurants compete for awards in food presentation and taste. Most importantly, the event raises money for two local charities.
This year's event will benefit: United Cerebral Palsy of Huntsville & Tennessee Valley and Huntsville Community Drumline
Click here for tickets! Kids 5 & Under are Free
During the Taste of Huntsville, guests will have the opportunity to check out the silent auction for unique gift items.
Event Details:
When: January 25, 2021 5:30 p.m.-8:00 p.m.
Where: Von Braun Center South Hall
Tickets: Purchase tickets online.
The Taste of Huntsville will be an event you don't want to miss!