I'm a storyteller and enjoy any opportunity to showcase something new, especially when telling someone where to eat in Huntsville. I delight in eating at new restaurants and reporting to anyone who will listen afterward! Without further ado, let me introduce you to a few new eateries in Huntsville, AL, and maybe they will become your new Huntsville food recommendations
While Tom Brown's was established in Madison three years ago, its sister restaurant opened this July in the Hays Farm area of South Huntsville. Don't be fooled; it may look like another establishment in a row of stores from Publix to Staples, but upon the opening of those front doors, you'll be ushered in by deep jewel tones and rich, velvety textures, exotic animals, rich tapestries, and eclectic displays on every wall. We made reservations for our 19th wedding anniversary and enjoyed the playfully luxurious vibe. Tom Brown's is an exquisite splurge from what your eyes see to what your mouth tastes. Tom even came out to greet us, and he really took the time to get to know us and chat; the personal touch is there.
If you're looking for a thoughtful restaurant, you've found it! Tom and Ashely Brown were looking for adventure and combined their love of food and passion for cooking with creative decor, inspiring the concept for Tom Browns. The new location melds unmatched design and atmosphere with made-from-scratch recipes using only the finest ingredients. Offering premium steak and seafood, a stellar cocktail menu, and tantalizing desserts, Tom Browns is a great place to celebrate an anniversary, birthday, or other special occasion.
Good to know: Reservations are recommended. This is a fine dining experience, and dishes are priced accordingly. Opens at 4:00 PM, serving dinner only.
Don't forget to take a picture with the Giraffe! Make reservations here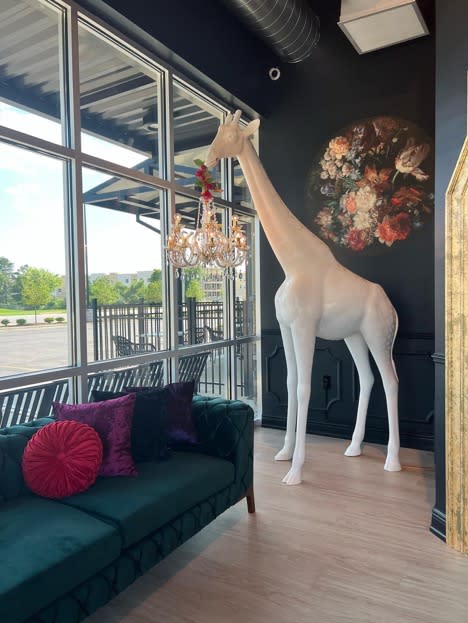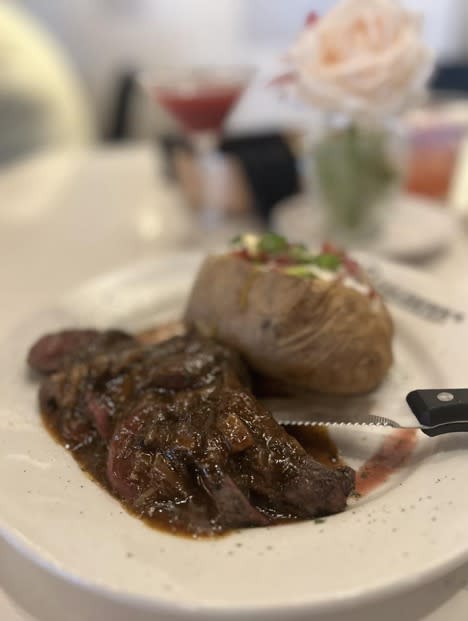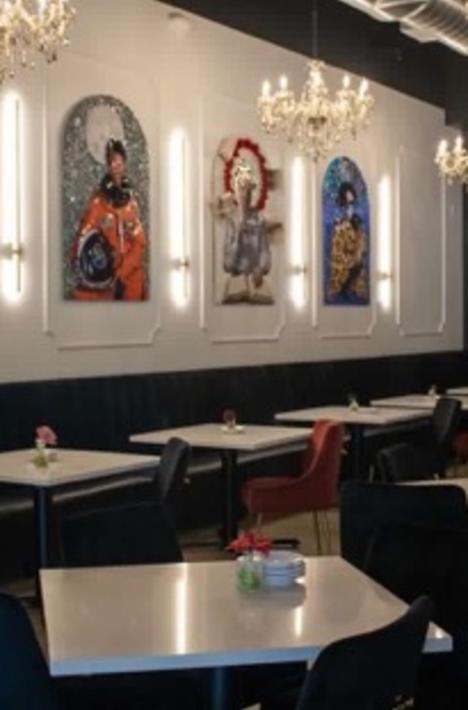 Going to check out Hound and Harvest might bring déjà vu for some; the location was once home to Maison Dixon Bakery and Bistro. If you patronized Maison Dixon, it might feel familiar, but once inside, you'll hardly recognize it since the interior has undergone a complete remodel. Hound and Harvest have capitalized on their property's fenced-in backyard and deck and utilized the tagline "your backyard bistro" as part of their branding. They offer a unique breakfast menu with combo bowls for scrumptious blends of your macro needs or enjoy a coffee shop menu with pastries, muffins, and scones. And, of course, freshly brewed coffee, lattes, and freshly squeezed juice blends.
We visited during lunch and ordered various combo bowls, a dessert, a scone, and a side of the highly acclaimed street corn. The dishes are served on beautiful glazed stone pottery, and the food is gorgeous and as tasteful as it looked. Even our children all raved about their dishes!
Good to Know: Serving breakfast, lunch, and a back deck with outdoor seating. The rear deck is dog friendly and even provides a few doggie amenities like water bowls and toys for dogs to enjoy; the back area is fenced in so dogs can roam free, and don't forget the kids; our kids immediately started playing cornhole and struck up a game of tag.
Don't forget to check out the back deck if you dine indoors! See menu here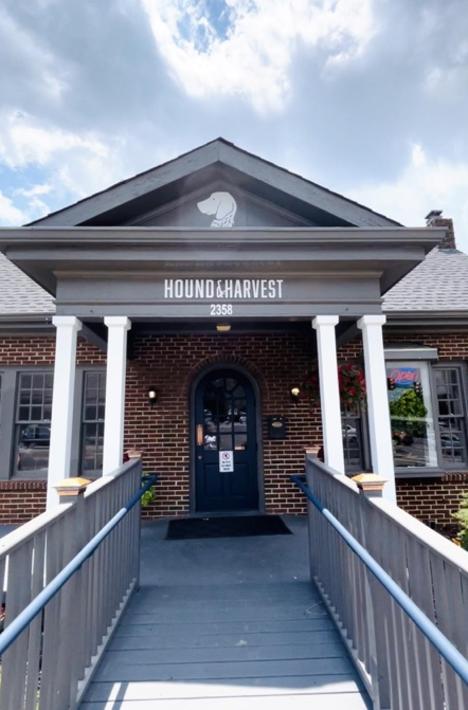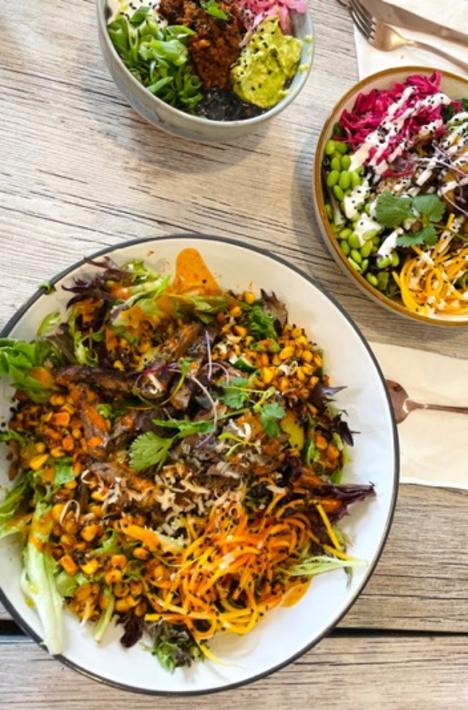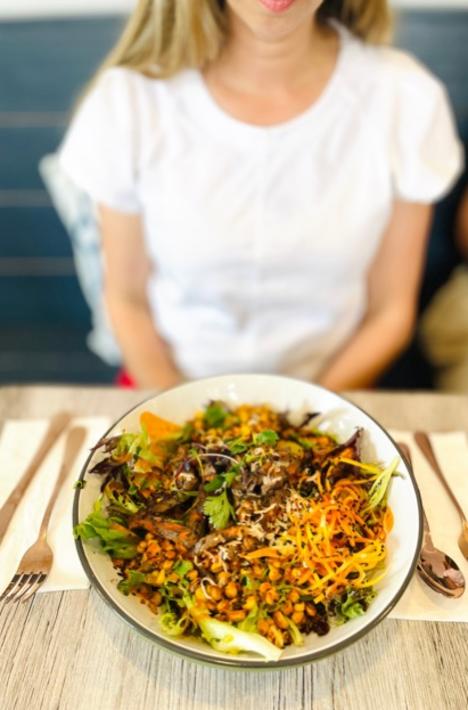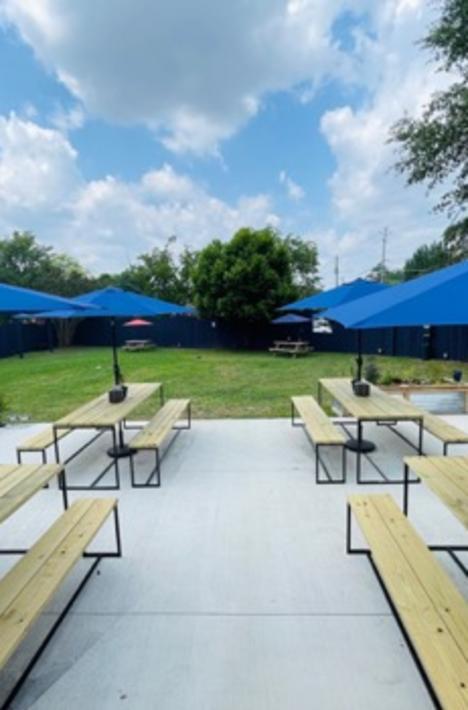 Yet again, if you love Italian food, you may have déjà vu when visiting Dashu, as this location was previously home to Lucianos. Dashu has everything you could want in Japanese cuisine, from traditional sushi rolls and sashimi to rice-centric meals, noodles, edamame, unique rolls, and a hibachi menu. They also have teriyaki, katsu, and tempura selections with dinner boxes, lunch boxes, desserts, and a wide selection of sides. We found the lunch and dinner boxes to be reminiscent of adult-style lunchables or small plates dinners where each item is separate but casually encompasses multiple courses.
For a splash of color, be sure to go downstairs - brightly colored wood and paper umbrellas line the ceiling, and there's a mini sushi bar where a chef works, and onlookers can watch. While the front of the restaurant still resembles its former tenant, you'll have no doubt you are in the right place with the Japanese relics throughout. Whether you're looking for a traditional spicy tuna or salmon roll or looking for vegan options, this restaurant has it all!
Good to know: there are vegan options! Also, Dashu serves octopus, and delicious hot tea is available in a tea pitcher for refills!
Don't forget to check out the umbrella room if you sit in other restaurant areas.  See menu here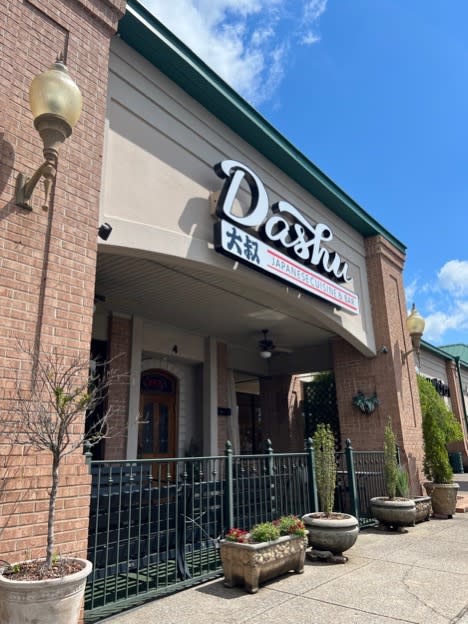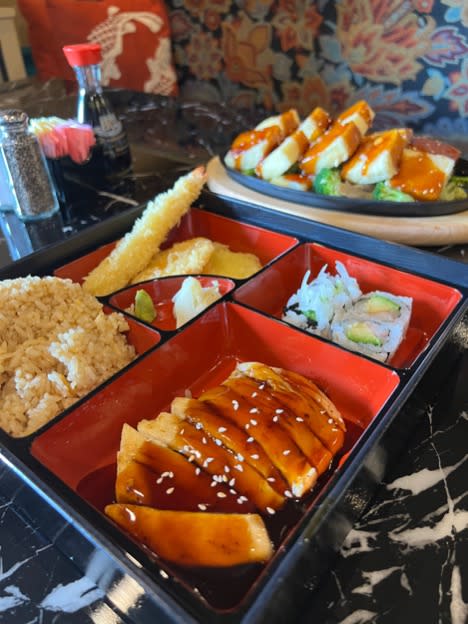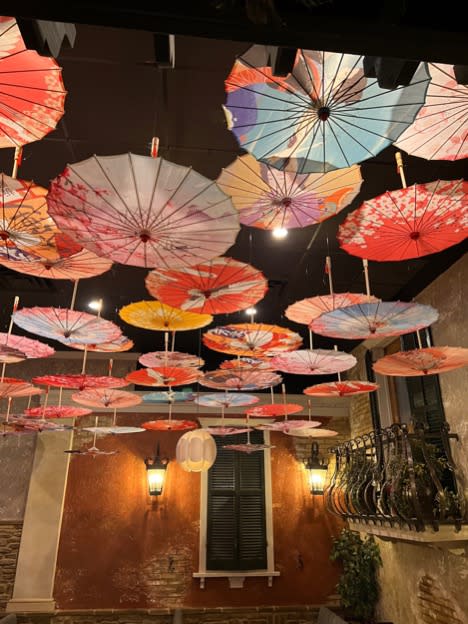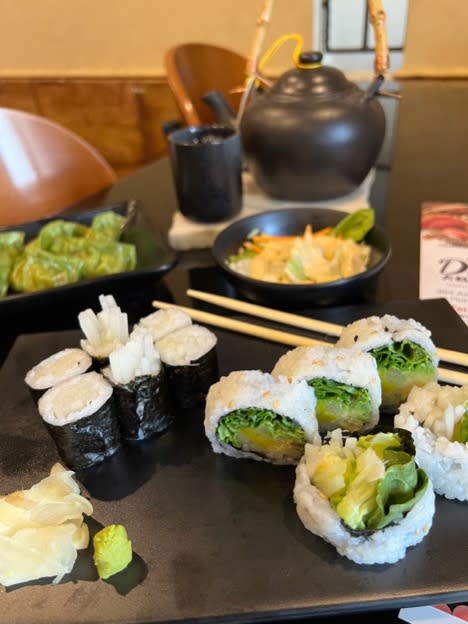 One of the more original concepts in Huntsville, the Bakingtist, was started by Heidi Kizer. A scientist turned baker, Heidi has more passion for her craft than I've ever seen in a food establishment and is on a mission to share science through fun community interaction. She creates each of her pastry delights with uber intention, and it's no wonder people line up outside by 8:30 AM - on most days, she sells out.
I am a sucker for a cruffin and have been known to drive a great distance to get them - a lightly layered pastry in a muffin shape with a creamy filling spilling out of the top. Hers are perfection! That's not all; she sells an excellent combination of delectable pastries with from-scratch fillings, buttery brioches swirled with cinnamon or berries, beautiful focaccias, and fermented sourdoughs. Designed to resemble a science lab, the back wall is a periodic table, except it's made up of baking ingredients!
Good to Know: Go early - she sells out most days! There is coffee! Not all menu items are sweet; she offers savory options as well. I hear she will soon add sandwiches to the menu come August.
 
Don't forget to check out the baking table of elements, post about your delicious treat so more people know about The Bakingtist and tell all your friends! See more info here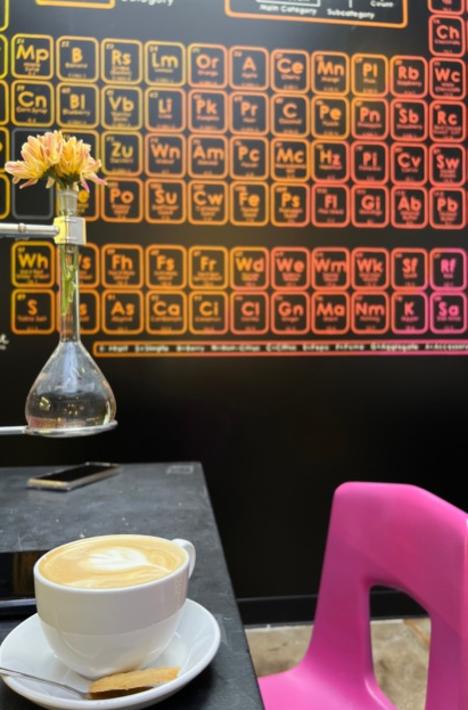 Big Spoon Creamery 
Huntsville's newest ice cream parlor - and I mean a real ice cream parlor - Big Spoon Creamery offers small-batch artisanal ice cream and specializes in unreasonable hospitality; those are their words, and you've got to experience it to know what unreasonable hospitality is! This two-location business has brought its magic blend of the best ice cream and hospitality to Rocket City. Opening in June, there is usually a line and happy customers enjoying their ice cream.
They offer uniquely crafted flavors like sweet basil, salted cantaloupe sorbet, and beach bonfire, and the menu is constantly updating. For their Sammies, a take on the ice cream sandwich, you get to choose from a variety of cookies paired with ice cream! My favorite is the sweet corn blackberry paired with sweet corn cookies. The sundae menu is enticing with classic pairings and pictures of the irresistible old-fashioned sundaes. You're in an ice cream parlor - go big or go home, am I right?
Good to Know There's a kid's corner, and even the bathroom has cute ice cream wallpaper. The patio has cornhole and other outdoor games to keep the kids busy while you enjoy ice cream.
 
Don't forget to tell all your friends about Big Spoon Creamery and schedule a meet-up there soon! See the full menu here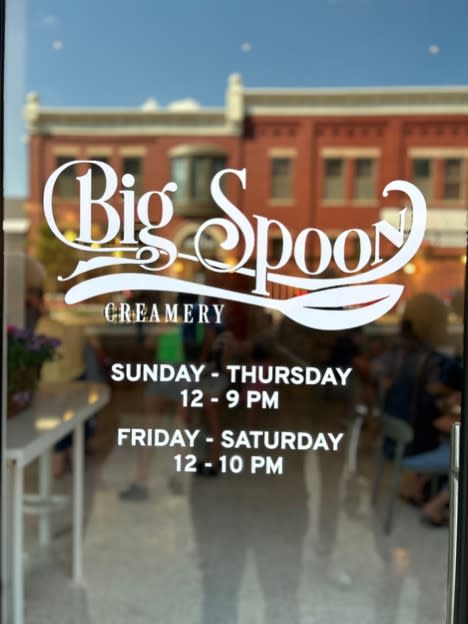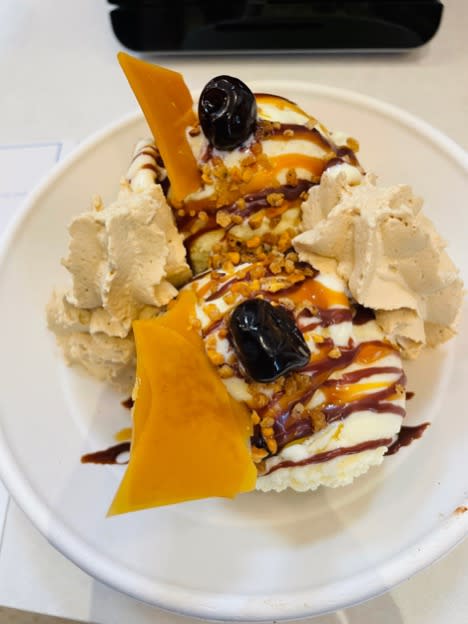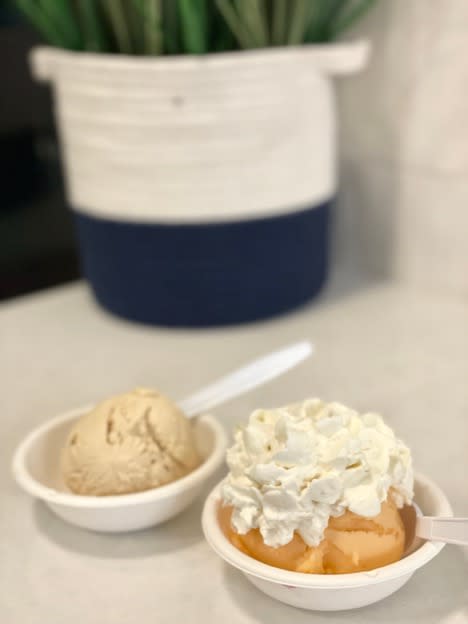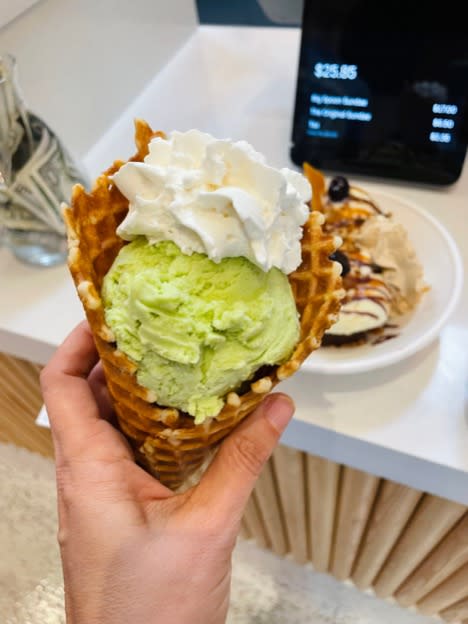 ChillAbay:
The chillabay dessert bar in Madison, AL, serves everything you expect and extra fun. Choose your chill section of the menu where you choose a cone, cup, or milkshake, find your flavor, top it off, and enjoy! They also offer choose-your-own cookies and ice cream flavors for ice cream sandwiches, unique floats, and float combinations - a spin-off of the original Coke float. They had me at the orange creamsicle float and the sweet Shirley Temple floats with ginger ale and cherries!
The cookies are HOT paired with the cold ice cream for the ice cream sandwiches, and oh so good. There are outdoor games, cards on the table to play, and loads of mix-in options - an all-around family-friendly and fun atmosphere and the business is community-oriented, situated beside honest coffee in Madison, AL.
Good to know: they offer specials, loyalty programs, and regular promos, so be sure and follow all the deals.
Don't forget to put the phones away and enjoy that ice cream while the kids play! See all offerings here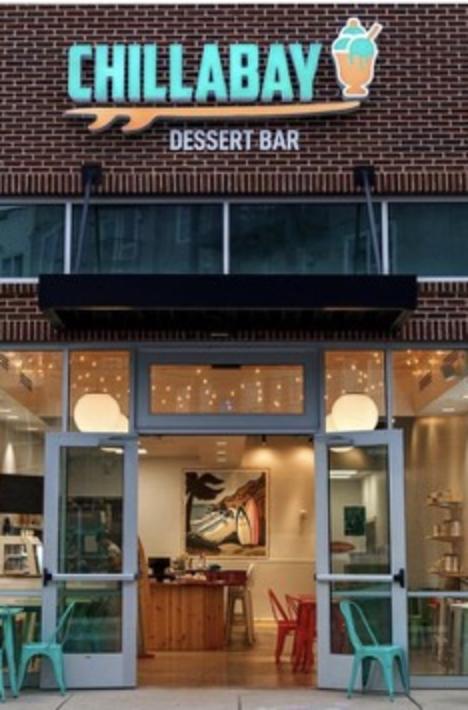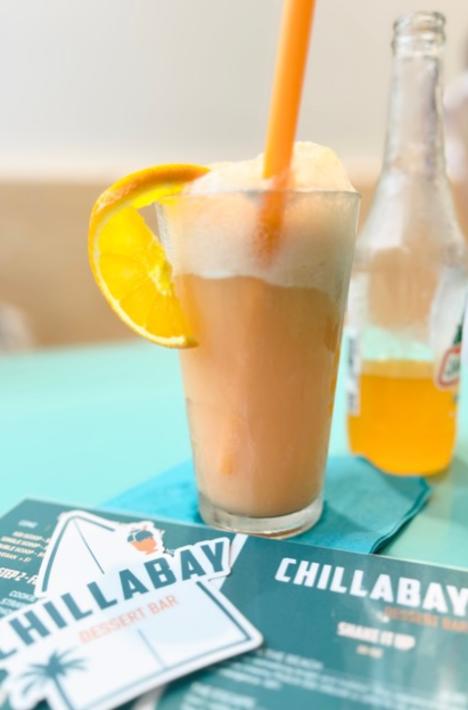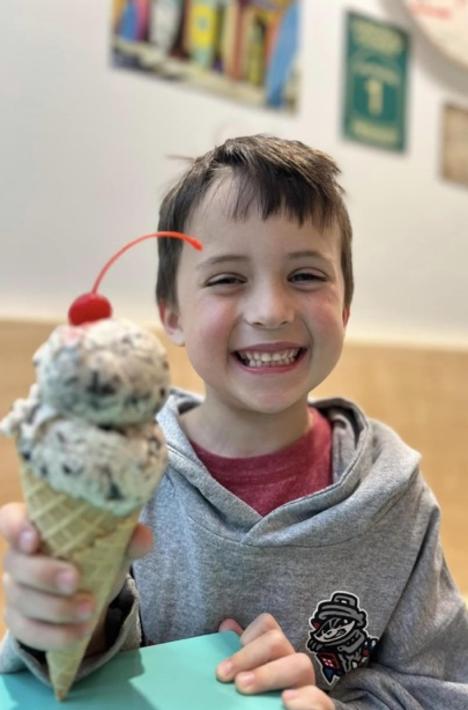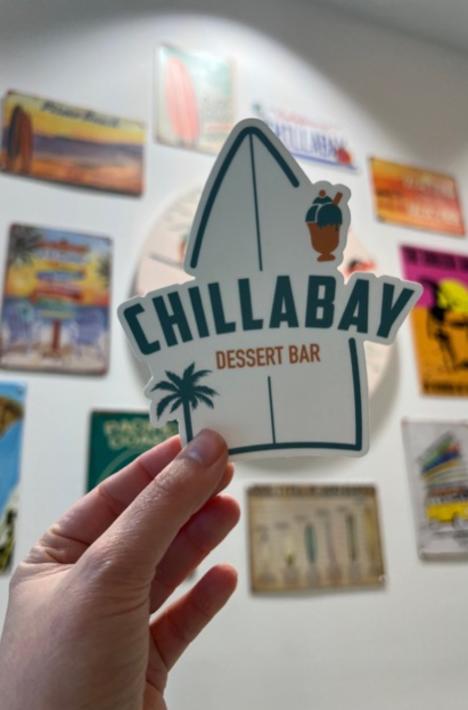 If the words "high tea" sends London-esque vibes and Victorian tea has been on your mind, look no further than Lanier Tea House in Madison! Housed in a beautiful historic home, Lanier offers afternoon tea reservations, private afternoon tea requests, and private venues. Tea times can be reserved Tuesday through Saturday at varying times. A full-service tea reservation lasts one and a half hours; there is a weekday walk-in option for tea and cookies. The menu gives several package options to order teapots and choose your three courses; savory, sweet, and bread.
The menu begins with choosing your tea's flavors, followed by your savory tea sandwich choices. Next, you choose the bread course options, which are various scones, and your sweets option, pastries. The rooms offer intimate seating areas that mirror a dining room from the Victorian Era, complete with china cups and saucers and silver tea service sets. This is a perfect spot for a girls' get-together or mother-and-daughter date.
Good to know: An afternoon tea reservation costs $27 per guest; $20 for children ages 5-10. There is a non-reservation/walk-in option for tea and cookies for $15 Tuesday- Friday. Non-reservation/walk-in option is not available Saturdays.
Don't forget to make reservations ahead of time and check out the website for course options for your high tea outing. Make reservations here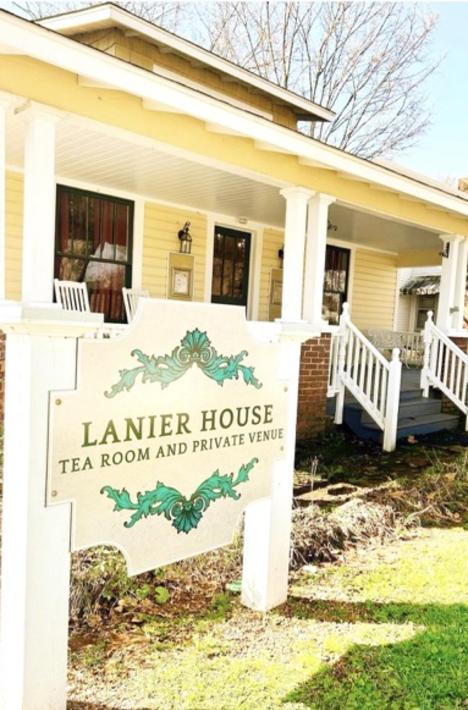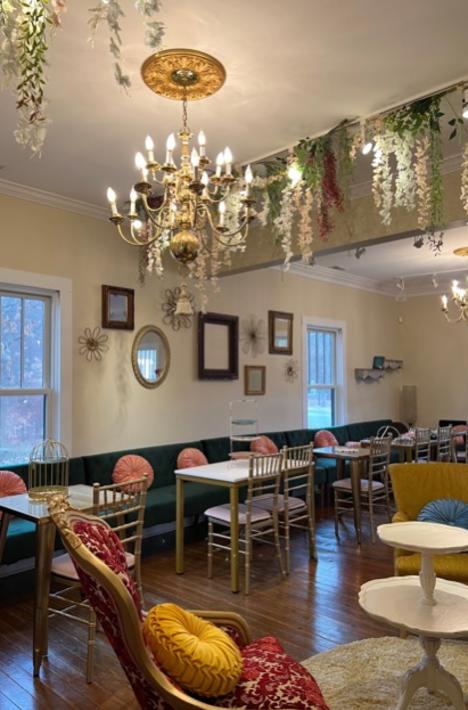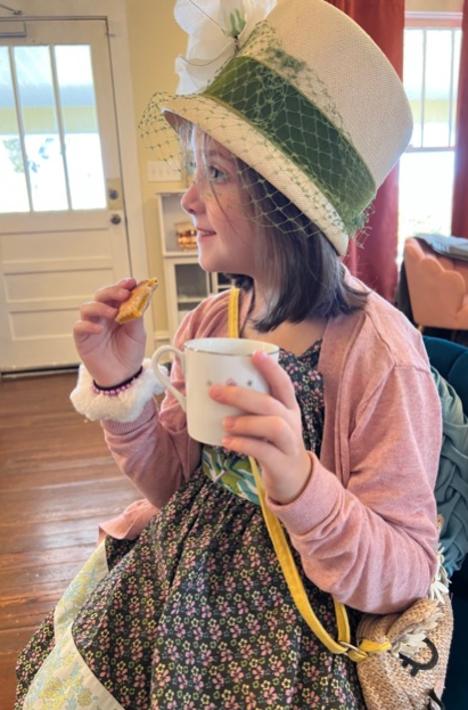 Check out these New Restaurants in Huntsville, Alabama, that are sure to become some of Huntsville's top dining spots! Once you try one or two, mention them to your friends when asked where to eat in Huntsville!
Photo credit: all photos taken by Cyle Augusta Lewis with contributions for Chillabay, Dashu, and The Bakingtist by Rachel Brown at Rocket City Dietician. Some brand photos were provided by Tom Brown's, The Bakingtist, and Chillabay.