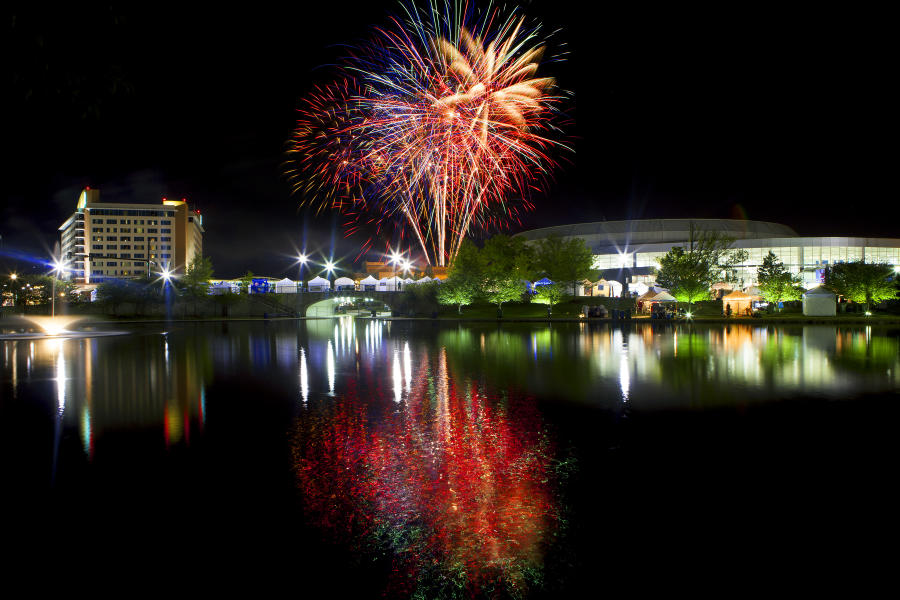 Huntsville's Panoply Arts Festival is celebrating 40 years! Arts Huntsville invites visitors and locals alike to join them in downtown Huntsville's Big Spring Park on both the East and West side on April 29, 30, and May 1. Panoply (pronounced pan-o-plea) is the southeast's premiere arts weekend showcasing Huntsville's innovative spark with a celebration of art, music, and more. 
Enjoy three days that has something for everyone in the family. The festival showcases many local and regional musical acts, including regionally-celebrated and critically-acclaimed bands and musicians, the juried Art Marketplace, STEAM Street, art and STEAM interactives, community art projects, craft beer and wine, festival food, select local food trucks and more.
40th Celebration of Panoply  will be held April 29-May 1, 2022, and the festival hours are: 
Friday, April 29, from 5:00 p.m. - 9:00 p.m.
Saturday, April 30, from 10: 00 a.m.-9:00 p.m. (Art Marketplace closes at 7:30 p.m.)
Sunday, May 1, from 11:00 a.m.- 6:00 p.m.
Tickets are on sale now. It's $18 for a weekend pass (These are only on sale online through April 29th), $10 for a one day pass and children 12-and-under are free. 
Panoply Poster Art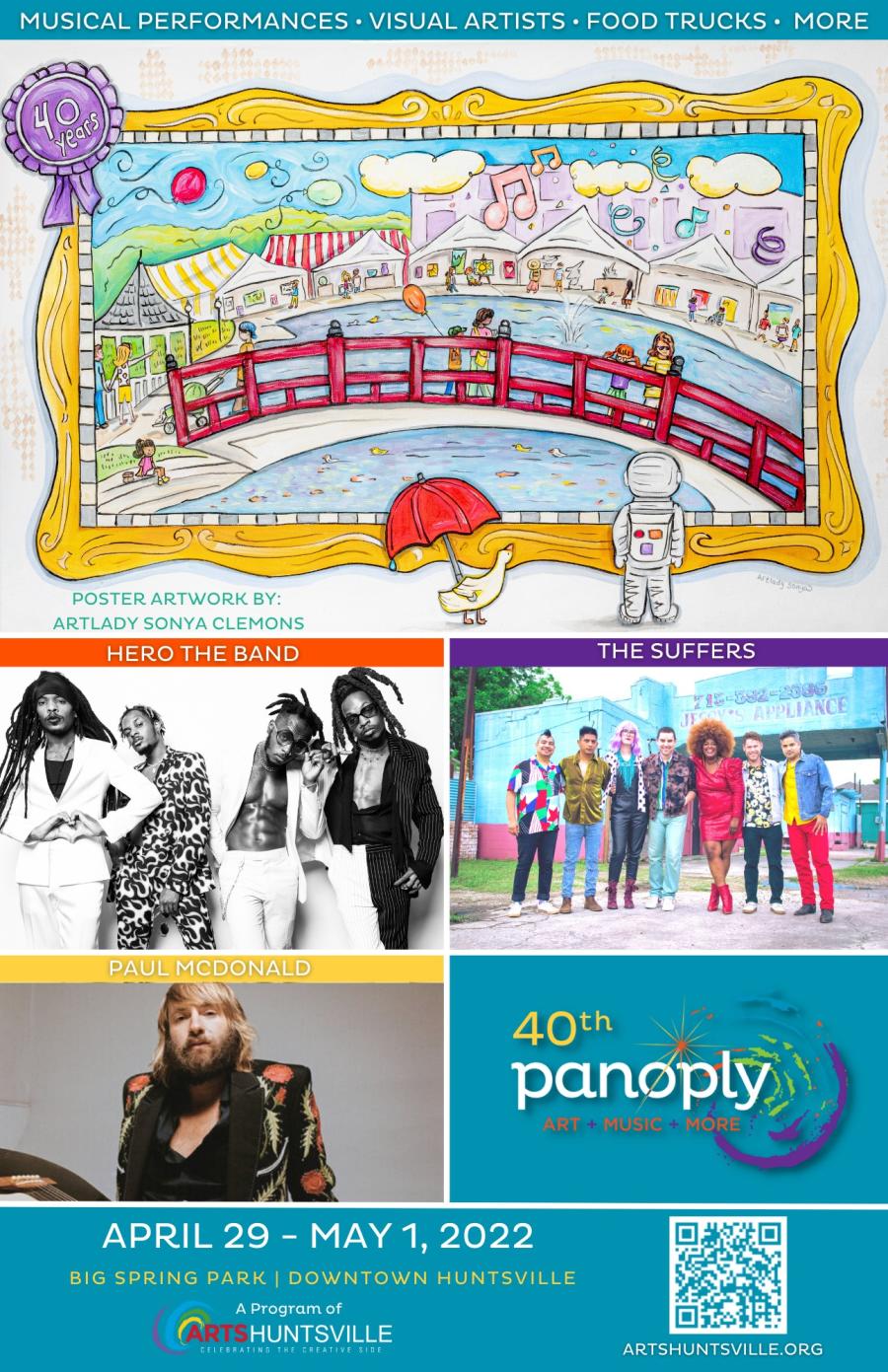 Each year, Arts Huntsville commissions an artist to create a piece of art that captures the spirit of the festival and the community. This year's Panoply poster artist is Sonya Clemons, known in the state of Alabama as the Artlady. Clemons grew up in Huntsville, where she was very involved in art at Lee High School. The artist now lives in Scottsboro, and, over her 25-year career, she has worked in a variety of media and environments. Noted accomplishments include working over eight years as a muralist with the Madison County School System – with over 50 murals completed – and launching the Pictures of Hope art program serving people in recovery through the Jackson County Drug Court.
"To celebrate the 40th Panoply Arts Festival, we selected an area artist who grew up with the event and whose artwork could celebrate Panoply's community history and its place in Huntsville today," said Arts Huntsville Executive Director Allison Dillon-Jauken. "Artlady Sonya's celebration of Panoply showcases the festival's iconic setting in Big Spring Park and celebrates the art, music, food and fun that festivalgoers of all ages have experienced at Panoply for four decades."
Clemons will be selling her original paintings at Panoply Arts Festival, and festivalgoers will be able to purchase merchandise featuring her artwork at the Panoply Stores. Arts Huntsville will also be offering a limited number of signed posters for the public to purchase.
"I never would have dreamed as a student this experience would be real. As an artist, it became a goal that I hoped to reach," said Clemons of becoming a Panoply Arts Festival poster artist, noting that this milestone follows a 2021 resolution from Alabama House Speaker Mac McCutcheon and commendation from Governor Kay Ivey celebrating her 25th year as an artist.
Featured Music at Panoply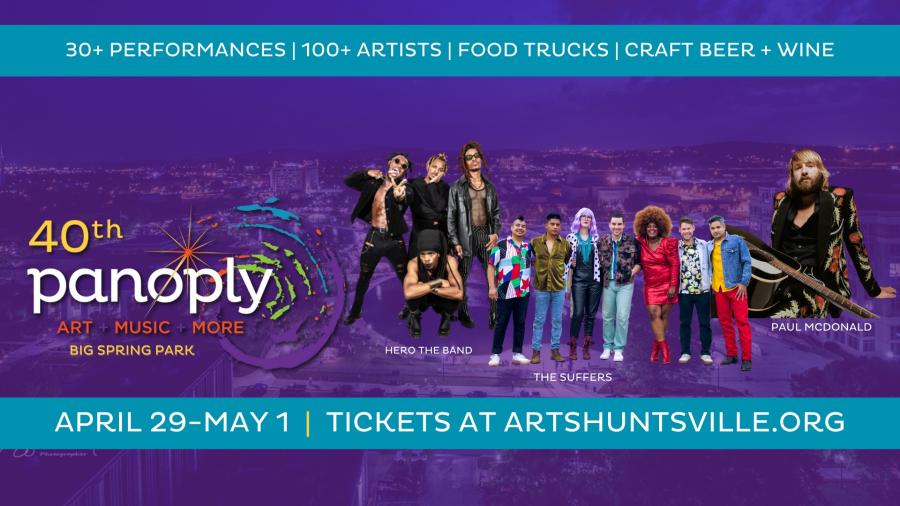 Arts Huntsville welcomes over 30 musical performances in a variety of genres – jazz, rock, R&B, indie rock, blues, pop and more – to Panoply's two stages: the Showcase Stage, presented by Pepsi, and the Indie Stage.
Panoply's Indie Stage will be featured in a new location in Big Spring Park East and will showcase local solo and duo music performances throughout the weekend by favorites such as Delaney Faulds, Shelly Williams, Josh Allison, Jerome Villarreal, Charles and Tanya, Jimmy Henderson, Remy Neal and Cheryl Llewellyn to name just a few – full schedule available at www.artshuntsville.org.
The Pepsi Showcase Stage, located on the back of the Huntsville Museum of Art, will feature multiple bands and shows during the three-day festival.
Friday:
Friday night is host to a rock-packed evening starting with blues-influenced rock band Tres Locos, followed by indie rock band Jayne & the Huntsmen opening for headliner, Hero the Band, whose performance is presented by Pearl Behavioral Health Services. Hero the Band is a multifaceted group from Decatur, Georgia comprised of four brothers with a unique musical vision that blurs lines and genres. Rolling Stone says that Hero the Band's recent EP "Unicorn" is "the absolute top of its game" and "Hero the Band is ready to explode." Arts Huntsville Events Manager Cat Turner added, "These guys are super high energy and will put on a wonderful performance to kick-off the festival."
Saturday:
On Saturday, the music starts when the gates open at 10 a.m. The festival welcomes Rule of Thirds, Knightshade, Shane Davis, Grove Yard and Will River throughout the day. That evening, the stage will be filled with big sound and big horns as festival attendees can enjoy local powerhouse opening act Element XI and then catch Saturday's headliners The Suffers. The Suffers' eight-piece band, hailing from Houston, Texas, has played sold out shows in Japan and Latin America. NPR's Bob Boilen attributes the band's allure to their "Soul, straight from horn to heart." Their contagious and combustible energy has also been featured at the Newport Folk Festival and the Afropunk Festival.
Sunday:
Sunday celebrates a day of Alabama Music, presented by The Orion Amphitheater. The day features the fresh, local band TGTG, followed by Moon Tree out of Muscle Shoals. Local favorite and past-Panoply contest winner Alex Banks & Co. hits the stage in the early afternoon, followed by Huntsville singer-songwriter Lana White with her soulful, soft rock sound. Closing out the festival's Pepsi Showcase Stage – and returning to the town he grew up in – is Paul McDonald, whose voice is noted as immediately recognizable and impossible to ignore. Since first touring in his early 20s, McDonald's various bands have been featured in Rolling Stone, Billboard, Yahoo and American Songwriter.
You can see the full lineup of musicians at artshuntsville.org.
New for 2022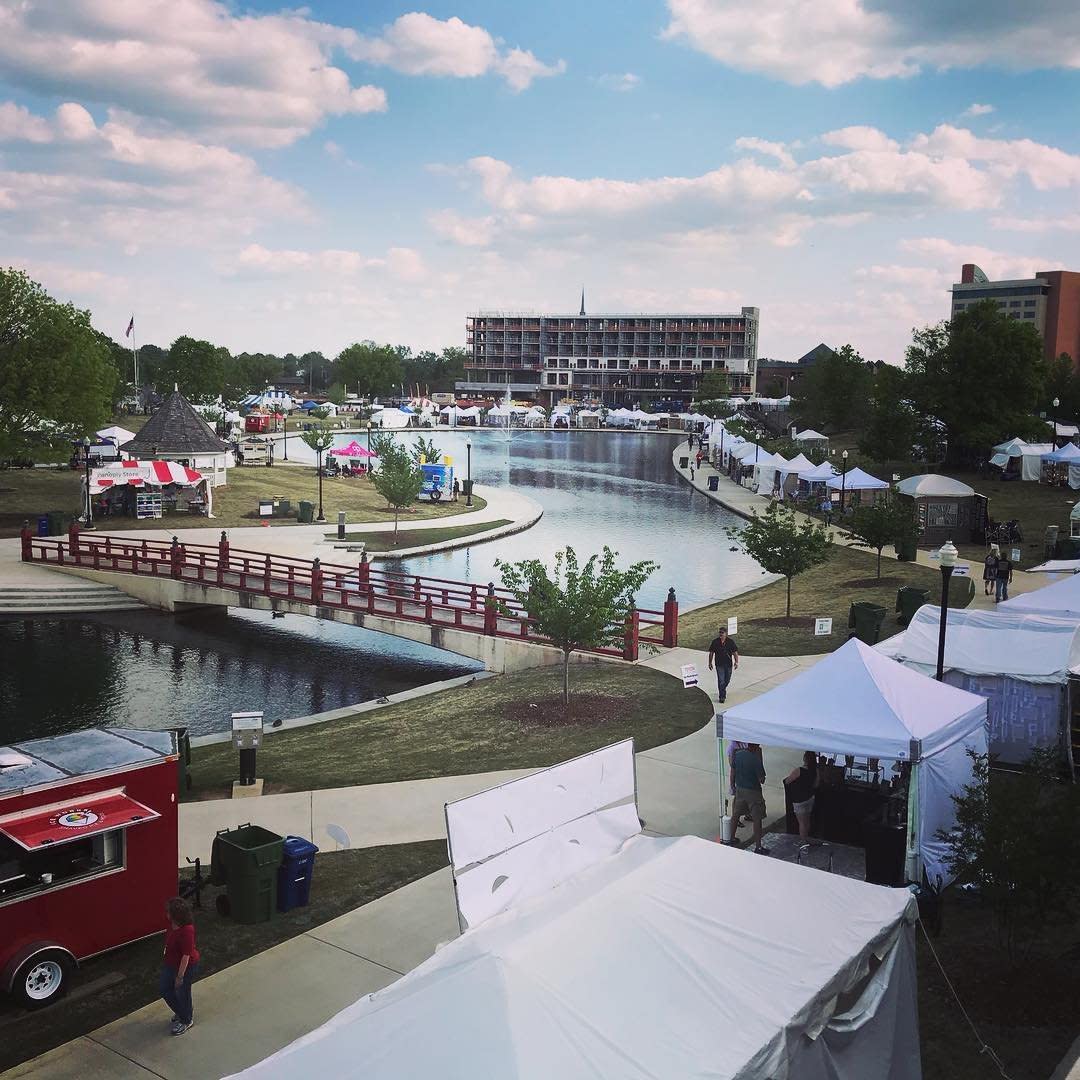 Photo from 2019
This year Panoply welcomes a new Art OutLoud Stage, presented by Pei-Ling Charitable Trust, that will provide an outlet for spoken word performances from local literary figures, poets, authors and comedians. A special stage dedication will take place on Saturday from 3:30-4 p.m. in honor and memory of beloved, local poet and author Carey Link.
Two popular tents make a comeback this year at Panoply. The Student Art Tent, presented by Blue Cross & Blue Shield of Alabama, returns to Panoply in Big Spring Park East to showcase budding talent across the community. The popular tent will feature artwork from students of all ages that attend public and private schools across Madison County. At another popular destination, festivalgoers can celebrate their creative side at the Panoply Face Painting Tent, presented by T-Mobile.
Art and STEAM at Panoply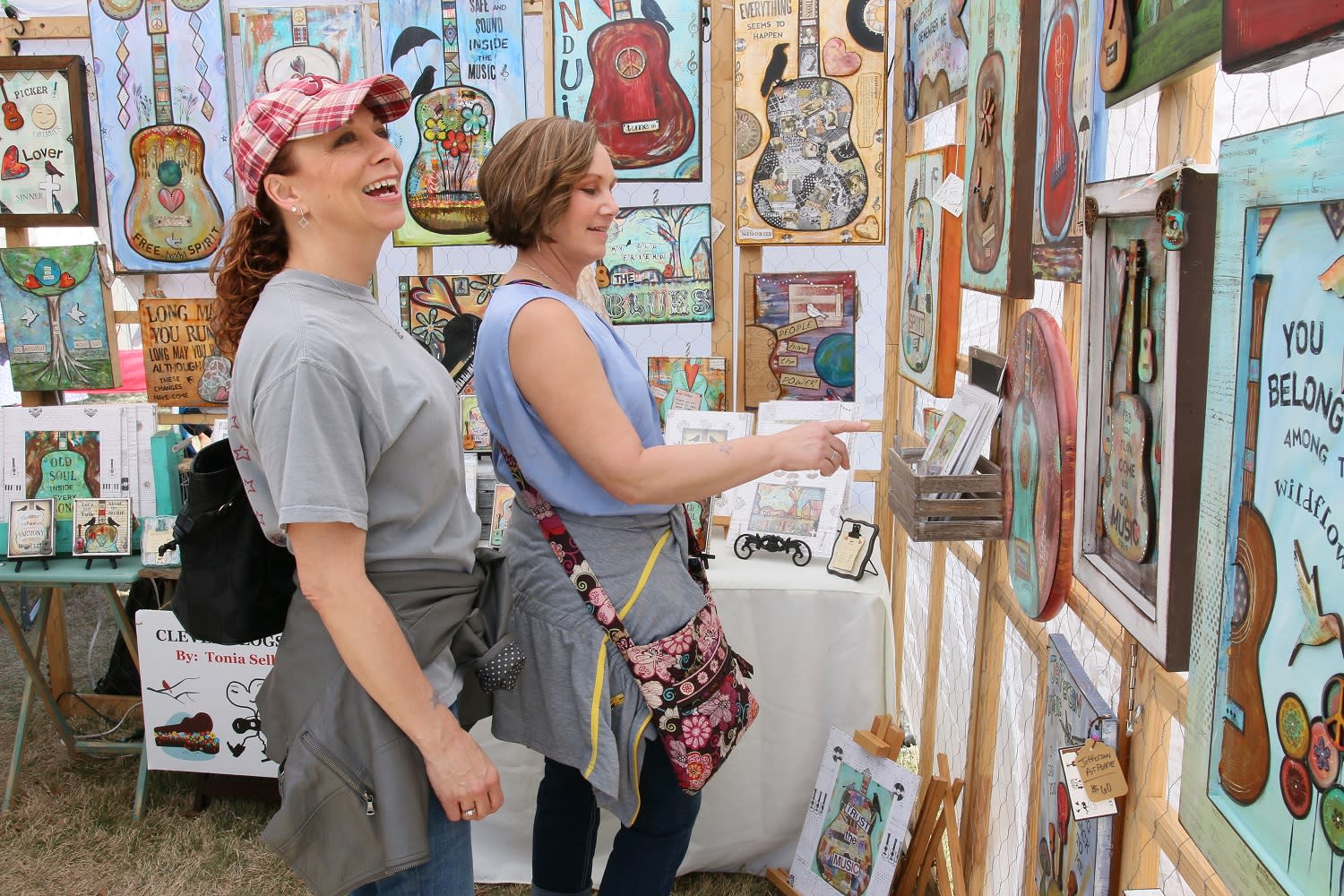 Photo from 2019
Art Marketplace
More than 100 professional artists will be on hand to showcase jewelry, sculpture, clay, glass, metal, fiber, two-dimensional and mixed media paintings. Shop outdoors in Big Spring Park and see both longtime festival artists as well as over 50 first-time Panoply exhibitors. This year's artists come from 25 states, with some traveling from as far as California and New Mexico for the 40th Panoply Arts Festival.
STEAM Street
STEAM Street will feature an "art of science" activities.
Huntsville City Schools Magnet Programs Rockin Rockets!, presented by National Space Club – Using paper straws and pipettes, festivalgoers will create a propulsion system. Once the design process is complete, they will test their rockets to see how far they will go and then adjust to increase distance.
Huntsville Ballet's Twirling Tops, presented by Davidson Technologies – Festivalgoers will learn about the physics of pirouettes, learn how to pirouette and create and decorate their own spinning tops.
North Alabama Arts Education Collaborative's Fresh Beats – In this DIY electronics project, by building banana pianos, festivalgoers will discover how to make a simple circuit and how electricity is conducted.
Fantasy Playhouse presents Nutrition with Nick Nutrition and His Wonder Dog Fiber – Using visual art, health science and math, festivalgoers will learn about nutrition.
Creativity Corner
Creativity Corner offers an in-park art scavenger hunt and takeaway art activities for kids to do a home on Saturday and Sunday. 
Mini Macchia Madness, presented by Huntsville Hospital for Women & Children – Festivalgoers will create Chihuly's famous Macchia series using vibrant dashes of color on coffee filters to recreate the color and shape.
Wonders of Watercolor, presented by Virginia and Parker Griffith – Festivalgoers will learn simple watercolor techniques to create one of several designs or create their own watercolor masterpiece.
The Dot Stop, presented by Parkway Place Mall – "Everything starts with a dot" ~ Wassily Kandinsky. Using paint, foil and other artist tools, festivalgoers with create their own dot monoprint.
Black Out Poetry, presented by Representative Mike Ball – Festivalgoers can find their inner poet with just a page from a book and a sharpie.
Huntsville Symphony Orchestra Guilds Instrument Petting Zoo – The Symphony Guild's popular musical experience always introduces young people to musical instruments at Panoply.
Arts in Action Demonstrations
Regional artists will offer demonstrations of their craft at Panoply's Arts in Action tents, where festivalgoers can get a first-hand look at the process of en plein air painting, art journaling, vinyl art and cigar box guitars. Festivalgoers of all ages will also get to stretch their creative muscles with hands-on community art activities as First Baptist Church will be returning to Panoply again this year. Together with festivalgoers, they'll create a new mosaic to be placed on display in the community and enjoyed long after the festival weekend ends.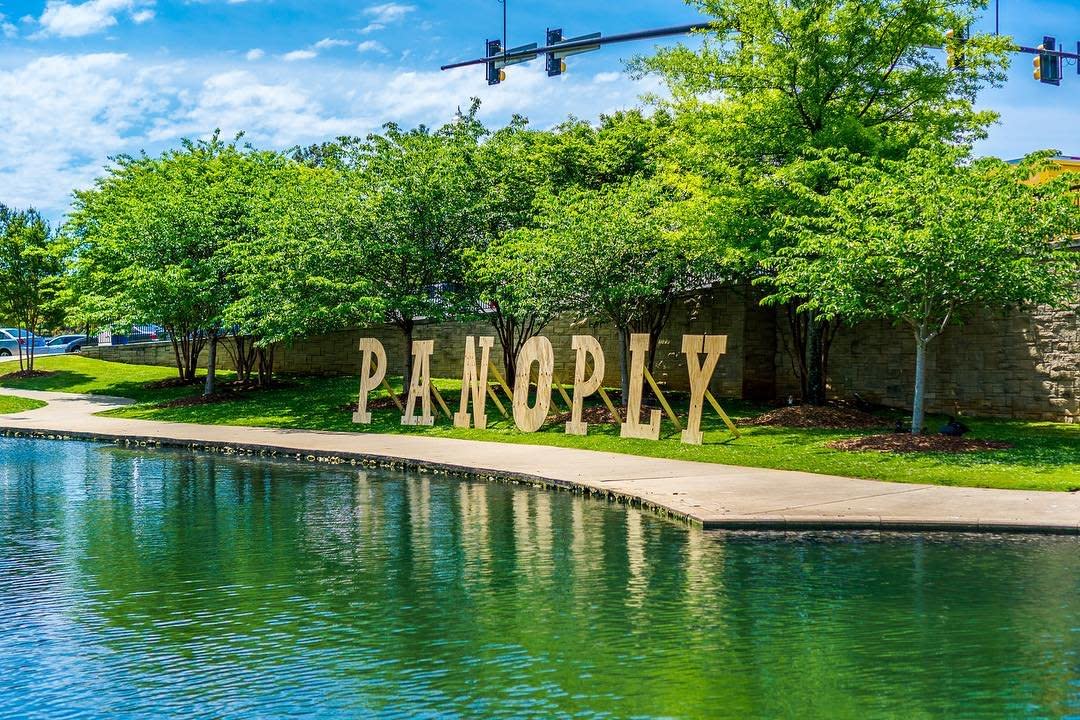 Photo from 2019
Panoply Festival Food and Drink
Along with Panoply's diverse array of art and music, festivalgoers can enjoy local tastes from 13 food trucks. This year, the popular Craft Beer Tent, presented by Diamonds Direct, returns, featuring beer from breweries across the region. The 2022 festival also features a new partnership with Church Street Wine, with select wine available in the Panoply Art Marketplace and the Craft Beer Tent.
Fireworks & Military Salute Night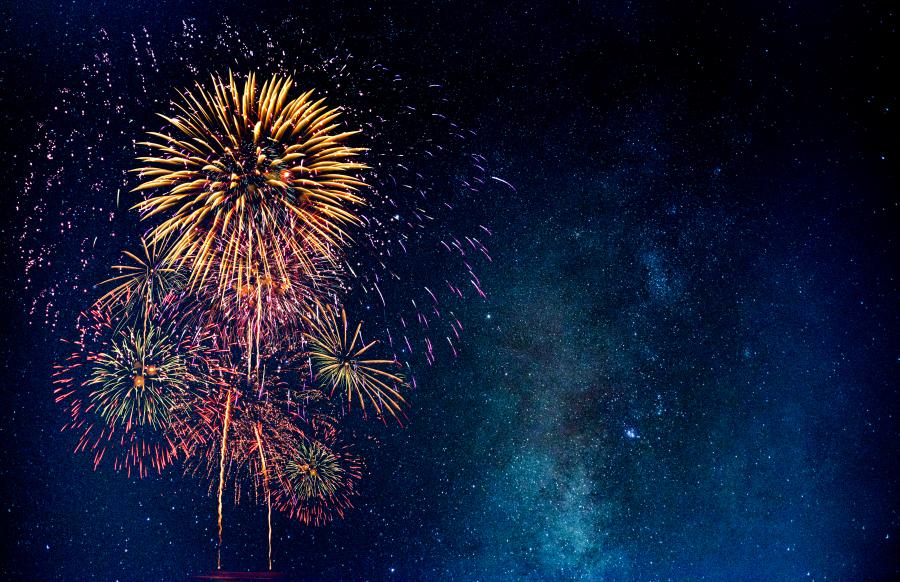 The Panoply tradition of Military Salute Night, presented by Dynetics, continues on Friday, April 29. All active-duty military and Armed Forces reserves, along with their dependents, are welcomed to the park for a free evening of entertainment. Military personnel will be asked to show their current military ID at the entrances.
Tips from a Pro: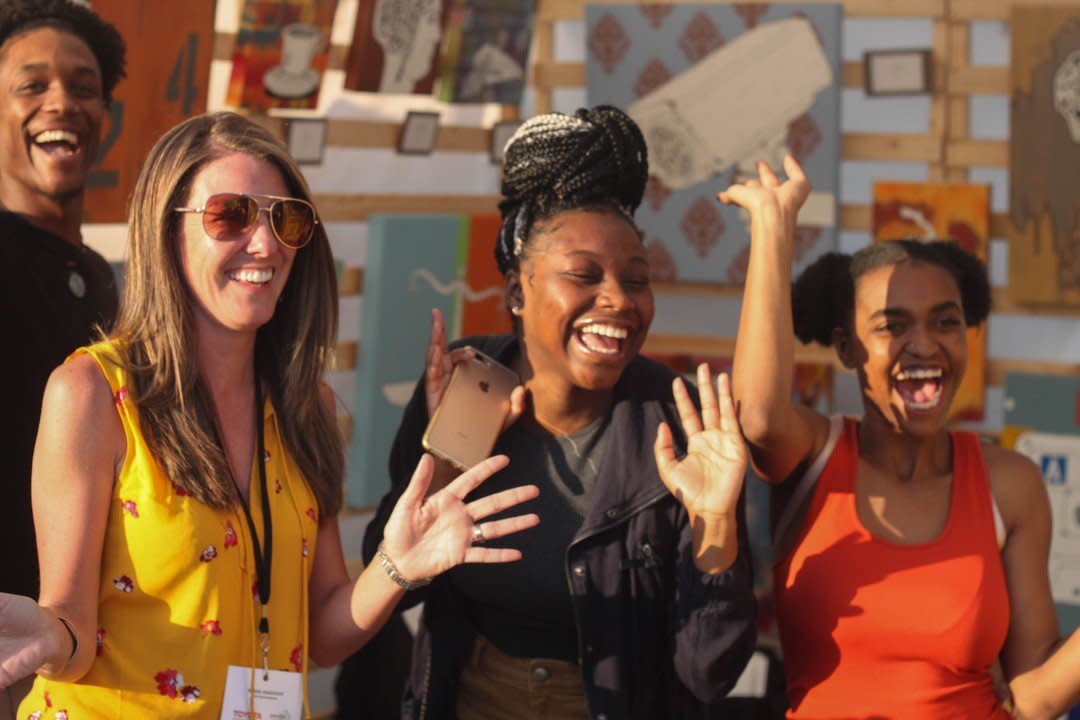 Photo from 2019
Pack your Stuff
There are a few things you should bring with you. It may sound a little crazy, but bring sunscreen and a poncho. Yes, you may need both. We admit that the weather is unpredictable at the end of April, so be prepared for anything. Please note that outside food and drink and pets are not permitted in the festival. Enjoy the local food vendors for your dining pleasure! Strollers or wagons for little ones can be helpful for navigating around the festival as well!
Another very important thing to remember is that Panoply has festival seating. This means you need to bring your own chairs or blankets for the stage area.
Grab a Festival Guide
Make sure you grab a Panoply Festival Guide as soon as you get through the gate. This guide has a map of the park, including a list of all performances, artists at Art Marketplace, food vendors and interactives. It is small enough to fold and fit into a pocket, but large enough to read easily.
Panoply with Children
If you are bringing your children to Panoply, you are going to have a BLAST, and they will too! There are so many great interactive games/exhibits at Panoply that are FREE for everybody. You are going to collect a lot of works of art from your children (and the young at heart).
We recommend that you bring a bag to carry these masterpieces or stop by one of the Panoply Stores and buy a Panoply souvenir bag. Remember that interactive activities aren't just for kids – you can do them too!
Panoply volunteers will put a wristband on each child with your cell phone number on the INSIDE. Don't forget your cell phone and make sure it's charged.  Take a picture of your children so you can remember what they are wearing. If you and your child are separated, be sure to turn the phone ON in case a designated Panoply team member is trying to call you.
If you can't find your child, go to the Info Booth near the American flag for assistance, or find any festival volunteer wearing a navy blue shirt and a radio.
Asking for Help
If you have questions while you are walking around Panoply you can always ask somebody in a Arts Huntsville Staff or Volunteer shirt to help you. Each year we depend on over 100 Panoply volunteer chairpersons to help make Panoply happen. We wear bright colored shirts on purpose, so you can easily identify somebody to answer your questions.
You can always stop by the Information Booth located near the American flag if you have any questions.
Enjoy the Festival!
Our best advice for first timers is to just take your time and walk around and enjoy everything. There is nothing more special than seeing Big Spring International Park transformed into this fantastic arts festival. Don't forget that Friday and Saturday evenings end with a fireworks show!