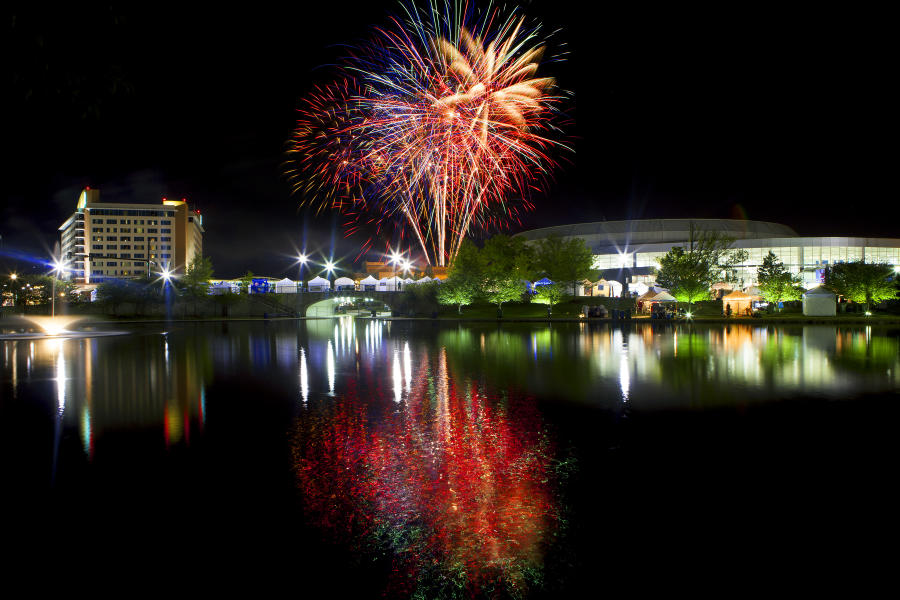 Click here for Friday night preview tickets!
Huntsville's Panoply Arts Festival is on for 2021! This year, they are hosting a scaled-back version from April 23-25 called A Taste of Panoply. It will still be in Big Spring Park and celebrating and showcasing all of the arts in our community and region. The Arts Huntsville team has designed the festival to limit touch points and close contact for festival goers. 
This year, there will be two public entrances to the event – one on Monroe Street and one on Williams Avenue. The former Church Street entrance will be limited to volunteer check-in for the 2021 festival.
"A Taste of Panoply" will be held April 23-25, 2021, and the festival hours are: 
Friday, April 23, from 5-9:00 p.m.
Saturday, April 24, from 10 a.m.-9 p.m. (Art Marketplace closes at 7:30 p.m.)
Sunday, April 25, from 11 a.m.-6 p.m.
Panoply Poster Art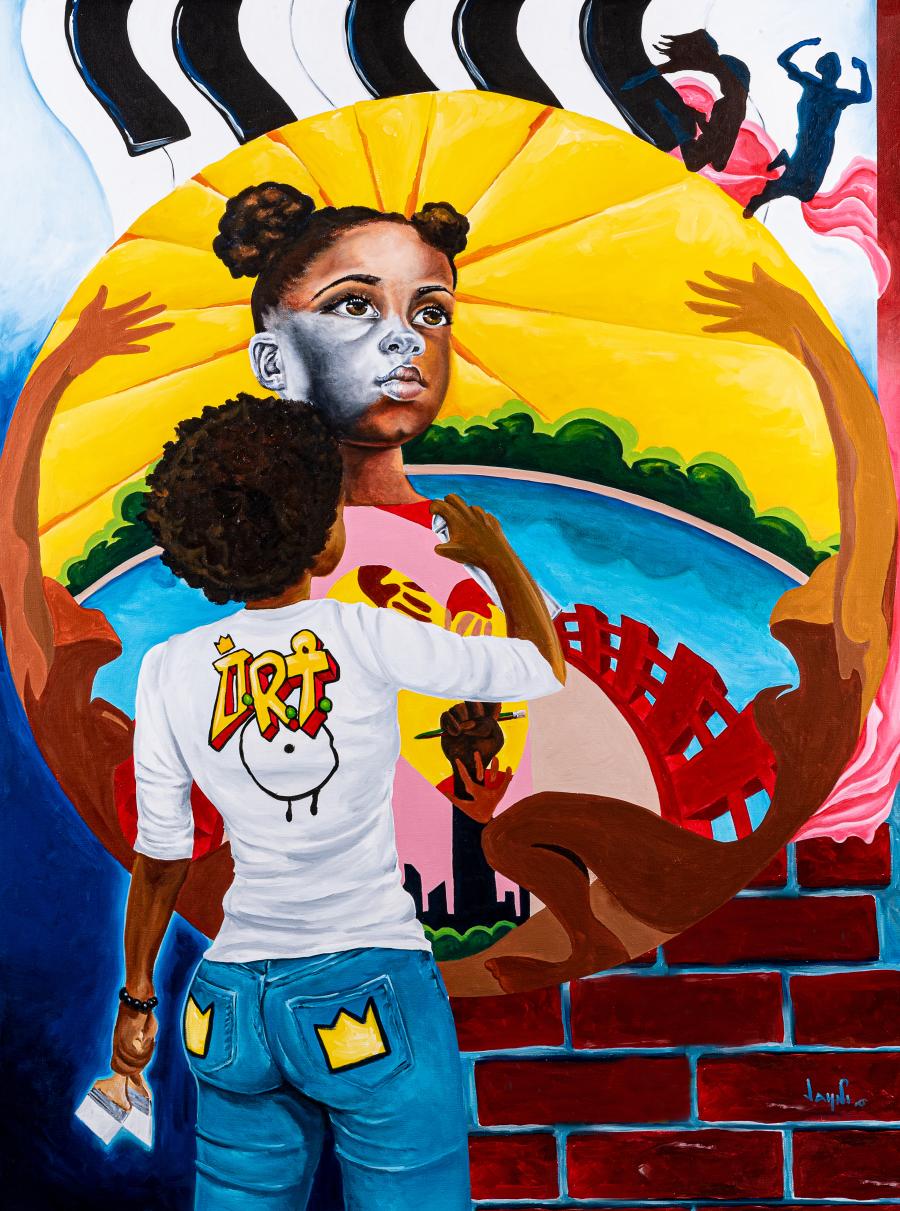 Each year, Arts Huntsville commissions an artist to create a piece of art that captures the spirit of the festival and the community. This year's Panoply poster art was featured last year at the virtual iPanoply and was carried over to this year to give full recognition of the vibrant art created by Panoply Poster Artist John "Jahni" Moore.
Moore's festival artwork, titled "Reconstruction," is a dynamic, street-art inspired work that captures the energy of Panoply and Huntsville's art scene.
"Jahni Moore is known across the Huntsville community as an arts educator and muralist, and we are thrilled to finally feature his artwork at Panoply," said Dillon-Jauken. "His 'Space is our Place' mural at Campus 805 has been featured in publications from Parade Magazine to the New York Times, and his Panoply poster artwork also embodies Huntsville's innovative and creative energy."
Festivalgoers will be able to purchase merchandise featuring Moore's poster artwork at the Panoply Store. Moore will also be featured in the Panoply Art Marketplace where festivalgoers can purchase original artworks by this award-winning Huntsville artist.
Tickets to Panoply
A change from past year, Friday night is going to be the only night requiring tickets. For $20 per person, ticket holders will have first access to shop the Art Marketplace and enjoy performances from the Lamont Landers Band, along with The War and Treaty. Friday night will end with festival fireworks, and will also serve as the festival's Military Salute Night. All active-duty military and Armed Forces reserves, along with their dependents, are welcomed to the park for a free evening of entertainment. As the Friday Night Preview event is the only ticketed experience at this year's festival, military personnel will be asked to show their current military ID at the entrance on Friday night.
Tickets for all ages are $20 per person and will be available until April 23 at 9 a.m. or when capacity is reached. Based on availability, limited $20 cash-only tickets may be available at the gate and must be purchased with exact change. Click here for tickets!
Saturday and Sunday are free to the public but a donation is suggested for the event. 
"Panoply ticket booths are traditionally the first point of contact for festivalgoers, but this year we are asking for adults visiting the festival to make a $10 donation as they enter," Dillon-Jauken added, noting that moving attendees through the bag check area and entry gates quickly is a top priority. "It is critical for our creative workers – our area musicians and artists – to have places like Panoply to perform and sell their work. At the same time, the pandemic has impacted Arts Huntsville and all area arts organizations, and it is also vital that we fund the expenses associated with this year's event."
A Taste of Panoply will still host local and regional musicians and artists along with demonstrations, STEAM activities, and even strolling characters.
Featured Music at Panoply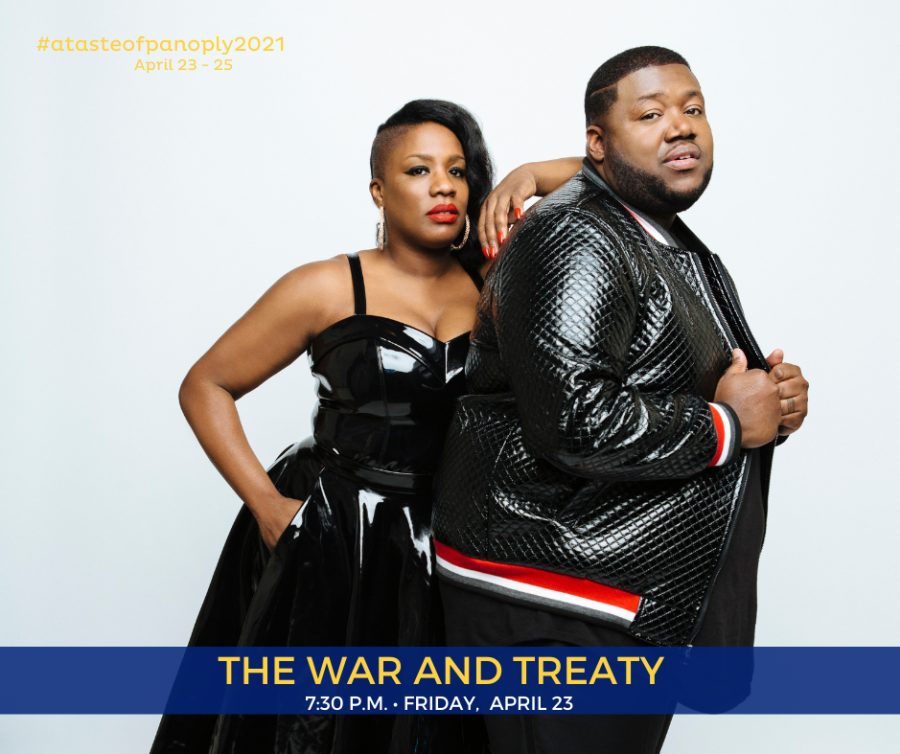 While Panoply typically offers three performance stages, the 2021 "Taste of Panoply" will feature only one stage – the Showcase Stage at the Huntsville Museum of Art.
Friday night: Ticketed at $20/person
Watch Huntsville favorite and award-winning Lamont Landers Band. Closing out the evening is Nashville-based headlining act The War And Treaty. The dynamic husband-and-wife duo were named "Emerging Artists of the Year" by the Americana Music Association, were featured on the Today Show, and at the 2021 Rose Bowl Parade Spectacular. The War And Treaty has previously performed with Mumford & Sons, toured with Jason Isbell and will be opening for John Legend on multiple tour dates this summer.
Saturday: Free to the public
Saturday on the Showcase Stage features local and regional talent throughout the day including the following acts: Tyler A.K., Them Damn Dogs, WANDA, Joe Cagle, DMRSoul and Lana White. Saturday night, the Unique Live Band will open for the headlining act The Vegabonds, who will close out the evening with a night of Southern rock music. The Alabama-born, Tennessee-bred group of five musicians released their fifth studio album "V" in 2019 and have previously opened for acts such as Lynyrd Skynyrd and the late Gregg Allman.
Sunday: Free to the public
On Sunday, "A Taste of Panoply" celebrates a day of Alabama music, featuring a full-day lineup of artists from North Alabama with the following acts: Cotton and Clover, Alan Little and the Giants, Ally Cat and the Stray Dogs, Midlife Chrysler and The Beasley Brothers on the Showcase Stage.
You can listen to a playlist of this year's "A Taste of Panoply" musicians at artshuntsville.org.
Art and STEAM at Panoply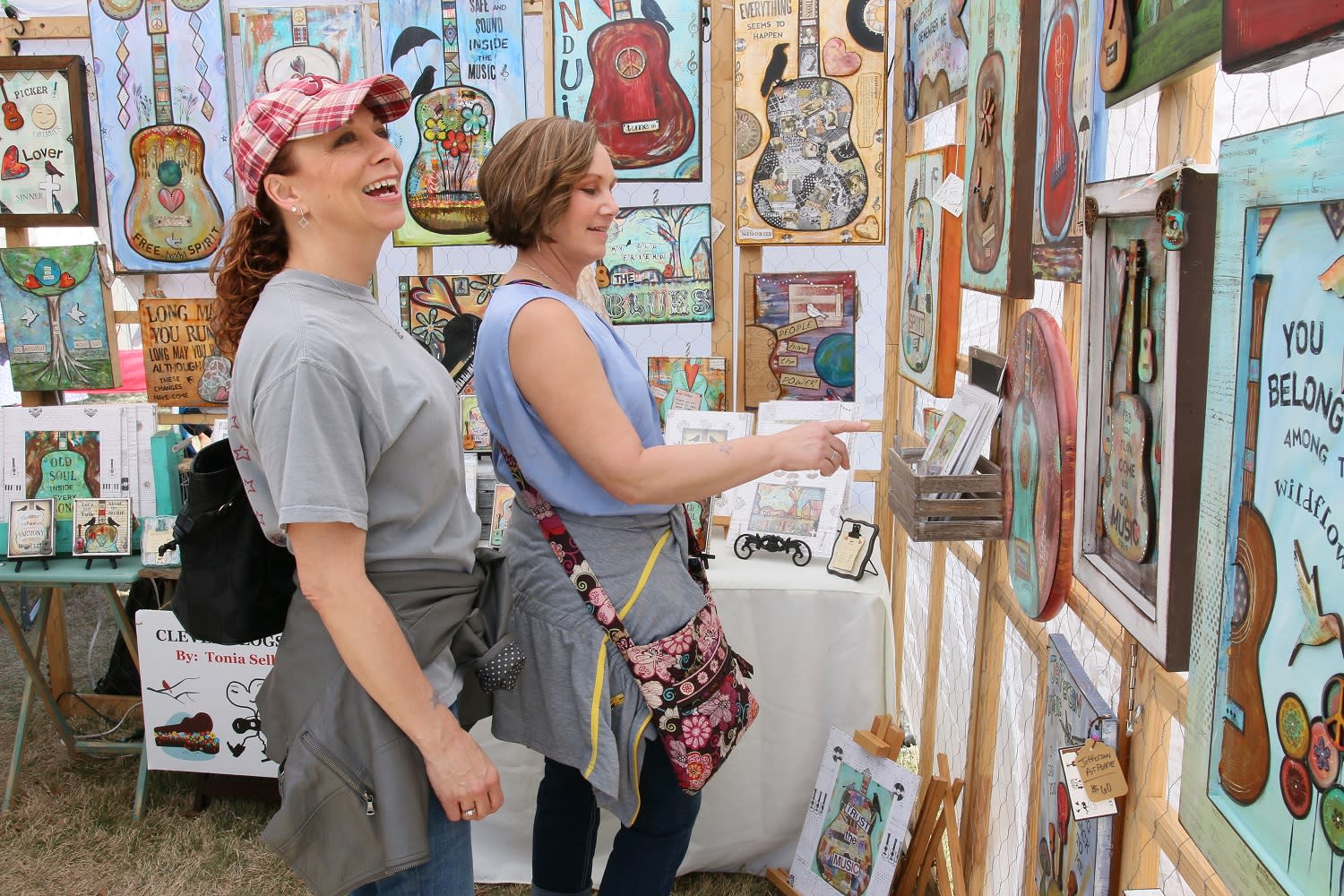 Photo from 2019
Art Marketplace
More than 100 professional artists will be on hand to showcase jewelry, sculpture, clay, glass, metal, fiber, two-dimensional and mixed media paintings. Shop outdoors in Big Spring Park and show support to many of the artistswho have to had the chance to work at a festival for more than a year.
STEAM Street
On Saturday and Sunday, STEAM Street will feature an "art of science" microscope exhibit, STEAM in Action demonstration by the Bakingtist, and takeaway activities like hovercrafts, creative catapults and binary beads!
Creativity Corner
Creativity Corner offers an in-park art scavenger hunt and takeaway art activities for kids to do a home on Saturday and Sunday. 
Arts in Action Demonstrations
Regional artists will offer live demonstrations at the Arts in Action tents on Saturday and Sunday, offering festivalgoers a first-hand look at art processes from Green Pea Press, Cigar Box Guitars and Angel Jordan in the genres of printing, playing and scarf dyeing.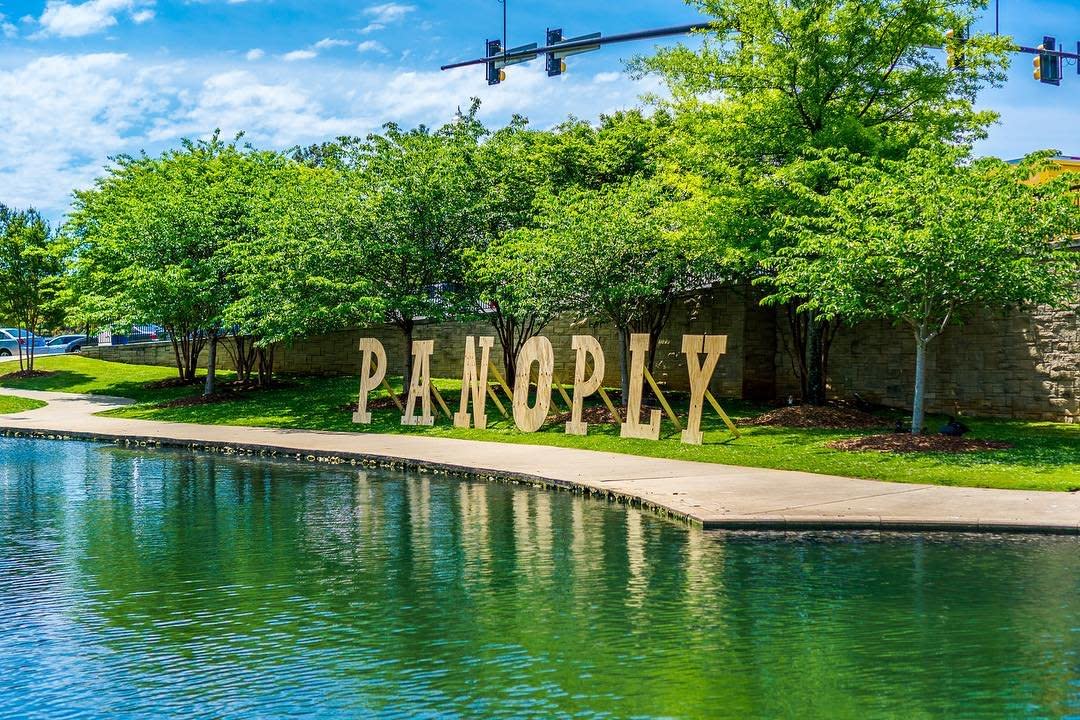 Photo from 2019
Panoply Letters: 
The arrival of the giant letters announcing Panoply signal the start of the festival. This year's Panoply letters will be finished artworks created by UAH art students designed to provide fun festival photo opportunities in the park throughout the weekend. In past years, attendees would contribute to the art, but due to social distancing, you get to enjoy it instead! 
Sidewalk Chalk Areas & Lookie-Lou Photo Opportunities     
The sidewalk chalk areas and "lookie-lous" provide a fun activity for festivalgoers to enjoy within Big Spring Park. These are always a must-see-and-do activity for making temporary public art and capturing festival memories.
Strolling Characters
Festivalgoers will have the opportunity to see characters and dancers from their favorite area arts organizations strolling through the park for socially distanced photo opportunities.
Panoply Festival Food and Drink
Festivalgoers can enjoy creative culinary creations alongside the diverse array of art and music, as the festival will also showcase 13 regional food trucks and vendors. While Panoply traditionally celebrates Huntsville's craft beer scene at the festival, "A Taste of Panoply" will not offer a Craft Beer Tent inside the festival. For 2021, purple cups from Huntsville's downtown entertainment district will be allowed at the event.
Know Before you Go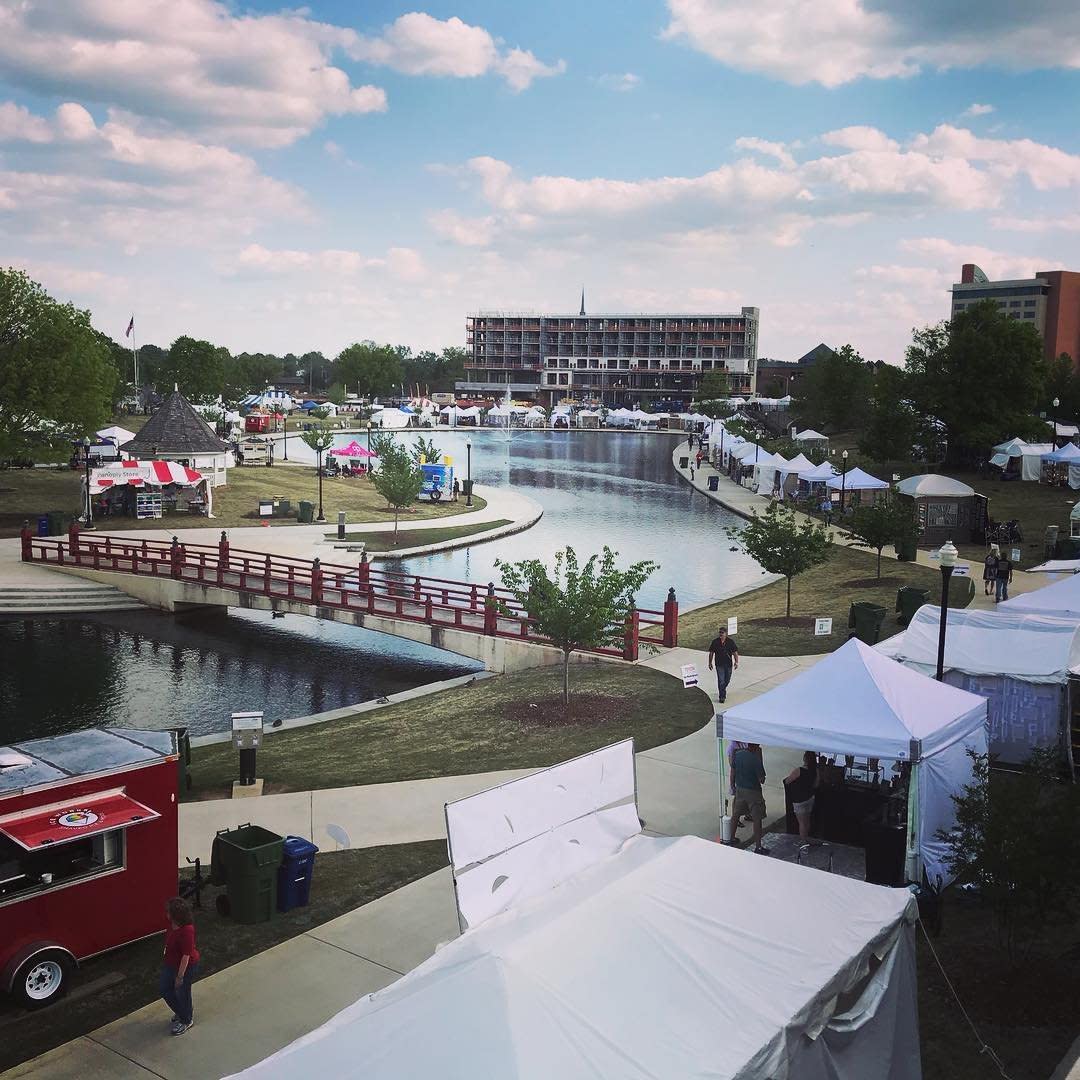 Photo from 2019
A Taste of Panoply will be taking several COVID-19 Precautions. Festivalgoers will be required to wear masks. There will be masks available at the entry gates and at a variety of stations throughout the part. The mask policy may be updated based on current CDC, state and county guidelines.
Sanitizer stations will be setup throughout the park. All visual artists will be provided with sanitizer and attendees will be asked to sanitize before handling artwork. 
Because it's an outdoor space of 12.5 acres,  there is plenty of room to spread out and stay separated. However, Arts Huntsville and public safety partners will monitor the park capacity and if it looks like social distancing guidelines can't be met, incoming attendees will be queued at the entry gates until festivalgoers have exited.
Tips from a Pro: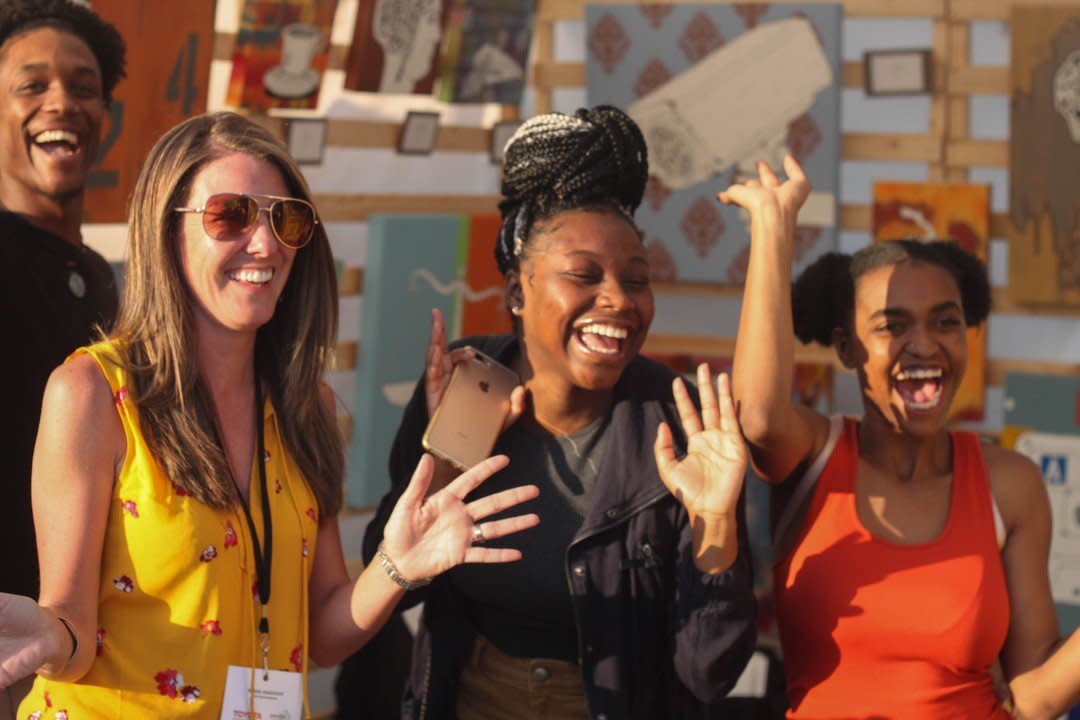 Photo from 2019
Pack your Stuff
There are a few things you should bring with you. It may sound a little crazy, but bring sunscreen and a poncho. Yes, you may need both. We admit that the weather is unpredictable at the end of April, so be prepared for anything. Please note that outside food and drink and pets are not permitted in the festival. Enjoy the local food vendors for your dining pleasure! Strollers or wagons for little ones can be helpful for navigating around the festival as well!
Another very important thing to remember is that Panoply has festival seating. This means you need to bring your own chairs or blankets for the stage area.
Grab a Festival Guide
Make sure you grab a Panoply Festival Guide as soon as you get through the gate. This guide has a map of the park, including a list of all performances, artists at Art Marketplace, food vendors and interactives. It is small enough to fold and fit into a pocket, but large enough to read easily.
Panoply with Children
If you are bringing your children to Panoply, you are going to have a BLAST, and they will too! There are so many great interactive games/exhibits at Panoply that are FREE for everybody. You are going to collect a lot of works of art from your children (and the young at heart).
We recommend that you bring a bag to carry these masterpieces or stop by one of the Panoply Stores and buy a Panoply souvenir bag. Remember that interactive activities aren't just for kids – you can do them too!
Panoply volunteers will put a wristband on each child with your cell phone number on the INSIDE. Don't forget your cell phone and make sure it's charged.  Take a picture of your children so you can remember what they are wearing. If you and your child are separated, be sure to turn the phone ON in case a designated Panoply team member is trying to call you.
If you can't find your child, go to the Info Booth near the American flag for assistance, or find any festival volunteer wearing a navy blue shirt and a radio.
Asking for Help
If you have questions while you are walking around Panoply you can always ask somebody in a Arts Huntsville Staff or Volunteer shirt to help you. Each year we depend on over 100 Panoply volunteer chairpersons to help make Panoply happen. We wear bright colored shirts on purpose, so you can easily identify somebody to answer your questions.
You can always stop by the Information Booth located near the American flag if you have any questions.
Enjoy the Festival!
Our best advice for first timers is to just take your time and walk around and enjoy everything. There is nothing more special than seeing Big Spring International Park transformed into this fantastic arts festival. Don't forget that Friday and Saturday evenings end with a fireworks show!