In a world where our excursions usually appear on Instagram, it's natural to look for Instagrammable photo spots. Here are a few of my family's favorites, and they typically appear on Instagram feeds! There are two pictures for each location, a description of the spot, an informational link, and a few good-to-know tips based on our family's experience, along with an address to input into your phone!
Monte Sano State Park
Location: 5205 Nolen Ave, Huntsville, AL 35801
Phone: 256-534-3757 | More info here

Monte Sano State Park sits at an altitude of 1,600 feet, making it a breathtaking view for photos.
Covering 2,140 acres with an expansive mountain top retreat, the park features hiking trails and waterfalls throughout the publicly owned recreation area. This is one of the first areas we visited when we moved; we'd uprooted from a beach community, so these mountains did my beach-homesick heart some good!
Good to know: The state park does have a car entrance fee, but it is usually free entry during art festivals or public events. The park has public bathrooms, water fountains, and picnic tables.
Madison County Nature Trail on Green Mountain
Location: 5000 Nature Trail Rd SE, Huntsville, AL 35803
Phone: 256-883-9501 | More info here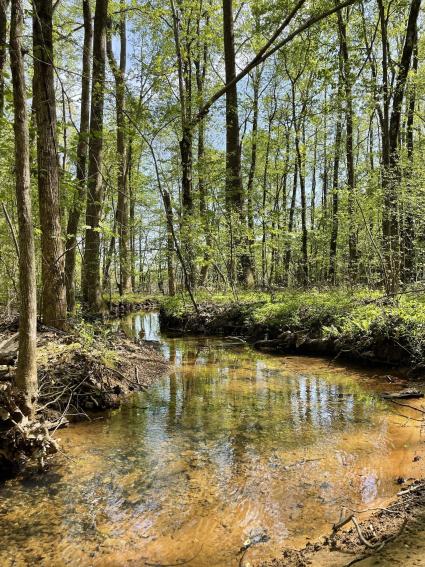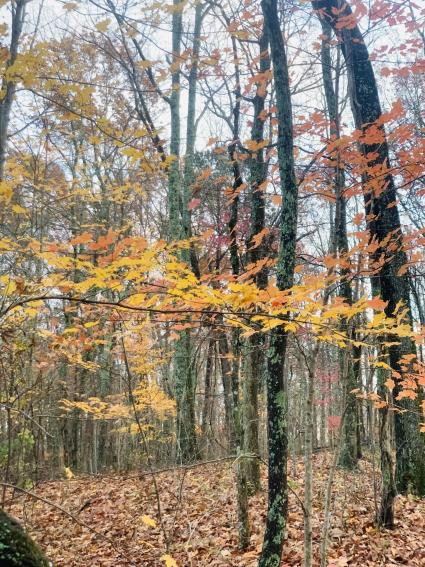 Green Mountain Nature Trail quickly became our go-to outdoor spot in Huntsville. We visited it our first week here and have returned often. The trail wildly fluctuates, showing off the beauty of living in a four-seasons state. Manifesting newborn green in Spring, Winter's monochrome browns, grays, and blacks following Fall's brightly painted leaves – and summer is in full bloom! Every season is a sight to behold and every time of day has a surprise. The trail is light treading and great for families, circling a pond with a historic log cabin, chapel, and a covered bridge. We prefer to take our older parents to walk this trail; the land trust does a fabulous job keeping the paths smooth and safe for walkers of all ages.
Good to Know:  The trail is 1.5 miles long and takes about 45 minutes to walk. It is open to the public from seven in the morning to thirty minutes before sunset. There are accessible public bathrooms, a water fountain, picnic tables, and swings on site.
Huntsville Botanical Garden
Location: 4747 Bob Wallace Ave SW, Huntsville, AL 35805
Phone: 256-830-4447 | More info here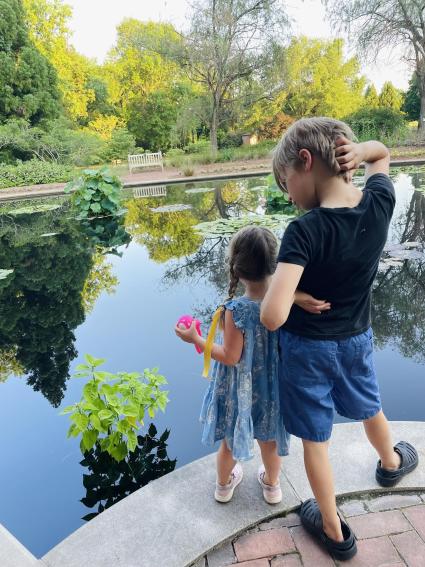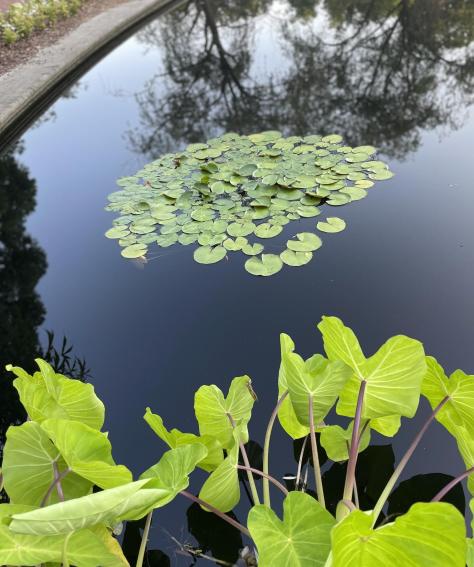 We moved to Huntsville in the middle of the pandemic; I had to have a greenspace to take my crew, so we promptly bought a season pass. I had our botanical gardens pass before I had an Alabama driver's license. The park consists of various themed gardens situated around walking trails. Our favorite spot is the Damson Aquatic Garden shown in this post, a mesmerizing formal circular garden with a pavilion for viewing the Water Lily Pool. The semi-circle pond laden with thriving plant life is a tranquil experience. This is just one Instagram-worthy spot; there are hundreds.
Good to know: There are entrance fees, but the best bang for your buck is the yearly family membership. There are bathrooms, water fountains, a gift shop, and an eating area at the Gardens.
Burritt on the Mountain
Location: 3101 Burritt Dr SE, Huntsville, AL 35801
​Phone: 256-536-2882 | More info here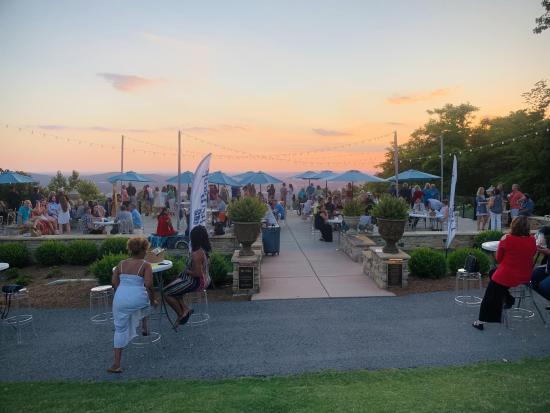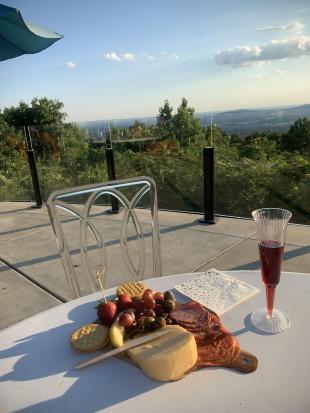 Burritt on the mountain is a historic park and mansion overlooking Huntsville built by Dr. William Burritt in 1938. He had an affinity for homeopathic medicine and believed in the healing mountain air, which led him to build one of the city's more whimsical and unconventional homes. For over 60 years, Dr. Burritt's beautiful mountainside estate has served as Burritt On The Mountain, a historical site to depict colonial life. There are many activities throughout the year, from festivals to classes, concerts, and plays. Cocktails are available on the veranda at sunset, where a picturesque spot is waiting for your photo! We enjoyed a date night at Burritt, partaking in the cocktails and charcuterie box at the veranda event – the view was unbelievable.
Good to know: The events are outlined online and offer extensive options from homeschool classes to day camps, guided group tours, and self-guided tours.
Blevins Gap
Location: Cecil Ashburn Dr, Huntsville AL 35802
​More info here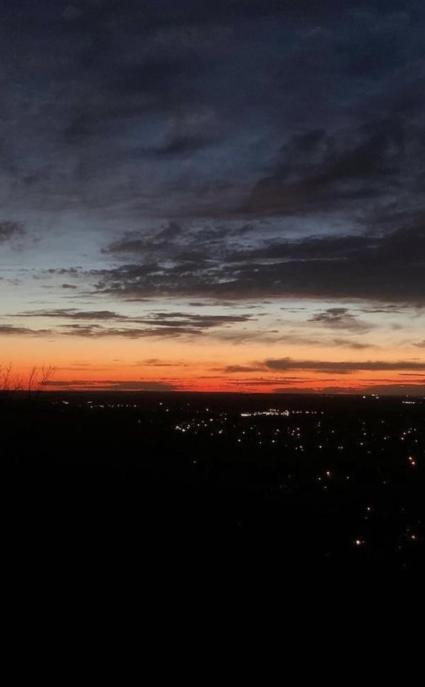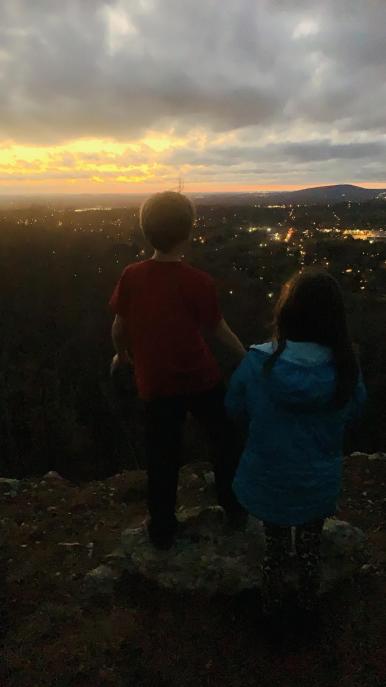 Blevins Gap split viewing spot on Cecil Ashburn Drive is perfect for sunset lovers! It is also the entrance to a trailhead nature preserve maintained by the Land Trust of North Alabama. When I need a quick time-out with the family, we drive to Blevins Gap and watch the sunset. It's also a simple place to bring out-of-town guests to show off nightfall over the city; the darkness moves in like a warm blanket while the lights of the city twinkle below and the stars above illuminate the sky. Oh, and we always grab a few pics for Instagram!
Good to know: There are no public access bathrooms, but when I went last, there was a port-a-potty. The ridge can be steep in some places, so proceed with caution if young children are around.