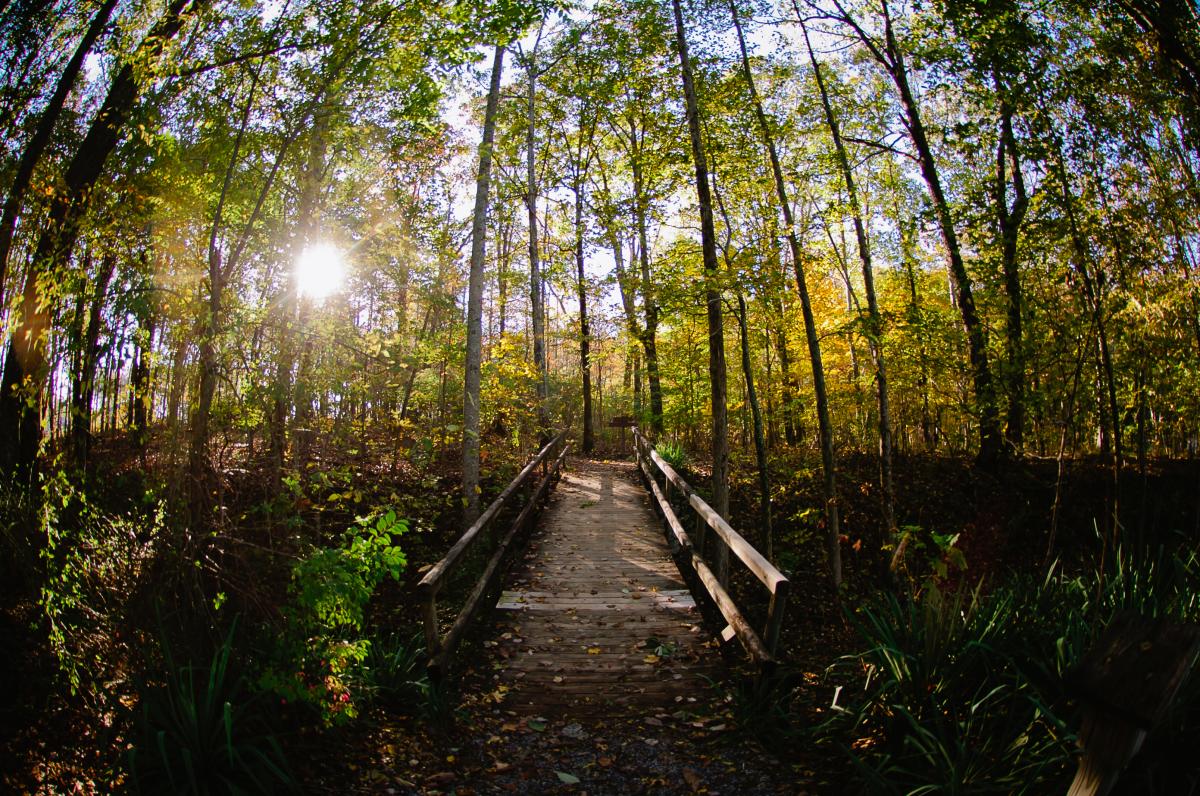 Winter is one of the BEST times to get out of the house and into nature in Huntsville!  With our mild winters, we can enjoy the outdoors all season long.  After the trees have dropped their leaves to make a soft blanket over the trail, it's the easiest time of year to spot wildlife.  And when the trees have dropped their leaves, our fungi reign supreme, and many forest plants are green all year round.
One of Huntsville's hidden gems, the Madison County Nature Trail on Green Mountain is a quiet park with a 1 ½ mile nature trail circling a large lake high above the city.  The park also offers a large picnic area and pavilion, accessible restrooms, a chapel, a covered bridge, and an old cabin.
Home to ducks, geese, deer, and many birds, numerous benches are along the trail for stopping to rest or just enjoying this quiet getaway under the trees.  Sky Lake is stocked with bass, bluegill, and catfish.  Anglers under 16 and over 60 can fish Monday through Friday for a $3.00 fee.
Need to stretch your legs after a big family meal or walk off some holiday treats?  Bring the whole family!  The trail loop is easy and family-friendly, and leashed pets are welcome.
What to bring & wear:
Water
Layered clothing
Gloves, scarf, and hat if the weather is chilly
Comfortable walking shoes
Your camera!
The Madison County Nature Trail on Green Mountain is open year-round from 7:00 a.m. to dusk.  To get to the park from South Memorial Parkway, take Weatherly Road east, turn right on Bailey Cove Road, left on Green Mountain Road, and then right on South Shawdee Road for 1.3 miles.
Winter Tip: If the weather has been snowy or icy, check to see if Green Mountain Road is open before leaving home.  A windy drive, it is often one of the first to close when we have wintry road conditions.
Green Mountain Nature Trail Photos