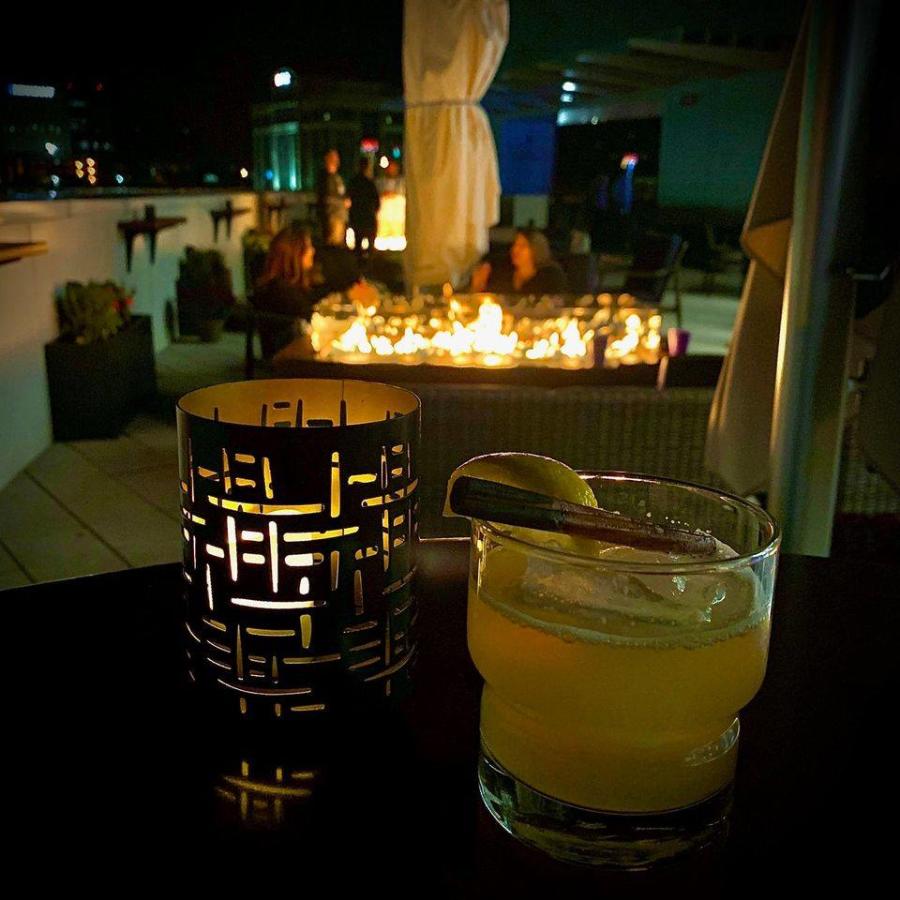 Photo Credit: Rhythm on Monroe
Looking for a cozy spot with outdoor dining that stays warm and toasty all year long? Several of Huntsville's restaurants have made it a point to create a comfortable outdoor atmosphere with heaters, curtains, and other methods to keep their patrons happy while dining outside. Over the past year, outdoor dining has become increasingly popular and somewhat of a necessity. Here are a few places where you can stay snug while eating a delicious meal or enjoying a drink.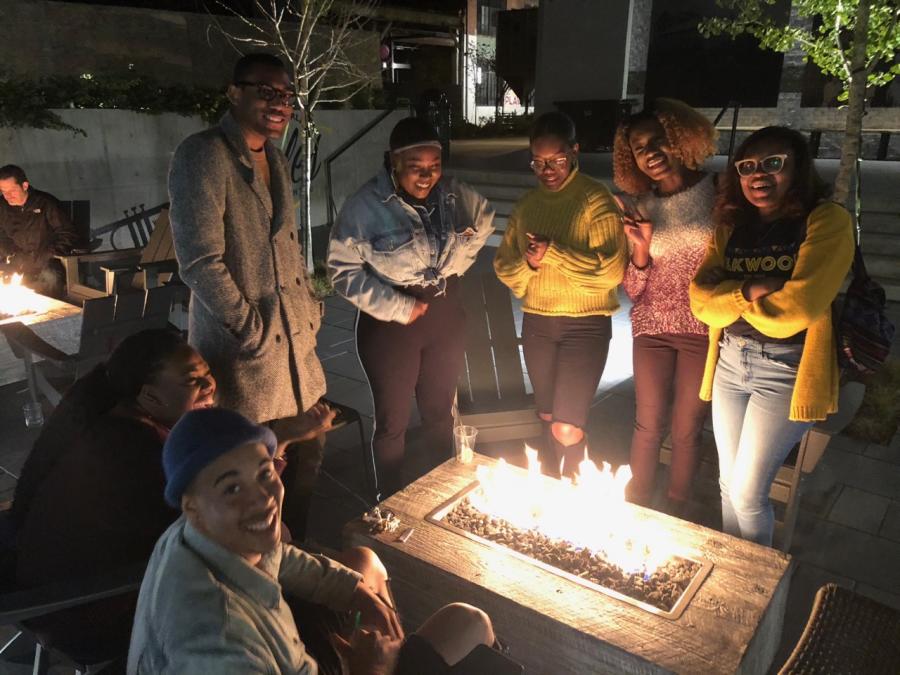 Photo taken in 2019
Located within the growing MidCity district, The Camp is its own outdoor destination complete with on-site dining and a full-service bar. This inventive and hip food truck garden keeps people coming back with the promise of excellent menu selections from Camp favorites and a unique ambiance. Visitors stay warm with outdoor fire pits and heaters, meaning you can enjoy exploring in comfort. Visit their website to see all of the food options you can savor.
A popular hangout off Governors Drive, Stovehouse is home to several local fast-casual eateries that share common dining spaces. While there is always a heated indoor option at the site's "The Booth", there are also plenty of spaces outside among live music. Its outdoor Food & Leisure Garden has a multitude of ways to stay warm while dining on eclectic food. Thanks to outdoor heaters and fireplaces, the old Martin Stove factory is a must-visit space during the shorter, colder days of winter. Visit any of these restaurants: Kamado Ramen; Bark & Barrel BBQ; Fresko Grille; Parm & Pepper; Oh Crepe; Taqueria el Cazador; and coming soon, Wok's Up.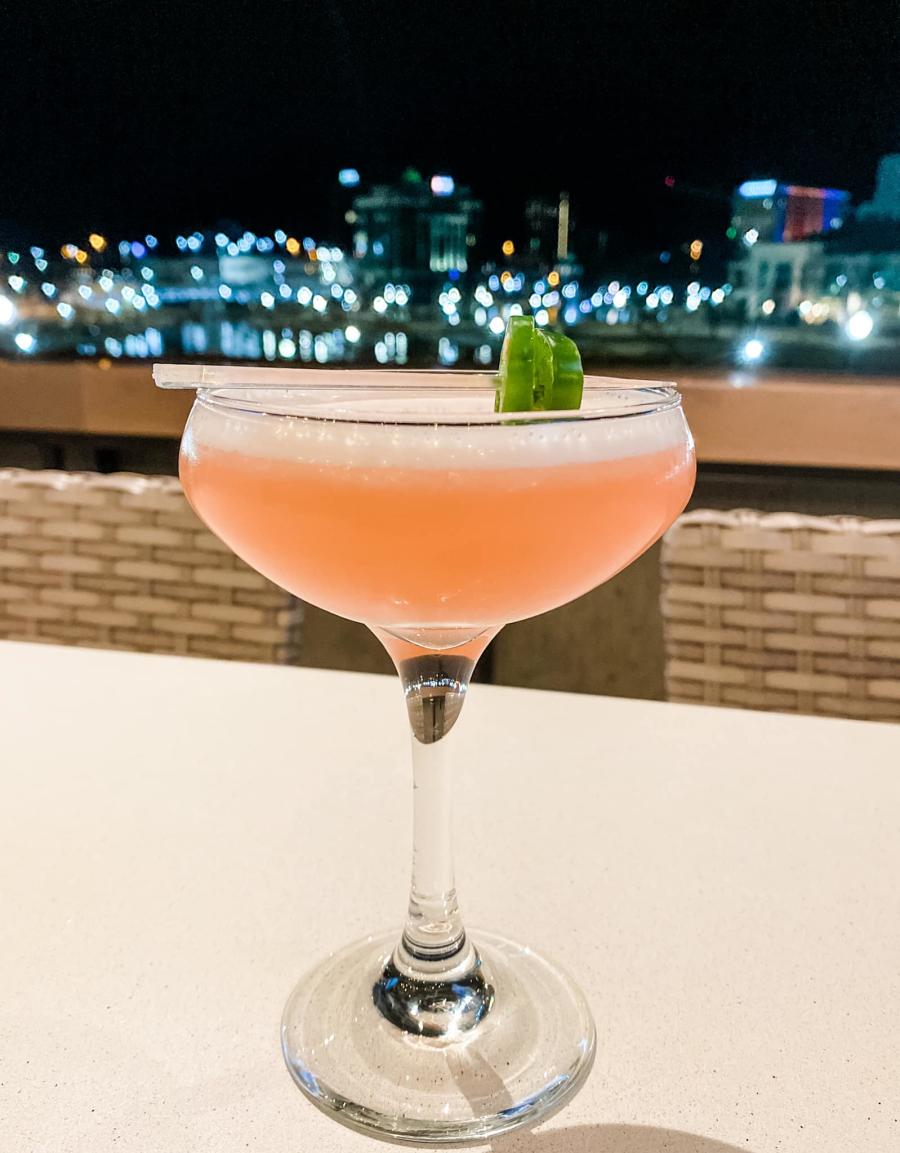 Situated on the second floor of the AC Hotel in downtown Huntsville, Bar Vista houses a nationally recognized chef and a delicious menu to boot. Its outdoor area has an excellent view of Big Spring Park and in-ceiling heaters to keep guests toasty. As far as the menu goes, it is updated and curated by the team periodically. Currently, they are serving up small plates like a Wagyu Burger, House Mix Salad, Steak Sandwich, and Cajun Salmon. There are also plenty of shareable plates for the table and desserts like Key Lime Pie and Strawberry Shortcake.
If you're craving outdoor dining with a view, look no further than Rhythm on Monroe downtown at the Von Braun Civic Center. Its rooftop bar provides heat with enclosed fire pits and cushioned seating that makes every visit pleasant. As you study the lights of the nearby buildings, enjoy an excellent cocktail, glass of wine, or something off its robust menu of flavorful appetizers and entrees.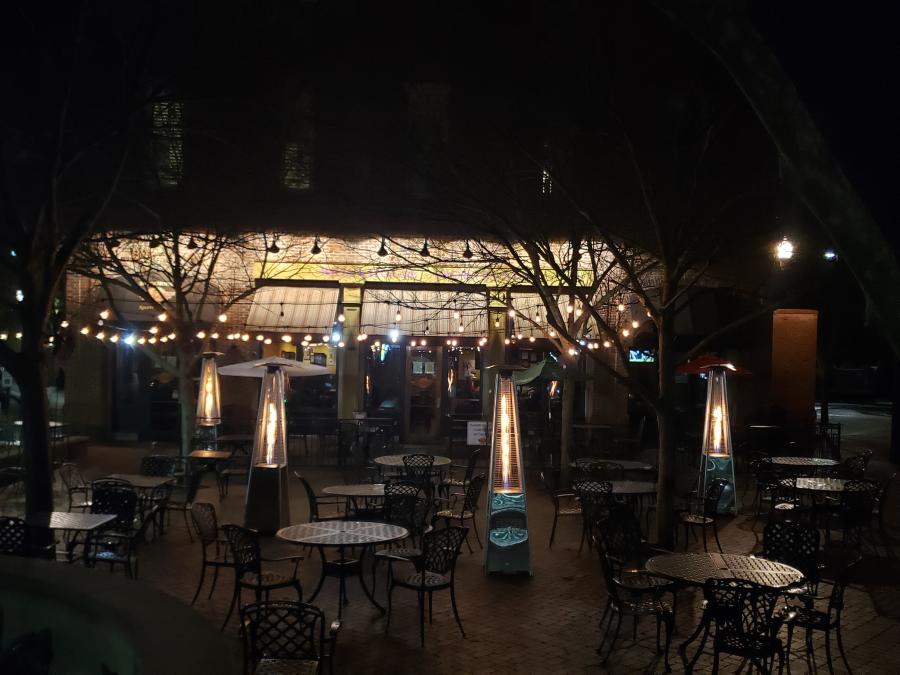 Brickhouse Sports Cafe
The Brickhouse is located in the Village of Providence. The revamped restaurant emphasizes fresh ingredients and better overall quality as well as strives to provide world class service to locals and out-of-town guests. The fully themed interior features rustic brick with 25 high definition TVs for your sports enjoyment as well as a full service bar with a 15-tap beer system, 20 domestic and import bottles featuring your favorite brew. Want to just relax? Take a seat and enjoy live music or the games outside on the patio right next to Providence's center fountain.
Melt serves up comfort food with a modern twist, and they keep the comfort going on their outdoor patio where they have heaters to keep guests warm. This is a great spot on the corner of Jefferson and Holmes on the ground floor of The Avenue apartment complex. Sit outside and watch the busy downtown streets while chowing down on one of Melt's signature sandwiches like the Ragin' Cajun, Classic Cuban, or Flyin' Hawaiian. We also recommend their Mac N' Egg Roll appetizer. Bonus: they have a full bar too!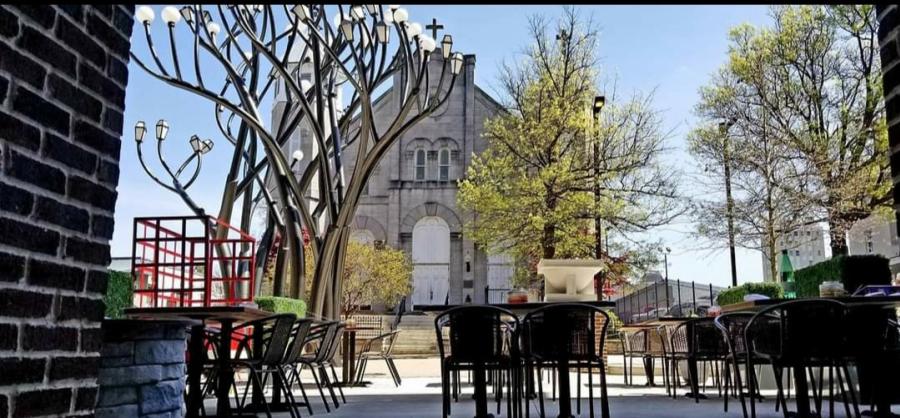 Just a few steps down from Melt on Jefferson Street you can enjoy a fine dining experience you won't soon forget. And you can have it all on the patio beneath a gorgeous lit tree sculpture. Purveyor has made sure to keep their outdoor seating snug with heaters and comfy seating. This well-loved Huntsville establishment has something to appeal to everyone's tastes. From entrees like Braised Short Rib & Gnocchi to Squid Ink Taglitelle, it's a chance to indulge in a feast of perfection—there's so much to try and lots of fresh, seasonal selections. Don't forget to try one of their handcrafted cocktails.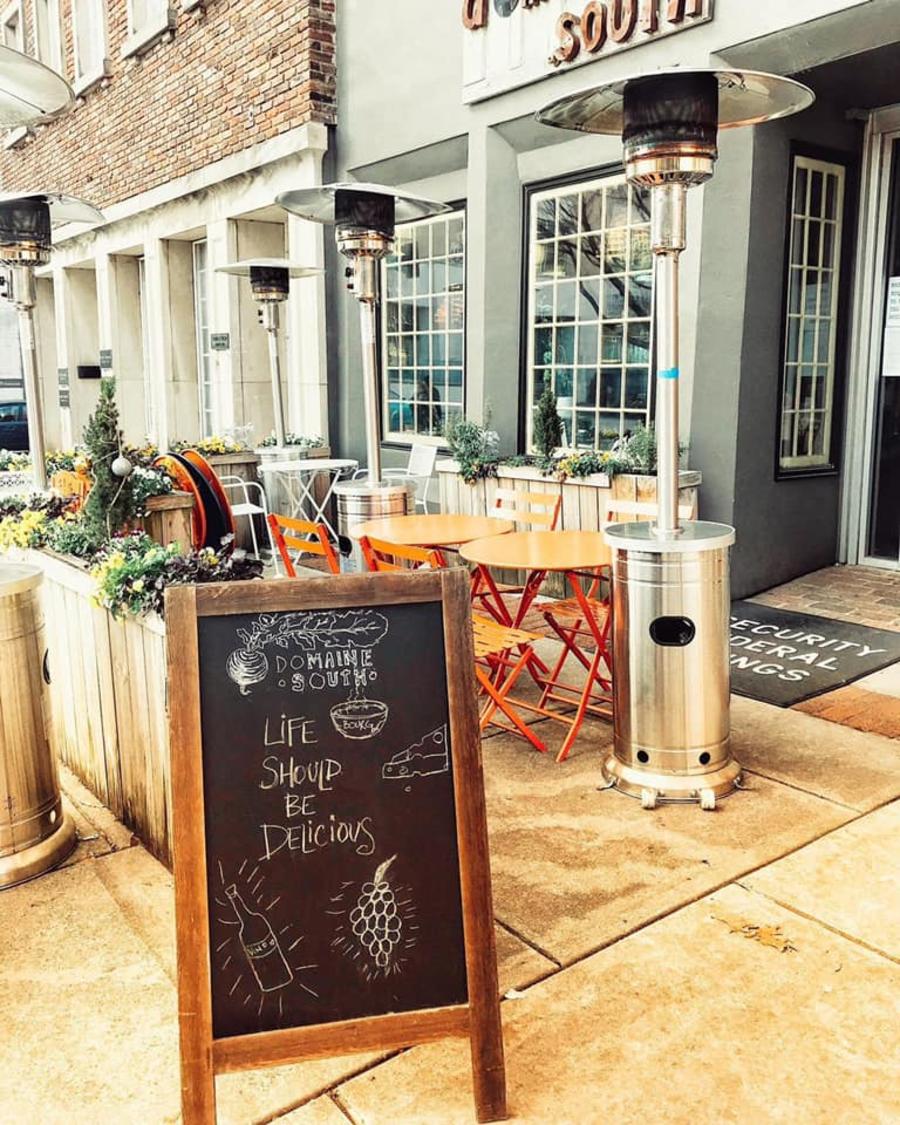 Downtown's historic square surrounds the courthouse with an array of excellent dining options, and several of those have added comfort to their outdoor dining—Domaine South is one of them. Here you will find the finest wines by the glass accompanying small plates, charcuterie, artisanal cheeses and desserts, as well as coffee, tea, locally-made goods, cookbooks and more. It's the perfect place on the square to unwind any time of day or to pick up a bottle of wine for dinner on the way home.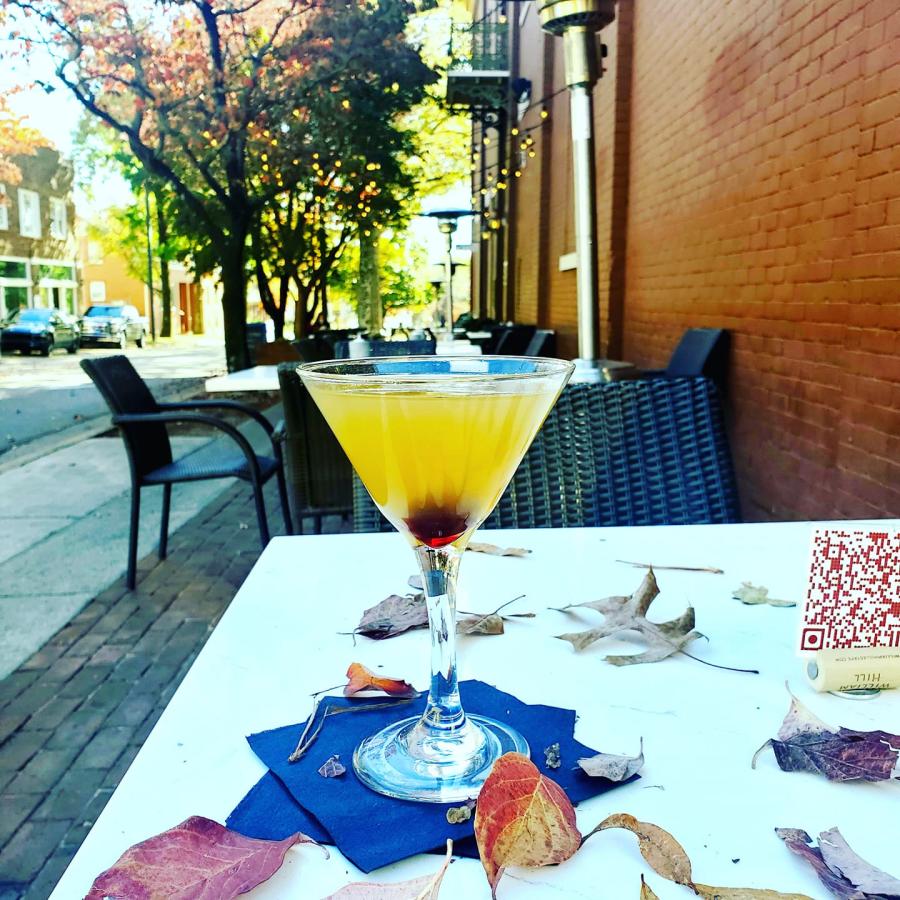 Not far from Sam & Gregg's is another restaurant on the square with cozy outdoor seating. If you're looking to enjoy fine dining outdoors, you can't go wrong with Commerce Kitchen. This restaurant has a beautiful outdoor dining area on a tree-lined corner complete with string lights and a downtown ambiance. They are open for brunch, lunch, and dinner. They also have a nice dessert and drink menu too. Commerce Kitchen specializes in fine southern classics and strives to use local vendors whenever possible.
Big Oh's
Korean fusion cuisine is what's on the menu at Big Oh's on the downtown square. They have limited outdoor seating along North Side Square with heaters and spaced out tables. Open since 2015, they have become a well-known family owned operation that provides excellent Korean food and customer service. They have a lot of loyal customers who come weekly for their fill of Bulgogi, Korean BBQ Chicken, Kimchi Fried Rice, and more.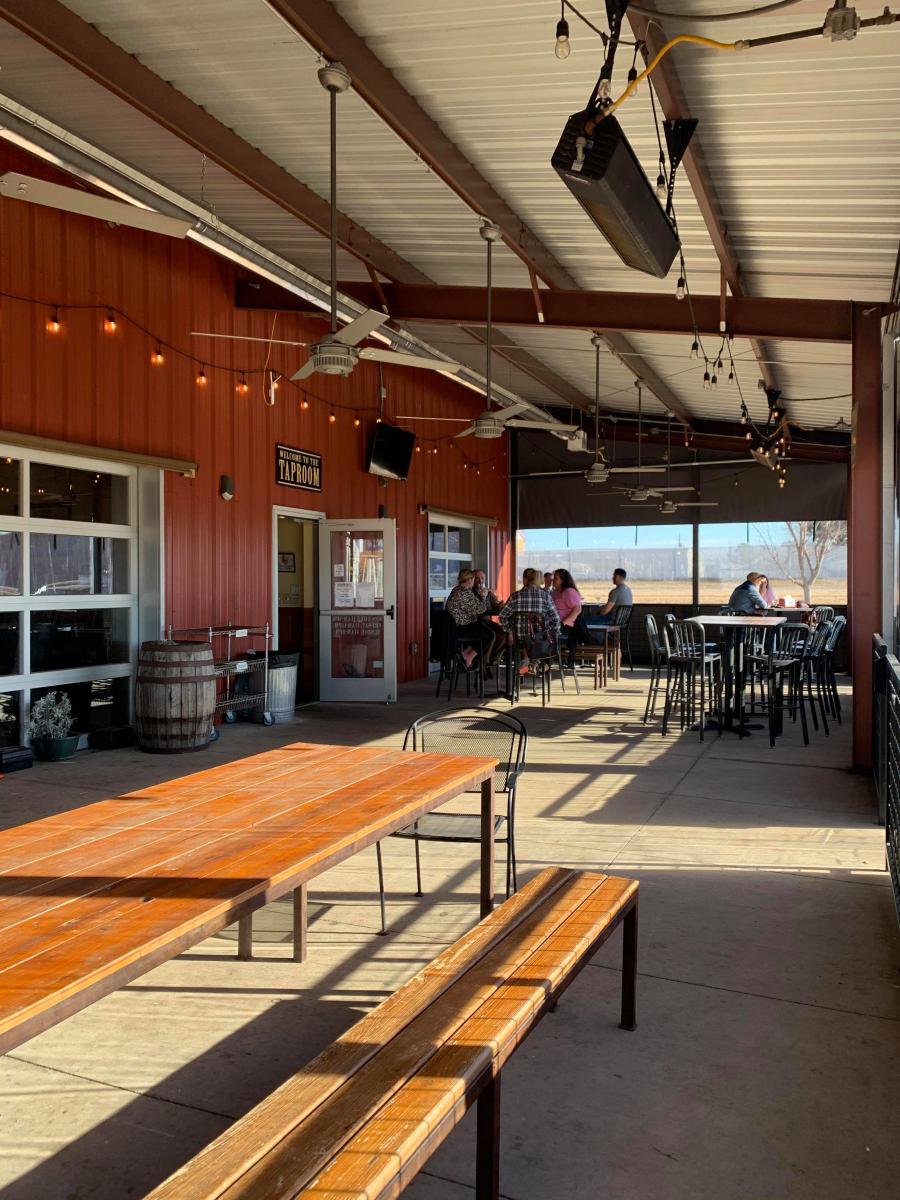 Yellowhammer Brewing at Campus No. 805 recently posted that they were improving outdoor dining by adding better heaters and curtains on its patio to expand seating options. This establishment is well known for its excellent and inventive beer selections, and guests can enjoy more than 20 craft beers on tap. They have a menu of year-round and seasonal beers so you can always try something different. Yellowhammer also has a small collection of cocktails on its menu.
Hungry? Inside Yellowhammer you can find the popular local joint, Earth & Stone Wood Fired Pizza. They have a wide selection of freshly baked pizzas, small plates, salads, calzones, sandwiches, and homemade ice cream.
Another Campus No. 805 destination, Straight to Ale is where you'll find delicious food, beer, wine, and spirits. From burgers to poutine to signature sandwiches, there's something for everyone to enjoy along with an iced cold brew. Its outdoor area is kept warm with heaters, making every dining experience on its patio a treat. This is one of Alabama's largest production breweries and you can find the perfect pairing of comfort food and on-tap beer.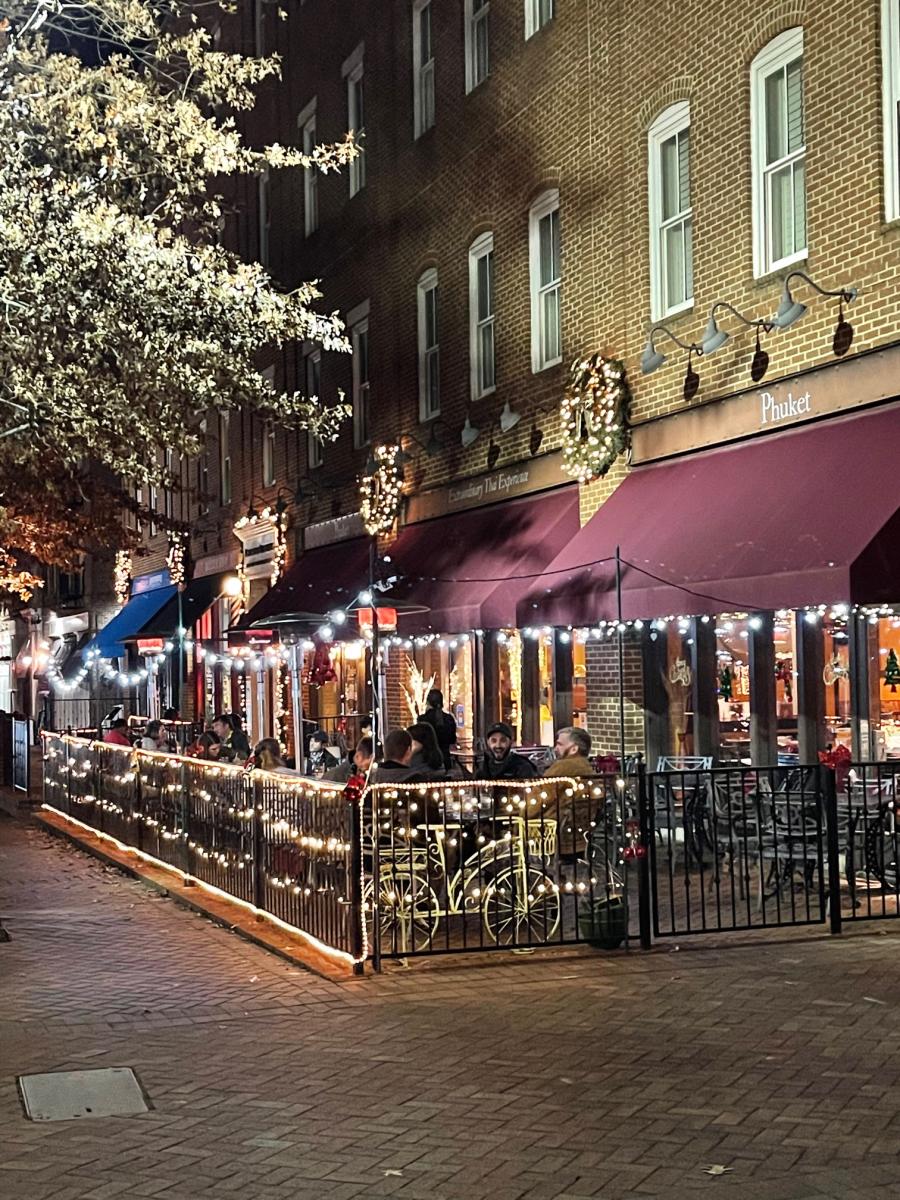 Phuket is offering outdoor dining only. They provide the tower heaters, personal electrical heaters, and blankets to make guests warm during the winter months. Order some of their delicious Thai cuisine and sushi served in stylish, upscale, and cosmopolitan atmosphere. Serving the best Thai cuisine in town, Phuket has made a name for itself with its tremendous menu that ranges from sushi, curry entrees, rice dishes and noodle bowls to pad Thai, satays, steaks, seafood and more.
This relaxed taproom features craft beer on tap to enjoy in house or at yours. Snack on some of the tasty starters, sidewinders, brats and more while you enjoy an ice cold beer or wine by the glass. The outdoor patio is heated and socially distanced for everyone.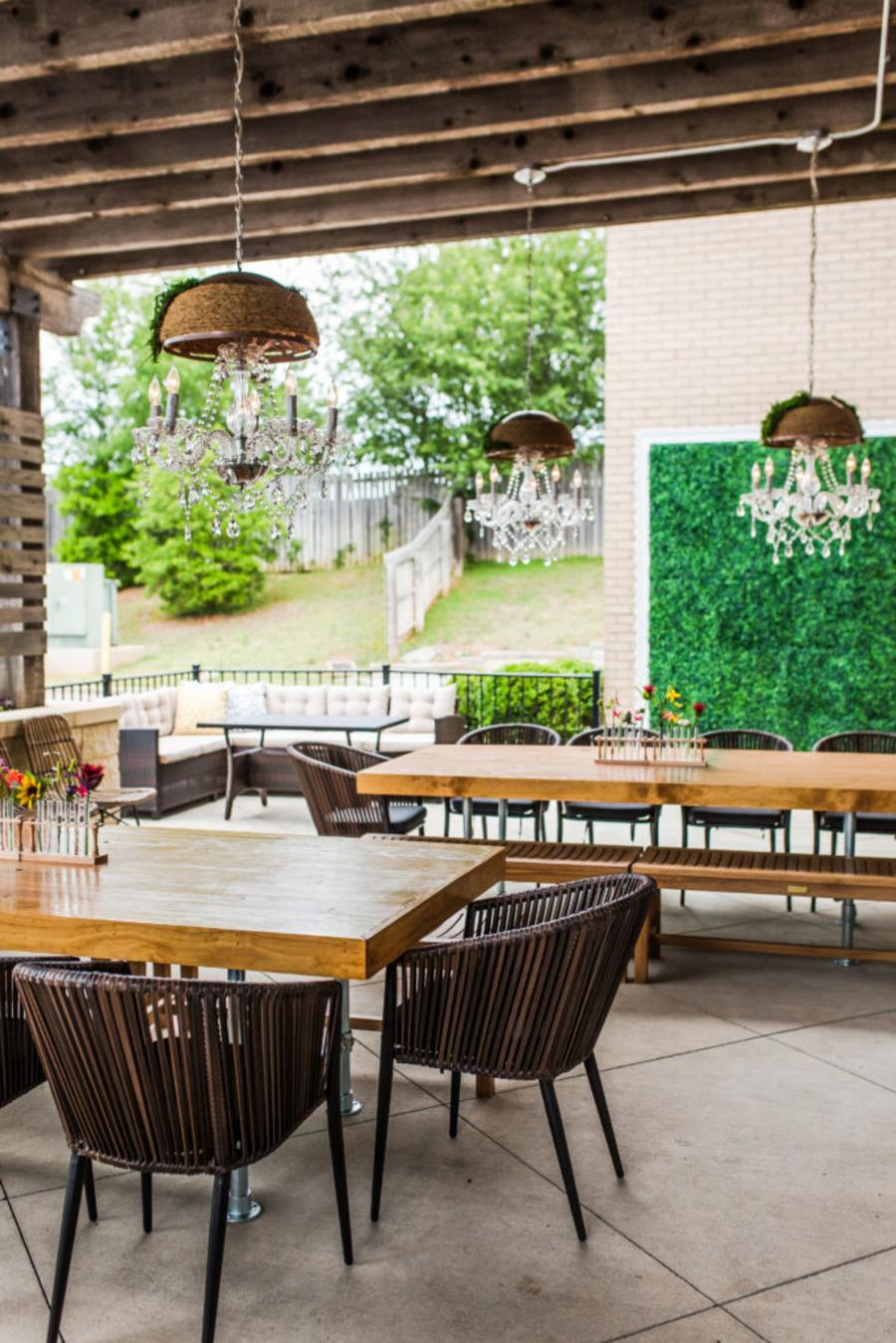 Photo credit: Whitney Briscoe Photography with All Things Madison
One of Madison's newest restaurants, Tom Brown's has a wonderfully heated outdoor space. Enjoy food prepared using only the finest ingredients, from 100% Certified Angus Beef® to seafood that is flown fresh daily from the shores of Hawaii. Delicious, handcrafted cocktails and brewed in-house craft beer are always on the menu, with weekly drink specials to inspire your adventurous side. With an elegant yet comfortable atmosphere, Tom Brown's Restaurant Madison is the Huntsville area's newest premium casual destination.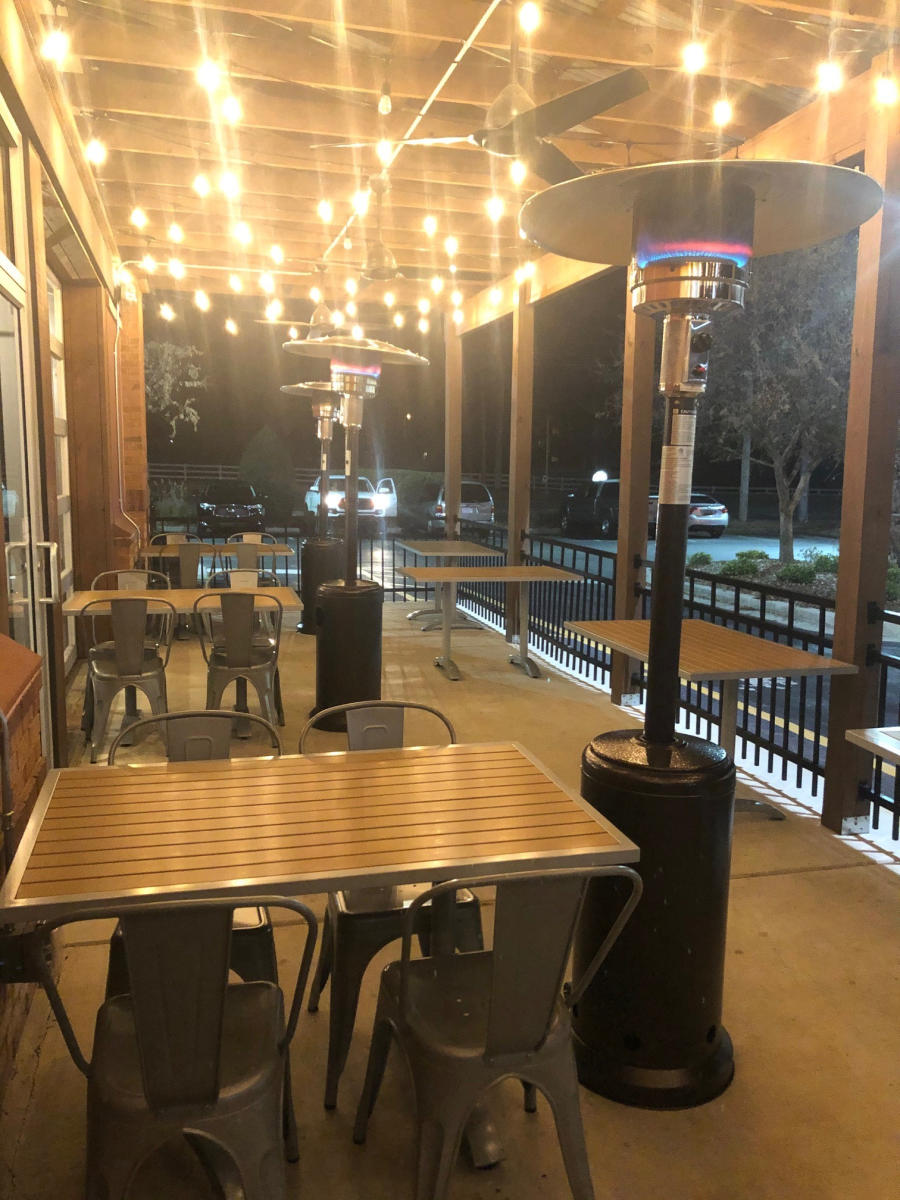 A casual, family friendly, neighborhood gastropub on County Line Road in Madison, Alabama. They offer affordable, chef inspired, modern American comfort food. They also have rotating taps of local and regional craft beer. Their outdoor patio is perfect for meeting with friends and enjoying some Detroit style pizza.
Based in Historic Downtown Madison, Old Black Bear Brewing Company is offers amazing pub food, craft brews and spirits and an outdoor heated patio. There are 3 International Master Brewer's in the South East and roughly 120 world wide and Old Black Bear has two of them. Working alongside local companies such as Leavendary at the HudsonAlpha Institute for Biotechnology, Old Black Bear embraces innovative strides in how beer is processed.
Sam & Gregg's in Madison has heaters outdoors. This pizza restaurant offers hand-tossed pizzas and creamy gelato. They also have a small selection of non-pizza items like meatball subs, muffulettas, Philly cheesesteak sandwiches, and more. Plus, they have lots of the area's local brews.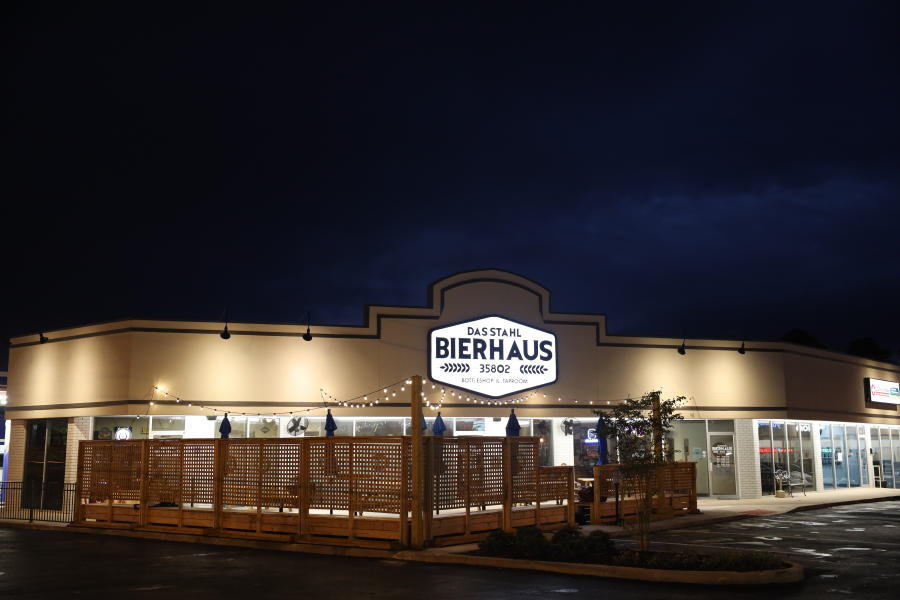 Das Stahl Bierhaus is South Huntsville's go-to destination for craft beer. DSB offers 32 taps for you to enjoy here and a large selection to take home. The have a heated patio that gives you space to spread out and enjoy your brew.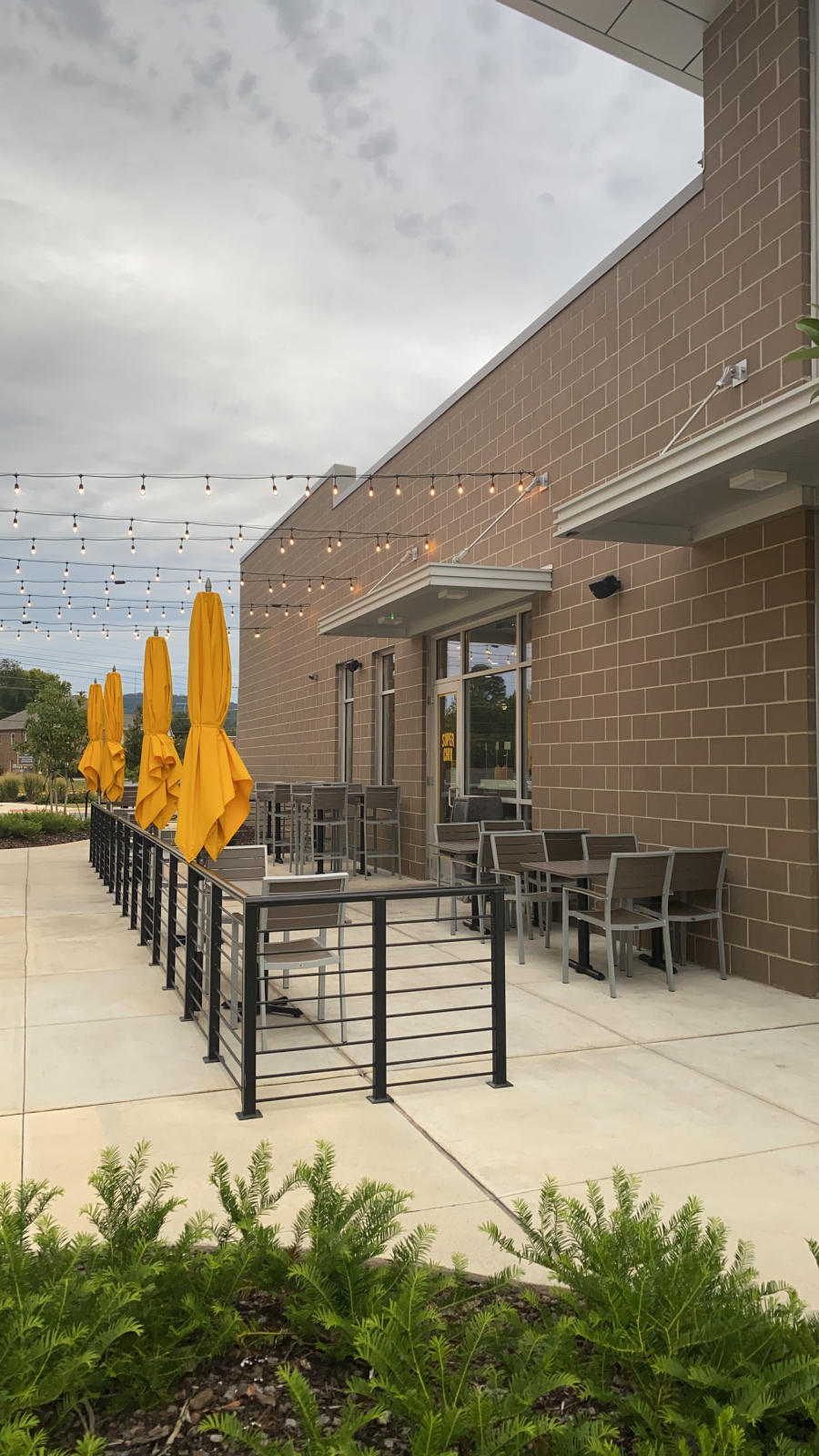 Super Chix is a premium, fast-casual dining experience that is devoted to quality offerings and great customer service located at The Times Plaza. They serve delicious never-frozen tenders and fillets, hand-breaded or grilled chicken sandwiches, salads, fresh hand-cut fries and daily-churned frozen custard. They have a side patio with heaters available to use.
In South Huntsville you can find a heated patio at The Boot Pizzeria where the pizzas are serious business. The dough is fresh and delicious, a real ingredient of its own, adding great flavor to the pizza. The specialty pizzas are interesting and tasty and include such things as a Shrimp Po Boy Pizza with chipotle mayo and Cajun shrimp, Smoked Salmon pizza, and a Smoked Italian Sausage Pizza with blue cheese added. They even have specialties like prime rib and duck pizza.
What other restaurants with heated outdoor dining should we add to the list? Let us know in the comments!