Debating whether or not you should check out Huntsville's WhistleStop Bar-B-Que Weekend at John Hunt Park August 13 & 14th? Let's take an in-depth look at just some of the many reasons why you should add this festival to your to-do list:
1) Meat
2) Music
Are you still reading? Honestly, I would assume the only reason you'd even start reading a post on whether to check out WhistleStop was because you'd never heard of it, but, even then, only the most skeptical would even make it past the name – "WhistleStop Bar-B-Que Weekend." Kind of says it all, doesn't it? And, in case you missed it, note the nuance of the name – this is not some sort of wannabe Yankee event with "barbecue," nor something offering mere half-hearted "BBQ." No, sir, this is a proper Bar-B-Que Weekend.

Let's say, hypothetically, that you weren't convinced two paragraphs ago, and you're still reading at this point. Since you're demanding the hard sale, let's dig into this further.
Bar-B-Que Competition
First, let's talk about the meat.
The first thing you'll notice even before you enter the festival area for WhistleStop is the smell. The atmosphere is saturated with the unmistakable and unmatched odor of various types of smoking meat, and this is the good stuff – four different competitions will take place over the weekend. They have something for professionals and those just learning. About 150 cookers are expected to compete in either the Kansas City Barbeque Society's sanctioned professional competition or the amateur ShadeTree Barbeque Cook-off. In a typical year cookers and judges come from 10 to 15 different states and each year even a small contingent from outside the U.S. Amateurs will serve up chicken and ribs, while the professionals will showcase their best chicken, pork, ribs and beef brisket to see who will be proclaimed the winner. "The KCBS competition is like the NFL of Barbeque", said Bart Williams.
But the tasting fun isn't just for the judges. The public will have expanded tasting opportunities this year so they can vote with their mouths and their wallet on who they think deserves to be crowned the champion. Friday evening the public can enjoy smoked wings and vote for their favorite. Saturday they can test out pulled pork in the People's Choice competition, and if they like what they taste, throw a couple of bucks in the cooker's bucket — the team with the most money takes home the bragging rights.
If barbecue isn't your thing, you can still arrive with an empty stomach — food trucks will be on hand with a variety of menu options to choose from, including vegan offerings.

WhistleStop Entertainment
WhistleStop may have started with meat, but with each passing year it's increasingly coming into its own as a music festival. This year it's a celebration of some of the best southern rock bands along with a great roster of area artists. Hear tributes to Lynyrd Skynyrd, Santana, Tom Petty, and the Doobie Brothers.  The music kicks off at 6:30 p.m. each night and the last band starts performing at 9:30 p.m. Folding chairs are welcome so you can sit and enjoy the music.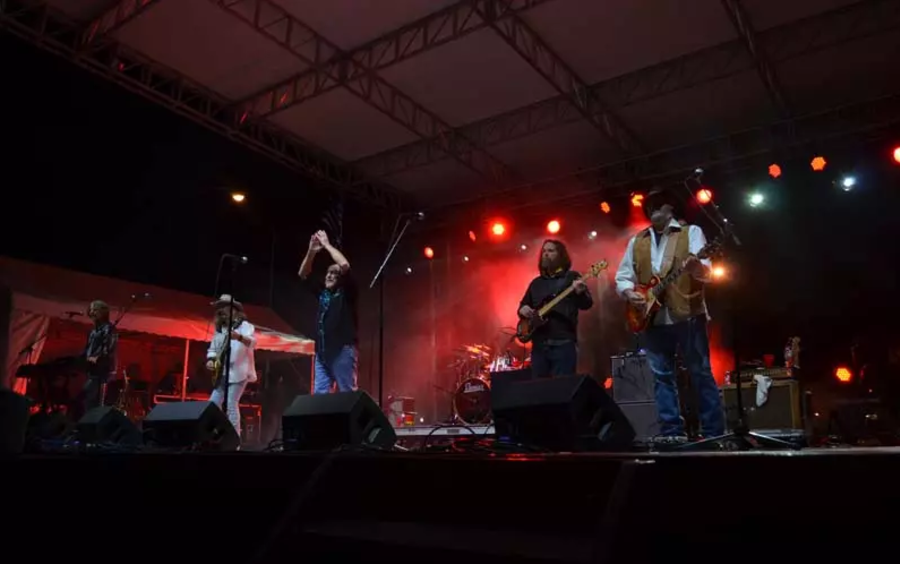 Plus, there's the fact that it's for a good cause, supporting the EarlyWorks Children's Museum and educational programs. There's no better feeling than enjoying a big mouthful of bar-b-cue while awesome music plays, and knowing that you're doing it all for the kids.
Barbecue competitors will be "cooking for STEM" as funds raised will directly support science, technology, engineering and mathematics initiatives at EarlyWorks Children's Museum, as the museum transitions from a history museum to a science and history museum.
Tickets for the event can be purchased online at www.whistlestopweekend.com.  All proceeds from WhistleStop Weekend benefit the educational initiatives of The EarlyWorks Family of Museums.
WhistleStop Weekend in Huntsville 2021
Dates: August 13 & 14, 2021
Location: John Hunt Park  2151: Airport Rd SW, Huntsville, AL 35801
Parking is provided on the north side of the festival grounds. Gateways are at either end of the festival on Jaycee Way.
Times: Gates open at 4pm on Friday, August 13th / Gates open at 10am Saturday, August 14th
Tickets: Single Day Admission  - $10 / Two Day Admission - $20
Children 10 and Under are Free
Click here for more information on all the fun!