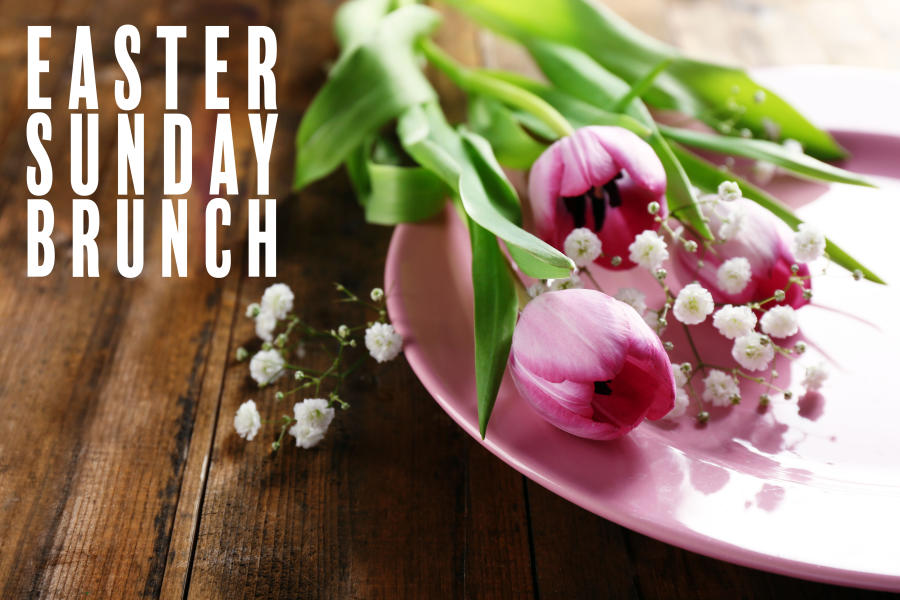 Nowhere in children's literature can be found a drawing of the Easter Bunny in a mask. Nothing in our lives prepared us for the notion we need to dip Easter eggs into sanitizer after first dipping them into that pastel magic potion of dye.
But here we are again, with this second Easter of our COVID-19 world. We have a lot more knowledge and a little more freedom than a year ago, but we're still not out of the woods. Yes, Grandma got her two Moderna shots, but not everyone has, so that enormous family feast may need to be postponed still another year. Caution and common sense still need to prevail.
That's reflected greatly by the hospitality industry, most of whom have struggled mightily over the past 13 months. With appropriate social distancing, with mask requirements and with sanitation protocols, many of our restaurant partners are open for limited service and carry-out this Easter. Here's a look:
Restaurants offering Easter Meals
Numerous Huntsville restaurants will be hosting special meals and to-go service on Easter. Here's a list we'll continually update. We suggest if you see one you would like to attend, make reservations due to limited seating. 
To add your restaurant, email us here.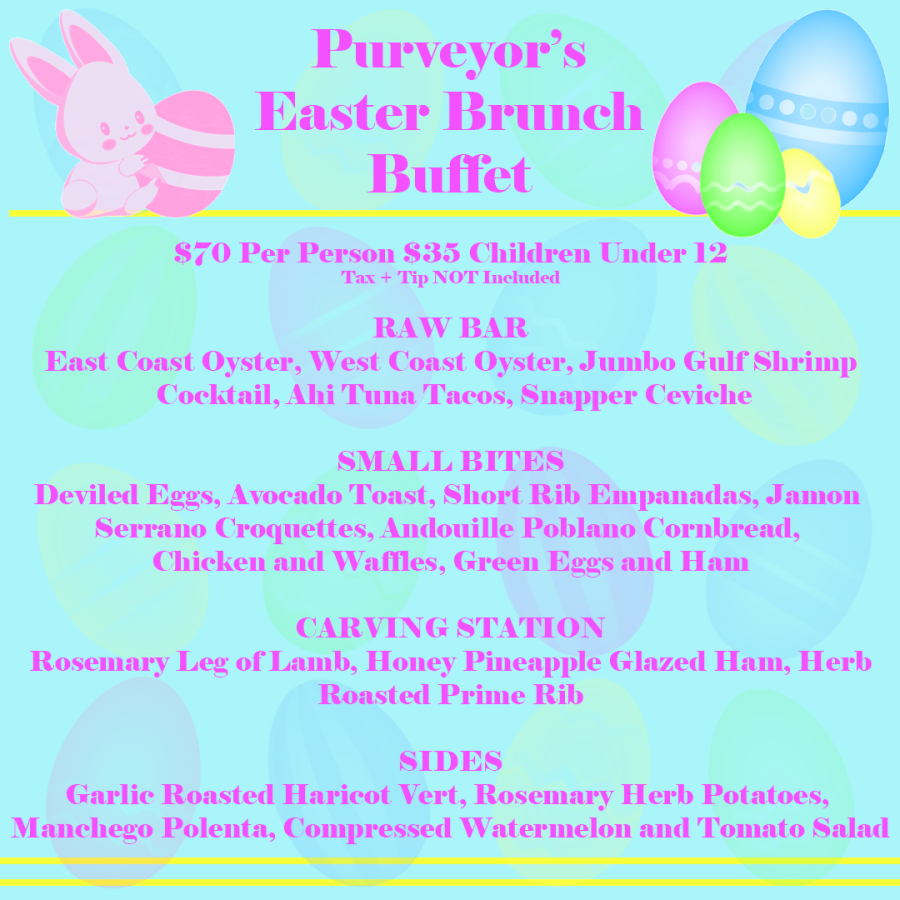 Purveyor is offering an Easter Brunch Buffett that includes a raw bar with seafood, small bites, a carving station along with sides. The Easter bunny will be on site from 11am - 2pm.  The entire buffet will be from 11am - 6pm  on Sunday, April 4th. Recommendations are recommended by going online or calling 256-419-2555. 
The team at 1892 East will be doing their brunch menu for Easter. They open at 10am - and will serve until 2pm. Reservations are strongly recommended. 256-489-1242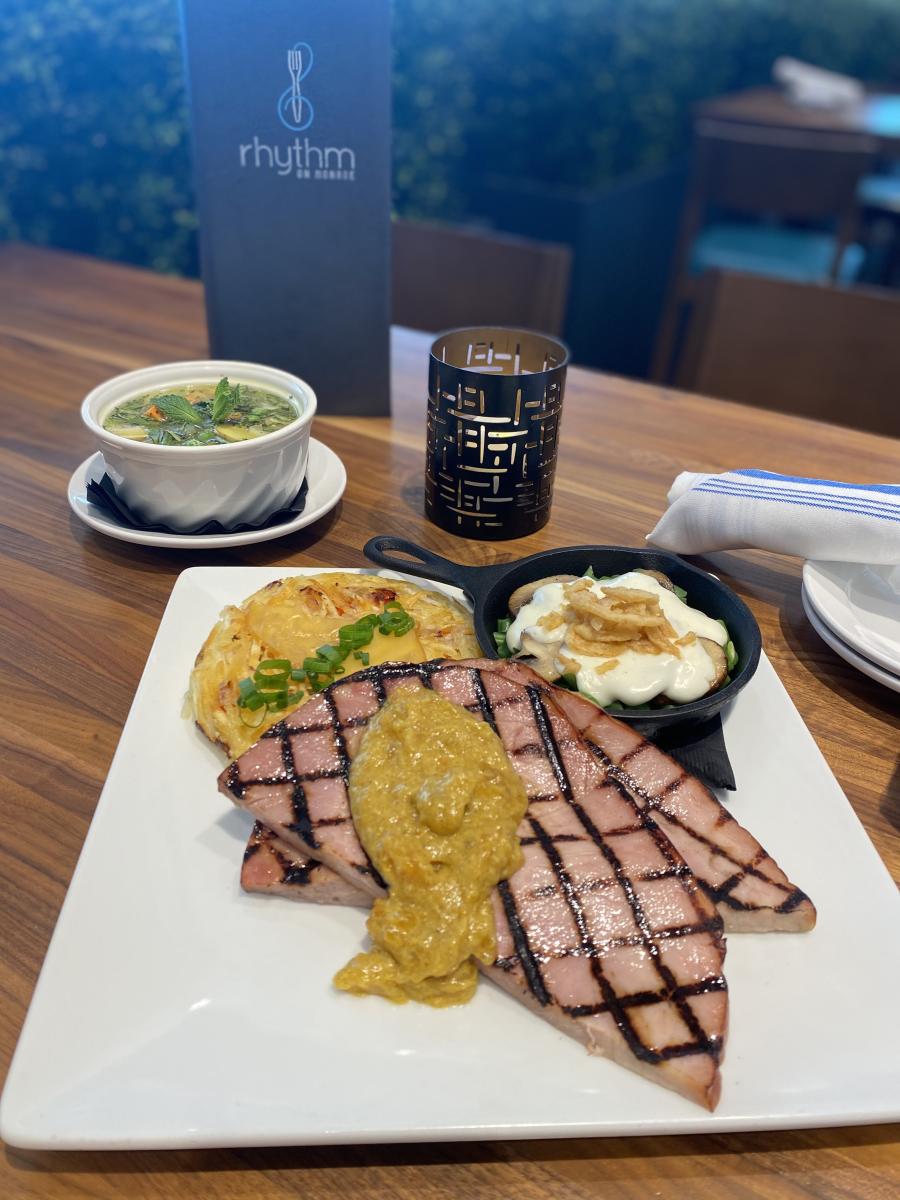 Starting Friday through Sunday April 4th, Rhythm on Morone will host a special Easter Menu. Enjoy Spring Minestrone Soup with fresh spring peas, spinach, asparagus, new potatoes, herbs, and mint pesto. They will have "Braised Red Wine Lamb Shank" with rainbow baby carrots and parmesan mashed potatoes along with "Apricot Mustard Glazed Ham" with cheesy hashbrowns and green brean mushroom casserole. You can end your meal with the fresh strawberry pavlova with whipped cream and cream anglaise.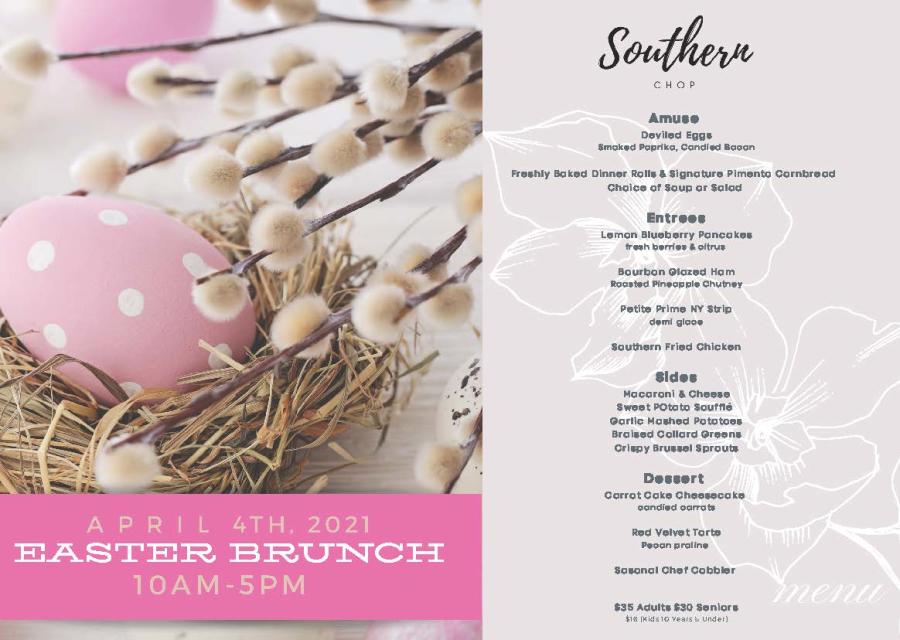 Southern Chop will be hosting an Easter Brunch on April 4th from 10am - 5pm. Enjoy a four course meal inside the new restaurant located at Huntsville Marriott. It's a family style service to give guests the feeling of a buffet but will keep all guests at a safe distance.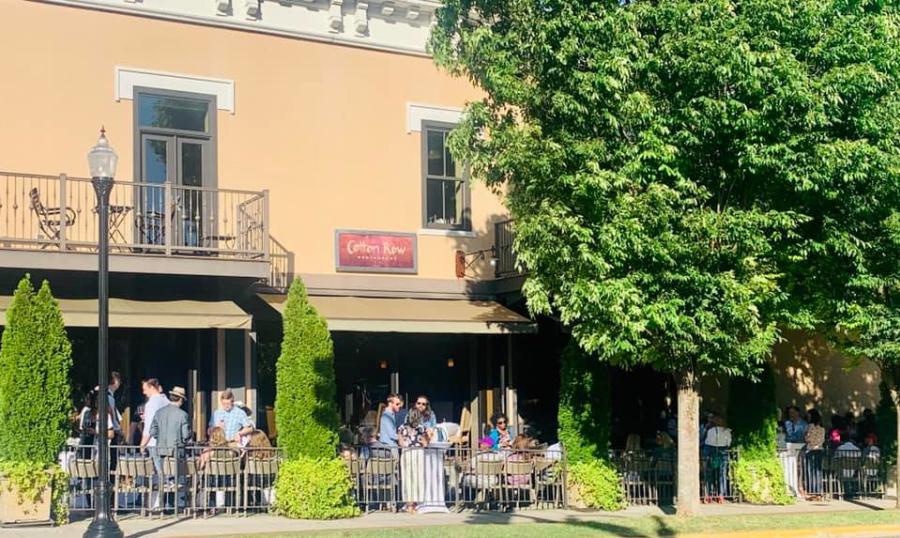 Cotton Row is inviting guests to join them for a three course meal on April 4th from 10am to 3pm. It's $42 per person excluding beverage, tax, and gratuity. Click here to view the menu. Reservations are encouraged by calling at 256-382-9500 or going online.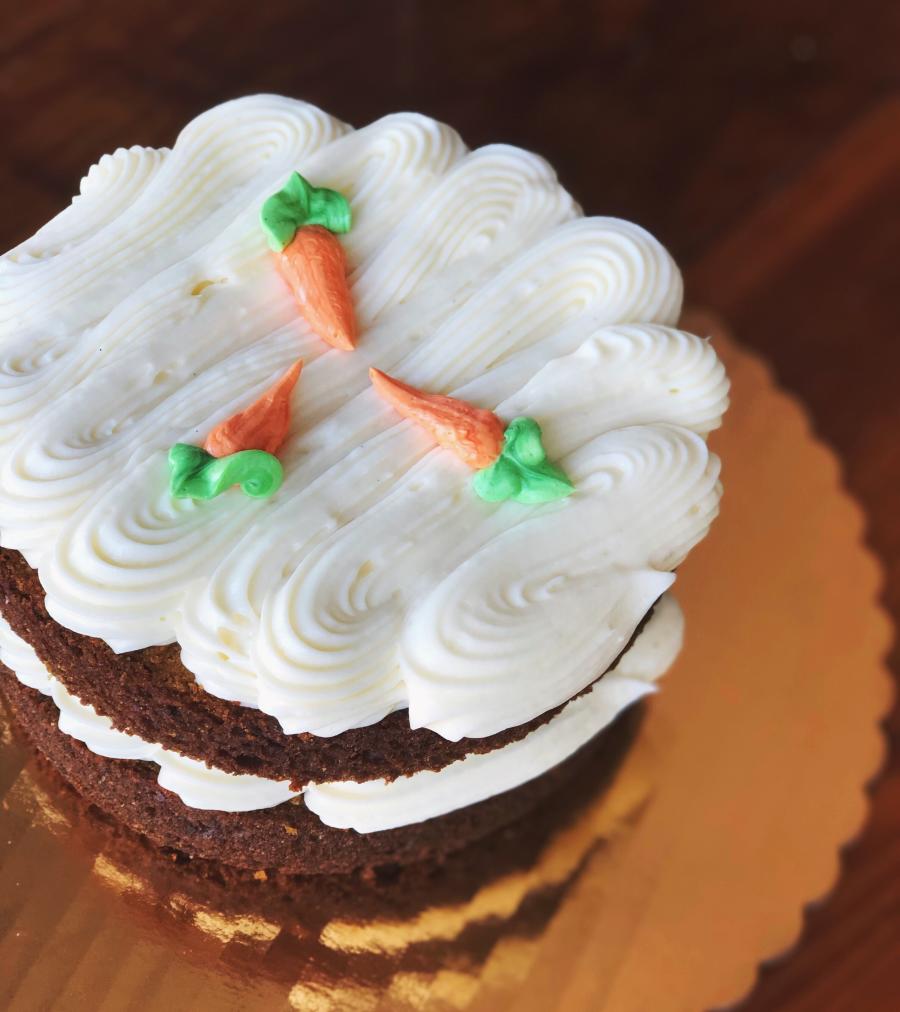 Good Company Cafe will be offering specialty items for pick-up on Easter weekend! The Easter Menu includes: 6" Two-layer Carrot Cake with cream cheese buttercream, Vegetable & Cheese Quiche (serves 8), Bacon & Veggie Quiche (serves 8), homemade Cinnamon Rolls (6 ct), and our signature Blueberry Drop Biscuits (6 ct). Let them take care of the heavy hopping and pre-order your favorites online before March 30th. They will also be open normal business hours on Easter Sunday and will be serving a limited brunch menu along with even more specialty sweets in their pastry case!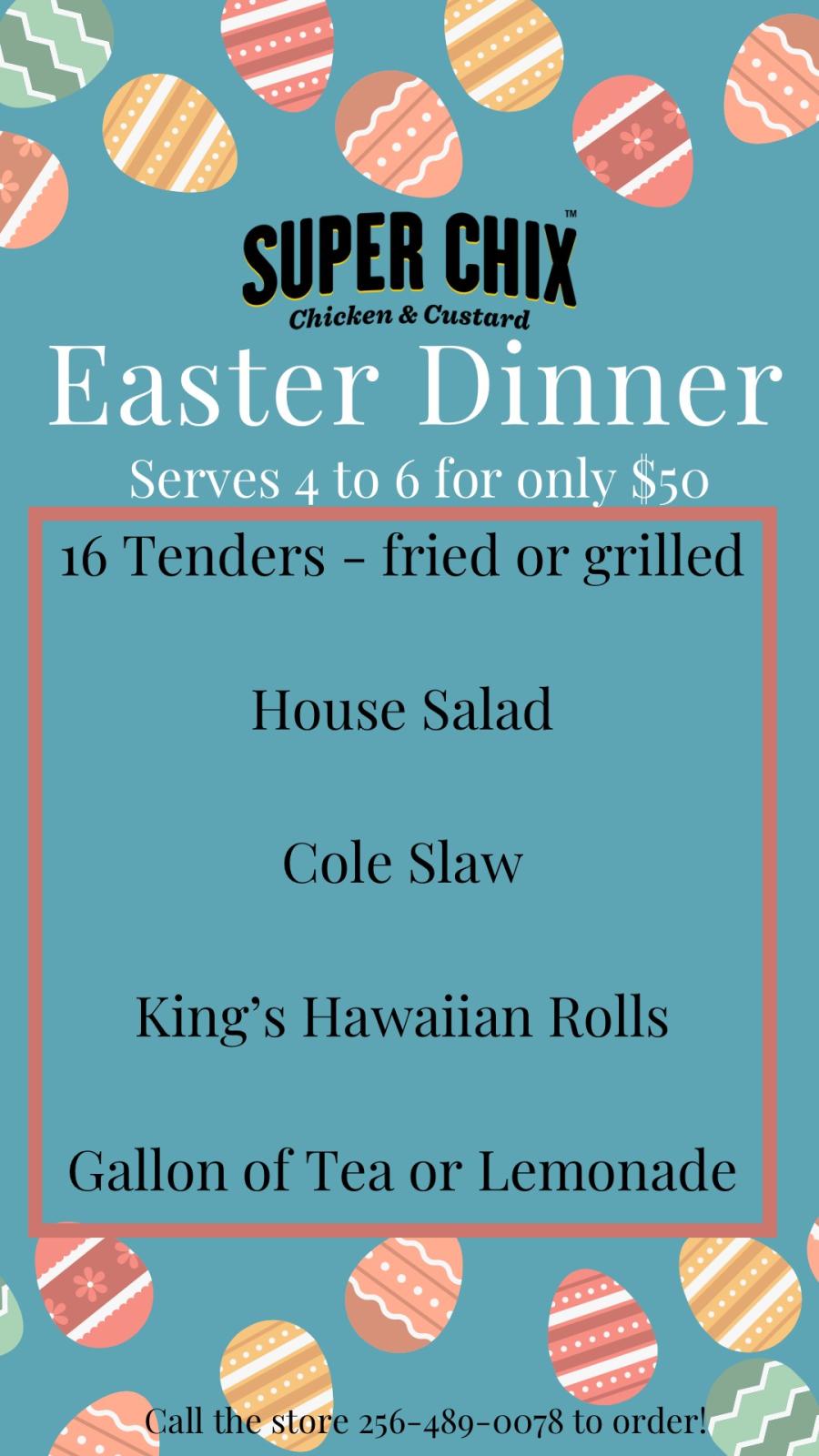 Super Chix has an Easter Meal that is to-go and curbside only. It is available to order on demand from now until Sunday, April 4th. Call the store to order at 256-489-0078. Please allow at least 15 minutes to have your order ready. 
Melt is offering up a brunch menu on Easter Sunday. You can order everything from eggs and toast to breakfast burritos and cinnamon rolls. Click here to see the menu!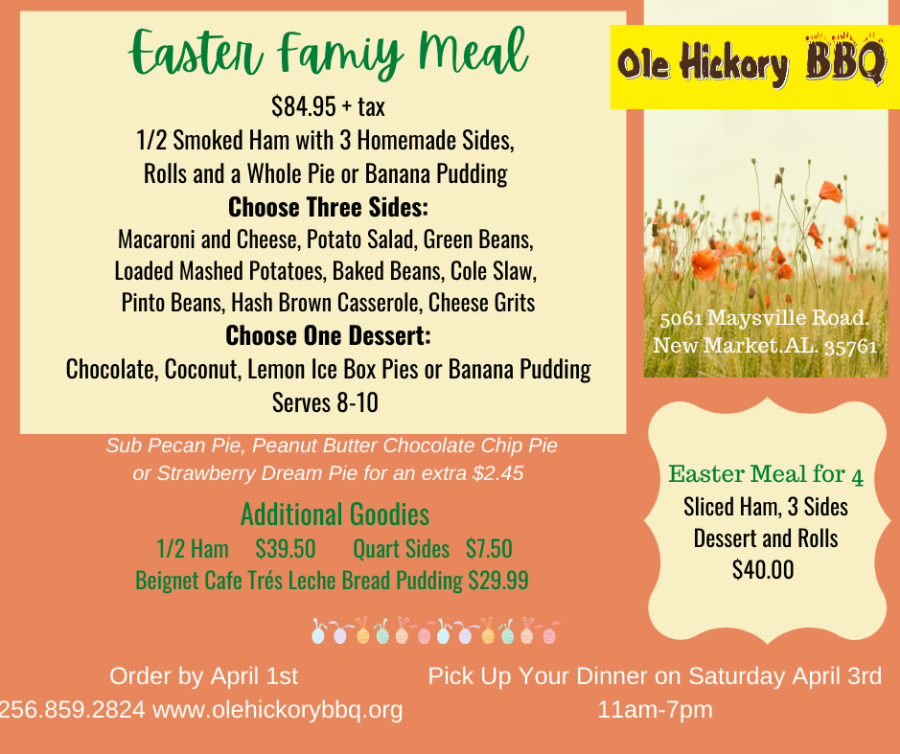 Enjoy an Easter meal with ham, homemade sides and some of the best desserts you will find in Madison County. They have meals that can work for families of 4 up to 10 people.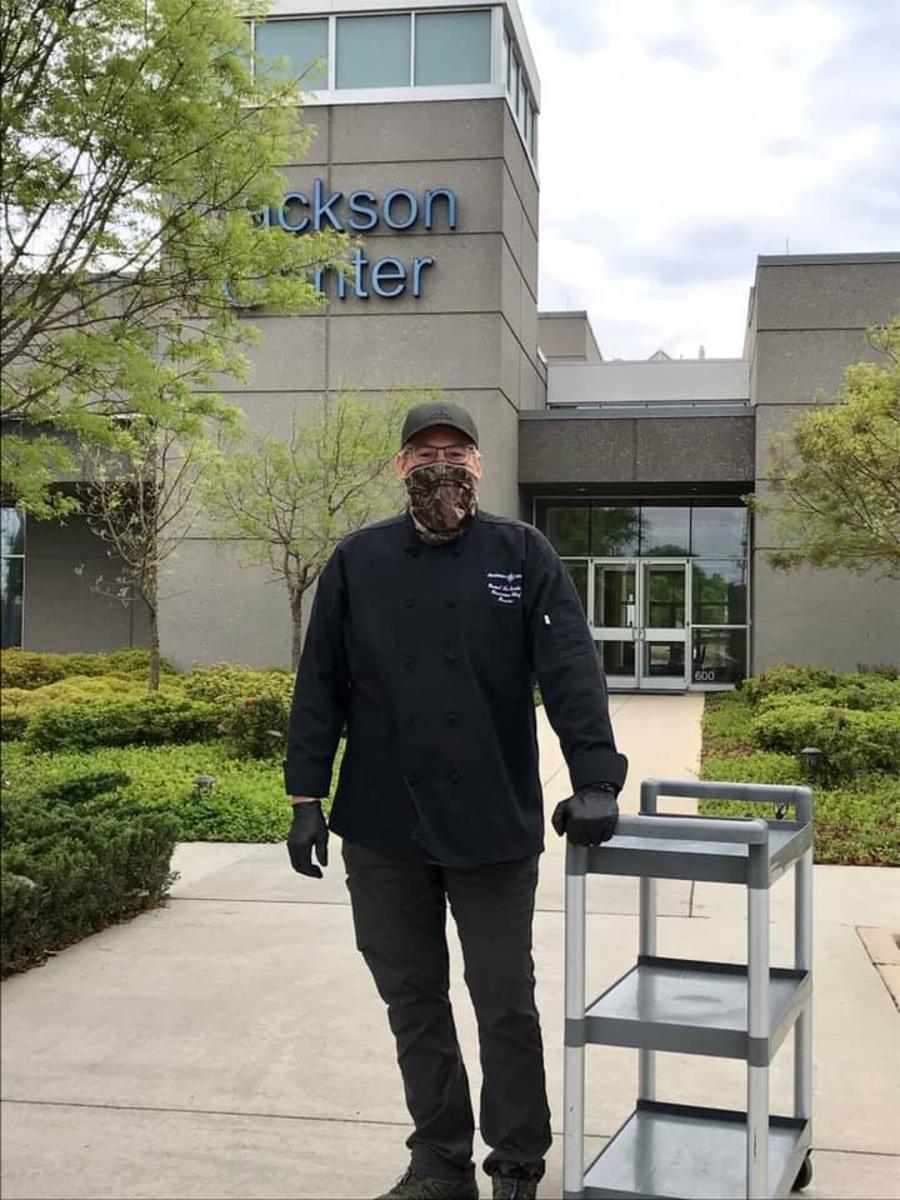 The Jackson Center invites you to place your order by 3pm on April 1 for their curbside meals. You can pick them up on Saturday April 3 from 1pm - 4pm. Enjoy a peppercorn pork loin or baked ham Easter dinner with mixed greens, parmesan roasted potatoes, green bean almondine, and cheesecake with berries. Each meal serves 4 people and is $40.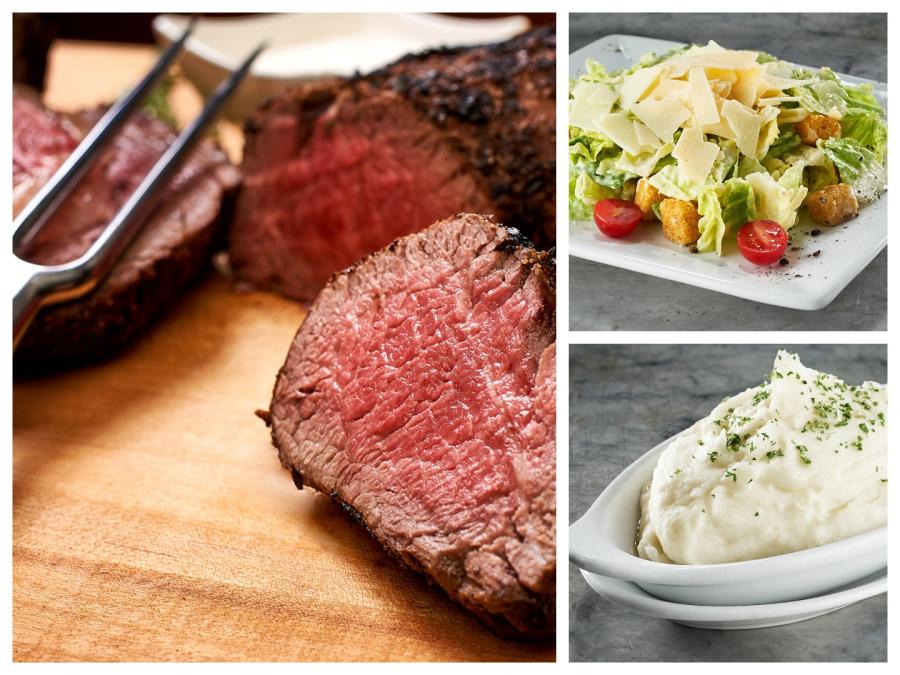 Ruth's Chris has created a festive, multi-course menu with all your favorite dishes that you can pick-up at a scheduled time and simply reheat when it's time to eat.  Carve into whole roasted beef tenderloin, perfectly portioned for 4 adults, served alongside your choice of starter, two signature sides and family style bread pudding. Place your order online by March 31.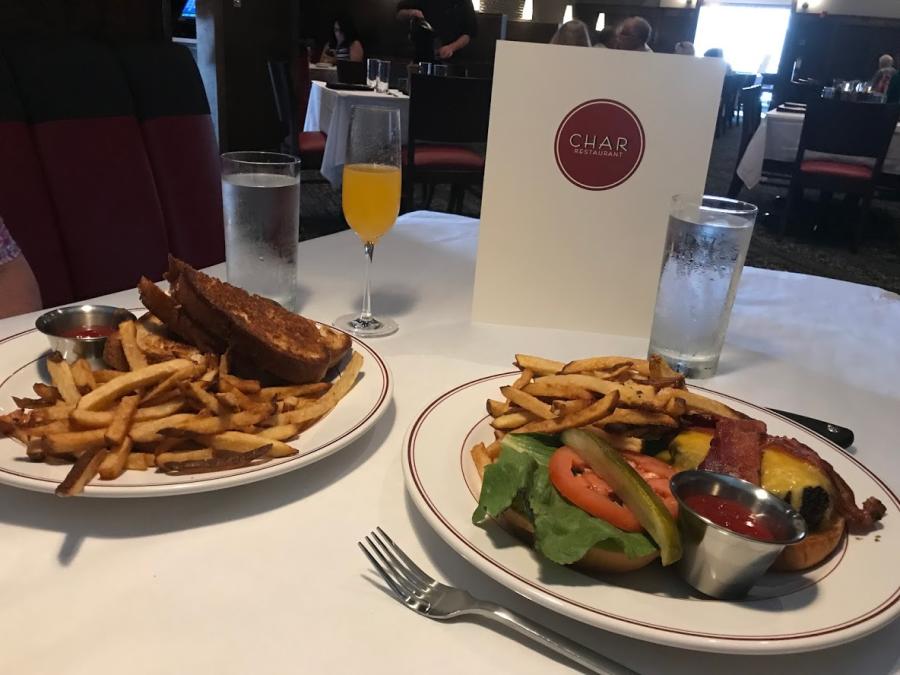 Dine-in and enjoy Char's full brunch & lunch menus beginning at 10am on Sunday, April 4th. Or, celebrate with from a distance with their new spring-inspired family meal packages and a special brunch family meal package. Brunch family meal for 4 people for $60 will be offered to-go. You can get chicken and biscuits, fresh fruit, and cheddar grits. Click here to reserve your table or order online.