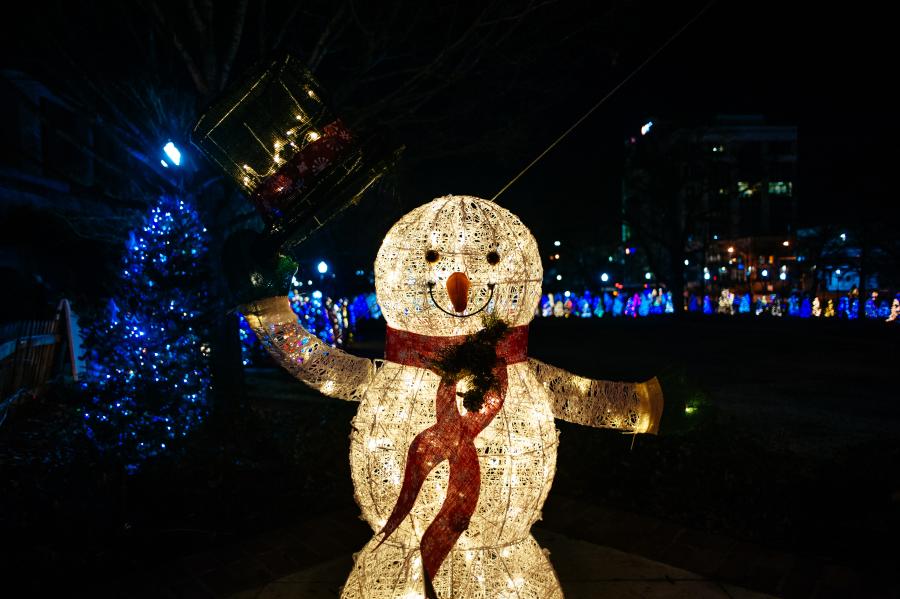 It's beginning to look a lot like Christmas. Halls are being decked, wassailers are wassailing, and gifts are being bought. For those looking for gifts that are a little more creative or personal, Huntsville's Christmas markets are a perfect place to pick out that special something.
Here are a few you may want to check out:
Winter Solstice Market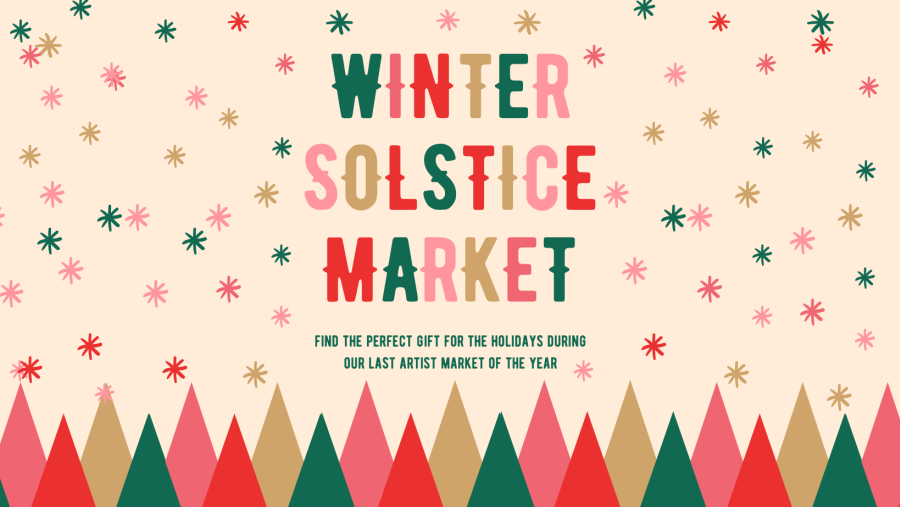 Who: Lowe Mill ARTS & Entertainment
When: Saturday, Dec 18, 11-7 pm
Where: 2211 Seminole Dr SW, Huntsville
The Winter Solstice Market is the perfect place to bring your out-of-town family members to show them the best local artist and makers North Alabama has to offer. Stroll through the artist market throughout the grounds, and take a step inside to shop the fantastic studio artists in the building. The Winter Solstice Market is the perfect place to find any last minute gifts as you get ready to celebrate the holidays – and the end of the year. Happy holidays, y'all!
Nerdy Noel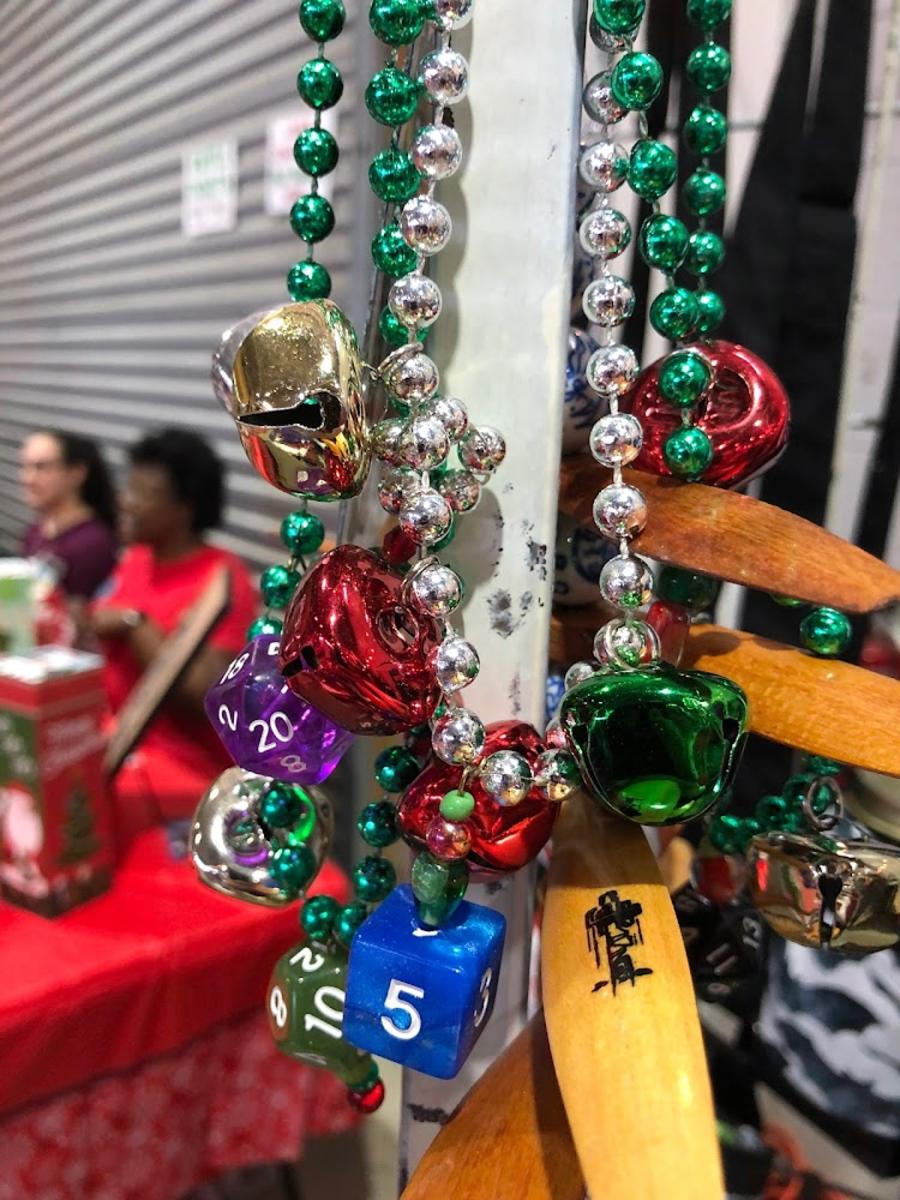 Who: Nerdy Noel
When: Sunday December 12, 12pm - 6pm
Where: Straight to Ale - 2610 Clinton Ave W
A special Holiday Market for all the nerds in your life! This will be the 5th Nerdy Noel market at Straight to Ale! Enjoy nerdy/pop culture shopping, cosplay, door prizes...and beer! Follow the Nerdy Noel Facebook for vendor information and more.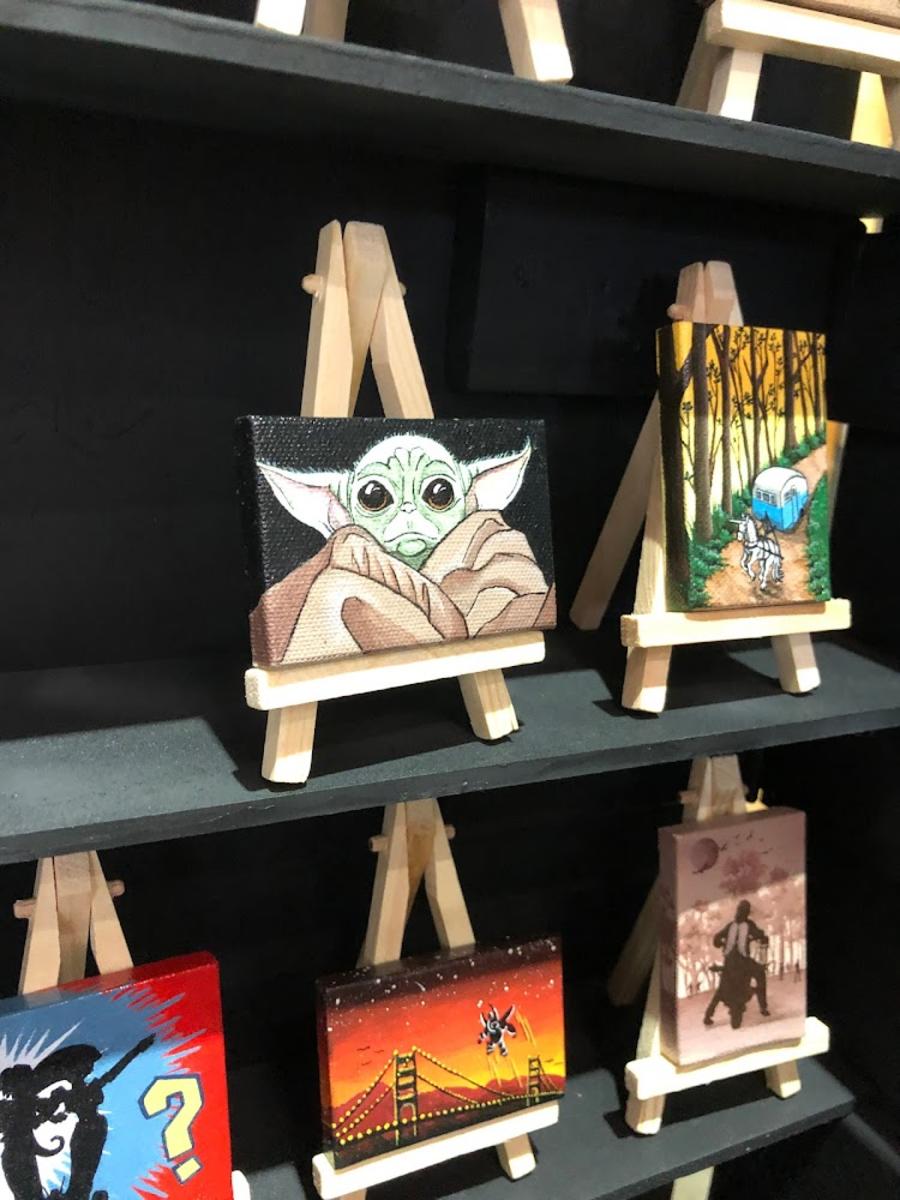 The Huntsville Flea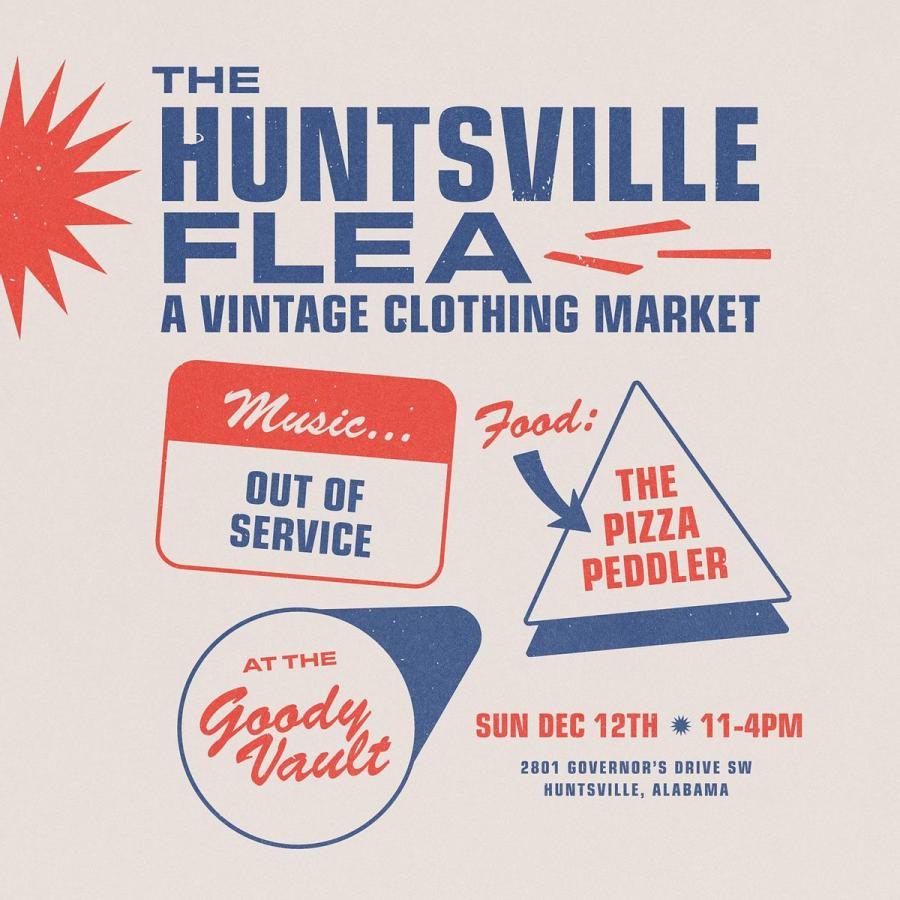 Who: The Goody Vault
When: Sunday December 12, 11am - 4pm
Where: 2801 Governor Drive SW Huntsville, AL
A free to attend vintage clothing market featuring the following vendors: Goody Vault, HSV Vintage, Steadman's Workshop, One Man's Vintage, Dusty Ltd., AM Collective, 256 Vintage and more. There will be music from Out of Service and food from The Pizza Peddler. 
Friday Night Art Walk: Holiday Edition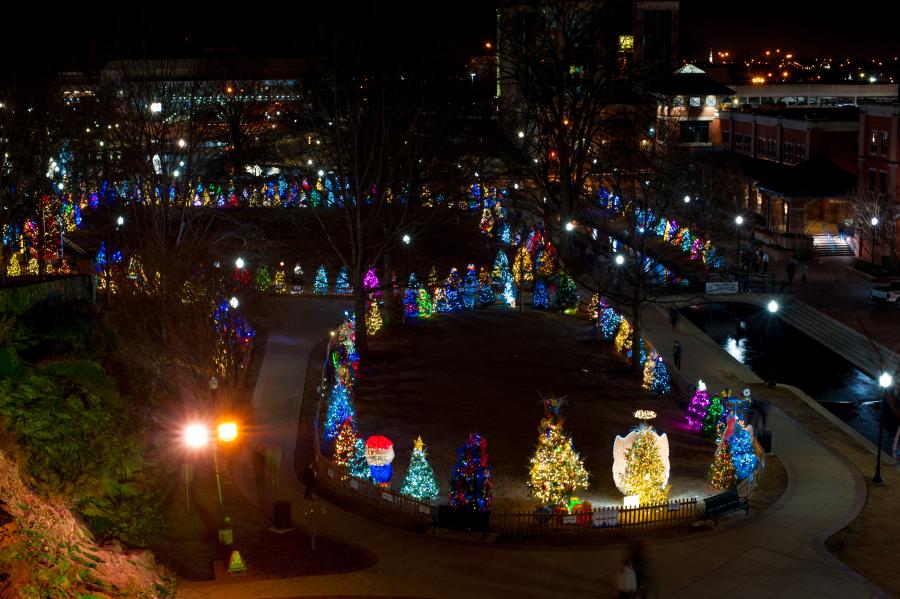 Who: Downtown Huntsville, Inc.
When: Friday December 17, 5pm - 8pm
Where: Big Spring Park East at the cul-de-sac of Spragins Street
Past Markets in 2021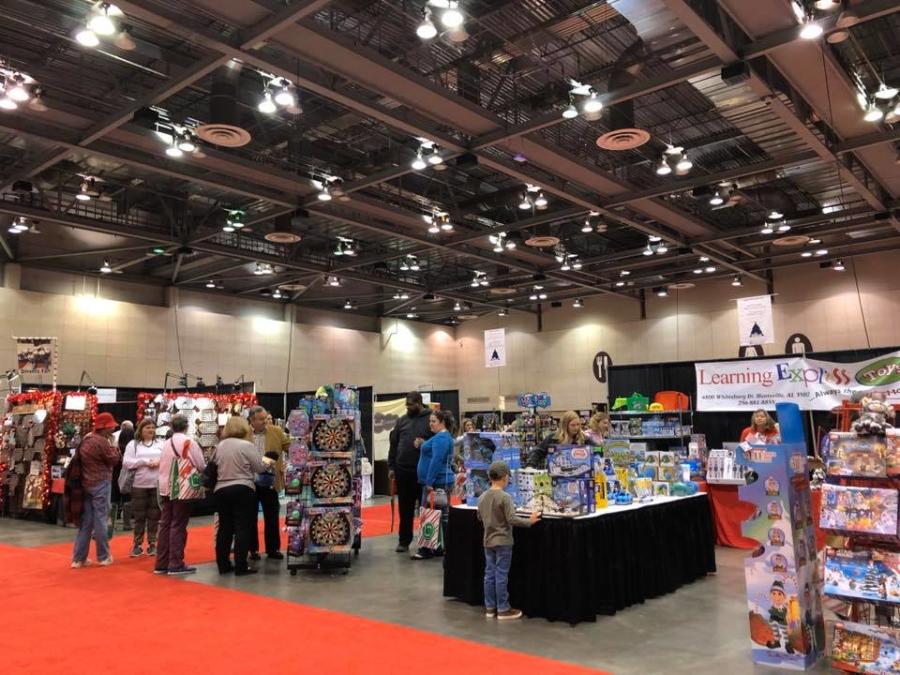 Who: Randolph School
When: November 5 - 7
Where: Von Braun Center - 700 Monroe St SW
Located at the South Hall of the Von Braun Center, this three day marketplace kicks off the holiday season with more than 75 vendors. Along with holiday shopping, you can find festive activities to enjoy during the market like decorating gingerbread houses, arts and crafts, stories with Santa and mimosas at the Market. This is a ticketed event and people are encouraged to purchase tickets in advance.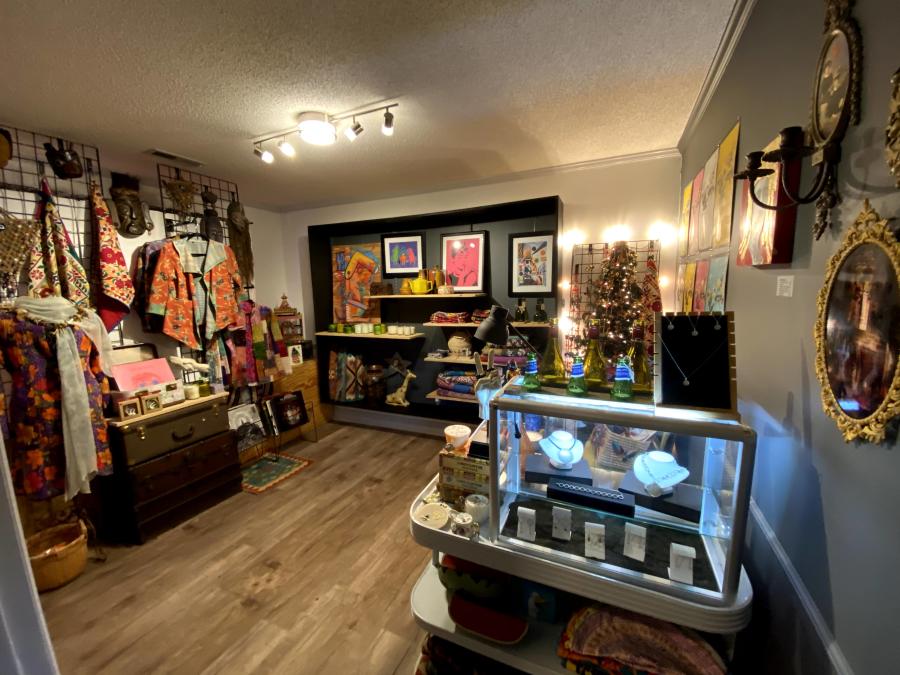 Who: Gallery 1:11
When: November 13, 8am - 1pm
Where: 2011 Gallatin St SW
On November 13th from 8am - 1pm, Gallery 1:11 will have food, music, and so, so much art, antiques, and collectibles for you to purchase. Part of the profits will go to First Stop and  the North Alabama Food Bank. If you bring non-perishable food to donate, you will get a raffle ticket for something cool!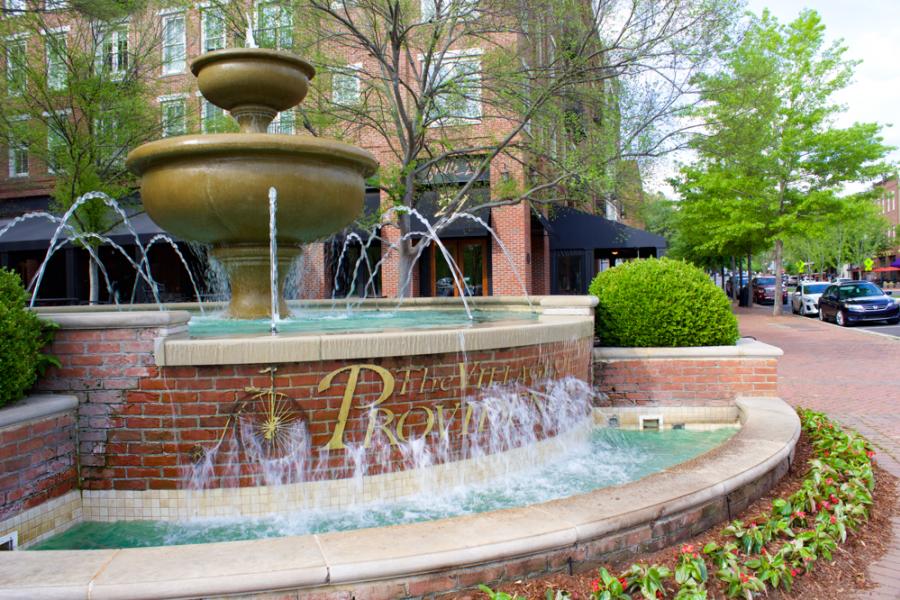 Who: Village of Providence Market
When: November 13, 8am - 2pm
Where: The Village of Providence Park on Town Center Dr.
Holiday Market at MidCity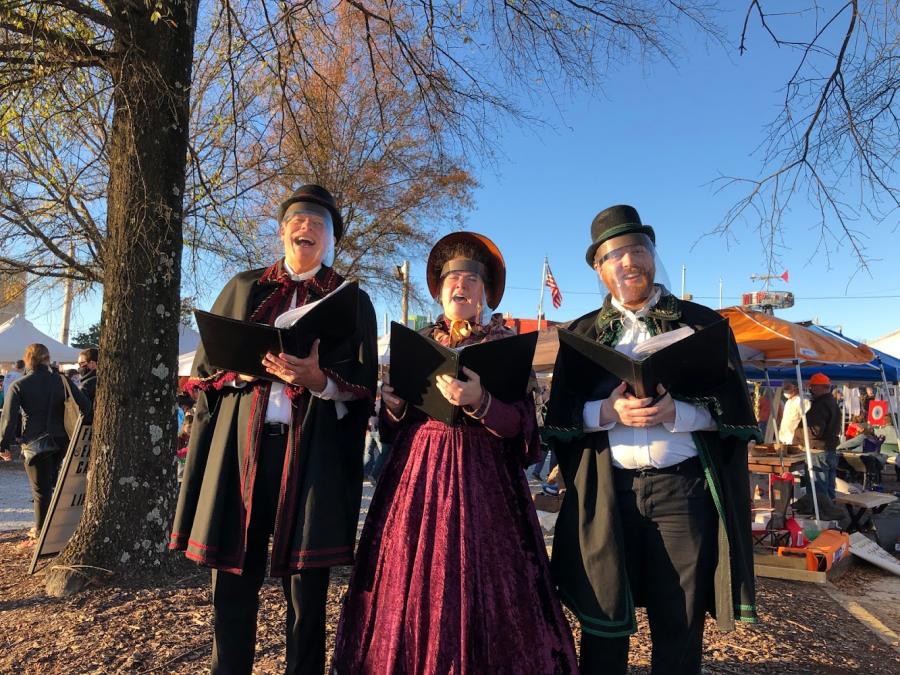 Who: MidCity District / The Camp
When: Sunday, Nov 14, 11am - 5pm
Where: 5901 University Drive
More than 100 local vendors will be joining to celebrate the beginning of the holiday season with the free to attend Holiday Market at MidCity. Parking will be throughout MidCity District so make sure to wear your walking shoes.
Order holiday meats, purchase local fruits and veggies, shop for decor and wreaths, enjoy a meal or beverage at The Camp, and shop local for ALL your Christmas and holiday gifts! (no outside food and drink allowed)
All products at the Holiday Market will be made, grown, baked, or harvested within 150 miles of Huntsville. Santa and other special performers will be there throughout the day.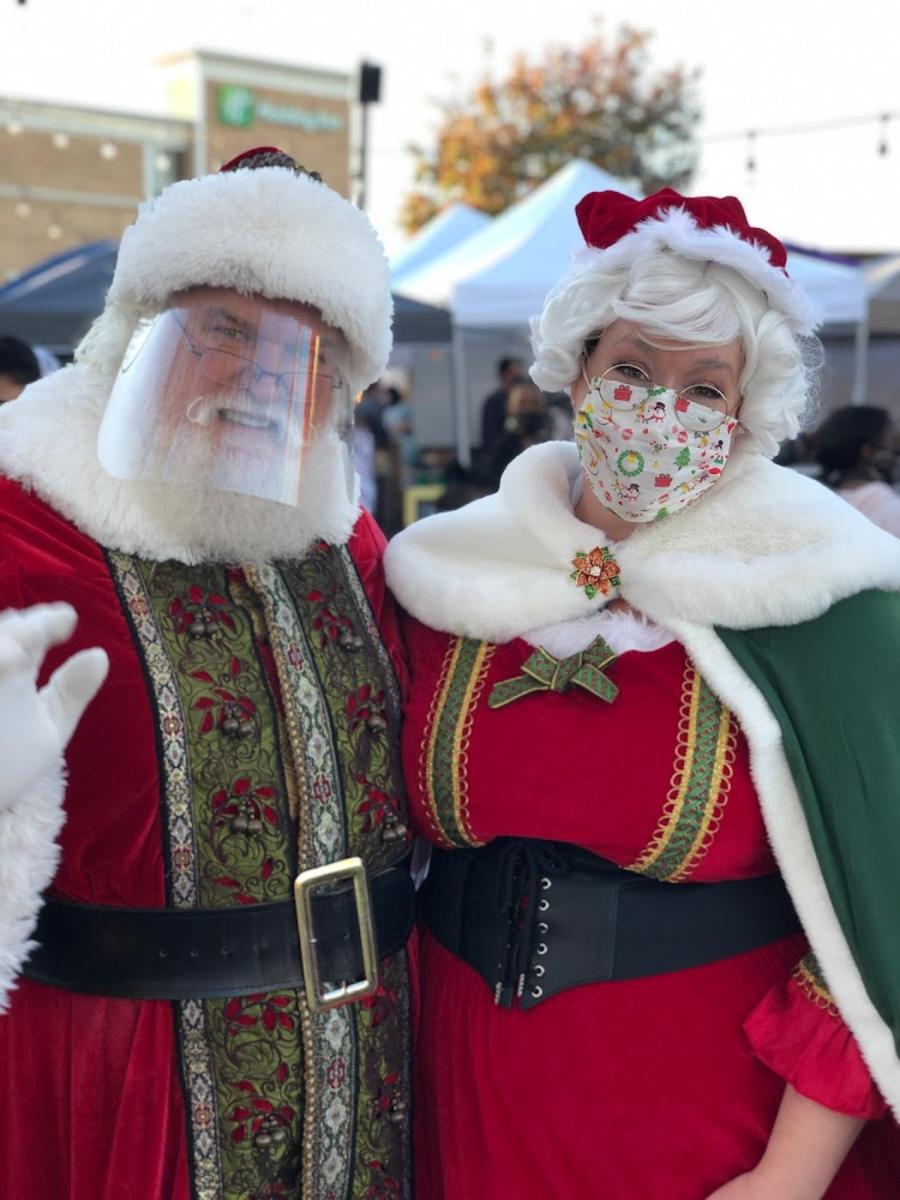 Advent Market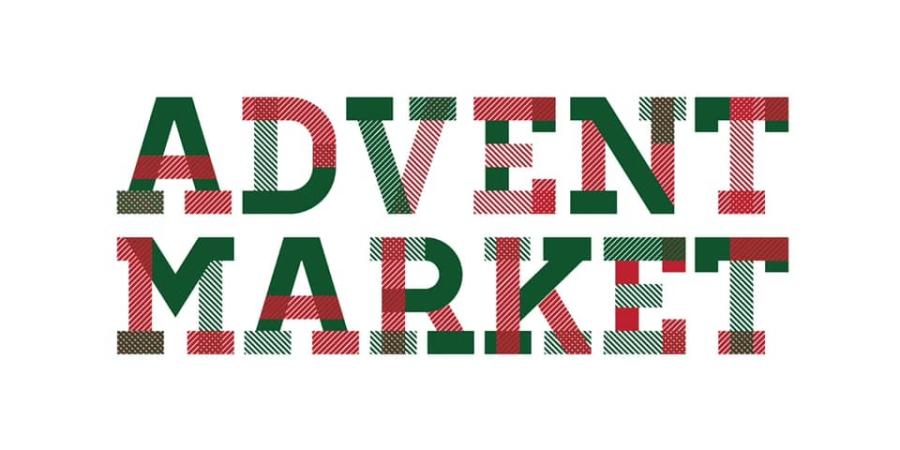 Who: Summit Crossing Community Church
When: Saturday, Nov 20, 9-3 pm
Where: 7200 Governors West NW, Huntsville
Now in its 10th year, the annual Advent Market at Summit's Crossing has shifted to an all-outdoor event. It will feature a wide range of vendors selling a variety of gifts, some locally handcrafted and some globally sourced, all with a heart toward giving to Neverthirst to fund clean water projects in the eastern Sahara region of Africa. The event is rain or shine, but in the event of severe weather could be rescheduled for a later date.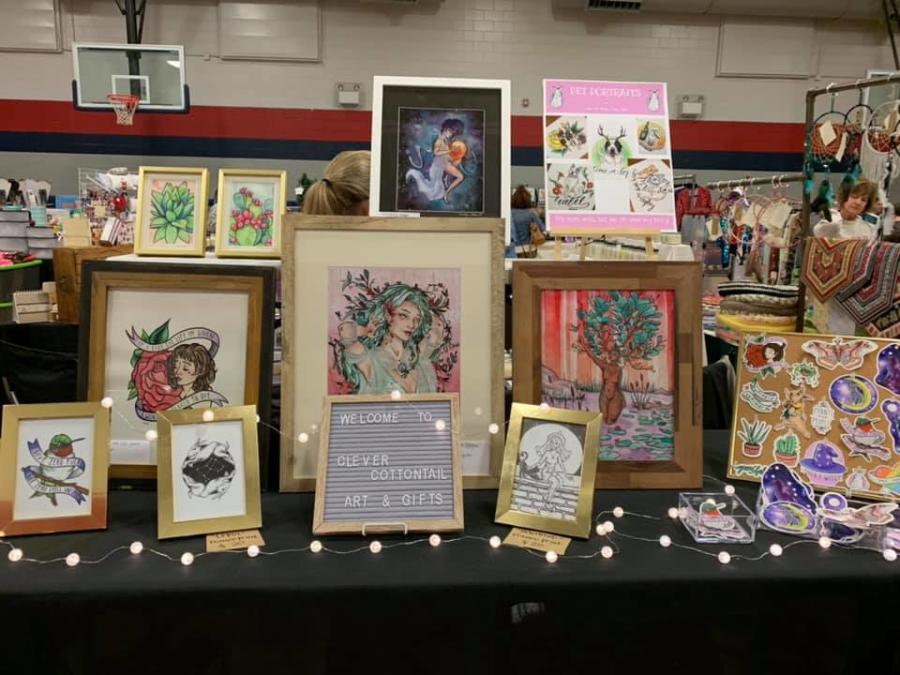 Who: Madison Arts Council & City of Madison
When: Saturday, Nov 20, 9-5 pm
Where: Discovery Middle School - 1304 Hughes Rd, Madison, AL 35758)
The Kris Kringle Market is back in 2021! Local arts and crafts, Local Small Businesses, Christmas Carols, Christmas Photo Backdrops, and more will be available get everyone in the holiday spirit. 
Greene Street Holiday Markets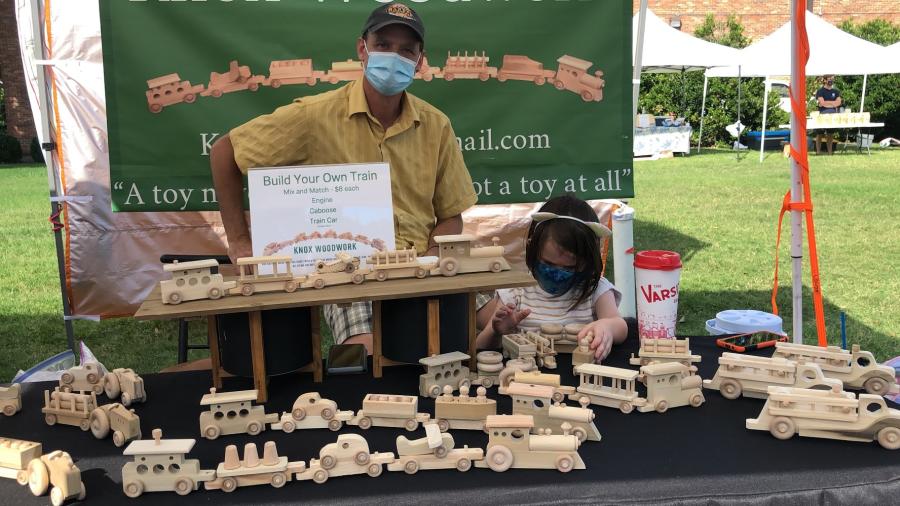 Who: Green Street Market
When: Sunday, Nov 21 and Dec 5, 12:30-3:30
Where: 208 Eustis Ave, Huntsville
The Greene Street Market at Nativity is an open-air farmers market featuring a wide variety of local vendors. The year's regular markets are over, but two final seasonal markets will offer the opportunity to buy holiday food and gifts. 
NEACA Christmas Craft Show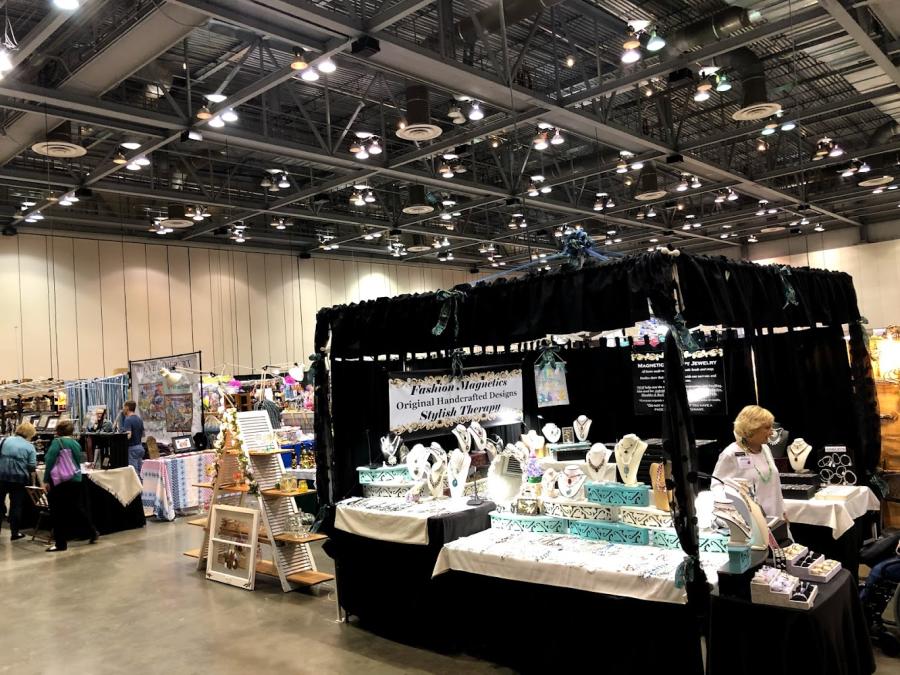 Who: North East Alabama Craftsmens' Association
When: Friday and Saturday, Dec 3-4, 9-6 pm; Sunday, Dec 5, 12-5 pm
Where: Von Braun Center - 700 Monroe St SW 
The Christmas Craft Show will take place at the Von Braun Center South Hall in Huntsville. There will be over 100 crafters with items ranging from jewelry, pottery, home decor, outdoor decor, dolls, clothing, kitchen accessories, children's items, food and much more. This show will be benefiting local charities. The VBC and NEACA  will be working together to follow social distancing and sanitizing/cleaning guidelines, and will follow state and VBC mask regulations.
Redstone MWR Holiday Market & Tree Lighting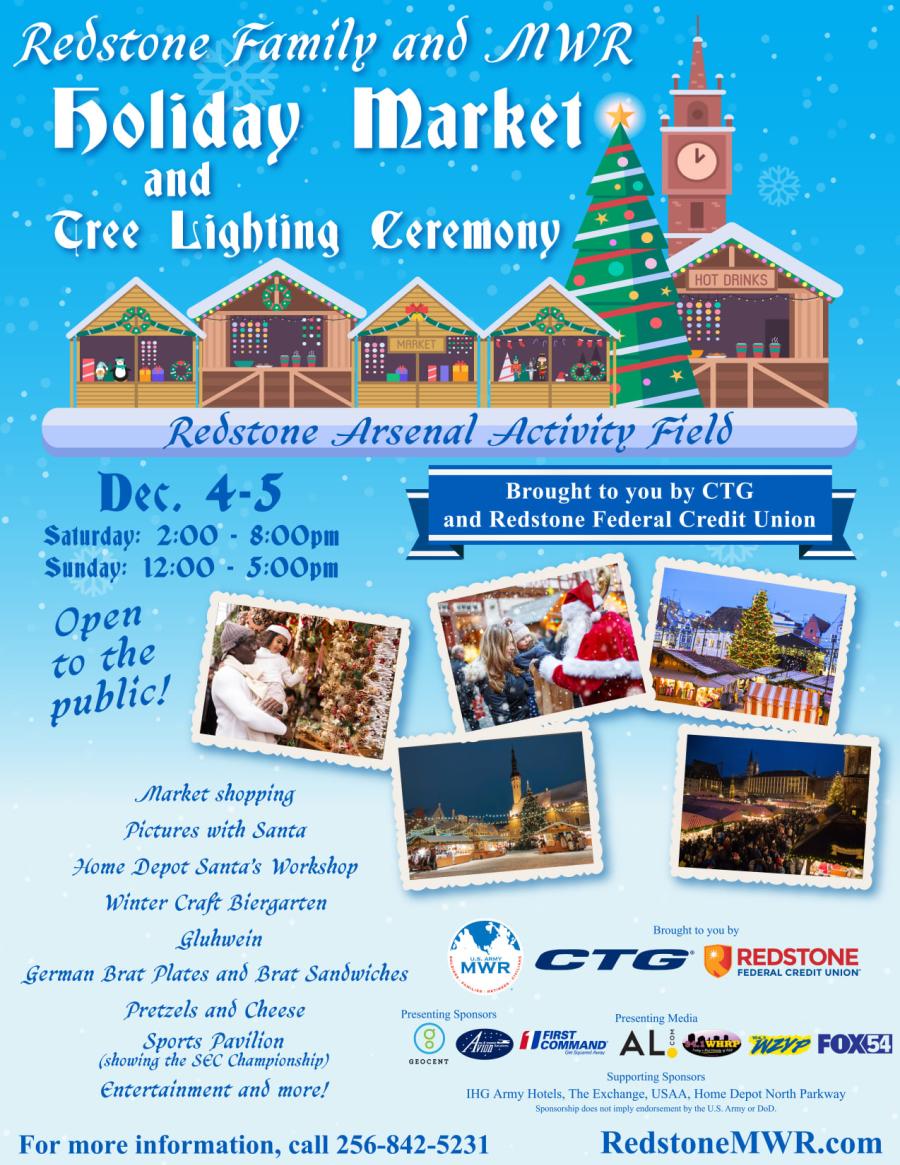 Who: Redstone MWR
When: Saturday December 4, 2 pm - 8 pm, Sunday December 5, 12 pm - 5 pm
Where: Redstone Arsenal Activity Field - 3732 Aerobee Rd, Huntsville
The public is invited to ring in the holiday season by making plans to join the Redstone Family and MWR for the first ever Holiday Market and Tree Lighting Ceremony on Redstone Arsenal. The German inspired festivities will take place on December 4-5 on the Redstone Arsenal Activity Field. Find your perfect gift for family members and friends with 80 vendors selling their handmade crafts, treats, and more. Highlights include: Holiday Market Shopping, Selfies with Santa, Home Depot Workshop with Santa, Winter Craft Biergarten, Gluhwein, German Brats, potatoes, and pretzels along with a sports pavilion to show the SEC Championship games.
Yule Y'all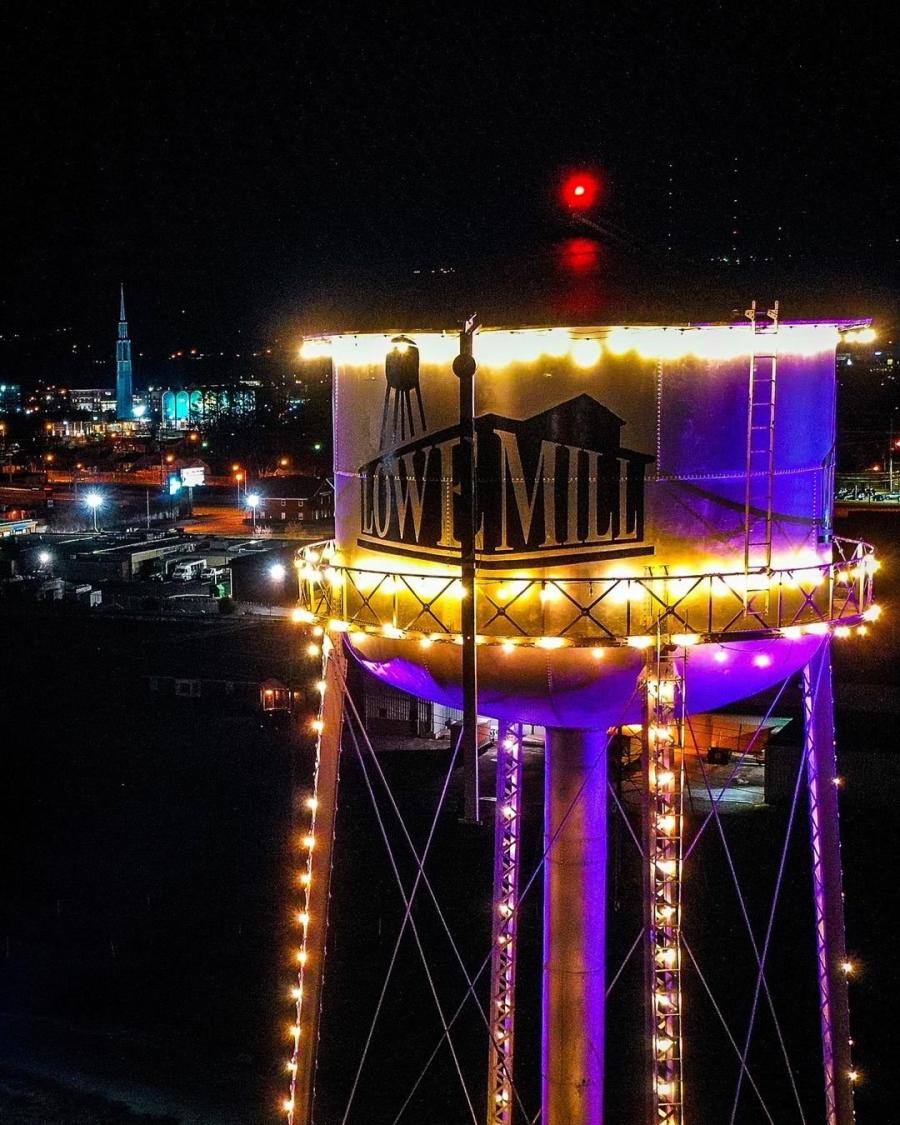 Who: Lowe Mill ARTS & Entertainment
When: Saturday, Dec 4, 11-7 pm
Where: 2211 Seminole Dr SW, Huntsville
This year, the event will take place with distancing in mind via a luxurious winter stroll throughout the grounds and freshly decked halls. This outdoor market includes maker art, holiday creations, food and music, all with a spirited chaser. There will be local spirit sampling on site while it lasts, and at 5pm the iconic water tower will be lit up! Learn more.